Heads up! We're working hard to be accurate – but these are unusual times, so please always check before heading out.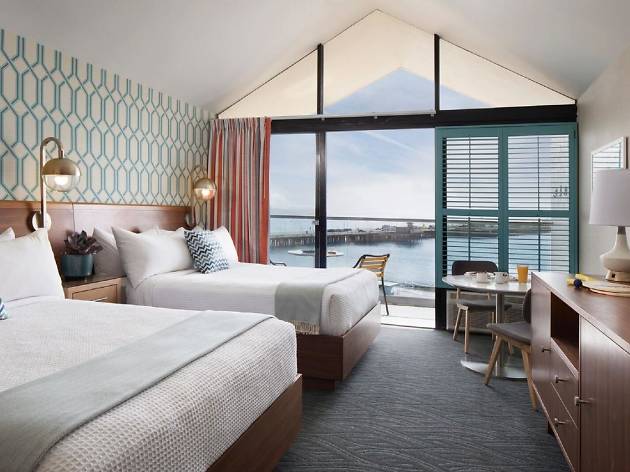 The best hotels in Santa Cruz
Take a peek at the coastal city's best accommodations, from fully-equipped airstreams to oceanside hotels and cozy B&B's
As if its enviable setting between the Monterey Bay and redwood-blanketed Santa Cruz Mountains wasn't enough, the small city of Santa Cruz also boasts 300 days of sunshine and 29 miles of sandy shore. Check into any local hotel and you'll likely be lured outdoors with sparkling pools, shiny beach cruisers and directions to the nearest beach. Santa Cruz is also the birthplace of mainland surfing—thanks to three vacationing Hawaiian princes who taught locals how to catch waves with repurposed redwood planks—and the town's thriving surf scene is often captured in hotel design and offerings. Whether you're looking to put your toes to the nose or just bury them in the sand, the following spots will immerse you in Santa Cruz's sunny, outdoor culture and give you a base for exploring the city's best things to do.
Best hotels in Santa Cruz
Photograph: Courtesy Booking.com
Retro-chic digs at the heart of Santa Cruz's buzzing beach scene
With a primo locale on lively Cowell Beach, this retro-chic boutique hotel is the only true beachfront property in town. 165 guest rooms are stylized with a contemporary surf-inspired design and peer out over the Santa Cruz Wharf, the twirling rides of the 111-year-old Beach Boardwalk and the glimmering Monterey Bay. You'll enjoy the same views from the expansive, oceanfront pool deck which sits directly on the sand and features morning yoga and weekend BBQs. The central location means you can ditch the car and explore the area on foot or via one of the hotel's retro, blue beach cruisers. In addition to its proximity to renowned surf break Steamer Lane, the hotel sits on the site of Santa Cruz's first surf shop opened by pioneering wetsuit inventor, the late Jack O'Neill. Grab a drink in the beachfront cocktail lounge named in his honor—Jack fancied a stiff vodka martini—and watch surfers through floor-to-ceiling windows.
Time Out tip: Grab a creamy latte from the Verve Coffee Roasters stand in the lobby for a taste of the beloved, third-wave brew that began in Santa Cruz before expanding to LA and Tokyo.
Photograph: Courtesy Booking.com
Design-forward hotel rocks redwoods theme
While most local hotel design leans toward the beach, this stylish property embraces Santa Cruz's magnificent coastal redwoods. Playful design includes a front desk fashioned from a giant felled eucalyptus, ceramic squirrels scampering along the walls and a prominent glass conference room dubbed The Grove wrapped in a translucent redwood scene. Streamlined guest rooms are more subdued, with a warm color palette, reclaimed wood furnishings and river rock shower floors. Ask for a room facing the exceptional pool lined with daybeds, fire pits and pimped out private cabanas. Solaire Restaurant features an indoor/outdoor bar with service to your chaise lounge chair. Despite the forest theme, the beach is only five minutes away, so do like the locals and zip down to the sand via a beach cruiser or electric skateboard, both available at the front desk.
Time Out tip: During the day, the pool can get busy with families. Instead, take a dip during early morning or late night when the Paradox limits the waters to adults, and you'll get your laps in without getting whacked in the head by a beach ball.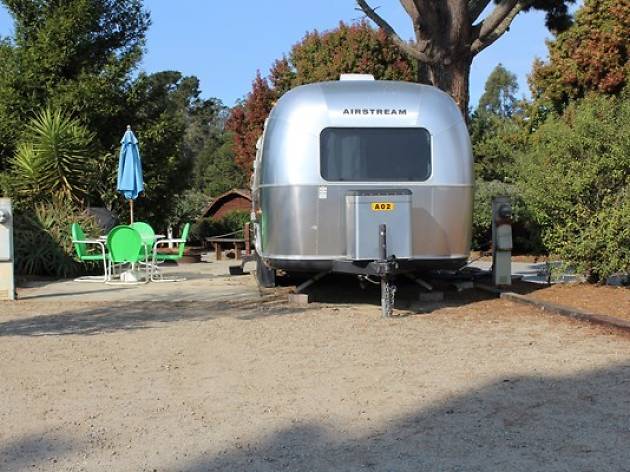 Photograph: Courtesy Koa
Camp in style walking distance from the beach
Santa Cruz's year-round mild climate means year-round campgrounds, and the local KOA ups the ante with a fleet of shiny new Airstream trailers. Sleek interiors include queen beds, full baths with showers and fully equipped mini kitchens. An outdoor living space plays up the retro theme with Astroturf, pink flamingos and colorful vintage patio furniture. Like all KOAs, the property is geared toward families, but the Airstreams are in the furthest reaches—read: quietest section—of the campground. While the property is surrounded primarily by farmland, it's walking distance to the broad, sandy shores of Manresa State Beach. When it's time to plug back into civilization, head to your air-conditioned Airstream for free Wi-Fi and a flat screen TV.
Time Out tip: The general store is well-stocked—some locals do their regular shopping there—and will deliver firewood direct to your site so you don't have to put down your beer.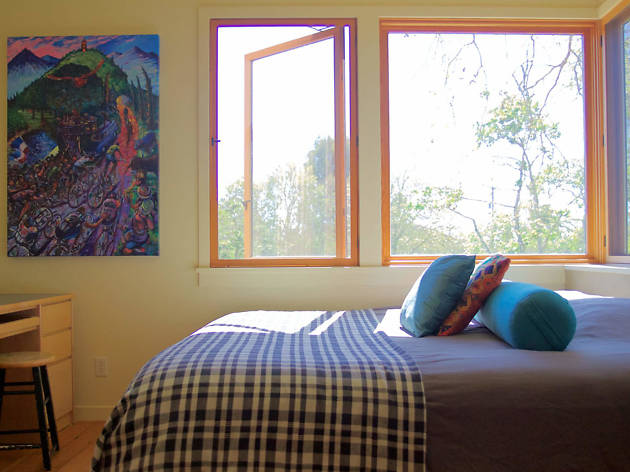 Photograph: Courtesy Outsite
It's laptops and leisure at this smart new take on a hostel
Stay the night or the week at this co-work/co-living space geared for digital nomads—those enviable travelers who bounce around the globe with a MacBook and a carry-on. Choose from a private room or bunk with fellow travelers; the property attracts interesting folks from around the world, and sharing a beer and networking with innovative entrepreneurs, designers and artists is definitely part of the fun of staying here. There's a fully outfitted co-work space where you can get your work done, and a communal kitchen to prep your meals. The company has 12 international properties, from Venice Beach to Bali, but it started in Santa Cruz where, today, you can choose between two properties, each one steps from the crashing waves of the Monterey Bay.
Time Out tip: Nab one of the loaner bikes and take it for a spin on nearby West Cliff Drive, a dazzling waterfront promenade that skirts what is likely the most stunning shoreline in the area.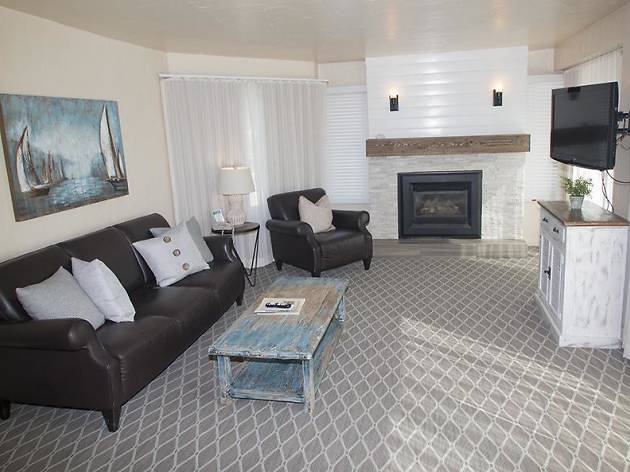 Photograph: Courtesy Booking.com
5. Capitola Venetian Hotel
Beachfront boutique property exudes effortless grace
Set on the beachfront drag of Capitola Village—California's oldest beach resort town—the Capitola Hotel evokes the golden age of travel with ten simple, uncluttered rooms housed in a charming 1940s building. It's the kind of place that makes you want to pack some gabardine in a vintage leather suitcase covered with travel decals. The wife-and-husband owners keep interiors simple and focus on the details: quality furnishings and linens, a thoughtful continental breakfast and thick wool blankets for evenings on the patio. There's no pool or restaurant, but Capitola Beach and its stretch of buzzing restaurants and bars sit directly across the street.
Time Out tip: The gentle waves of Capitola Beach provide the perfect opportunity to learn how to surf. Pop into one of the village's surf shops, and they'll show you how to shimmy into a wetsuit, balance on a board and ride a wave back to shore.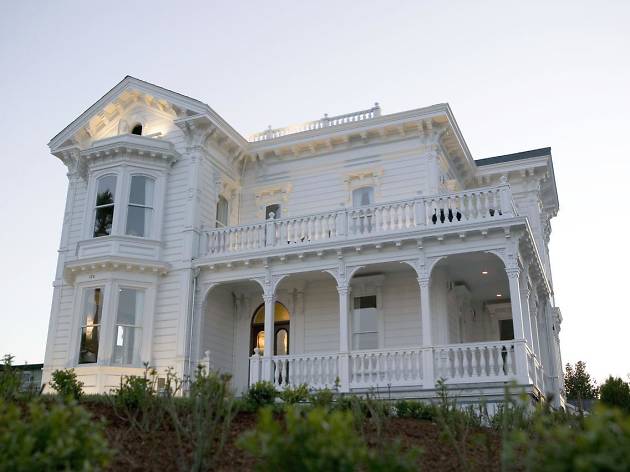 Photograph: Courtesy Booking.com
Breezy, coastal living at this transformed Victorian estate
Perched on a bluff overlooking the coast, this striking 1877 Italianate mansion-turned-B&B is walking distance to some of Santa Cruz's primary attractions, including the wharf, Cowell Beach and the Santa Cruz Beach Boardwalk. During the early 1900s, it was one of many grand homes that comprised what was then referred to as Millionaire's Row. Today, the stately rose and boxwood gardens remain, but the doilies and period decor have been swapped for modern furnishings and a coastal vibe. A grand staircase leads to three stories of guest rooms, the higher floors offering sweeping views of the Monterey Bay. The bed-and-breakfast-phobic will be pleased to know there are no doting innkeepers or forced conversations over sickly-sweet cordials. Instead, the unfussy property functions like a hotel with the added benefits of an ever-present jar of homemade cookies and a damn good breakfast buffet.
Time Out tip: The inn hosts a nightly happy hour with wine and nibbles such as cheese and crudités. We promise that your wine will taste better on the wrap-around porch or second floor deck overlooking the waterfront scene below.
Photograph: Courtesy Booking.com
Find woodsy charm—and an actual brook—at this cozy bed & breakfast near downtown
This charming B&B takes its name from the year-round creek that ambles through its forested grounds, and a massive spinning waterwheel hints at the property's original function as a corn grist mill. Today, thirteen rooms are dotted alongside the creek with fireplaces, featherbeds and none-too-cutesy decor. There's a hot breakfast in the morning and a wine and cheese hour in the evening; walk your coffee mug or merlot glass to one of the many sitting areas in the garden and enjoy the lush, overgrown scenery. Despite its woodsy appearance, the inn is a ten-minute stroll from downtown's bustling Pacific Avenue. Ignore your phone's directions and get there via Walnut Avenue, a charming tree-shrouded lane brimming with mesmerizing Victorian homes.
Time Out tip: The creek that runs through the property empties into Neary Lagoon, a wondrous and worthwhile wildlife refuge that's a ten-minute walk from the Inn. Stroll directly over the peaceful, reed-filled waters via a floating walkway that zig-zags across the lagoon for nearly a mile.
Photograph: Courtesy Booking.com
Live like a local at a quiet, beachfront cottage
Flip flops are the recommended footwear for this inn that sits steps from what feels like its own private beach. Hidden down a quiet street and frequented primarily by nearby residents, Sunny Cove is a picture-perfect stretch of sand flanked by obscuring coastal cliffs. Thanks to the inn's clean, modern cottages—many equipped with living spaces and full-size kitchens—you can settle into Santa Cruz life and pretend you're a local. In lieu of onsite dining, there's a large communal deck with BBQ grills and picnic tables overlooking the water (note: a handful of cottages include their own private deck and BBQ). Fill up the fridge, spend your days at the beach and wind down each evening clinking beers at your own beachside BBQ.
Time Out tip: On Sundays, cross the street to the spirited Live Oak Farmers' Market for fresh produce and meat, hot brunch plates, and toe-tapping live music.
Discover more of Santa Cruz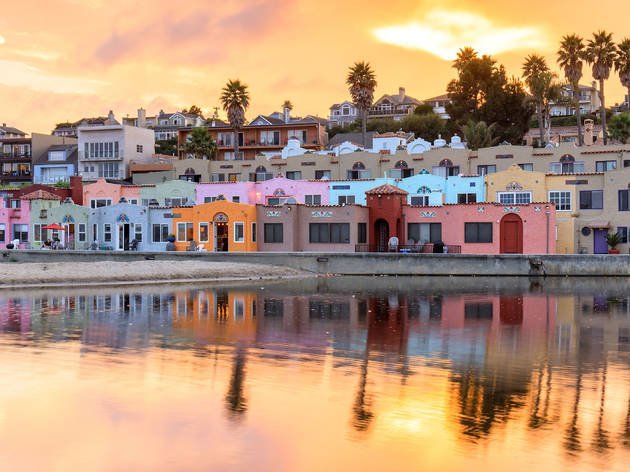 Get to know this beach town's laid-back surf culture with our guide to the best things to do in Santa Cruz.