Heads up! We're working hard to be accurate – but these are unusual times, so please always check before heading out.
13 Best Airbnb Venues in São Paulo
From hillside homes to charming chalets, here's our guide to the best Airbnb venues in São Paulo
As the famed financial centre of Brazil, São Paulo is lively, vibrant and more than a little intimidating. With a rich cultural history, masses of forests and streets saturated with mixed-century architecture, it's a development like no other, with plenty of world-class things to do.
When you've booked your plane tickets and perused some possible excursions, it's time to find somewhere to stay. We're going to make it a little easier for you, because whether you're after a bed near the beach, in the centre of nightlife or by prime attractions, Airbnbs offer a bona fide feel of city life that even some of the best São Paulo hotels can't compete with. So with that said, grab your passports and get scrolling through our pick of the best Airbnb venues in São Paulo.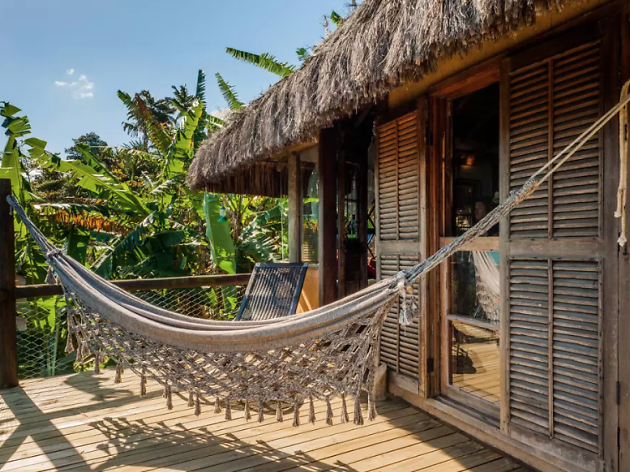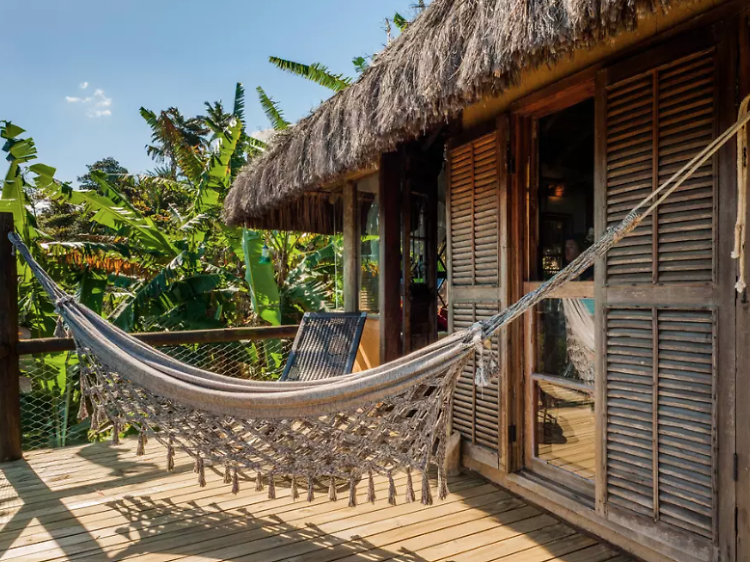 Photograph / Courtesy Airbnb
A seafront cottage in Ilhabela
Tucked away on a secluded island, across from mainland São Paulo, this condo is a slice of tranquil Brazilian paradise. There's space for four guests, wifi and an impressive Japanese bathtub on the porch to soak away your stresses. With beaches, palms and views of the ocean to boot, sway all day on the hammock whilst sipping on something sweet and boozy. Aaand relax.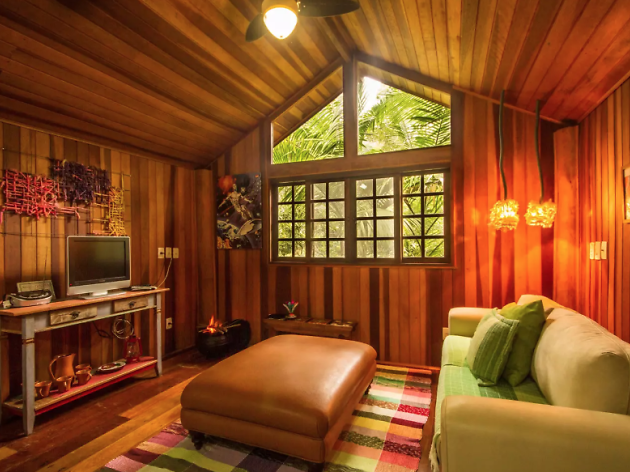 Photograph / Courtesy Airbnb
A chalet in São Francisco Xavier
Warm, cozy, and effortlessly inviting, this chalet gives two guests the chance to snooze amongst the wilderness. With inspiration taken from the verdant surroundings, the space intertwines rich wooden features and colourful soft furnishings to sooth the metropolitan mind. After all, it's a far cry from the concrete structures of the city centre.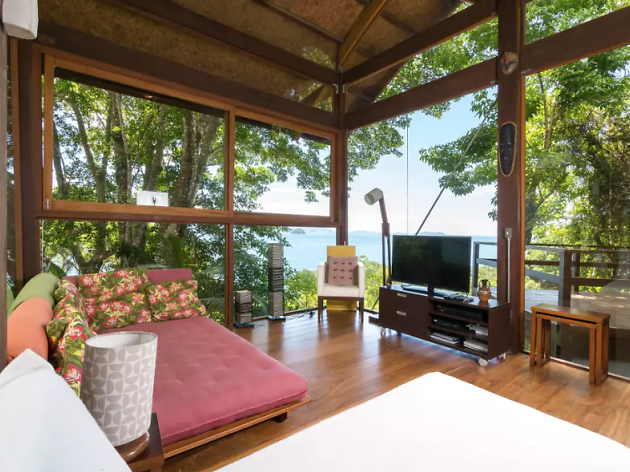 Photograph / Courtesy Airbnb
Set amongst a backdrop of delicate woodland and sweeping coastlines, this glass home provides a space to kick back and gawp at Ubatuba's heavenly vista. With accommodation for eight guests, understated decor and a location that's only short slink from the beach, this architectural masterpiece is an Airbnb special. And since the only thing that separates you and the wild foliage is a pane of glass, you can literally become at one with nature.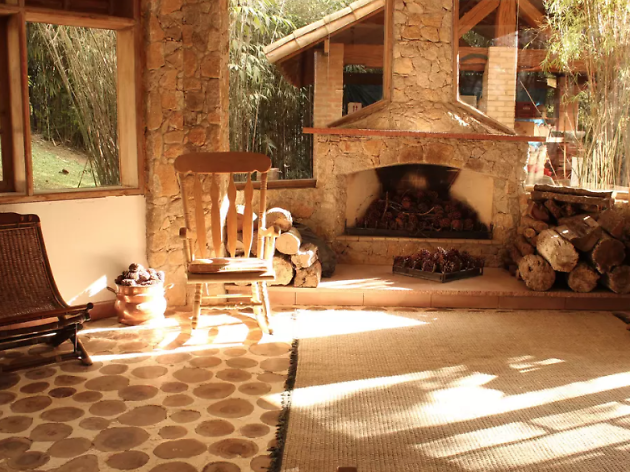 Photograph / Courtesy Airbnb
Concealed amongst the idyllic Atlantic Forest, this rustic farmhouse is anything but dishevelled. Outside, there's a spacious pool, pizza oven and play area and inside you'll find cosy rooms complete with log-burners. Plus, since there's enough space for eleven people, you can bring the whole brood for some group R&R.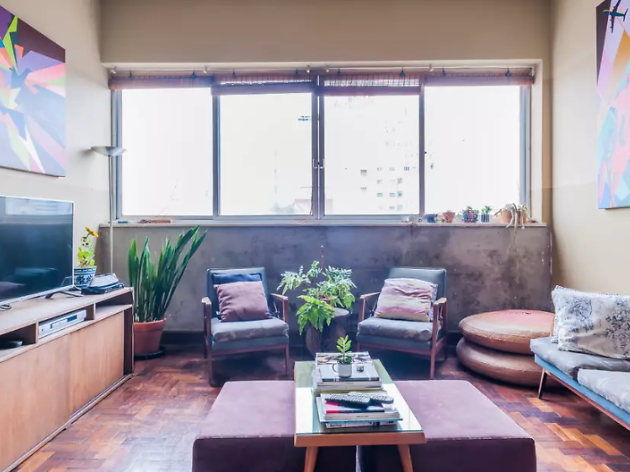 Photograph / Courtesy Airbnb
An eclectic room in Paulista
Ideal for city escapes, this wonderfully arty apartment is located on Avenue Paulista, a short walk from Parque Siqueira Campos and the São Paulo Museum of Art. Integrating original features of the house (concrete and wood) with vibrant soft furnishings and flora, the apartment feels incredibly trendy. If you don't mind sharing the place with other residents, then this is the perfect way to save some dough (so that you can splash out later on Caipirinhas).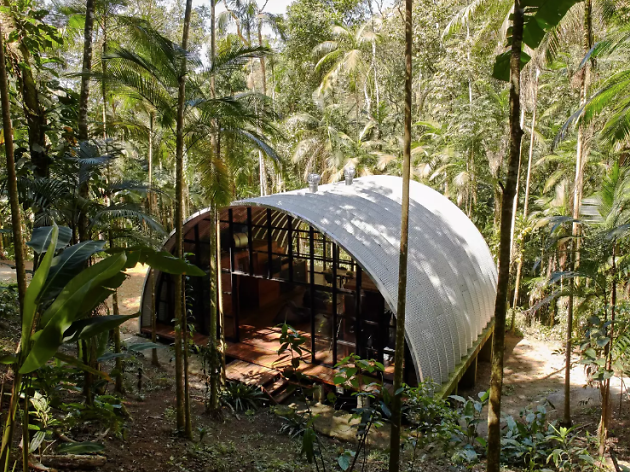 Photograph / Courtesy Airbnb
A designer house in Paraty Atlantic Forest
Wild swimmers, rejoice: this Airbnb comes with a (private) waterfall and natural swimming pool. And if that isn't enough to satiate your taste for the great outdoors, how does staying in the centre of a forest sound? Once you've dumped your stuff, grab something to munch on and park your behind at the dining table, where you can marvel at the magnificent scenery.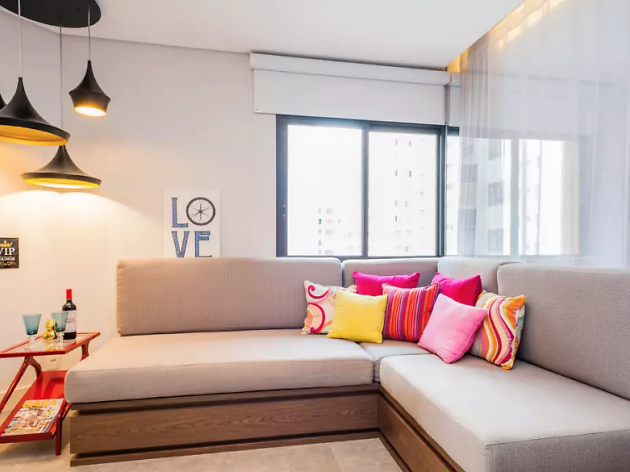 Photograph / Courtesy Airbnb
Although this sleek flat isn't particularly large, make no mistake: there's no compromise between space and style. Instead, each square foot has been cleverly designed to amplify scope and storage, even employing a flowing curtain to partition the living and sleeping areas. Better than that, it's within walking distance to shopping on Rua Oscar Freire, and the bewitchingly landscaped Ibirapuera Park, São Paulo's first metropolitan park.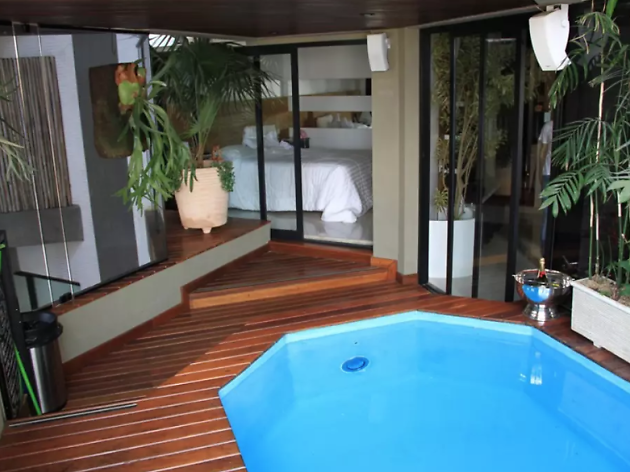 Photograph / Courtesy Airbnb
A contemporary apartment in Morumbi
If city escapes and bubbly hot-tubs are your thing, you're in for a treat at this fashionably modern Airbnb. When you're done exploring the local area, including Morumbi stadium (home of São Paulo football club) head back to this stylish Airbnb and strip off for some toasty, effervescent thrills.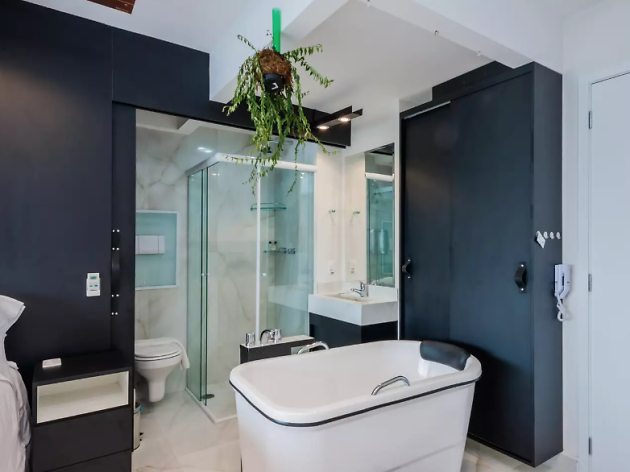 Photograph / Courtesy Airbnb
A modern studio in Bela Vista
This concept apartment was created by award-winning designer Jóia Bergamo, so it should come as no surprise that it's pretty luxurious whilst also being crisp and unfussy. But the best thing? It's pretty close to some of São Paulo's most famous landmarks, such as the Municipal Theatre of São Paulo, Museum of Art of São Paulo and Pinacoteca do Estado de São Paulo.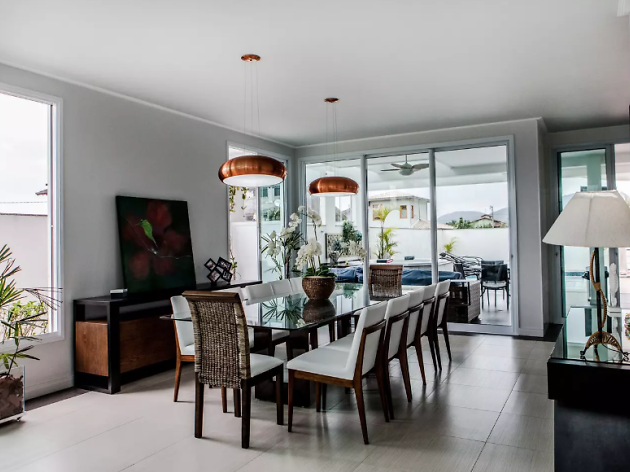 Photograph / Courtesy Airbnb
A chic house in Caraguatatuba
This refined home in Caraguatatuba is a padisal hideaway, where you (and your favourite friends) can take advantage of the extensive amenities. Make a splash in the swimming pool or have a kick about in the multi-sports court before retiring to the lounge. With grand floor to ceiling windows, airy and bright living spaces and an outdoor hot tub, who knew living la dolce vita could be so easy?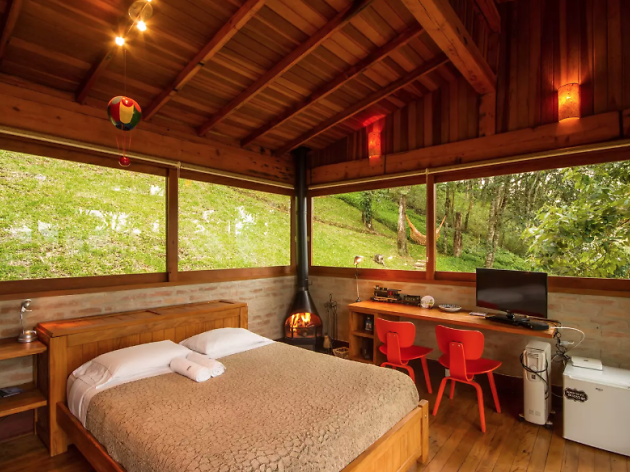 Photograph / Courtesy Airbnb
A rustic bungalow in Campos do Jordão
Bohemian getaways eat your heart out - this comfy and rustic-style cabin is très chic. Situated just outside of town, with exponentially beautiful views of the rolling landscape, this hillside home sleeps two and has space for you to park up. There's also a clean, wifi-connected workspace - so web wanderers don't fret: you may be staying in a forest, but you can still keep up to date with your uncle's facebook statuses.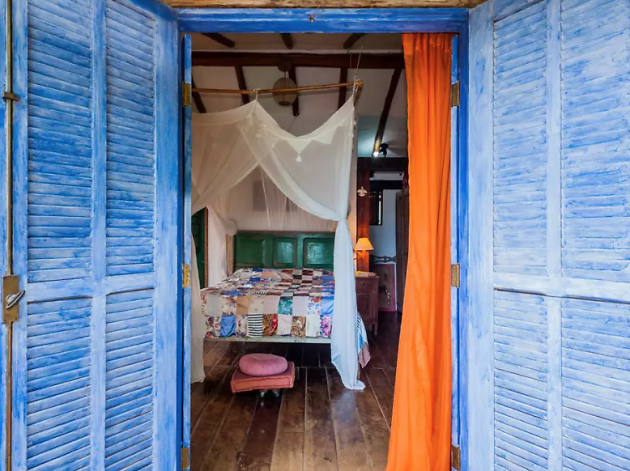 Photograph / Courtesy Airbnb
A bohemian guest house in Ilhabela
Colliding fabrics and colours, this whimsical Airbnb is anything but plain. A far cry from basic budget chains with lifeless decor, this guest house indulges in creating a rainbow spectacle which can uplift the mood of even the most jet-lagged of travellers. Oh, and the reasonable price helps too.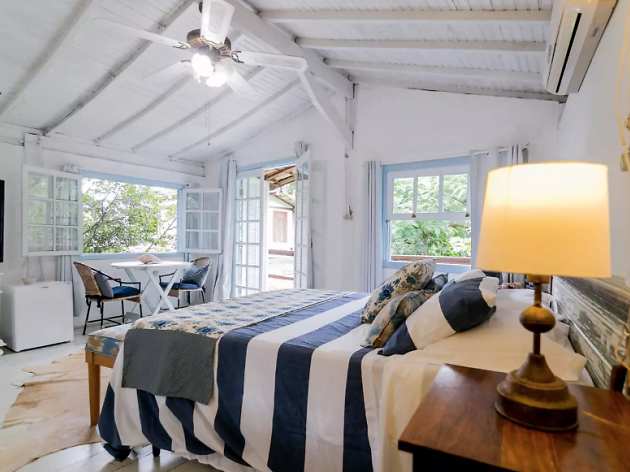 Photograph / Courtesy Airbnb
A stylish house by the beach
This fashionable and modern suite is delicately placed alongside Praia de Portinho, providing spectacular views of the ocean and beyond. In fact, even the interior takes inspiration from the surrounding waters, interweaving cool shades of blue and soft floaty fabrics. It's aesthetically pleasing, yes, but more than that, it's a reminder as to why you skipped that online hotel deal.