Heads up! We're working hard to be accurate – but these are unusual times, so please always check before heading out.
The 12 best hotels in São Paulo
Planning a trip to São Paulo? Browse the city's top accommodations including luxury stays and budget-friendly options
São Paulo, the commercial center and nightlife capital of Brazil that's home to plenty of fun things to do, attracts a wide range of visitors all looking for something different, from sophisticated business accommodation to budget-friendly mixed dorms. The city doesn't disappoint: there is a hotel out there that fits every need and every budget (unless you're more of an Airbnb traveler).
As usual, competition breeds excellence and the best hotels in São Paulo are proof of that. Expect creative accommodation options ranging from luxurious hotels with helipads and in-room swimming pools to artistic guesthouses set in colonial mansions. Rooftop camping options abound as well. Which one to choose?
Best hotels in São Paulo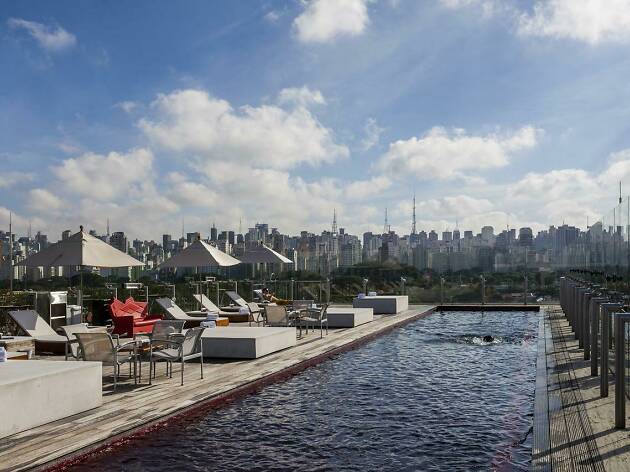 Photograph: Courtesy Booking.com
What is it? A luxury hotel famous for its 'unique' architecture and rooftop parties.
Why go? Resembling a slice of watermelon to some and a grounded ship to others, Hotel Unique's architecture is certainly a talking point. The conversation does, though, quickly turn to the hotel's impressive features, such as the swimming pool's underwater sound system and the venue's high-ceiling marble-clad lobby decorated with modern artworks. The rooftop bar—a famous elite hangout spot on Sao Paulo's party scene—allows guests to kick back with a cocktail or two while taking in the dazzling city views.
Photograph: Courtesy Booking.com
What is it? A sophisticated hotel located on Rua Oscar Freire, one of São Paulo's most upscale and expensive streets.
Why go? For a luxury stay in a boutique hotel that considers your every need and more, there are few better places than Hotel Emiliano. All the rooms are lined with soft wood and decorated in light tones, and the most luxurious suites include a private swimming pool with city views. Other hotel features that will make your stay unforgettable include a fully-equipped spa, a vertical garden, a champagne bar and even a rooftop helipad.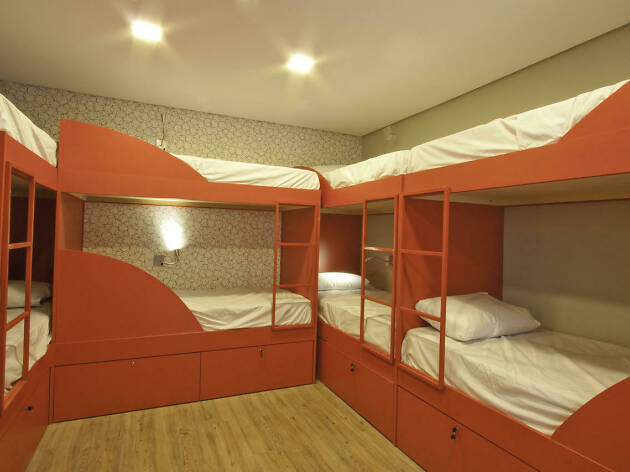 Photograph: Courtesy Booking.com
What is it? A centrally-located hostel with themed rooms and a busy, fun bar open to both guests and the public.
Why go? Gone are the days of cramped, basic dorms at hostels—at least as far as Bee.W Hostel is concerned. Each room follows a special theme, such as the jungle vibe of Amazônia and the deep warm reds of the India dorm. After trying some of the hostel bar's innovative mixers and shots, you can head out to the city's liveliest restaurants and underground bars, most just a stone's throw away.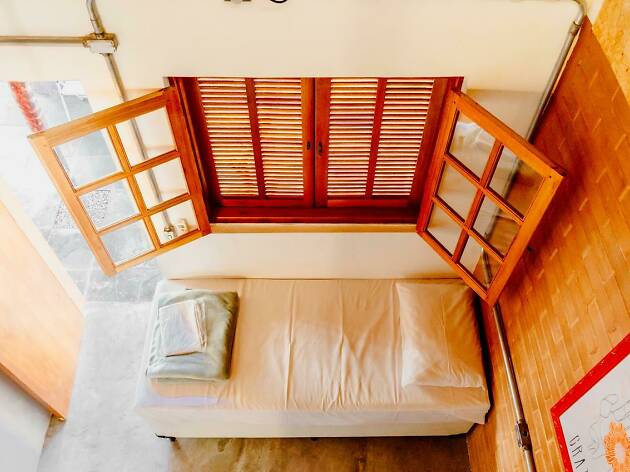 Photograph: Courtesy Booking.com
What is it? A modern hostel located in the heart of artistic neighbourhood Pinheiros and known for its ultra-friendly staff.
Why go? The modern communal areas decorated with fun features, such as the map of Brazil and the sticker-covered guitar hanging up on the wall, certainly add a whimsical edge to this Vila Madalena-based hostel. As do the lines of colorful hammocks outside and the lively bar serving artisanal beer and hearty snacks. Yet, it's the staff that's the icing on the cake—their friendly welcome and contagious energy will make this hostel feel like your home away from home.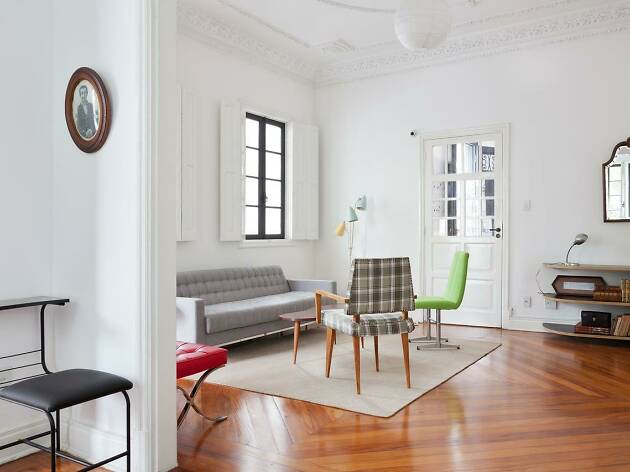 Photograph: Courtesy Booking.com
What is it? A stylish hostel with both private and mixed-dorm options, all at an affordable price.
Why go? Set inside an early 20th century mansion, the hostel preserves the original high ceilings and classic window shutters and breathes life into them with modern furnishings, such as the colorful armchairs and the packed bookcase lining the communal area. We Hostel is located in Vila Mariana, a quieter part of town near Ibirapuera park and with a selection of quality bars and restaurants nearby. For a stylish hostel experience, there's no better bang for your buck in São Paulo.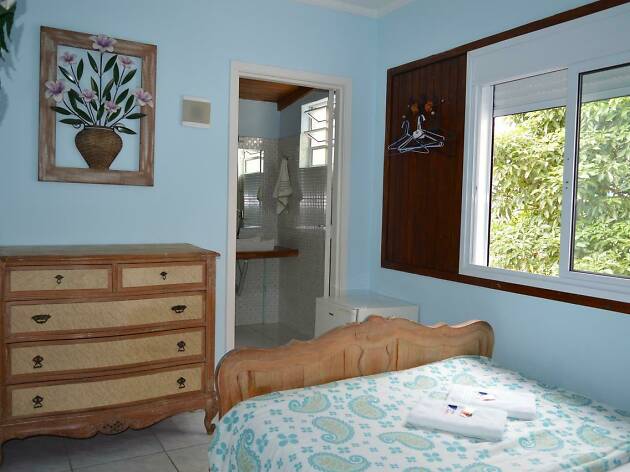 Photograph: Courtesy Booking.com
What is it? A charming bed and breakfast in the heart of São Paulo that serves a mouth-watering buffet every morning.
Why go? Despite being in the thick of things, Pousada dos Franceses offers a quiet, peaceful ambiance, allowing for a restful stay while right in the heart of São Paulo. Simple and unpretentious, boasting a pleasant atmosphere, the venue provides all the basic amenities you wish for. What really stands out is the buffet breakfast which, in addition to the typical morning foods, includes a selection of indulgent cakes.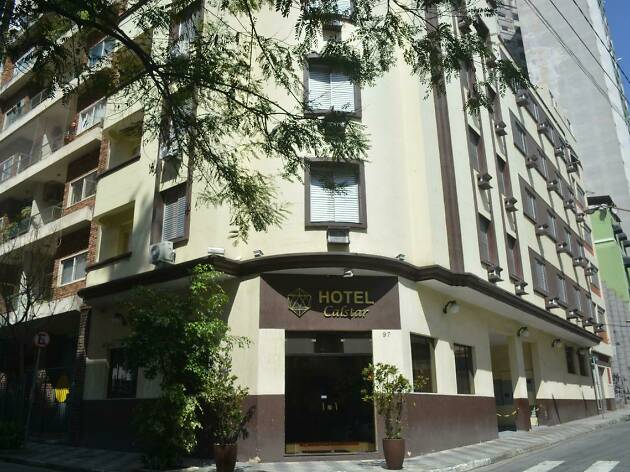 Photograph: Courtesy Booking.com
What is it? A low-cost and cheerful hotel in an unbeatable location in the heart of the city's downtown area.
Why go? Location is the major attraction at Hotel Calstar. Smack bang in the middle of São Paulo's downtown, you'll be staying within walking distance of some of the city's best late-night entertainment, including Praça Roosevelt and the Terraço Itália, a restaurant known for its aerial panoramic views. The hotel itself is simple yet cozy, with desks in the communal area for remote working, comfortable bedrooms and a buffet breakfast that gives you something to look forward to every morning.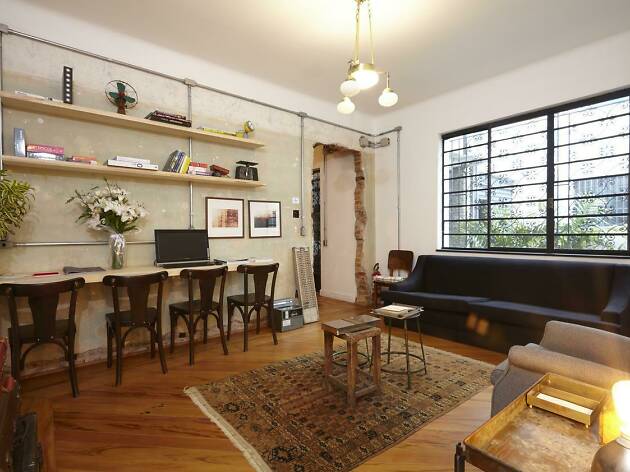 Photograph: Courtesy Booking.com
What is it? A stunning guesthouse set inside a 20th century mansion and decorated with art from up-and-coming Brazilian artists.
Why go? The rooms at Guest Urban are light, spacious and artistically designed with minimal decor and raw steel pipes lining the edge of the bedrooms. The rest of the property maintains the original structure of the 1930s mansion it's set in, including exposed brickwork decorated with contemporary art created by local, emerging artists. Guest Urban is in the heart of Pinheiros, a neighbourhood at the forefront of São Paulo's innovative gastronomic scene, meaning there are plenty of creative restaurants nearby.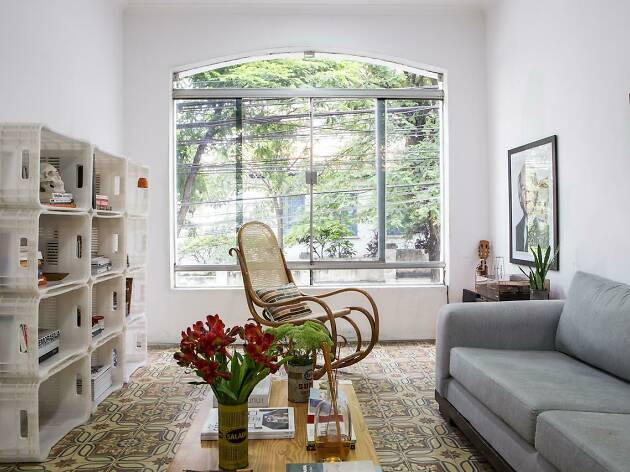 Photograph: Courtesy Booking.com
What is it? An impeccably designed guesthouse that offers that best value for your money in an upscale neighbourhood.
Why go? The minimalist rooms at Lobo Urban Stay are decorated in soft greys broken up by splashes of color, such as the bright yellow window frames and the colorful blooms on the table. In short, this guesthouse is stunning and is surprisingly inexpensive. And it gets even better: located in Jardins, one of São Paulo's most upscale neighbourhoods, the hotel is surrounded by the city's best restaurants, bars and shops, all within walking distance.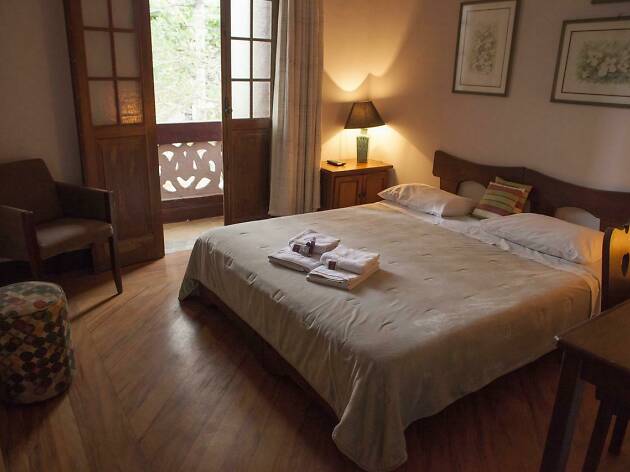 Photograph: Courtesy Booking.com
What is it? A charming bed and breakfast in the heart of the city that still offers peace and quiet within its picturesque garden.
Why go? In a city as frantic as São Paulo, it's hard to find a place where you can truly disconnect from everything. Pousada Zilah is one of those rare gems. With just six suites, the guesthouse feels ultra-homely, with traditional, exposed brickwork decor, plus a slice of tranquility in the surrounding gardens home to butterflies and song-birds. For a truly rewarding stay, opt for the room overlooking the Vale do Pacaembu and enjoy the sunset views every evening.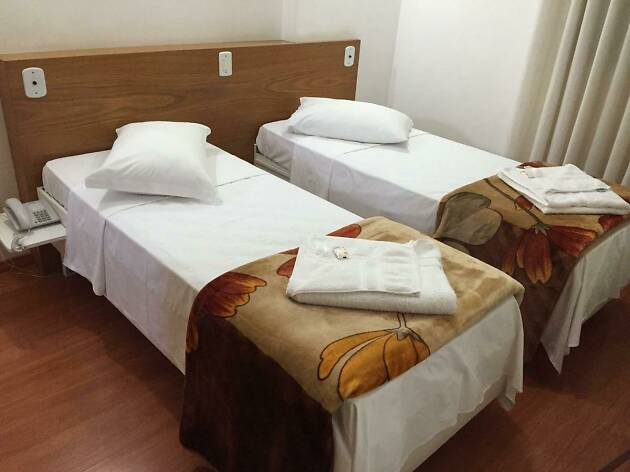 Photograph: Courtesy Booking.com
What is it? A comfortable and affordable hotel located near some of the city's best attractions and public transport options.
Why go? Hotel San Gabriel is a classic hotel right in the middle of São Paulo, with standardized yet spacious rooms, a light and breezy lobby, and a daily breakfast buffet served in a large communal dining area. It promises a clean and comfortable stay in what is one of São Paulo's best-known areas near the main street, Avenida Paulista, with plenty of museums, art galleries and late-night entertainment options within close proximity.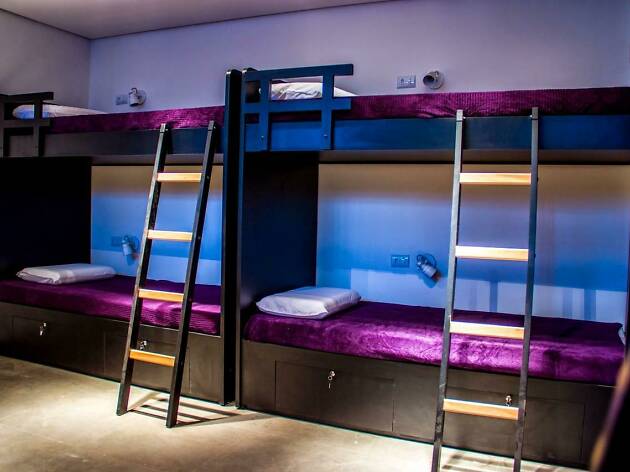 Photograph: Courtesy Booking.com
What is it? A unique type of hostel in São Paulo that offers rooftop camping as well as typical private rooms and dorms.
Why go? Have you ever thought of camping in São Paulo? Probably not. Perhaps, Aki Hostel's rooftop camping option will inspire you. The hostel provides up to 16 tents which are set up on the roof surrounded by the city's towering infrastructure. A retractable cover adds extra protection against the rain and the hot-water showers, free Wi-Fi and fully-equipped kitchen provide the full-on 'glamping' experience.
Need help exploring the city properly?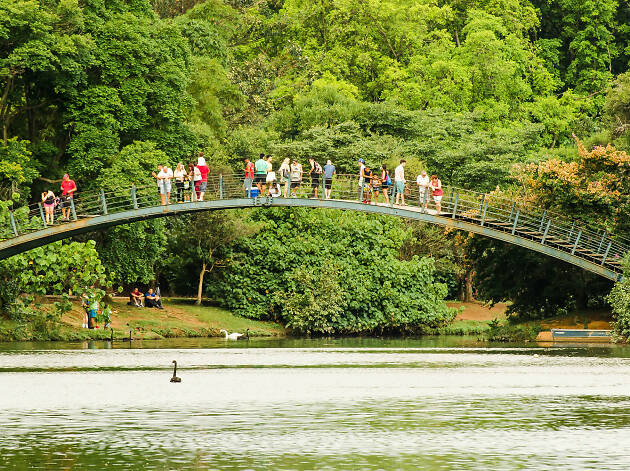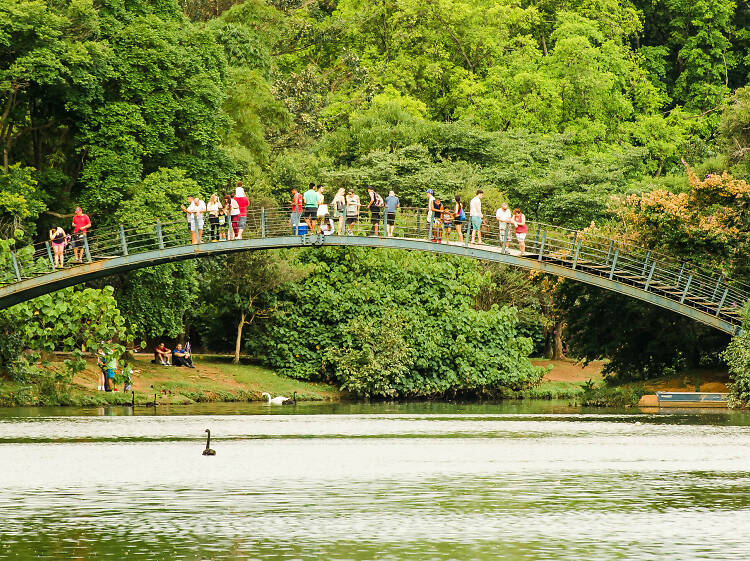 Photograph: Courtesy CC/Flickr/Flávio Jota de Paula
Sure, the city's glamorous restaurats and bars are renowned but dig deeper to find underground parties in abandoned factories, alleyways inked with Brazil's best street art and lofty views over Ibirapuera park.