Heads up! We're working hard to be accurate – but these are unusual times, so please always check before heading out.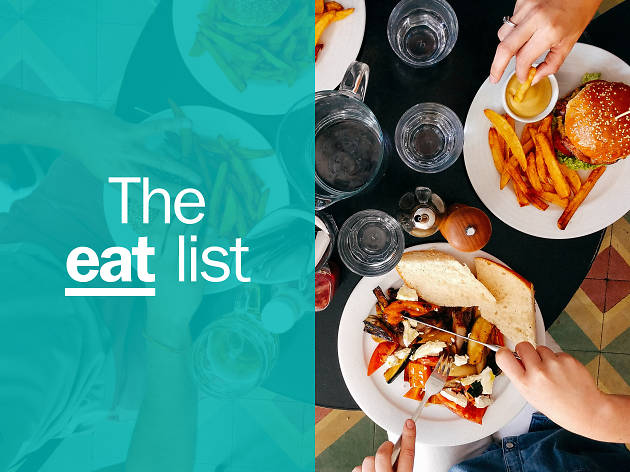 The 14 best restaurants in Savannah
This Georgia city is no longer content to settle for culinary stereotypes: here are the best restaurants in Savannah.
A weekend stroll through the Forsyth Farmers' Market (one of the best things to do while in town, if you ask us) reveals just how far Savannah's food scene has come in recent years. For one thing, the number of booths has nearly tripled since its inception in 2009. Secondly, the variety of produce and meats—shishito peppers, lady peas, grass-fed beef, pastured pork, lean bison—reaffirms that the city's palate has thankfully matured beyond fried chicken and butter beans. Thirdly, and most importantly, the talents behind the chef-driven restaurants cropping up throughout the Landmark Historic District, Starland and Tybee Island typically are first in line, crafting the week's menus in their minds based on what's freshest in the bins. Clearly no longer content to settle for culinary stereotypes, the Hostess City of the South has officially embraced fresh takes on local comforts. Here is your guide to the best restaurants in Savannah.
Best restaurants in Savannah
Photograph: Courtesy Yelp/Atlantic
What is it: A neighborhood bistro offering shareable, seasonal plates and a sophisticated wine list.
Why go: The bright white, navy and orange décor pays homage to the eatery's midcentury past as an Atlantic filling station. The friendly, festive atmosphere belies the seriousness with which owner Jason Restivo considers his wine and spirits selections as well as the ever-evolving offerings, which are divided into cool and warm bites, and small and big plates. The mushroom pâté is a must-have.
Price: Average
Photograph: Courtesy Yelp/Breyana D.
What is it: Originally a wholesale supplier of fresh-baked breads and pastries to Smith Bros. Butcher Shop, PERC Coffee and Purrvana Cat Café, the petite Auspicious now opens on Tuesday afternoons and Sunday mornings for regular folk.
Why go: The crackling almond croissants, crisp Tuscan crackers, feather-light apple English muffins and rounds of sourdough are worth the drive to the eastside and the wait in line. Just try not to get too over-excited as you get stronger bakery wafts as you approach the door.
Price: Bargain
Photograph: Courtesy Yelp/David S.
3. Back in the Day Bakery
What is it: A cross between your grandmother's kitchen and a vintage diner set in the old Starland Dairy general store.
Why go: Award-winning cookbook authors and James Beard-nominated owners Cheryl and Griffith Day are scratch bakers who handcraft old world breads—think rosemary ciabatta and Pugliese—from longline starters and cut circles of butter-flecked biscuits that rise to any occasion. It's a rite-of-passage for Savannah babies to taste their first cupcakes here.
Price: Average
Photograph: Courtesy Yelp/Anthony N.
What is it: A former Thomas Square bank remade into a sleek space serving unpretentious fare.
Why go: The team behind Cotton and Rye—so named for Georgia's historic cash crops—cut their teeth in South Florida and it shows in the airy palette, modern lounge and sparkling flavors running through chef Brandon Whitestone's creations. Open your stomach with a house-made sausage-and-cheese board complemented by a bourbon cocktail. If the crab-stuffed Carolina trout is available, don't think twice about ordering it.
Price: Pricey
Photograph: Courtesy Yelp/The Deck
What is it: Upscale beach bites just a few barefoot steps from sand and surf await at The Deck.
Why go: Aussie Anthony Debrecne, the mastermind of swanky downtown hot spots The Collins Quarter and Fitzroy, took over the tired Marlin Monroe's restaurant on Tybee Island's north end after hurricane Matthew laid it to waste. He transformed the cavernous space into a sun-drenched solarium with an indoor/outdoor bar where diners can pick from Baja- and Sydney-inspired dishes. Among them: street corn, tempura calamari and seafood fra diavolo.
Price: Average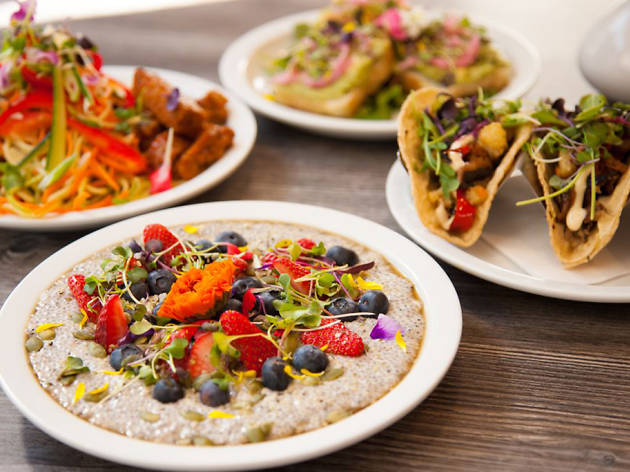 Photograph: Courtesy Yelp/Fox and Fig
What is it: A deceptively decadent vegan restaurant overlooking Troup Square.
Why go: While ardent meat-eaters might be put off by the concept of an animal-free meal, the food at Fox and Fig is anything but unexciting. The menu features a whole faux-hog of plant-based nibbles, including the likes of eggless quiche, banh mi and even burgers. Sweet little nibbles are also on offer and if all of the plant food is making you a little thirsty, take a look at the drinks menu. It's tasty list of booze (wines, champagnes, cocktails), milkshakes and soft drinks, too.
Price: Average
Photograph: Courtesy Yelp/Mike W.
What is it: The Grey serves upmarket and inventive Southern staples in a re-imagined Jim Crow-era Greyhound bus station.
Why go: Chef Mashama Bailey is heir-apparent of Edna Lewis's legacy, taking country cooking to unprecedented levels. The diner bar's shrimp hushpuppies and ham-and-potato croquettes served alongside an effervescent Daisy de Santiago make for the perfect starter. Plus, the dining room's cacio e pepe is the warm hug you didn't know you needed.
Price: Blowout
Photograph: Courtesy Yelp/Steven J.
What is it: This is a burned out, haunted mansion that was raised from the dead by Southern wunderkind Sean Brock.
Why go: Two words: Sean Brock. The celebrated chef's latest iteration of Husk takes a deep dive into the terroir of Savannah and surrounding environs. His partnerships with local growers have yielded Sapelo syrup, Sea Island white peas, Canewater padrón peppers and inventive interpretations of pimento cheese and cocktail sauce. The beauty of the Husk experience is that the menus change each brunch, lunch and dinner service, from day to day.
Price: Blowout
Photograph: Courtesy Yelp/Aaron E.
9. Lili's Restaurant and Bar
What is it: A hidden gem tucked behind a dentist office on Wilmington Island and helmed by a French-trained chef.
Why go: Chef Mir Ali marries the rich traditions of French cooking techniques with the flavors of his native Pakistan in tried-and-true Lowcountry dishes. An oyster po' boy gets its heat from sriracha aioli. A simple crab and shrimp cake is elevated by a sharp curry tingle. The typical chicken-and-waffle combo is revived with smoky tandoori. Need we say more?
Price: Pricey
Photograph: Courtesy Yelp/Michelangelo S.
10. Parker's Market Urban Gourmet
What is it: A classy downtown convenience store also serving gourmet to-go dishes.
Why go: All Savannahians in-the-know experience the "Fancy Parkers" initiation. Whether an art student pulling an all-nighter or an after-hours rocker stumbling home from The Jinx, the historic gussied-up gas station on Drayton Street always offers select cheeses, fruits and fine wines, strong coffee, fried chicken tenders and creamy mac and cheese that are to revive anyone's senses.
Price: Bargain
Photograph: Courtesy Yelp/Cathy A.
What is it: Clever twists on childhood favorites and cheap comfort foods are dished out in an old mercantile building on Bay Street.
Why go: Cocktails served in mason jars. Crisp mortadella masquerading as fried Bologna. Peach jelly and pecan butter slathered on chicken wings. Ground venison bathed in a tangy sauce and adorned with onion fries. Yes: you can eat all of the above at Treylor Park.
Price: Average
Photograph: Courtesy Yelp/Martin S.
What is it: This is a beachy bungalow on Tybee Island boasting shiplap walls, Boho decor and a bluegrass brunch menu.
Why go: What started out as a taco shack has grown up along with owners Curtis and Sarah Schumm into a full-blown destination eatery. Blood orange sangrias pair nicely with the chilled seafood bonanza of shrimp, crab, oysters and clams. French bread is the ideal vehicle for silky chorizo-spiked manchego. Even a hot summer's day invites a taste of the creamy crab stew. Most nights, there's live music playing from the corner stage.
Price: Average
Photograph: Courtesy Yelp/Wendy Y.
13. Wiley's Championship Barbecue
What is it: Low-and-slow smoked meats are served with a heaping side of whimsy at this awesome local BBQ joint.
Why go: An unassuming strip mall on Whitemarsh Island holds hog heaven—and brisket, for that matter. The much-decorated Wiley McCrary opened his eponymous outpost after he and wife Janet retired to Savannah in 2008. Since then, they've beguiled diners with pork-laden redneck nachos slathered in "Better Than Sex" sauce and cheesy béchamel. The smoked meat loaf elevates a ho-hum dish to a hell-yeah, and the sweet potato casserole is dessert enough.
Price: Average
Photograph: Courtesy Yelp/Shannon C.
What is it: A fish shack with a strong cocktail game that also serves small gourmet plates.
Why go: Perched on the edge of the Herb River, The Wyld Dock Bar is framed by the peaceful salt marsh. Some folks come to unwind at one of two outdoor bars—pain killer slushy in hand, of course—and listen to a local player pick some tunes. Families play cornhole as they await scallop corn fritters with habanero butter, salted watermelon and off-menu steamed prawns as big as sausages. Boaters are welcome.
Price: Average
Discover Time Out Market: the best of the city under one roof
Planning a trip to Savannah?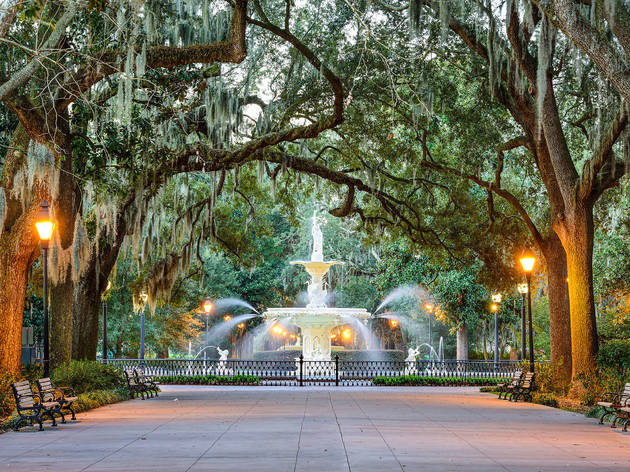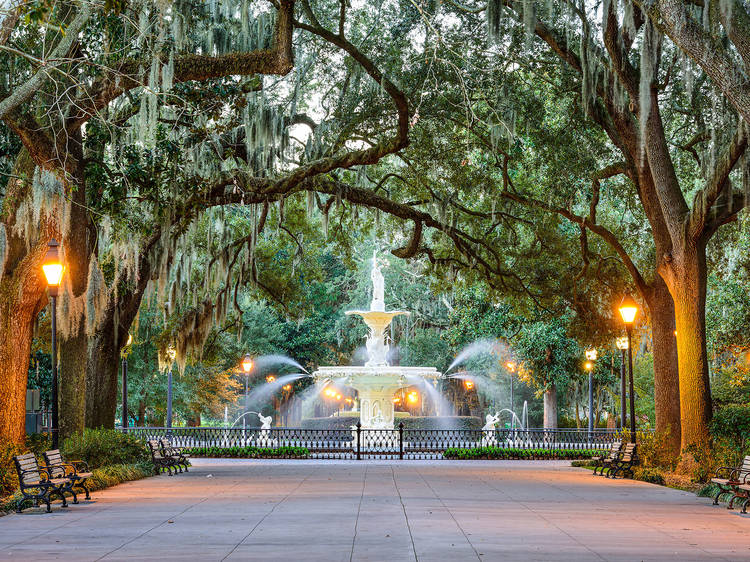 With a vibrant art and music community set against the backdrop of history, Savannah is no sleepy Southern town.