Heads up! We're working hard to be accurate – but these are unusual times, so please always check before heading out.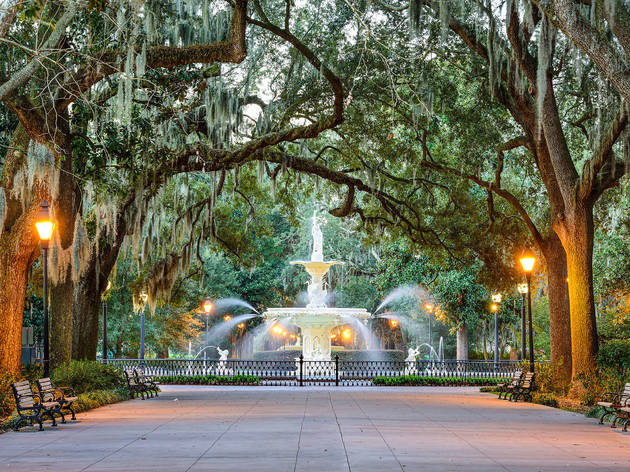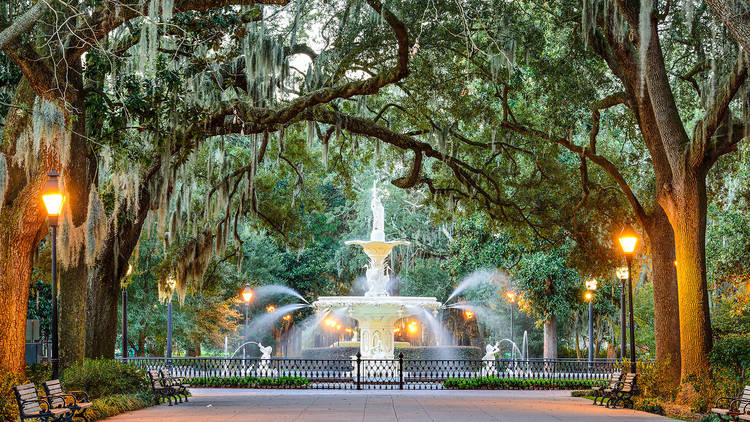 The 15 best things to do in Savannah
A myriad of festivals, art museums and history tours make up the best things to do in Savannah
With a vibrant art and music community set against the backdrop of history, Savannah is no sleepy Southern town. An often cited book by John Berendt, Midnight in the Garden of Good and Evil, once painted a picture of Savannah that endured for more than two decades: a slow-moving backwater populated by quirky characters with a penchant for preservation, pistols and deadly secrets. Some aspects of that image still hold true; however, a thriving tourism industry, a bustling port, military families and a creative class fueled by thousands of art and design students—some of whom remain long after graduation—has fostered an eclectic and innovative local spirit. Not many small cities can boast such a large roster of noteworthy festivals—indie, jazz and world music; book; film; food and wine—and more than one world-class museum, but that list just scratches the surface of all the best things to do in Savannah.
Done something on this list and loved it? Share it with the hashtag #TimeOutDoList and tag @TimeOutEverywhere.
Find out more about how Time Out selects the very best things to do all over the world.
Best things to do in Savannah
Photograph: Courtesy Yelp/Paul S.
1. American Legion Post #135
What is it: This is a storied watering hole in the home of the Mighty Eighth Air Force.
Why go: Nearly a full city block on Forsyth Park's southern border is occupied by a complex built in 1913 to house the Chatham Artillery. In 1941, the legendary Mighty Eighth Air Force formed here. Now, locals wet their whistles at "the Legion" alongside U.S. veterans, all swapping stories over well-priced booze. Before evening's end, treat yourself to a sloppy-good Betty Bombers burger.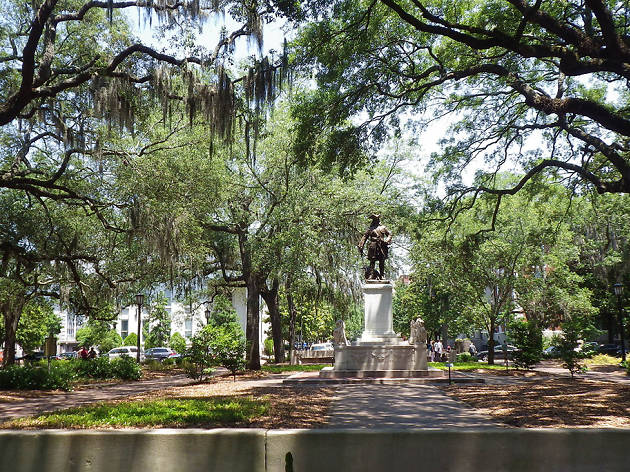 Photograph: Courtesy CC/Flickr/BEV Norton
What is it: Boasting 300 years of preserved history, the Landmark Historic District is an essential part of the city.
Why go: The best way to begin any Savannah adventure is with a walking tour of the Landmark Historic District. Not only will you get a great overview, but you'll also note places worthy of a longer visit. Savannah College of Art and Design alum Jonathan Stalcup uses the district's environment to weave a story that begins with Gen. James Oglethorpe's 1733 plan and ends with an open question: what's next?
Photograph: Courtesy Yelp/Big Bon Pizza
What is it: An authentic wood-fire pizza oven on wheels.
Why go: Almost any night of the week, the heady scent of Neapolitan-style wood-fired pizza floats on the breeze, drawing the hungry curbside for a feast of the eyes and belly. Bright flames slither in the gaping mouth of a crimson-tiled dome as mother-daughter team Kay and Anna Heritage wield wooden paddles and warm smiles. Businesses and organizations all over town hire Big Bon for pop-up dinners and loyal fans follow them wherever they go.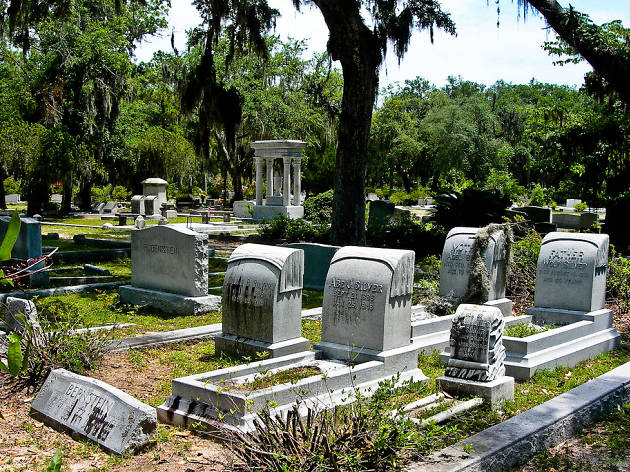 Photograph: Courtesy CC/Flickr/Ann Baekken
What is it: The final resting place of Savannahians on the banks of the Wilmington River.
Why go: If any place illuminates the area's dark beauty, it is the storied Bonaventure Cemetery in Thunderbolt, an historic shrimping community east of Savannah. Midcentury musical impresario Johnny Mercer lays beneath skulking live oaks fringed in Spanish moss, as does poet Conrad Aiken. The eyes of angels, little girls and Renaissance beauties, carved in marble, seem to follow your stroll along the meandering sandy paths.
Photograph: Courtesy Yelp/Nichole F.
5. Flannery O'Connor Childhood Home
What is it: The birthplace of the queen of Southern gothic literature.
Why go: A good man may be hard to find, but a great story isn't, especially at this narrow townhome on Lafayette Square, where Mary Flannery O'Connor lived in the shadow of St. John the Baptist Cathedral until the age of 11. The home celebrates O'Connor's quirky legacy with informative tours, whimsical tchotchkes, lectures by visiting authors, an annual birthday party and parade, and a series of Little Free Public Libraries.
Photograph: Courtesy Yelp/Front Porch Improv
What is it: A weekly comedy show in the spirit of Upright Citizens Brigade.
Why go: Every Saturday night, Bull Street Labs—a tech incubator and shared work space in the Starland District—is taken over by Brianne Halverson and John Brennan, both veterans of big city sketch and improv comedy troupes. Their manic energy has fostered a burgeoning comedy community here that grows week by week. The audience gets in on the action, contributing stories and cues that performers riff on in the moment.
Photograph: Courtesy Yelp/Carol S.
What is it: Old-fashioned creamery where the tutti-frutti flavor was born.
Why go: Nearly a century ago, Stratton Leopold's father and uncles opened Leopold's Ice Cream, using homespun recipes for butter pecan, lemon custard and mint chocolate chip. When Stratton returned home after a career in Hollywood, he revived the family business and opened the sparkling soda fountain on Broughton Street, where there's always a line no matter the weather. It's worth the wait—and the cost of shipping, which is now available.
Photograph: Courtesy Yelp/The Original Pinkie Masters
8. The Original Pinkie Masters
What is it: A local legendary dive bar.
Why go: A few years ago, Savannah was in danger of losing this dank hole-in-the-wall, where President Jimmy Carter and other politicians shook hands and secured votes, but master mixologist Matt Garappolo saved the venue and the name for another generation. It still smells like stale PBR and a pot-bellied pig is a frequent visitor, but it's infused with a more festive vibe these days—maybe because you can now bring sandwiches in from The Diplomat next door.
Photograph: Courtesy Yelp/Perry Lane Hotel
What is it: The city's newest boutique hotel.
Why go: Locals were frustrated when parking for the Fancy Parker's was commandeered by construction, but now they are giddy with the results. The Perry Lane is a sumptuous modern space—all glossy black and white. The rooftop bar, Peregrine, replete with lawn games, offers unparalleled views of the cityscape. The Wayward indoor lounge captures Savannah's highbrow-downhome ethos. The ongoing music experience and literary lecture series enliven not only the visits from tourists but also engages the townies.
What is it: An affordably priced mecca to find outsider art.
Why go: The late Francis Allen and his wife, proprietor Leslie Lovell, shared their love for self-taught, primitive artists by opening Roots Up Gallery, now located in the Downtown Design District on Whitaker Street. Works by local and regional jewelers, painters, potters and collage folk artists, such as Howard Finster, Panhandle Slim and Robin Howard, are accessibly priced. The delightful Location Gallery is just across the street, featuring themed pieces by even more local artists.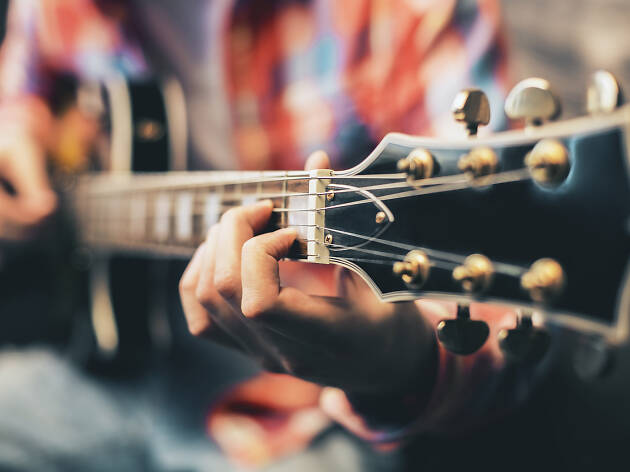 Photograph: Shutterstock
11. Savannah Songwriters Series
What is it: Once-a-month showcase at the Sentient Bean, a popular hangout for artists and writers.
Why go: Imagine 1980s-era Austin City Limits blended with Nashville's Bluebird Café. That's the Savannah Songwriters Series, held the first Sunday of every month at the venerable Sentient Bean, the vegetarian-free trade coffeehouse at the southern end of Forsyth Park. Four local or passing singer-songwriters take turns performing short acoustic sets. It's a great place to pick up merch, especially for up-and-coming acts you'll hear on the radio someday.
Photograph: Courtesy Yelp/Ryan C.
What is it: A veteran-owned craft brewery that donates a portion of its proceeds to veterans-assistance programs.
Why go: On Friday nights, from 5:30-8:30pm, Service Brewing hosts Bluegrass by the Pint, featuring the inimitable downhome twang of City Hotel. There's usually a food truck pulled up outside, slinging tacos or empanadas. And, with every pint of Ground Pounder, Compass Rose, Rally Point or Lincoln's Oyster Stout sold, a homeless veteran is one step closer to a tiny house.
Photograph: Courtesy Yelp/Messer K.
What is it: A fanciful emporium of art and wares designed and made by SCAD students, faculty and alums.
Why go: Savannah College of Art and Design (SCAD) doesn't believe in the struggling artist. To that end, the university has opened a corner boutique across from its delectable Gryphon Tea Room on Madison Square for the sole purpose of selling one-of-a-kind paintings, prints, textiles, jewelry and accessories produced by the SCAD community.
Photograph: Courtesy Yelp/Katherine C.
What is it: A trio of public and house museums made of up of Telfair Academy, the Jepson Center and the Owen-Thomas House.
Why go: A single pass will grant you access to the Telfair Academy, a neoclassical Regency mansion that displays 19th and 20th century paintings, ephemera, silver and sculptures from the museum's permanent collection; the shimmering and sleek Jepson Center, a showcase for traveling contemporary art exhibits; and the Owen-Thomas House, an 1819 William Jay-designed home and quarters, with the largest example of slave-applied haint blue still intact.
Photograph: Courtesy Yelp/Nicole I.
What is it: Tours memorializing the history and contributions of African Americans to coastal Georgia.
Why go: They don't teach these stories in history class, but Patt Gunn, a Gullah-Geechee descendant, celebrates the many and varied cultural contributions of enslaved Africans through her Slaves in the City walking tour and re-enactments. A visit to the First African Baptist Church illuminates the role parishioners played in the Underground Railroad and Civil Rights Movement. The Hain't and Boo Hags tour will make your skin tingle.
Hungry for the best restaurants in Savannah?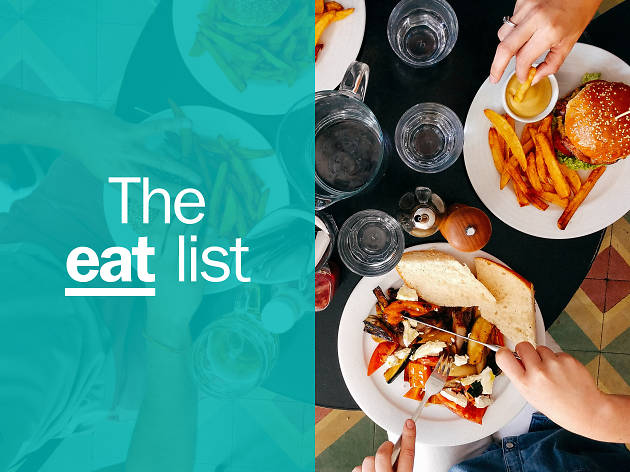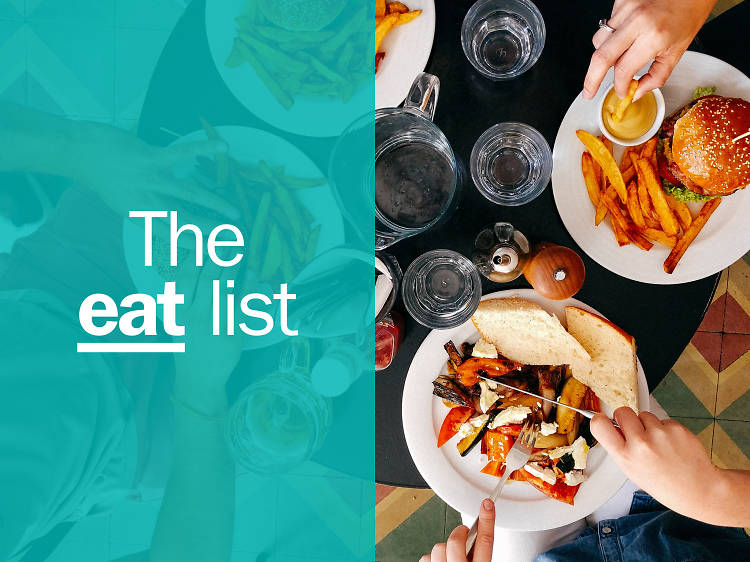 A weekend stroll through the Forsyth Farmers' Market (one of the best things to do while in town, if you ask us) reveals just how far Savannah's food scene has come in recent years.