Heads up! We're working hard to be accurate – but these are unusual times, so please always check before heading out.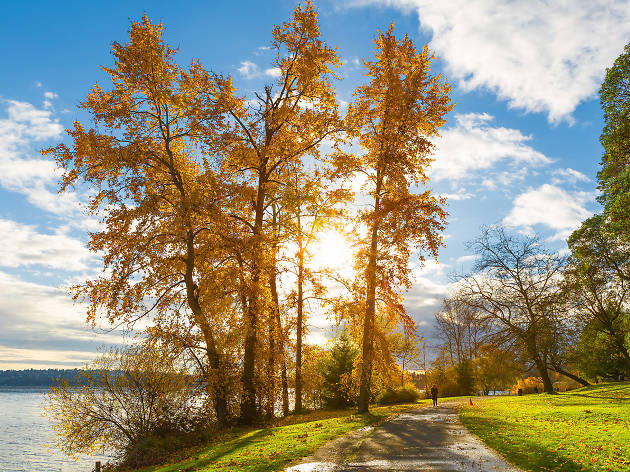 The 12 best parks in Seattle
The best parks in Seattle show that urbane life doesn't have to come at a cost: green spaces abound in the Emerald City.
A city in the Pacific Northwest gives its residents the best of both worlds: a bustling metropolis filled with museums, attractions and exciting things to do as well as the peace and quiet that only Mother Nature can afford.
In Seattle especially, the Olympic Mountains and the salt-water Puget Sound to the west as well as the Cascades and Lake Washington to the east (not to mention the iconic Mt. Rainier) can sometimes feel like nature is right at your fingertips, yet still unattainable if you can't afford to spend the entire day outdoors. Thankfully, the city has worked hard since its inception to keep some of that nature within city limits. Although there is no shortage of green spaces in Emerald City, the best parks in Seattle offer a little something extra that is sure to be appreciated by both Seattleites and out-of-towners.
Get exploring.
Best parks in Seattle
At 534 acres, Discovery Park is the largest city park in Seattle. Its purpose is threefold: it's a green oasis in a city that is constantly developing, a wildlife sanctuary and a space dedicated to environmental education. It offers a beach, a forest, sand dunes, meadows, a space for environmental education and breathtaking views of both the Olympics and Cascades. The West Point Lighthouse is worth exploring in and of itself and the play area was renovated just last year.
Part of the Seattle Art Museum (SAM), Olympic Sculpture Park flawlessly brings together art and nature in a single place. Offering free admission, the museum/park can be wandered through at one's own pace or enjoyed while on tour. The nine acres are filled with sculptures and beach, all underneath the Space Needle on Elliott Bay with the Earth's sculptures (the Olympic Mountains) as a backdrop. Remember, though: this is a museum, so no touching the sculptures.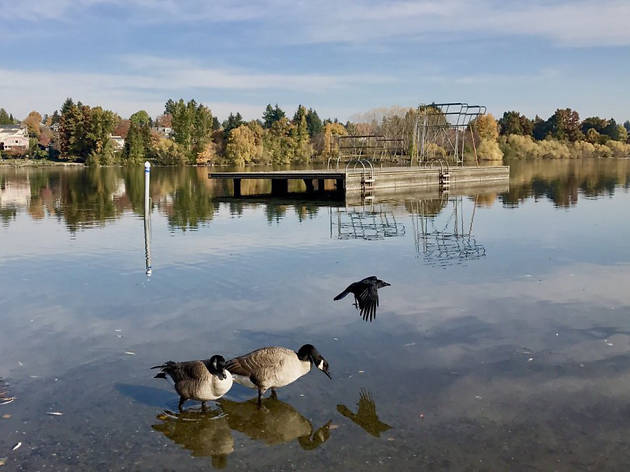 Photograph: Courtesy Yelp/Julie P.
Green Lake in northern Seattle is a neighborhood centered around the namesake lake, and the community feeling pervades throughout the park. With an ample grassy area, swimming, boating, sports fields and a 2.8-mile path, this natural reserve for plant- and bird-life is a one-stop-shop for park-goers. Plus, those who weren't planning on picnicking will be delighted by the various restaurant options surrounding the park.
Just a hop and a skip north of Green Lake, Carkeek Park offers 220 acres of everything from forest to wetlands to beach on the Puget Sound. Shout out to the volunteers who have donated their time over the years to successfully bring salmon back to Pipers Creek and restore Piper Orchard. Of course, revel in the casual glamour shot of the Olympic Mountains across the water.
Managed by both the City of Seattle and the University of Washington Botanic Gardens, this public access park has been given special attention. This is a quieter, more sophisticated area with an eclectic mix of plants, some of which can't be found elsewhere in the Northwest. It is particularly stunning during spring and fall, when new blossoms and the changing of the leaves take over.
Featured in the movie 10 Things I Hate About You, this 19.1 acres-park is located on what used to be the Seattle Gas Light Company gasification plant. Leftover factory parts make the park unique, along with a killer view of Seattle from the north end of Lake Union. Be careful, though: potentially dangerous substances in the lake make it unlawful to swim, fish or boat here.
Although nicknamed the Emerald City and the Evergreen State, it's at times still surprising to realize that getting lost in the forest doesn't require leaving the city limits. Take Seward Park, for example: at 300 acres, it takes up all of Bailey Peninsula in Lake Washington while boasting 2.4 miles of cycling/walking path, an amphitheatre, an art studio and beaches. What else could you ever wish for?
This incredible park began as the personal garden of Fujitaro Kubota in 1927. After 50 years of his making a mark on the city as a self-taught horticulturist (this is one of three public works of his), Kubota Garden was designated an Historical Landmark of the City of Seattle after his death. In 1987, the city obtained ownership of the garden, which is now managed as a public park. The now 20 acres of land combine Japanese gardens with Northwest plants.
You know that picture you've seen countless of times of Seattle with the Space Needle in the foreground, Mt. Rainier in the background and the downtown skyscrapers in the middle? That's a shot from Kerry Park. Sure, the park is made of 1.26 acres of greenery, including a playground and a modern sculpture, but the most outstanding portion of the area is certainly the view: so head on up and don't forget to bring your camera.
As the second largest park in Seattle, Magnuson couldn't be left off this list. Its 350 acres on what used to be the Naval Station Puget Sound now offer sports fields, art installations, a beach, a wetland habitat, a community center and buildings from the 1930s and 1940s. Located on Sand Point, the Lake Washington shoreline also affords a typically stunning view of Mt. Rainier.
Yet another park combining natural and man-made art, Volunteer Park houses both the Volunteer Park Conservatory and the Seattle Asian Art Museum (set to reopen in 2019). The 48.3 acres of park located on Capitol Hill were declared a landmark in 2011. Fun fact: the area was first set up as a cemetery and bodies were displaced to accommodate the new park. Maybe avoid it on Halloween, just in case.
Photograph: Courtesy Yelp/N H.
This 1.8 acre-park is a pleasant, grassy spot with a view of Lake Washington. Mostly notable as an unofficial memorial for Kurt Cobain, the park is located outside his former house and benches throughout it are filled with notes to the late rocker and lyrics of songs by Nirvana. Consider checking out the nearby Seattle Japanese Garden before or after paying your respects to the King of Grunge.
Looking for more outdoors fun?
As a port city surrounded by the salt-water Puget Sound on one side and the fresh-water Lake Washington on the other, it's no wonder that Seattle beaches are popular destinations among locals and tourists alike.