Hotel Rooftop bars? We've got great ones here in Seoul!
hotel rooftop bars like being in new york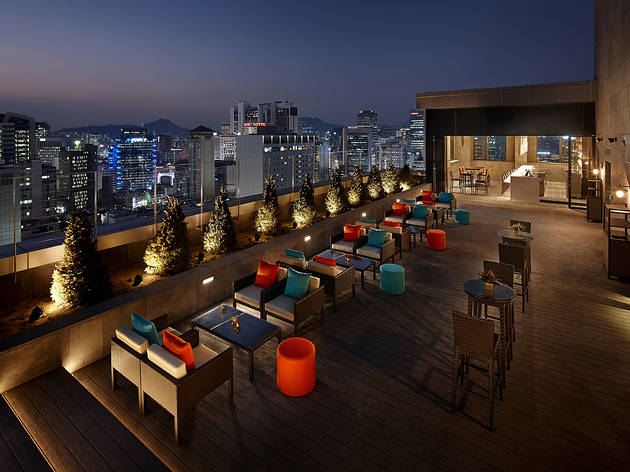 Fancy the rooftop bars in Manhattan, Marina Bay in Singapore and Bangkok, with sweeping skyline views? We're happy to let you know that Seoul's checked another box as an exciting metropolitan city. In addition to the hotel terraces that have been transformed from existing outdoor space, a number of well-known hotels in Seoul have opened up new space with the sole and serious purpose of spectacular views. Unextravagant yet astonishing skyline of Gwanghwamun, N Seoul Tower's presence right in front your eyes, and thrilling night views of Gangnam—they're all included in this list. Enjoying a moment high above the city, you might fall in love with the city all over again.
The Four Seasons Hotel Seoul has opened a garden terrace on its 15th floor. The buildings surrounding Gwanghwamun are not too high and the view of Bugaksan Mountain sitting at the end of the city is just phenomenal. The menu offers Bubbles and Barbecue, Veuve Clicquot champagne and grilled delicacies made by the chef. You are required to order Barbecue for each person and for 85,000 won extra, you can drink Veuve Clicquot, plus red and white wine to your heart's content. It is rather pricey since it's located in one of the best hotels in Seoul, but you can forget about your credit card bills for awhile as you enjoy the view of Seoul and drink some (or a lot of) fizzy champagne.
Don't panic when you exit the elevator on the 9th floor of Conrad Seoul if you were trying to go to the sky lounge bar but find yourself at Conrad Spa instead. Upon exiting, a kind staff member will show up and take you to the bar. VVertigo is only open during the summer and doesn't have the greatest view because of its location. However, sipping wine while half reclining on the lounge's large and white cushiony sofa, it's hard to tell if the bar is in Seoul or Bali. The cool breezes blowing between the buildings will cool you down. Above all, their DJ plays chill music with great beats—definitely adding to VVertigo's atmosphere. Drinks are very reasonably priced, and their wine starts from 70,000 won to 80,000 won a bottle, while the Caesar salad and deep fried soft shell crabs cost about 20,000 won each. During Happy Hour, a glass of wine is 11,000 won and beer is 8,000 won. Businessmen from Yeouido love to dine here in the early evening, but the bar becomes more laid back after 10pm. Come late and enjoy the rattan chairs for two for a relaxing and romantic time.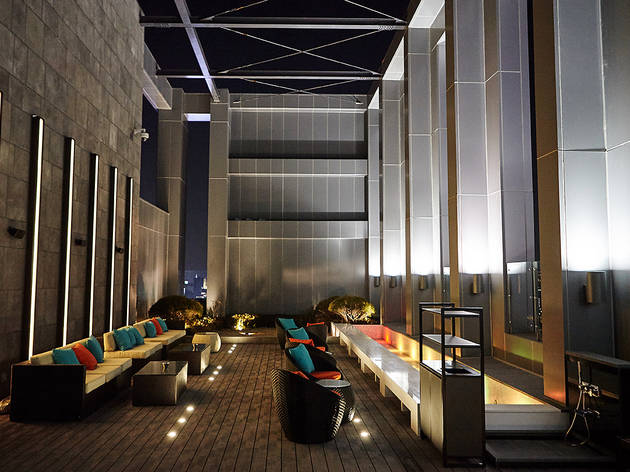 Located on the top floor of the new 21 story L7 Myeongdong Hotel, this rooftop bar is easily the trendiest place to be right now. With panoramic views of the Namsan N Tour, the Myeongdong Cathedral and Cheonggyecheon, you'll hardly noticed that you're in Seoul's most touristy district. Occupying the entire floor, the bar, which is divided up into an indoor space and an outdoor space, is easily the largest rooftop bar in Korea. Decorated with smooth marble, modern lighting and colorful bottles of wine and liquor, the indoor bar has a comfortable and homey feel to it. One special feature of the outdoor space, other than its size, is its footbath. A wide array of wines, champagnes, craft beers and cocktails are available at the bar. We're definitely looking forward to revisiting this one when the weather warms up just a little more.
Show more