Drink soju like an adult
It's time to put those green bottles aside and raise our glasses to traditional Korean soju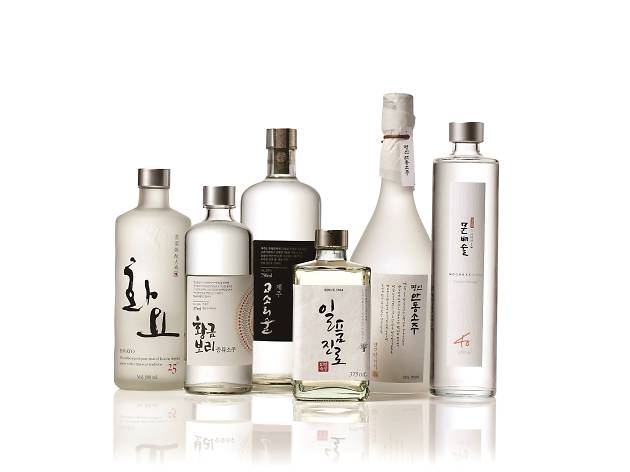 Soju, the companion for all seasons, has two faces these days. The first variety, recognizable as the popular green bottles found at every local supermarket, is a diluted mixture of pure ethyl alcohol, water, and a touch of sweetener— a bitter cocktail at best. The second type of soju, on the other hand, undergoes a fermentation and distillation process. Sadly, the traditional methods fell by the wayside when they were banned during the 1960s rice shortage, and the diluted solution became the drink that most call "soju" today.
Traditional soju is made from rice, barley, and various other grains resulting in a clear solution with flavors and fragrances true to its simple ingredients. Depending on the distiller's skill and style, the liquor may even have surprising notes of flowers and fruits.
Although the price tags are hefty, especially compared to their convenience store cousins, traditional soju is making a comeback among younger generations.
Tasting notes
Here are the six of the hottest distilled soju brands in the market as reviewed by Kwon Hee-sun and Lee Jong-im, owners of Kaydee, a traditional dessert café and bar.
Alc. 25%, 500ml, 12,900 won
Hwayo is the most popular and wellknown soju in the premium soju market. Made from Korean rice and clean water extracted 150m below ground, this soju is also distributed by Fortnum & Mason in London.
Kaydee says Hwayo has a crisp yet pure taste with subtle notes of melon that rolls right down the tongue.
Alc. 18%, 357ml, 3,300 won
Made from Gimje's golden barley, this soju is distilled twice, then filtered using pure charcoal.
Kaydee says Smooth with tropical and citrus notes and comparatively low in alcoholic content. A great drink to lighten the mood.
Alc. 29%, 750ml, 36,000 won
Designated a Jeju Island's Intangible Cultural Heritage, Gosorisul is made from millet-based omaegi-ddeok (Jeju's local rice cake).
Kaydee says With fragrant notes of acacia, Gosorisul at first resembles the warm and salty waters of Jeju but has a pungent and spicy aftertaste.
Alc. 25%, 357ml, 12,000 won
Ilpoom Jinro is a premium soju line by Hite Jinro, the company also responsible for producing Chamisul. Each batch is fermented in a cylindrical oak container for 10 years.
Kaydee says While most traditional Korean soju is fermented in onggi (earthenware), Ilpoom Jinro has a yellowish tinge due to its distillation in oak barrels. The soju looks, smells, and tastes very much like whiskey with prominent caramel notes.
Alc. 35%, 700ml, 25,000 won
With over 500 years of tradition and expertise, Andong soju is crafted by master distiller Park Jae-suh. After a three-step fermentation process, the solution is matured for one hundred days.
Kaydee says Andong soju is sought after for its citrus and yeast notes. It starts off sweet but ends with the astringent taste of persimmon.
Alc. 40%, 500ml, 30,000 won
Moonbae Sool's history dates back to Goryeo Dynasty. Its name recalls munbae, a local variety of wild pear.
Kaydee says Moonbae Sool has strong notes of pear. With the first sip, the liquor comes off sweet but slowly becomes salty, then fills the entire mouth with a smoky scent.
More to explore