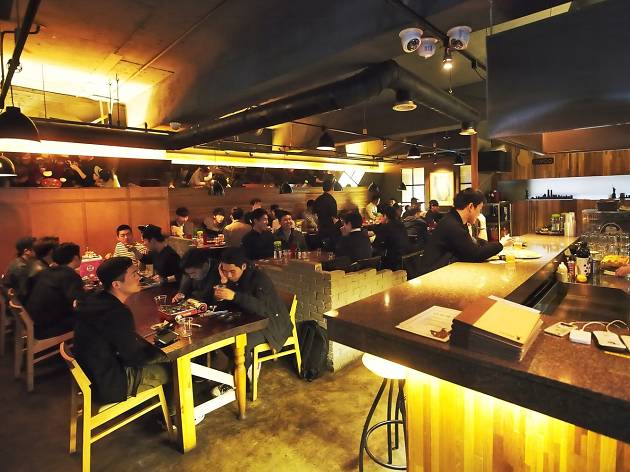 Jongro is the type of neighborhood where you can yell, "Auntie! A bottle of soju, please", at practically any restaurant and be met with a reply immediately. Gay establishment Owoo has been attracting all the new blood to this old-school neighborhood. While other older businesses are cramped in small spaces, Owoo boasts a good size, not to mention their Nordic interior styled in wood, a stark contrast from the backdrop of Jongro. It's been loved by the young residents here, who avoid the party-rocking block of Itaewon. Their unconditional love is due to 1. Speed: their supply of the elusive Honey Butter Chip or the increasingly popular Sunhari(young people are sensitive to trends) 2. Special promotions: Coming-of-Age Day, Coming of Christ Day, etc a handful of dates marked with "Owoo" on the calendar orders for side dishes or giveaways (check for dates on Facebook). 3. Youthfulness: This place emits a young vibe that only a crowd of people in their 20s can give off, and that money can't buy. When we visited the place to write this review, we had to wait a long time ourselves, so other than getting there early, we're afraid there will always be a line of people ahead of you. P.S. Be sure to order their sweet crispy fried chicken before anything else, which comes with high praise like "a collaboration of the souls of the master and the chef" on social media.
Venue name:
Owoo
Contact:
Address:
42, 11-gil Donhwamun-ro
Jongro-gu
Seoul


Transport:
Line 5. Jongno 3-ga Station. Exit 6.