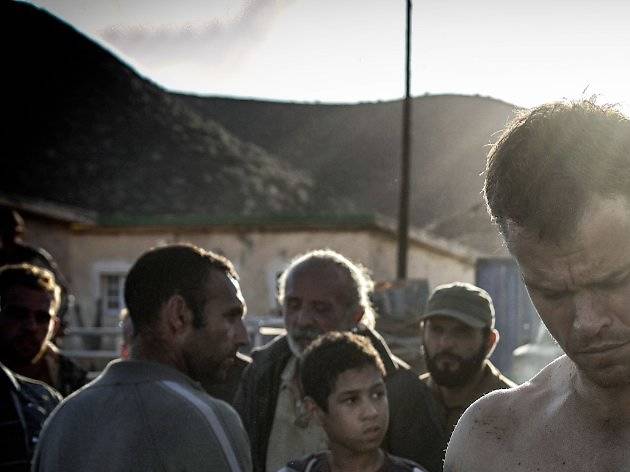 Matt Damon returns to his signature role for an undistinguished sequel nobody wanted or needed.
Matt Damon and director Paul Greengrass prompted widespread surprise with their decision to return to the Bourne series, despite the neat closure of their trilogy capper, 2007's The Bourne Ultimatum. Surely, we assumed, they must have a great reason to come back: some incredible twist, some shocking plot development that made this fourth story (not counting 2012's blah spin-off The Bourne Legacy, starring a place-holding Jeremy Renner) indispensable. They couldn't just be doing it for the money, could they?
Let's just say amnesia can sometimes be a good thing. We reconnect with Jason Bourne on a Rambo-style retreat, punching out musclebound chumps for cash in some East European backwater. But when his old contact Nicky (Julia Stiles) gets in touch with som promising revelations about Bourne's father, supposedly murdered by terrorists back in the '80s, our hero heads to Greece and back into the fray. Meanwhile, Zuckerbergian social-media guru (Riz Ahmed) is regretting a devil's deal he made with CIA director Dewey (Tommy Lee Jones, looking more and more like a meteorite with eyes). Then there's a thrusting young agency operative (Alicia Vikander) who's trying to connect all the dots.
So basically, it's business as usual: a devious old bureaucrat out to punch Bourne's clock, a taciturn Euro-assassin (Vincent Cassel, wasted) hired to do it, and an icy female operative enticed by Jason's masculine allure. And at the center of it is our tight-lipped hero racing around and hitting people. The nearest Jason Bourne (could that title be any more bland?) has to a unique selling point is the paternal angle, and it's nowhere substantial enough: We're never given a reason to care who Bourne's dad was, or what he was up to.
When the talking stops, the film takes off, with a pair of bone-rattling chases set in Athens and Las Vegas that cause maximum damage to people, property and the audience's eardrums. A bracing reminder of how fiercely efficient Greengrass can be, these scenes just about justify the existence of Jason Bourne. But, please, no more.
Release details
Release date:
Thursday July 28 2016
Duration:
0 mins
Cast and crew
Director:
Paul Greengrass
Screenwriter:
Paul Greengrass, Christopher Rouse
Cast:
Matt Damon
Alicia Vikander
Julia Stiles
Vincent Cassel
Tommy Lee Jones