A sauna or a café? 5 unique cafés in Seoul that are in right now.
They're probably the only unisex saunas in Seoul.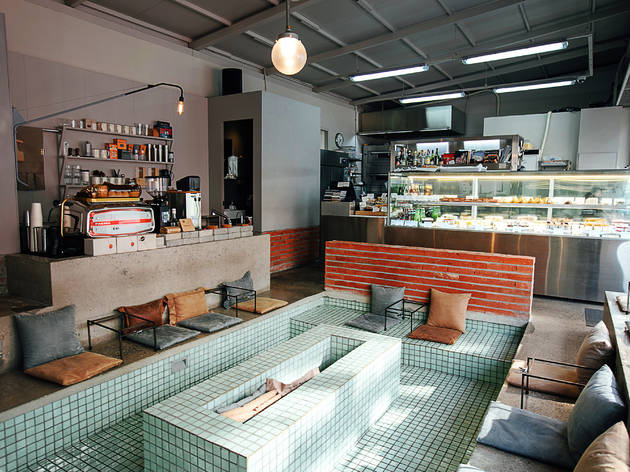 When On Ne Sait Jamais first made its appearance in Hannam-dong, people were wow'd at the unfamiliarity of encountering a unisex sauna in the middle of the road and casually hanging inside a water-less tub. Sauna-like cafés have since become a trend, satisfying the retro demand of today as well, while those old saunas are in fact disappearing quite quickly in many areas of Seoul. Sitting inside the pastel-colored tub sipping coffee and chatting away, you can't help but relax like it's 1993.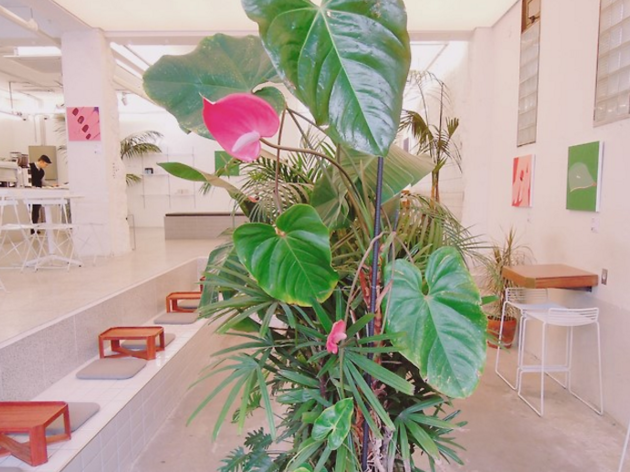 Restaurants, Coffee shops
Located near Sangsu Station, Luft is complete with all-white walls and an open space. With the name that means "air" in German, the café offers a Hawaiian feel and scents of Kau coffee cultivated in Mauna Loa. Kau coffee may not be as well-known as Kona, but it certainly doesn't come second in terms of quality and characters. The sign on the wall reads, "Hawaii nach Seoul"—full of aromas of citron flowers and fruits, the subtly sweet beans featured on the menu are directly sourced from a Hawaiian Kau farm.And, of course, there's the so-called "pool seats" complete with glossy square tiles. It was in fact not the intention of the owners but as it turned out to resemble a pool, they went so far as adding pool ladders and tropical greenery. For those who are looking to have a quiet chat, there are large tables by the windows, while one-person seats offer a nice study/reading spot. The music is kept mellow, and up-and-coming artists' works decorate the walls, offering a mini vacation of a sort in the city.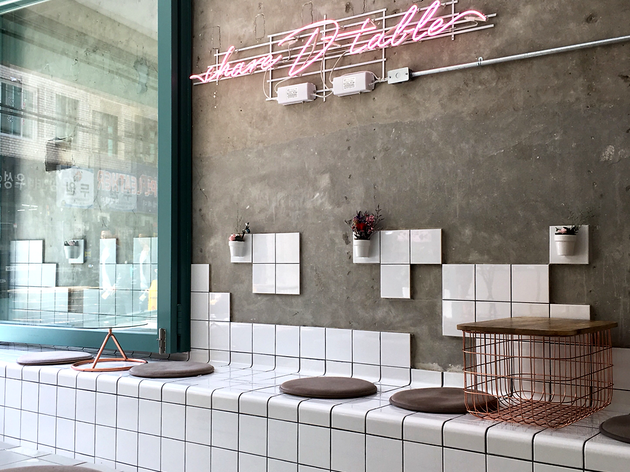 It seems that most of the places that are known to be "hot cafés" in Seoul these days are, design wise, either minimalistic, industrial or sauna-like. In short, they're "Instagram-worthy." Shared Tabled located in Seongsu is undoubtedly one of them—the problem is, though, that it qualifies as all 3, filled with one of those large communal tables placed in the middle, minimalistic furniture and a tub-like seat decorated with off-white tiles and greenery. So, what do they sell? It's lots of different things, really: from Le Cafe Marly specialized in brunch menus, Italian eatery Say Cheese, Thai restaurant Noodle Nook, ¿Qué Tal? tapas bar and Elements offering Busan Gorilla Brewery's craft beers have gathered up to create a "shared table." A food hall sounds great (especially considering that there aren't many places to eat around the café except for a famous gamjatang restaurant) but the issue is that the place gets way too noisy to dine or wine. Looking at the numerous pitures of Shared Table featured on social media may easily attract you to head over to Seongsu, but it turned out that unfortunately there's a huge discrepancy between the 2-dimensional illustrations and the reality.
The French phrase on ne sait jamais translates as "you never know" (or "you can't really tell") and indeed, it's hard to tell exactly what the concept of this café on Itaewon-ro 54-gil is. Director Park Ki-dae says the tiled walls and floors most likely cause customers to mistake it for a bathhouse concept, while others even think it's a Dr. Fish (a café chain in Seoul famous for fish pedicures). So what is it really? As Park puts it: "People can envision what they want from it." From the blue bath-like rectangle in the center of the café one can face the kitchen from which fresh French, American, Japanese and Italian-style baked goods come out—the most famous item being their Italian tiramisu. Throngs of people come on the weekend (beware the lines) for the soft and delicious desserts paired with Anthracite coffee.
Show more