A taste of the North
Seven places to try North Korean food in Seoul
In most English news these days, when the words "food" and "North Korea" are used in the same sentence, they're probably not talking about Pyongyang's restaurant scene. While focus shouldn't waver from the food shortages and famine, it's important to remember that North Korea's food culture and history is rich and varied. Seoul is home to dozens of restaurants owned by defectors or the descendants of Koreans from the North, and it's not all naengmyeon and mandu—you'll find stews, seafood and even royal cuisine on these menus. As North Korean Traditional Food Institute founder Lee Ae-ran points out, it's more accurate to talk about Korean food in terms of regions, not in terms of the sharp division between the North and South. So is there a North Korean cuisine? Perhaps not in strict terms, but what you'll taste at these restaurants is influenced by the history and geography of the north—go and se for yourself.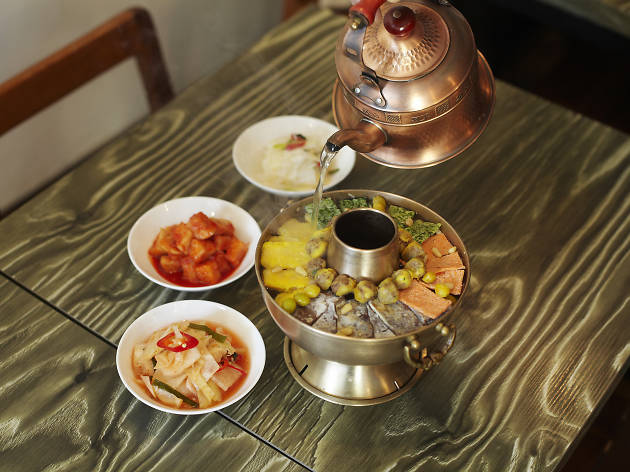 Chef and owner Yu Jong-cheol worked at Pyongyang's famed restaurant Okryugwan for 11 years before making his way to the South some ten years ago. It wasn't easy—he even worked as a construction worker for some time. After holding cooking classes and pop-ups, he and his wife finally opened a place of their own at the end of 2015. It's a small, unassuming storefront on a Hapjeong side street, with dark-paneled wood walls, natural light and simple furniture—not the kind of place to bring a rowdy group of 12, but definitely a hidden gem you'll want to show off to your friends.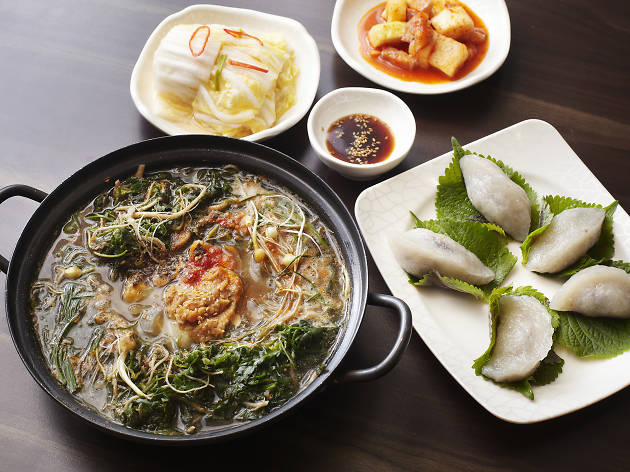 Owner Lee Ae-ran is a force of nature. Once a food engineer in Pyongyang, she defected to the South, where she became the first female defector to earn a PhD, studying food and nutrition. Her restaurant, Neungra Bapsang, and her nonprofit, the North Korean Traditional Food Institute, provide jobs for female defectors and help them adjust to life in a capitalist society. She has an incredible energy, and you'll often see her mingling with guests and greeting familiar faces. And as for the food? "Diners in the south are obsessed with taste," she tells us. "So restaurants use too many sweeteners and seasonings.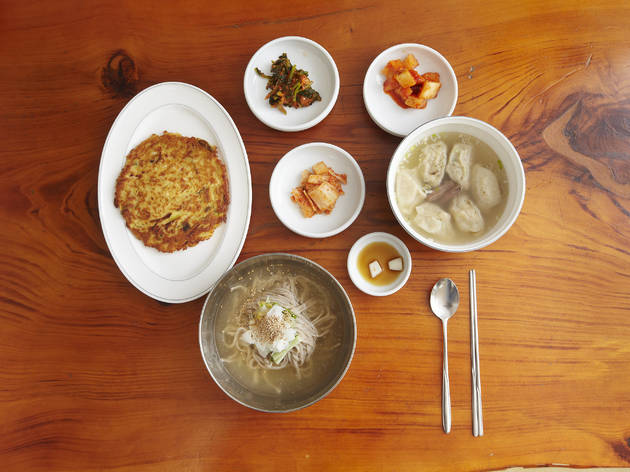 Named after the hometown of owner Yun Hu-ja's parents, Hadan is all about simplicity and quality. White walls surround low wooden tables and floor cushions, and the pared-down menu features just five items: mandu-guk (dumpling soup), mandu jeongol (a large, brothy dumpling stew), nokdu jijim (mung bean pancakes), maemil naeng kalguksu (buckwheat cold knife-cut noodles) and jokbal (braised pork trotters). When asked about the mandu, since it's written on the sign outside, Ms. Yun sighs: "Yes, the media always like to write about it because people think 'North Korea' and they think 'mandu.'
Show more
Q&A: Yoon Jeong-cheol Chef of Dongmu Bapsang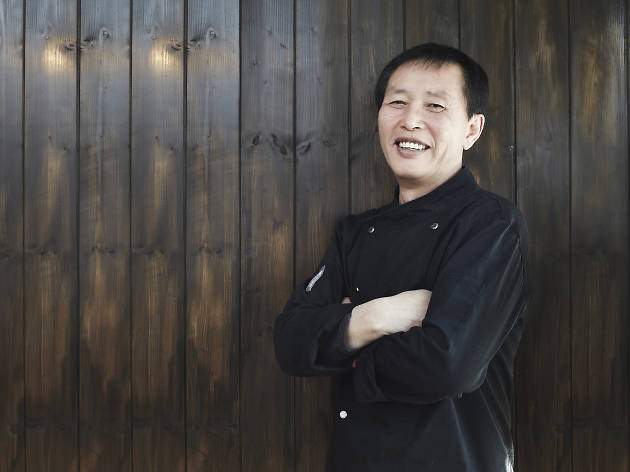 How did you start cooking?
When I enlisted in the Korean People's Army at 18, they took me to the Pyeongyang Okryugwan where I trained for four months. Then I was assigned to the Jangsung-geup Restaurant (a restaurant exclusively for army generals), where I cooked for 11 years. I think they took me to Okryugwan because my grandfather was a cook. But I hadn't even dreamed of cooking. I thought it was embarrassing for a man to cook.

When did you come to South Korea?
1998. For 10 years the luxury I saw in the military gave me high hopes about society but I was disappointed. You couldn't survive without stealing. So I went to China to earn money, where people were jealous of South Korea. I didn't even know what South Korea was, let alone know that it was so wealthy; I had only heard of corruption and decay. I made up my mind to go to South Korea myself after hearing of all the riches available there.

Did you start cooking again right when you got to South Korea?
No, I was too embarrassed. But I soon realized I only knew how to cook. I went to one restaurant where I didn't say I was a cook but that I just wanted to learn. But I couldn't cook there. They used too much artificial seasoning, ruining the taste of the ingredients. The cooking of
my people used a little seasoning to make the ingredients shine and I thought this new way of cooking would make me forget the tastes of home. So three years ago I started teaching classes at Hoyacooks Cooking Studio and now this.

How do you want people to think of North Korean food?
Aside from food, I want to think that the people coming to our restaurant are coming not just for North Korean flavors but also for reunification. In any case, the customers are here because they're interested in North Korea. By eating here, they are bringing the Koreas one step closer to reunification. People are brought closer through food and I believe eating here is representative of Korean reunification.
More to explore