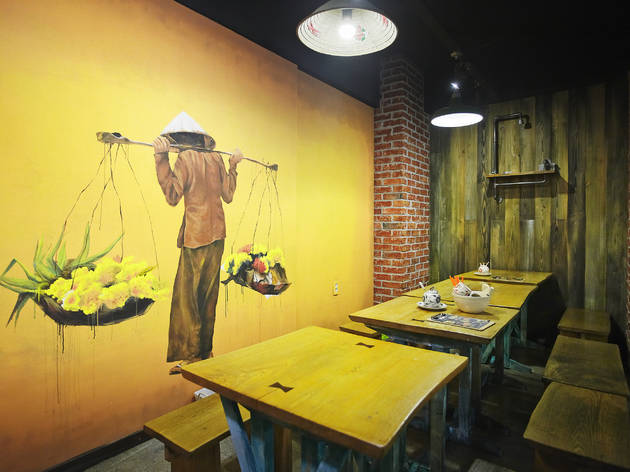 1/2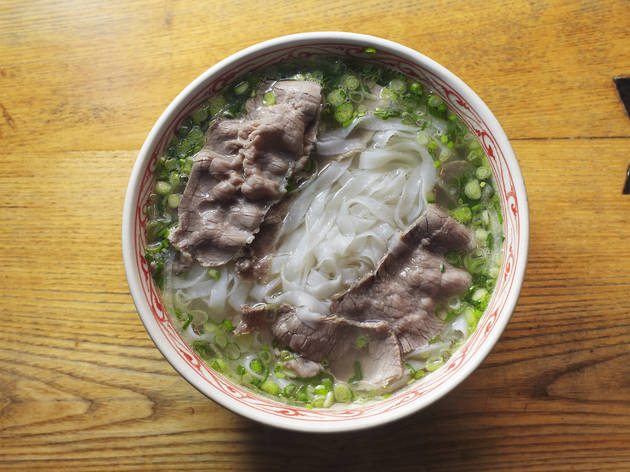 2/2
Every once in a while a pho place comes up with a flavor so different that it makes you stop and take pause. Emoi is that kind of place. Opened only a few months ago, Emoi serves Hanoi-style pho in downtown Jongno. Walking in you notice that the style of decor is in between a dive noodle bar and a larger chain—it's quite comfortable. The pho makes a nice visual impact— slices of beef in the middle with shredded cilantro all around, so much so that you don't see the broth, which is also almost clear. But after that first taste, you know something very right was done. The broth is light, full of flavor and well seasoned, quite unlike anything else available in Seoul. Two types of pho are served: the regular and the premium. The meat in the premium pho is cooked beforehand and then added to the broth, giving it a completely different flavor from the regular. The fried spring rolls here, which are perfectly formed and fried crisp, are also absolutely addictive. Pro tip? There are refills on both noodles and broth, so make sure to go on an empty stomach. By James Yu
Venue name:
Emoi
Contact:
Address:
6-20 Jong-ro 12-gil
Jongno-gu
Seoul


Opening hours:
Mon–Sun 10am–10pm
Price:
Regular pho 8,000 won
Rating Breakdown
5 star:

0

4 star:

1

3 star:

0

2 star:

0

1 star:

0
after reading the review, my wife and i went there saturday afternoon. the noodle was as described, unlike regular restaurant, its very soft and more opaque white than regular noodles. quite good and mrs. loved it. the soup base was not bad but i really really dont know about the 5 stars. personally too much green onion. i felt it had tad toooo much msg( my opinion only pls.). i asked for silantro and was offered none... i asked for lemon and they didnt have it (wha?????)(no lemon at a pho shop? whaaa?). i had to ask for the red hot sauce since absolutely no sauce of any kind was on the table. i can expect this kinda response sometimes from a japanese ramen shop since sometimes they are very meticulous about their proportions but not at a pho shop!
overall mrs. said i would have liked it if it wasnt for sans lemon and additional silantro. personally
i didnt think the broth was 5 star quality and not my style, although not bad... but i didnt mention that to mrs. for the sake of...since weve just started our afternoon outing...
im a pho lover, lived in LA for 10 years and ate thousands bowls of pho from south pasadena, alhambra to orange county, and i would give 3.3 stars since the noodle was quite different. the noodle really reminded me of the
vietnamese street food.
ps.. the place looks exactly like a semi trendy japanese udon shop and less like a pho shop...where is the picture of
the great Ho Chi Minh?