Everyday's Halloween here
Red and blue colored IV injection, finger shaped cookies and zombie shots poured by actually creepy looking zombies. They're available all year round at these places, and of course on this year's Halloween!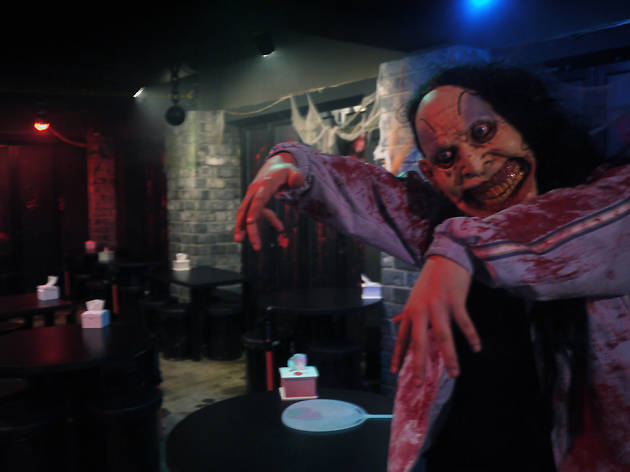 While you sip one of their "Zombie shots," all of the lights go out all of the sudden and a group of zombies appear out of nowhere at a nerve wrecking sound of siren. They grab you, force you a long eye contact, dance to a Big Bang song then pour you a shot while you're probably shivering with fear. Who doesn't want that, right? While I consider there's enough in my life that makes me fearful (which comes for free), if you enjoy horror and don't mind being grabbed by creepy looking zombies, Noneun Zombie might be an alright place to visit, perhaps once. As the zombies don't hang around in the bar, you need to sit at a table for a while—they'll come out when you least expect it. Would I go back? I'll just say that I had to get many more drinks (at a different bar) afterwards to learn to laugh again.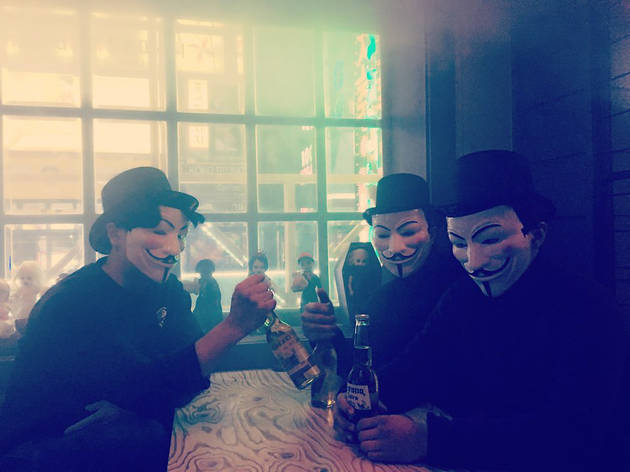 Walking up to the second floor where this bar is located, you'll encounter creepy looking dolls welcoming you with blank stares. With the name like "Lunatic," I guess you can't expect anything less than over-the-top, pure insanity galore. Inside, a Child's Play Chucky doll is sitting in darkness whilst taking the spotlight all alone, and more than a dozen Guy Fawkes mask are hanging on the wall. At one point, you'll also encounter zombies hanging around the bar. This is actually the least scary part of the game here, as the zombies are here just to chill, really. After a little while, you'll realize that Lunatic can in fact be a not only eerie but also entertaining place—the staff will come and let you enter the bar's own lottery, and talk to you as if you're an old friend. Among the 40 dishes available here, the Fruit and Chocolate Fondue is quite popular.
Show more
More to explore