Heads up! We're working hard to be accurate – but these are unusual times, so please always check before heading out.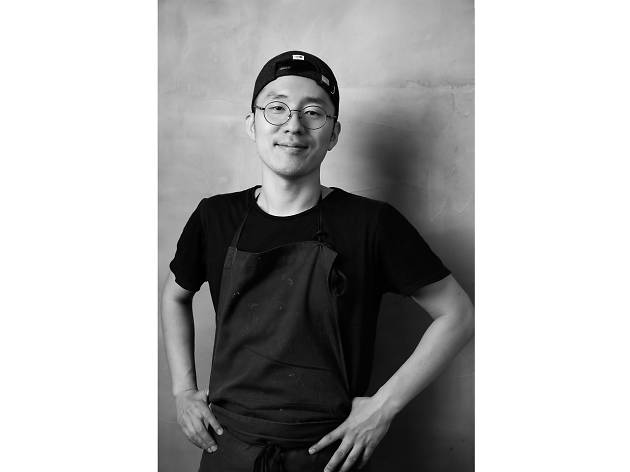 Kang Min-goo: Mingles
A commingling of flavors with traditional Korean sauces
Chef Kang Min-goo is still in his early 30's, but has already built an impressive résumé outside of Korea. After becoming the youngest head chef at Nobu Bahamas (part of renowned chef Nobu Matsuhisa's empire), Kang returned to Korea. His sense of duty to bring his international experiences to the table is reflected in his cuisine. "For Korean customers, I wanted to provide a fun experience; for foreigners, I wanted to provide a special meal that they can only have here. I wanted them to discover newness in familiarity. And because of that, I put more emphasis on hansik (Korean cuisine). Of course, stable food quality is another important aspect of a restaurant but I think identity is more important. Over the past few years, restaurants in Korea have started to have their own diverse food offerings." If there's one identity that Mingles can claim, it's that of serving innovative hansik. "I used different Korean herbs and ingredients that are in season, as well as traditional sauces and fermented vinegar to create this food," Kang explains. Most impressively, he makes excellent use of jang (fermented sauces), which are at the heart of traditional Korean cuisine. People may find one of his course meals, Mingles Bapsang (table), familiar yet new and distinctive all at the same time. Chef Kang reinterprets the typical Korean meal with five side dishes in his own way. For example, one of the amuse-bouches is fried seaweed served with abalone viscera sauce, mango purée, salmon roe and truffle powder on top. Making use of doenjang, an earthy, traditional bean paste, one of the most popular main dishes on Mingles' menu is lamb chops. It would be a disservice to ignore Mingles' foie gras. Here they first marinate the foie gras in maesilju (plum wine) and bean paste, and then wrap it in white kimchi or sea tangle to finish their foie gras torchon. But perhaps their most beloved menu item (and for very good reason) is the chef's signature dessert: the Jang Trio is an ice cream dessert with bean paste crème brulée, soy-marinated pecans and red pepper paste. The depth of these flavors anchoring the sweet creaminess of the ice cream is an unforgettable treat. The name Mingles doesn't just reference the chef's name, it also signifies a "harmonious mix of different things." This is a space where this young chef's dreams, experiences and philosophy all come together. And in this atmosphere, you will be served a tasty meal no matter where you came from.
After Jung Sik Dang, Mingles is the most interesting fusion Korean dining experience in Gangnam. As the name "Mingles" suggests, the menu consists of Korean as its backbone with Japanese, Spanish and French influences applied in various ways. To their credit, Mingles has worked hard to remove the stigmas associated with the term fusion: In Korea, fusion Korean food has up until recently been viewed a pretty name with nothing concrete backing it up. Mingles, however, has undertaken the serious work of studying the ingredients as well as demanding an exacting selection to expand and further existing concepts of Korean cooking. Their citron pot, once offered to the kings of old, and their pickled vegetables aged to perfection are just some of the innovative efforts that enable patrons to get a taste of the past and present. The Korean traditional sauce crème brûlée trio is another such recipe that defies existing concepts and offers to your palate flavors unlike any before.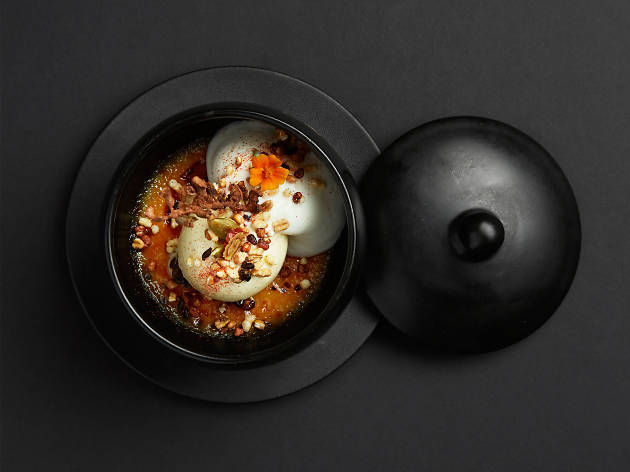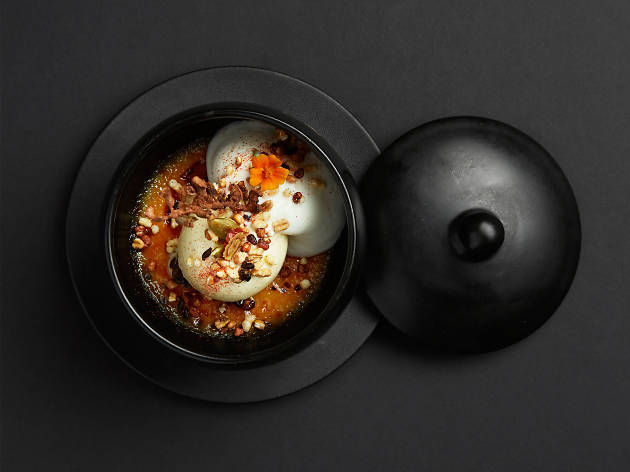 mingles Bapsang & Jang trio
The fun with hansik comes from a combination of rice and side dishes. Mingles has reinterpreted the Korean meal of rice and side dishes with numerous types of preparation styles and ingredients, including boiled
rice mixed with abalone viscera sauce, grilled gizzard shad, stir-fried anchovies, pickles and more. The Jang Trio is Mingles' signature dessert. Vanilla ice cream, bean paste crème brulée, soy-marinated pecans, red pepper paste and whisky foam come together in a beautiful and balanced harmony.