Seafood in season
Here are the foods that are in season now and the tastes that'll help you enjoy the winter even more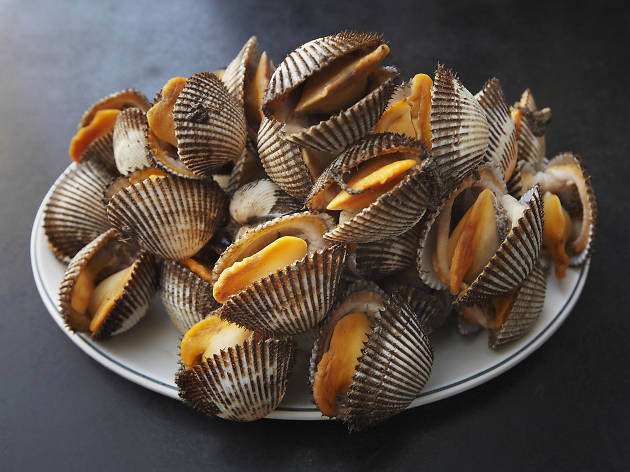 At this restaurant, cockles aren't their only dish. It's a place where you can enjoy some of the freshest seafood from all over the country. They're famous for their seafood dishes as they bring king cockles from Beolgyo, bangeo from Sinan and seashells from Geoje-do. Located in Geumchongyo Market near Gyeongbokgung Station exit 1, it's the go-to spot for many magazine editors. The restaurant is crowded with people eating freshly steamed seafood and drinking from early evening till dawn. Seochon Gyedan-jip is located in two different restaurants (one facing the other across the street) and they'll seat you as soon as there's an empty table, but the line to get in is always long. Their king cockles, which are as big as a spoon, are much bigger than the cockles you might be used to and it's always amazing how soft they can cook them. They also serve other types of seafood here—all of which is delicious. Their seafood ramen, which goes well with drinks, is another popular dish.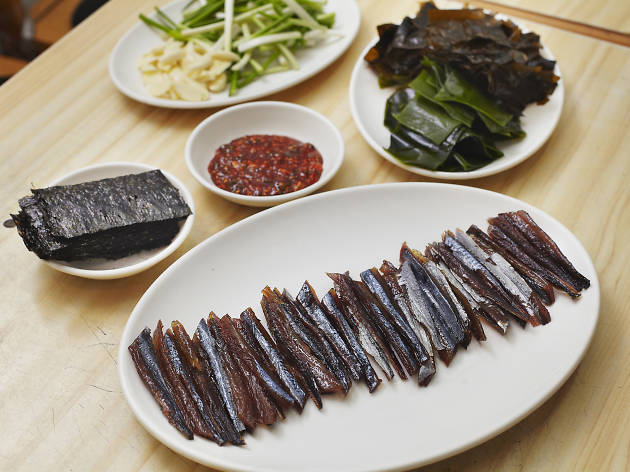 To make one of the best delicacies of the winter, guamegi, this restaurant dries herring or billfish in the ocean air. In the process, the fish freeze and melt over and over. Its taste and smell are very distinct, which people either love or hate. There's actually a good number of "guamegi manics" who are addicted to it. Yeongdeok Hwae Sikdang, which is famous for its guamegi, is located in Chungmuro. The restaurant is small and shows the wear and tear of its 28 years of existence. But even if I visit at the early hour of 3:30pm, half the tables are full. When you order guamegi, you get side dishes of parboiled seaweed, dashima (kelp) and garlic. The guamegi they sell here are dried in an effective manner and thanks to that, it doesn't taste that fishy. Their sauce is absolutely delicious as well. They made their own red pepper paste, which makes it completely different from other sauces. They make guamegi until January and vacuum pack them for storage. So, even in the summer, guamegi lovers still get their guamegi from here—but of course, it's best during the winter.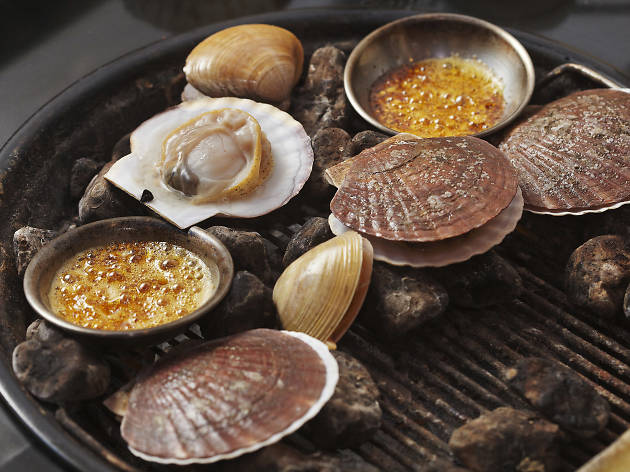 The first thing that'll surprise you about the clams here are their size. The second is their taste. (The owner added that the last surprise is their price. You might think it's more expensive than other places, but you'll understand why once you eat here.) Large, fresh scallops and surf clams (gaeryang chogae) brought all the way from Kosong, Gangwon Province are the two main ingredients here. When you order their clam specials, these are the two kinds you'll get. Instead of making you grill them yourself, the owner of the place will do it for you. The restaurant has a peaceful atmosphere unlike other clam joints. And the taste of the food here is as good as the restaurant's ingredients. The thick and savory scallops are especially pleasing to the palate. Without any cheese or sauce, the clams taste wonderful on their own. The grilled scallops, which are served with a spicy olive oil sauce with garlic, butter and Vietnamese chili, make for a great dish. I wasn't sure if anyone would come all the way to a neighborhood shopping center in Oksu-dong, but they sure get a lot of customers. Even though they open at 5pm, they sometimes run out of ingredients by 9:30pm. Oh, and don't forget to taste their spicy seafood noodles too.
Show more