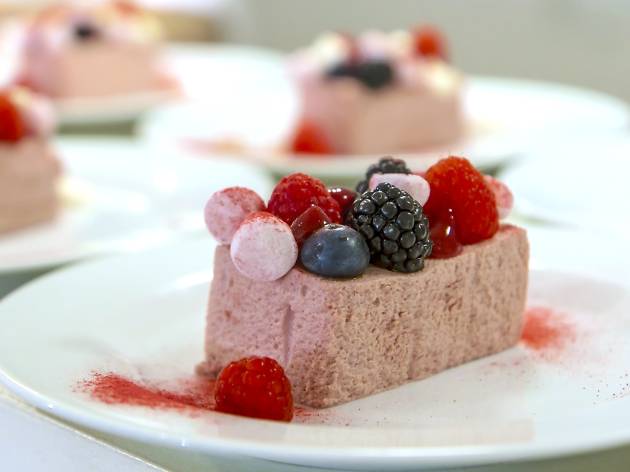 Where to eat the best desserts in Seoul
Explore sweet treats from cakes and Macarons, and the best dessert places in Seoul.
This is the second branch of Garosugil's famed bakery, Le Alaska. You can expect standards up to par with Le Alaska, where Le Cordin Bleu and Tokyo Seika graduates bake your bread. You can purchase a range of tarts at a price of 5-6,000won, as well as breads from Le Alaska.
On the 5th floor of Dior's flagship store sits a peaceful yet glamorous café. Once the doors of the space open, it can be slightly intimidating as one is ushered towards the elevator located near the back of the first floor. The café is known for serving up-scale desserts crafted by world famous pâtissierPierre Hermé, the Picasso of pastry. Notable on the menu is the Glacee Ispahan, which is served in a wine glass ornately filled with a mixture of red, pink, and white creams and sorbets.
If New Yorkers talk about Magnolia Bakery, then Californians talk about Mr. Holmes Bakehouse. Originally from San Francisco, this Seoul location is the first to branch outside the U.S. Customers are limited to a max of two products each and this place doesn't even have a signboard. But people still stand in line to eat here. In their bakery in San Francisco, people stand in two different lines—one for cruffins and the other for baked goods. The cruffin has a Croissant-like texture and the flavor of a muffin. Meanwhile, their brioche donut (a French donut made of butter, eggs and sugar) comes in at a close second favorite. To ensure likeness in quality, the bakers working in Seoul received two months of training in San Francisco. The neon sign inside mimics the one in San Francisco reading, "I got Baked in Seoul," reflecting the atmosphere and wit of its main branch in the U.S.
Show more