Where to eat the best home-cooked Korean restaurants in Seoul
On a wooden tray, banchan, soup and rice are presented to you in neat separate dishes, reminiscent of home.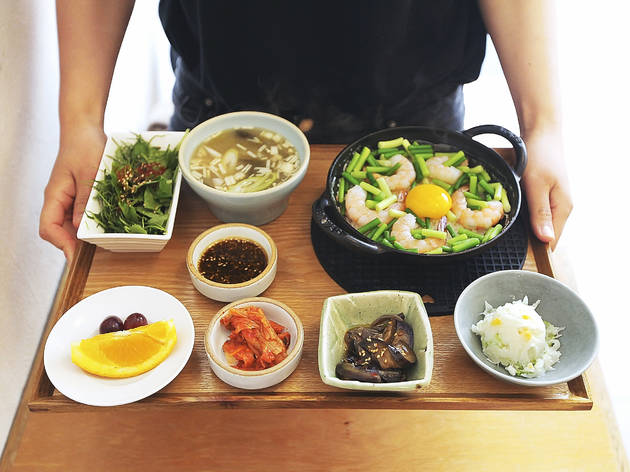 Restaurants offering home-cooked dishes are becoming more and more popular these days, and Ryuji is one of them. The only constant is the fact that the main dish here is rice and it comes served in a special cast-iron pan. However, every day the rice has new and is serves with different side dishes. Although the ingredients change on a daily basis, garlic, shrimp, semi-dried flounder and avocado are often found in the dishes and the plat du jour can be found on the restaurant's Instagram (@ryuji.homemeal). The day that I visited the restaurant, there was half-cooked egg yolk placed in the center of the rice, which was topped with shrimp. Popping the egg yolk turned everything a bright yellow and later became the base sauce for the rice...
Sometimes, getting Korean food with friends can be a hassle—one person wants to get bibimbap, another wants to get meat, and yet another wants savory pancakes and makgeolli. And if you're in Hongdae, where decent Korean food is hard to find, you may be tempted to call it a night. Enter Chawoongga, which serves individually-sized portions of Korean food on trays and has a fairly diverse menu that ranges from bulgogi to kimchi-jjim. The recipes come from the owner's mother, Mrs. Cha, a woman well over seventy who still comes in and brings her magic to the kitchen...
Thanks to Itaewon's vibrant multicultural nature, it is actually quite difficult to find a restaurant soley focused on traditional Korean cuisine. In that sense, Parc is a hidden gem. After the owner spent most of his twenties traveling the world, he brought Parc to Itaewon to create a home-cooked meal culture and community here. The menu consists of his mother's recipes, serving up simple yet healthy dishes such as grilled mackerel and braised spicy chicken. Parc's menus vary daily, and all sets are served neatly on individual trays. If you are feeling hungry, you can skip the tray set and order larger entrées and sides à la carte.
Show more