Yim Jung-sik: Jungsik
From kitchen duty to pioneer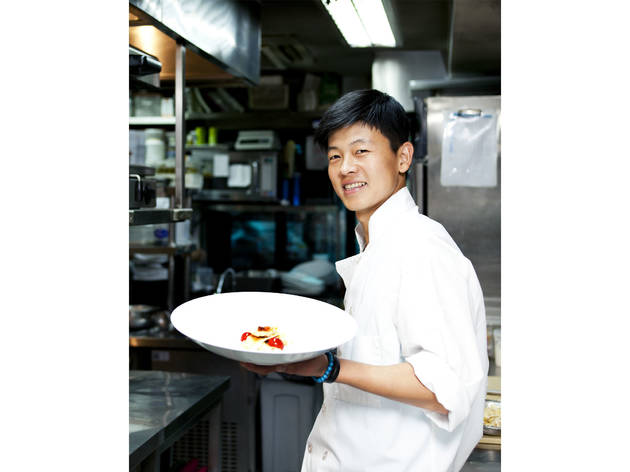 Setting the bar for what Modern Korean cuisine can be is Chef Yim Jung-sik's pioneering fine-dining restaurant, Jungsik, first opened in the Chungdam area in 2009. Reinterpreting traditional Korean dishes and adding Western touches to them, Jungsik (literally meaning proper cuisine) is the first restaurant of its kind—providing upscale options for eating out as opposed to set menus, rice with side dishes and casual street food. What exactly does it mean to "reinterpret" Korean dishes? Look to Yim's dishes that are a happy marriage of East meets West—meals begin with a colorful array of amuse-bouches and a choice of breads before turning to the mains; the filet mignon with kimchi or his Seoul duck cooked with apple-rosemary wild-sesame au jus. While the original Seoul location currently holds its place at No. 10 on S.Pellegrino's list of Asia's 50 Best Restaurants (among many other awards), the second restaurant in Tribeca, New York opened in 2011 now holds two Michelin stars. Could the restaurant ask for more? Yim says yes. Come November, the menu will see some drastic changes; for one, Yim plans to start a farm to grow their own ingredients and implement a new plating style to place main dishes and side dishes separately (as opposed to traditional Western plating with both on one dish). "I feel like I need to try new things," Yim adds. While doing his mandatory military service, Yim was assigned kitchen duty. His signature dishes within the cafeteria became jaeyook bokum (spicy fried pork) and dak kalbi (pan fried chicken). He got so good at it; others began to tell him: "Hey, you should do this professionally." Thus, his culinary career began. After finishing the army, he found his way through several jobs—working at a bakery, a tteok store and even a pocha. He made his way to New York at the age of 25 where he graduated from the Culinary Institute of America. He interned there and in Spain before he founded Jungsik here in Seoul. Visiting New York at least six times a year, it seems the chef continues to learn from the city. "At first, I wanted to do something really unique. And then while observing New Yorkers and seeing how much they love just the basics, I changed my mind. Now, I invest more in the quality of the ingredients and choose recipes that minimize cooking. One of the things I realized is that cooking isn't about doing everything my way but instead, offering a little of my twist to the dishes. It's the right balance of delicious food, service, hardworking chefs and satisfied customers that make a restaurant."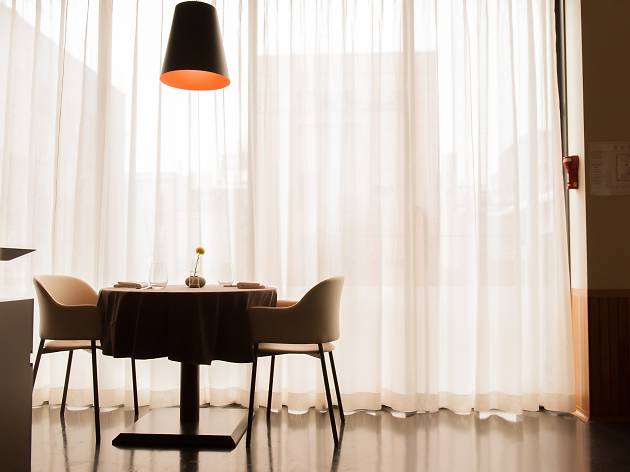 Jung Sikdang is a groundbreaking, iconic Korean restaurant for a variety of reasons. Opening in Sinsa-dong in 2009 and New York in 2011, it has received two Michelin stars and is ranked the 10th best restaurant in Asia. These awards are certainly deserved, but they are especially significant to Koreans: With the Korean obsession over international rankings (whether in education, sports or economic measures), this restaurant's international acclaim has restored some level of pride around hansik, or traditional cuisine. But traditional it is not: Jung Sikdang dubs its cuisine "new Korean," blending Korean ingredients with Western culinary techniques and presentation (head chef Yim Jung-sik graduated from the Culinary Institute of America in NYC and worked in both NYC and Spain). With its new location in Cheongdam, Jungsik offer formal service in a sophisticated modern setting, drawing well-heeled diners from both Korea and overseas. Expect inventive and subtle dishes like crispy duck with white kimchi, ongshimi with scallion and parmesan, and mushrooms served with poached eggs and kimchi puree. Korean ingredients are deconstructed and reconstructed on this menu that plays with flavors like a painter mixing colors on a palette and layering them on a canvas.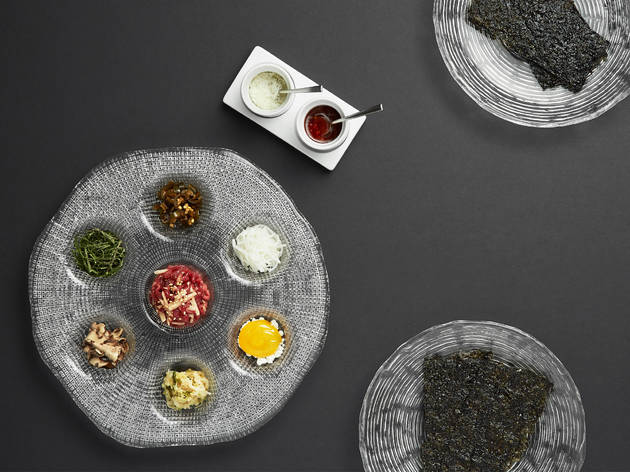 Delicious Gujeolpan (Platter of Nine Delicacies)
Originally a dish made for Joseon kings during the early 14th century, the traditional gujeolpan is made up of nine dishes of seasoned Korean
vegetables, meat, mushrooms and select seafood. Jungsik's take on the dish, the Delicious Gujeolpan, sees parmesan cheese and gochujang (red pepper sauce) added to his pick of six dishes—raw beef, egg yolk, white kimchi, sesame leaves and fermented green peppers. Wrap each item up in fried seaweed and—voilà—a traditional dish reinterpreted!