You shouldn't leave Seoul without trying these 10 street foods
Who's determined enough to pass up on some sweet and savory goodness?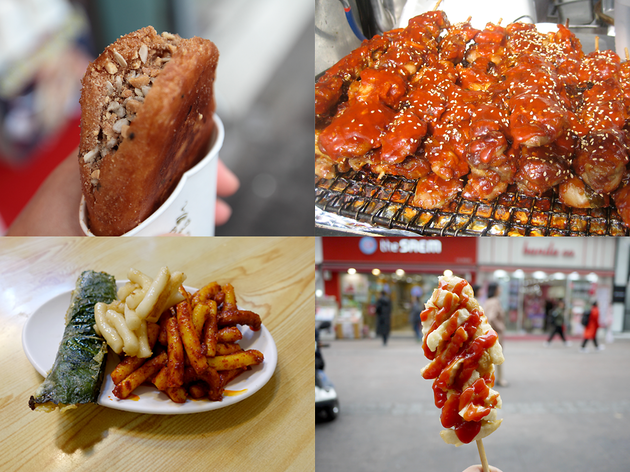 The world of Korean street foods is definitely beyond count—from simple dumplings and gimbap to hot dogs and steaks, Seoul streets offer a food paradise for all palates. Among the oh-so-many choices, we came up with a list of 10 street foods you must try.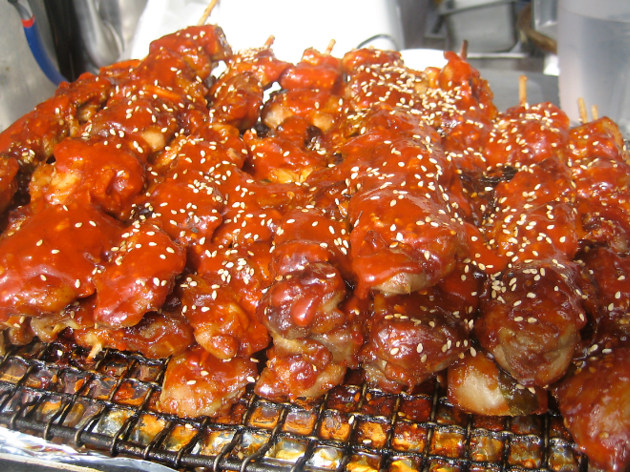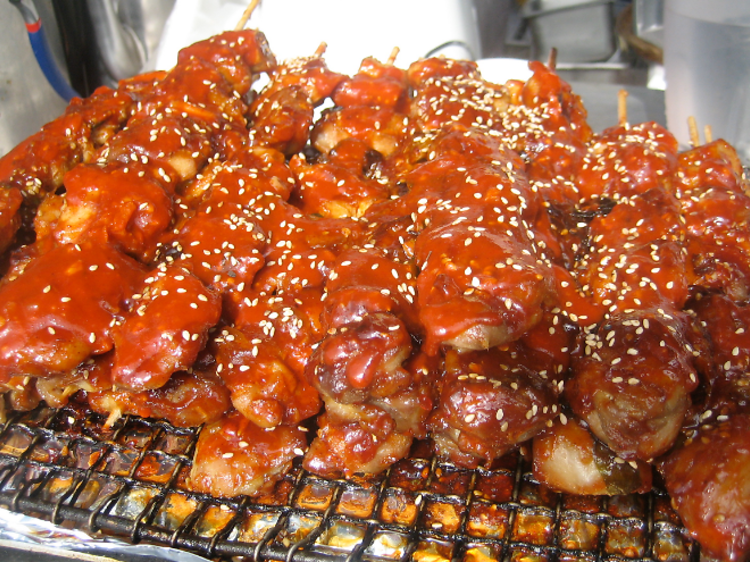 Chicken Skewers @ Ewha Womans University
From Exit 2 to Exit 3 of Ewha Womans University Station is where the "chicken skewer street" starts—the entire street is packed with chicken skewer carts, with each and every cart carrying pretty much the same menu. Don't worry, though—there is a whole variety of different flavors you can try out. While most chicken skewers are teriyaki or spicy, the cart owners have come up with unique, clever, new flavor such as curry, charcoal grilled, salted, garlic and so on. You can also add mushroom, green onion, pumpkin, sweet potatoes or rice cake to your skewers. One thing to keep in mind: these carts really put the younger crowds' love for sweet in consideration, so even if you pick the spiciest flavor, it will still be sweet.
1,500 won each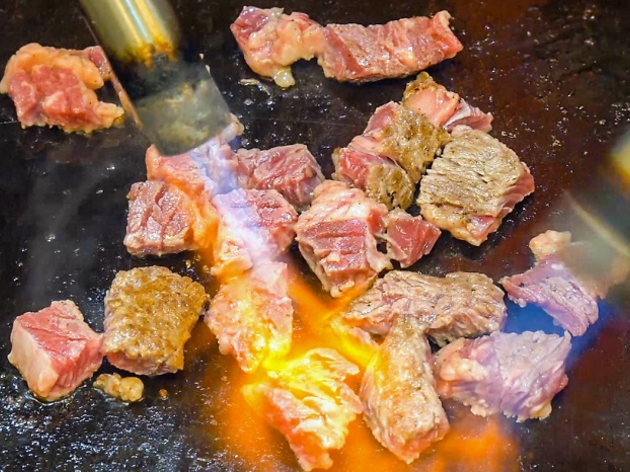 Cube Steak @ Noryangjin Cupbop Street
Just because you're broke, still trying to paying off your student loans, doesn't mean you can't afford a steak dinner. It won't be as lavish as going to a steakhouse with wine pairing, but sometimes, steak is steak. Noryangjin Cupbop Street offers some of the cheapest food options in Seoul, with full meals costing under 5,000 won—Cube Steak is one of the meatiest choices available here. Diced pork and beef are cooked and seasoned on a hot iron plate and served with potato salad. 150 grams of meat might not sound so satiating, but it comes with potatoes and pumpkins which are quite filling.
Price per 150 g: Chicken 3,500 won, Pork 3,800 won, Beef 4,800 won.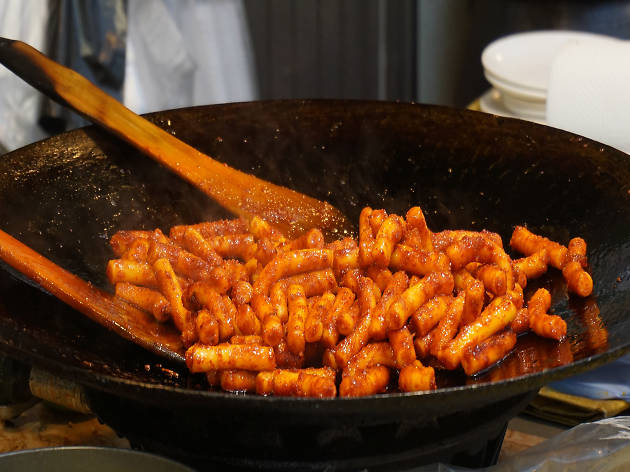 Oil Tteokbokki @ Tongin Marekt
Tongin Market, the ultimate food bazaar of Seoul, is renowned for its locally-sourced ingredients including vegetables and fruits and a myriad of side dishes (banchan). While the arcade itself is not so big, the entire walk of the market is completely loaded with mouthwatering dishes. One menu in particular to check out is the famous "oil tteokbokki." Never heard of it? The history of this oil tteokbokki, in fact, goes back to 1956. Unlike the common tteokbokki which is served in a soupy sauce, it's fried and had more think sauce. Rice cake mixed in gochujang (red pepper paste) and powdered red pepper is dipped straight into the big hot cauldron lid. The result is this sweet and spicy goodness that is perfectly crispy on the outside yet soft inside. A non-spicy version is also available and quite popular.
Tteokbokki 3,000 won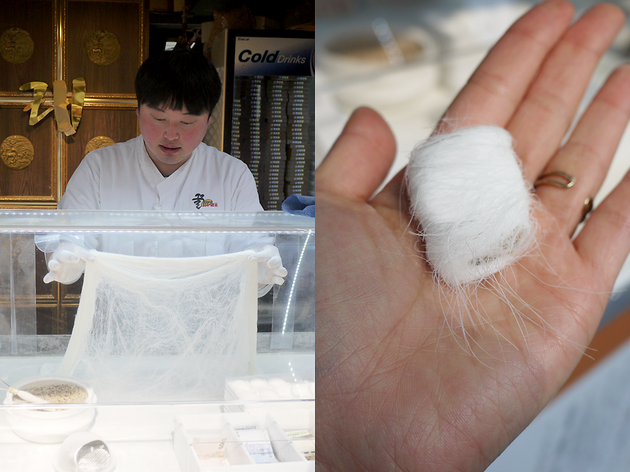 Dragon's Beard Candies @ Insadong
"32 strands. 64 strands. 48 strands …… 4096 strands. 8192 strands. One last! 16384 strands!" Following these strange shouts, what you'll encounter are equally strange candies which resemble a bunch of silk thread or caterpillar cocoons. This delicate snack is in fact made of honey and malt, and used to be served only to the king and the royal guests. Like other stuff of the royals, it has meanings behind them: each one of the 16,000 honey strands convey the wishes for longevity, health, luck and wish-fulfillment. Inside of the carefully-wrapped candy is a combination of healthy nuts. There are different flavors, but the most popular 3 are the peanut, almond and chocolate flavor. Individually packaged, it's perfect for a souvenir as well—keep in the freezer to have it cold and crispier.
5,000 won for 1 Box of 10 Pieces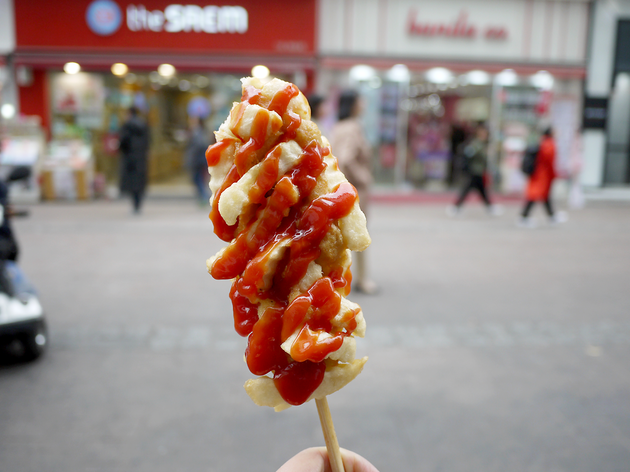 Potato Hot Dogs @ Myeongdong
If you're picturing a wiener in a soft bun, that's just a big mistake (also, get your mind out of the gutter!). Street hot dogs in Korea are often called "ugly," but to tell you the truth, they're rather unique. Well, yeah, they are more like a corn dog, but the hidden gem is those potato chunks are mixed in the batter. I guess it's easier to explain that it's a collaboration between a corn dog and French fries, a combination that can't go wrong, amiright? The huge corn dog with potatoes sticking out from everywhere and ketchup and mustard scattered on top—some say it is visually shocking. But, I tell you, the taste, size and super affordable price are more shocking than its looks; it is about the size of two fists, but only 3,000 won.
3,000 won each.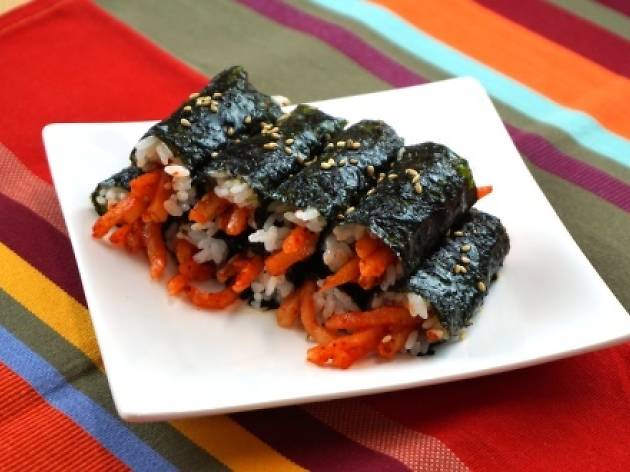 Shinchon Mini Kimbap (Kkoma Kimbap)
The infamous motel area connecting Sinchon and the Ewha Womans University area is called the Sinchon Bermuda Triangle, and you can guess why. But aside from the countless motels and young couples lingering around the entrance of the alley (and suddenly disappearing), what contributes to the area's fame is the small gimbap cart reputed among the local merchants. It's essentially simple rice with small pieces of spicy squid wrapped in seaweed, but the ratio of seasoning, squid, rice and seaweed is just addictive. The cart is usually open from late evening to night, and there are days when it's not open at all, so try your luck when you're around Sinchon.
2,000 won each.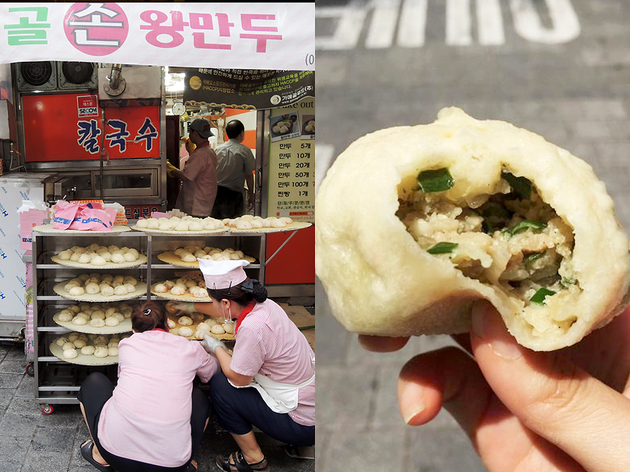 Namdaemun Market Gamegol King Size Mandoo
Noted for its countless selections of street food, Namdaemun Market is always filled with locals and tourists alike. Around its famous cutlass fish alley and the kalguksu (Korean chopped noodles) alley sits Gamegol Mandoo, a small restaurant always surrounded by a long, long, long queue. If you walk inside, though, you might wonder: the restaurant itself isn't packed. What happens is that customers start quickly forming their own queue once new batches of dumplings are steamed. What's all the fuss about, you say? Well, once you see this place in real life, you'll realize Gamegol Mandoo isn't a typical mandoo stand; there's a serious business going on there, with extra soft dough and hearty fillings made with pork and veggies giving you the most bang for your buck. The original dumplings have the mild and spicy option, and there are shrimp mandoo and galbee mandoo as well. Just be careful to take smaller bites as the dumplings are extremely hot when they come right out of the steamer.
5 pieces for 3,500 won, 10 for 7,000 won, 50 for 35,000 won.
32cm Parfait Ice Cream @ Myeongdong
If you visit Myeongdong for the first time, you might literally scream for ice cream, especially with all the locals and tourists alike walking around with this Instagram-worthy parfait. You can choose from 6 different flavors for your 32cm ice cream tower: vanilla, chocolate, yogurt, mango, strawberry and green tea. There's also mixed flavors or you can choose three flavors for ice cream cup. Once you finish the cone, it will give you a sense of accomplishment that you have never experienced before—trust me!
Ice Cream Cone 2,000 won, Cup 3,000 won.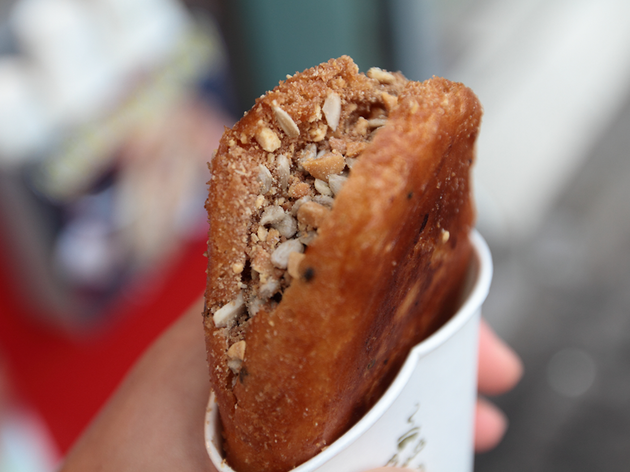 Busan Seed-stuffed Sweet Pancake (Ssiat Hotteok) @ Namdaemun Market
You don't need to travel on KTX to enjoy ssiat hotteok, one of the most delicious inventions of Busan; it is available right in Namdaemun market. While the usual hotteoks we know are sugar or honey-stuffed flour dough cooked in oil, Busan's ssiat hotteok is made with cornstarch dough stuffed with nuts and dried fruits (such as raisins, sunflower seeds, almonds, pumpkin seeds and peanuts) and cooked with margarine. Its nutty aroma and just enough saltiness are quite distinctive—if you are not a big fan of nuts, there are other options for the filling: sweet red bean paste or japchae (stir-fried glass noodles mixed with vegetables and meat).
Ssiat Hotteok 1,000 won, Japchae Hotteok 1,000 won, Sweet Red Bean Paste Hotteok 1,500 won.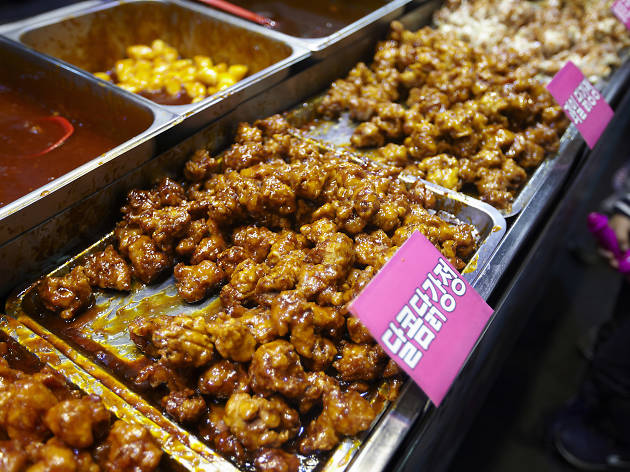 Qus Dakgangjeong (Sweet and Spicy Chicken) @ Mangwon Market
Smothered in 7 different special sauces, with just the right amount of crispiness—it's no surprise Kyuseu Dakgangjeong stands out the most in Mangwon Market. Over the years, this small chicken stand became even more popular after being featured on several TV shows. You can have a cup full of small pieces of crispy chicken with your choice of sauce at the very affordable price of 3,000 won. It will be a perfect snack to nibble on while walking around the market.
Small Cup 3,000 won, Large Cup 4,000 won, Half Chicken 7,000 won, Whole Chicken 10,000 won, 2 Whole Chickens 17,000 won.