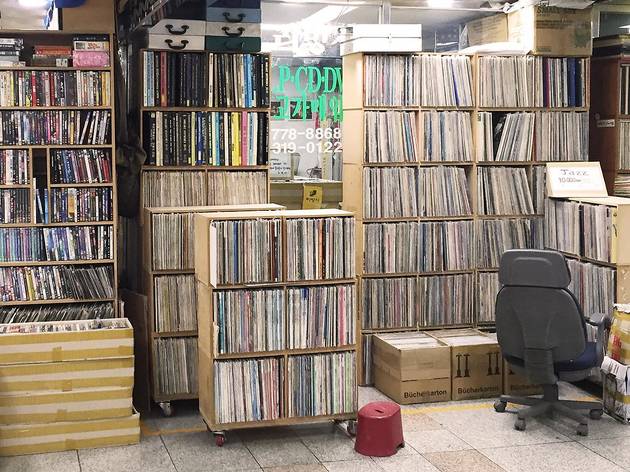 Hoehyeon underground shopping center has an exceptionally high number of stores selling vintage LPs, cameras, and goods from the analog era. It's shocking just how different the underground shopping center can be from the large and popular fancy departments a level away. There are nine different record shops in the area and Living Inc., which opened in the 60s, is the oldest. The original shop owner passed the store down to his daughter who now runs it with her husband, giving the Living Inc. a family feel. The couple also runs LP Love, a less hardcore music store, right across the hall. Whether you're a Justin Bieber fan or vintage record collector, there's something at the underground shopping center to suit your needs.
Venue name:
Living Inc.
Contact:
Address:
나24~26호/라 25호
Hoehyeon underground shopping center
50-10, Chungmu-ro 1-ga
Jung-gu
Seoul


Opening hours:
9am-10pm (Closed every 1st,3rd Sun)
Transport:
Hoehyeon Station(Line 4), exit 7.
Rating Breakdown
5 star:

1

4 star:

0

3 star:

1

2 star:

0

1 star:

0
Here's the easiest way to find this underground shopping centre, as I found it quite difficult to find:
Go to the department store Shinsegae in the junction between Nandaemun-ro and Sogon-ro. When you stand in front of the store, there's a tall building and a low building, and there's a staircase down in front of the low building. It's called entrance 11. This leads straight down to the shopping centre. As this is not an exit for the metro, it's not on the maps you find of the exits in the metro stations.
There's also an entrance just on the other side of the street. I believe this is entrance 3.
If anybody is interested in soundtrack CDs of Korean movies and TV series (and K-pop), the street called Nandaemun-ro 5-gil just across from the department store (by entrance 3) has a small shop on the right hand side 1 or 2 minutes walk up the street. It's small but they have an impressive collection (I found 2 out of 3 obscure soundtracks I was looking for), and one of the people working there speaks good English and is helpful with looking things up online and searching their catalogue if you only know the English title or a song title.
Anyway, on to the record shop in question:
As per your recommendation I went to this shopping centre, and I also found it the best for records. I didn't really look around in Living Inc, as I just showed them a want list as they were closing, and they didn't have any of it, but it did appear to be the biggest shop in the centre, and they also had a bargain area with records in poor condition (priced at 5000 won each). I did however also show the list and looked around in other shops, and they all seemed very, very, very expensive to me, so I didn't buy any records in Korea at all. In Tokyo it was much, much cheaper, and the selection was much better. I brought home 30-40 records from Tokyo. Also, in Tokyo there were many good Japanese prints (obviously) but also many US and European prints - some very expensive and some very reasonably priced. In Seoul, it was mostly Korean prints - not so many US or European prints.

So if you want to buy records in Seoul, be prepared to often pay 3 to 10 times as much as you would in the US or Europe.

Here are a couple of examples of records and their prices in this shopping centre in Seoul:
* The Association "And then... along comes": Original US: 50,000 won = US$42. In the US and Europe, this usually costs $5-$20

* Frijid Pink "S/T": Original US: 100,000 won = US$85. In the US and Europe, this usually costs $20-$40.
* Frijid Pink "Earth omen": Original US: 70,000 won = US$60. In the US and Europe, this usually costs $20.
* Michael Jackson "Thriller": Original US: 100,000 won = US$85. In the US and Europe, this usually costs $5-$10.
* Gerry Rafferty "City to city" (with "Baker Street"). I didn't check the place of manufacture. The price was 20,000 won = $17. I don't know the price in the US, but in Denmark, where I'm from, it's usually $2-$4.

This is a veritable treasure trove. As a classical music fan, I was absolutely delighted with the amazing selection of LPs offered by LP Living. Prices are very reasonable and testing is allowed. If you are travelling on budget airlines, make sure to book yourself some extra baggage.