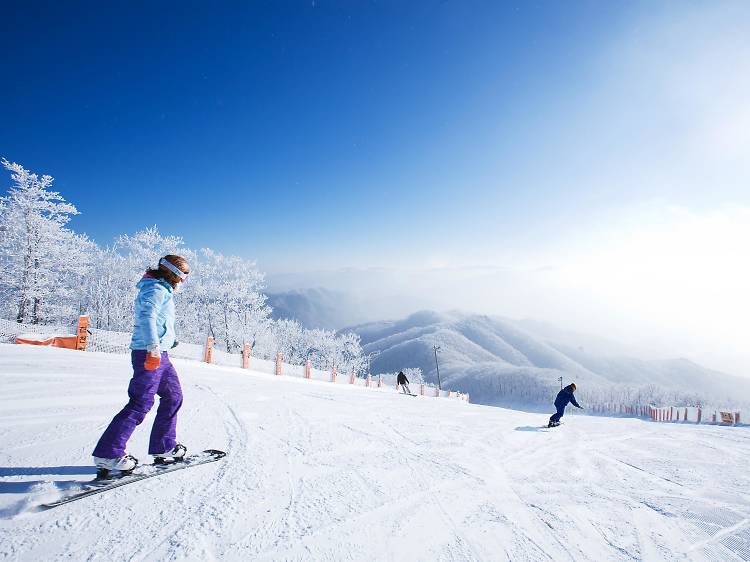 ● Transportation You can make seat reservations for the shuttle bus on their website and you don't have to sign up. A one-way ticket is 8,000 won (10,000 won when purchased on site) and round trip is 16,000 won. If you are taking public transportation, you can take an Express Bus to Jangpyeong from Seoul Express Bus Terminal and take a free shuttle bus (runs six times a day from 9am to 8pm) from Jangpyeong Terminal to the resort.
● Rentals If you are renting equipment for multiple time slots (i.e., afternoon–night, night–midnight, etc.), ski and snowboard gear is 30,000 per person. If you are renting it for a single time slot (morning, afternoon, etc.), it's 24,000 won per person.
● Lesson fees They give you a free beginner's course if you rent their equipment. They also offer three different course levels: regular (3:1), individual (1:1) and family (4:1). The individual course for a day is 290,000 won (morning + afternoon) and it's 210,000 won for half a day (options include: morning 10am–12pm, afternoon 2pm–4pm, night course 7pm–9pm).
● Recommended slopes The longest course in Phoenix Park is the Panorama Slope (2.4km in length) that even beginners can enjoy. The gentle, 10-degree slope starts at Mont Blanc (1,050m above sea level) and takes ten minutes to ski. Through Jan 17, you can ski this slope where the ski cross and snowboard cross events will take place at the 2018 Pyeongchang Winter Olympics.
● Lift tickets There are 11 types of lift tickets. The afternoon–night pass (12:30–10.30pm) is 89,000 per person and a single ride is 13,000 won per person.
● Food & dining This region is famous for buckwheat noodles, which you can get at the Shilla Byeolgwan Restaurant (11:30am–9pm) located on the first floor of the Center Plaza. Buckwheat noodle soup is 8,000 won and spicy buckwheat noodles are 8,500 won.