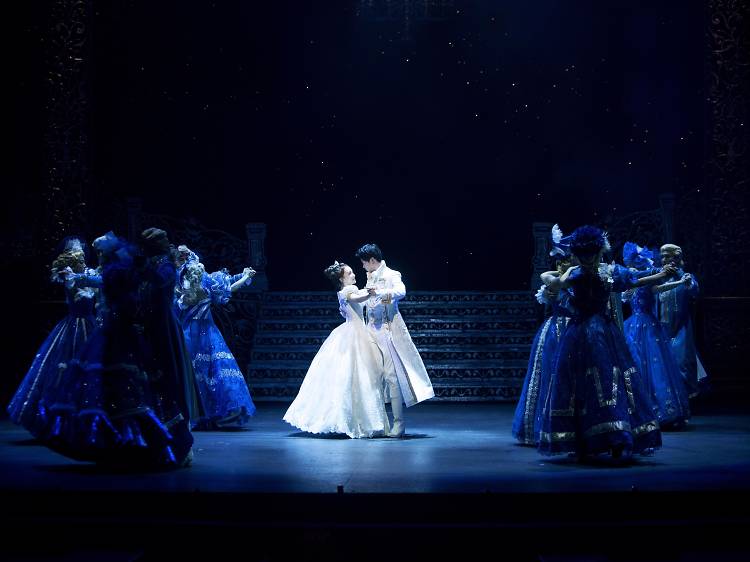 Cinderella, the musical
At the beginning of the act, there's a scene where Cinderella is daydreaming. I couldn't help but think that would've looked a lot like you when you were younger and living in Japan, away from your family.
That's true. A lot of things kind of overlapped. That's why every time I finish a scene in Cinderella I end up crying. I think about how hard it must have been for her, and at the same time, I'm so proud of how she powered through her hardships. I've really grown attached to this character.
Singing in a musical and singing pop songs are quite different. I'm curious about the first song you rehearsed during your first practice session.
The very first song I had to sing was "In My Own Little Corner," where I would sing while I'm sitting in a chair and daydreaming. After the first performance on stage, the choreography director came up to me and said that she really felt despair when I first sang this song. She had no idea what I would be able to do, but when she called me after the first performance, she thanked me for coming so far. I was so overwhelmingly happy I almost cried. That was the first song I ever practiced.
Do you think that the hope you have for the future means that you have potential as a musical actress?
In some ways, yes, and I also feel that nothing is impossible now, thanks to this opportunity. Even during my rehearsals, I really felt like I would never be able to pull off the ballroom scene, but I made it work. I wondered if I could perform on stage without making a mistake from the beginning to the end, and I was able to do just that. Every time I would conquer my self-doubts, I really felt myself growing. It really made me believe that I can do whatever I want in whichever field, as long as I'm sure of what I want. I now believe that there's nothing that I can't accomplish.
Did the musical inspire you to work on your next album?
The musical taught me a new way to express myself through music, and it feels like I broke through a barrier. Before, it felt like there was this wall between the person listening to my music and myself. Now it seems like this wall, this barrier, is gone and that I can express myself directly to the listener. I'm excited to see how this will bring a more nuanced depth to my next album.