Heads up! We're working hard to be accurate – but these are unusual times, so please always check before heading out.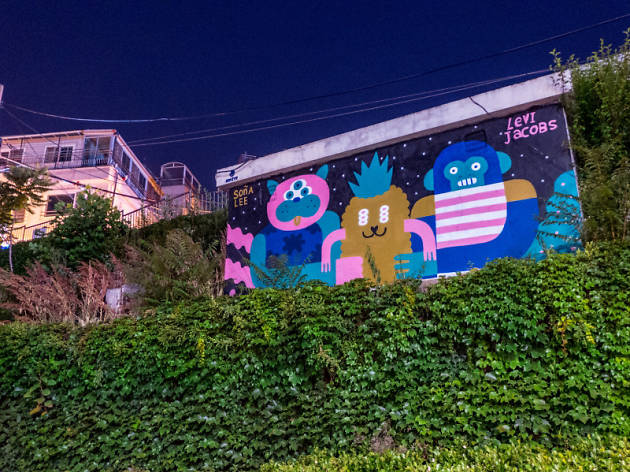 Artwork hidden on the streets
Graffiti and street art found in Seoul
Hip-hop culture first emerged in Korea during the early '90s. As Kim Soo-yong discusses in his comic book Hip-hop, graffiti, which is one of the four elements of hip-hop, also started here in Seoul in the '90s. Firstgeneration Korean graffiti artists include Vandal, KOMA, Hudini, Santa and Garu who gathered together in the underground tunnel between Apgujeong-dong and the Han River to spray paint their tags on the walls. Their tags began to appear in places such as Apgujeong tunnel, Hongdae, Shinchon and Itaewon.
Later on, in the early 2000s, street art made an appearance. Street artist JunkHouse says that the difference between street art and graffiti is like that between electronic music and ballads. While the graffiti that started in the United States is about resistance and serves as an axis of hip-hop culture, street art here is more akin to urban art and is closer to contemporary art.
Twenty years have passed since these two types of work were born on the streets of Seoul and is still illegal. There is not enough support for it from the government, coupled with mainstream society's lack of understanding of it as being a part of popular culture or art. For graffiti and street artists, the streets are their canvases and their galleries, and their talents and works of art are still waiting to be recognized on the streets of Seoul.
JunkHouse
"All the things that exist are living, breathing creatures regardless of their size or material." JunkHouse is a street artist who works under the concept of organicism. She takes her imaginations, figures and forms and expresses them with abstract geometrical lines and shapes. She believes that these images come to life on the streets. JunkHouse has been working on exhibitions and street art projects in and outside of Korea since 2005.
junkhouse.net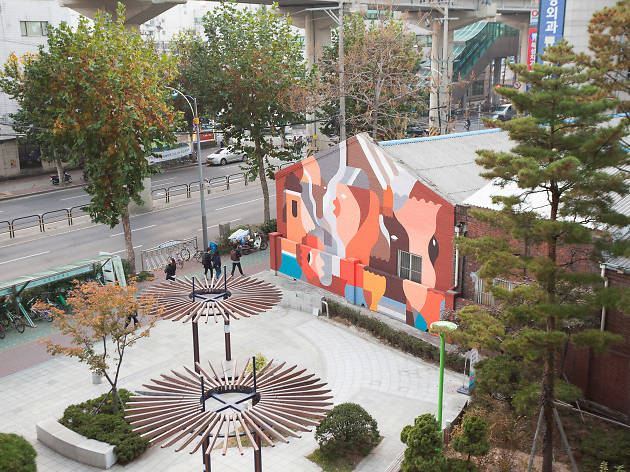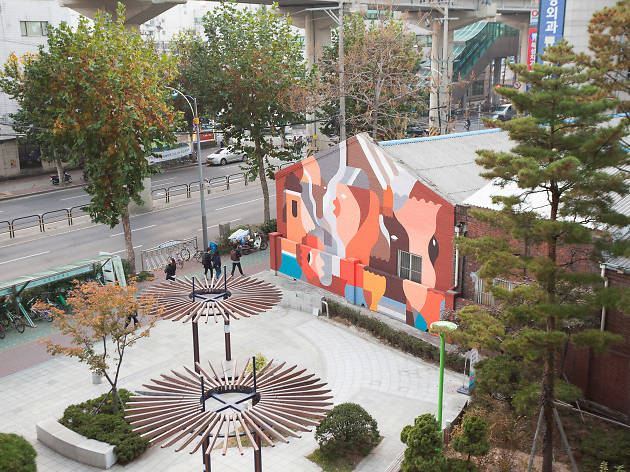 COURTESY OF JUNKHOUSE
JunkHouse: Warehouse in front of Ttukseom Station (Line 2) exit 4. 18, Achasan-ro, Seongdong-gu.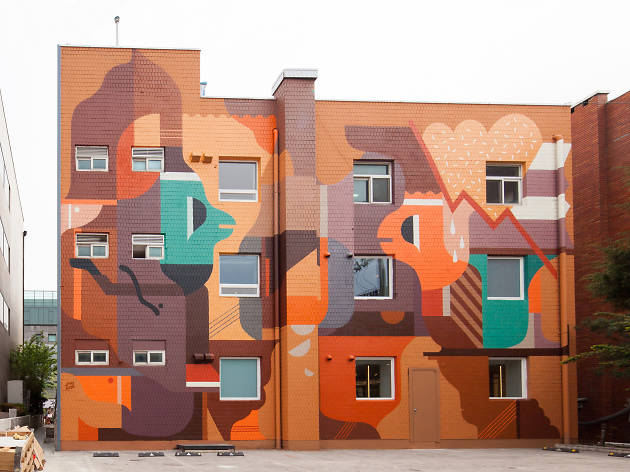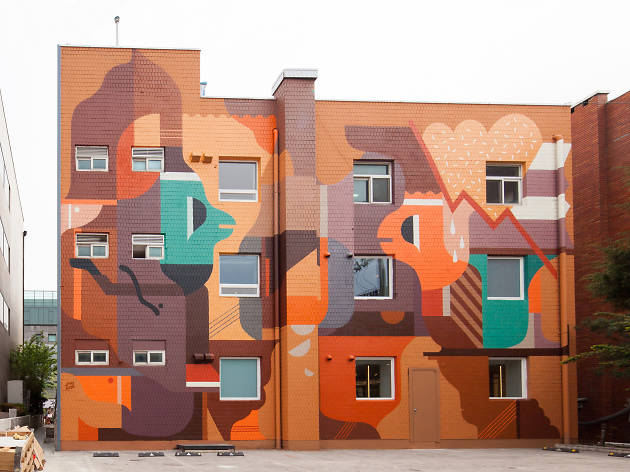 COURTESY OF JUNKHOUSE
JunkHouse: Building behind Lululemon's flagship store. 16, Apgujeong-ro 56-gil, Gangnam-gu.
Urban Up Project
In 2014, seven domestic and international artists brightened up the exterior walls of factories and old buildings in Seongsu-dong. Urban Up Project was the first urban art project in Korea, and it mainly took place in Seongsu-dong and Busan.
facebook.com/urbanupproject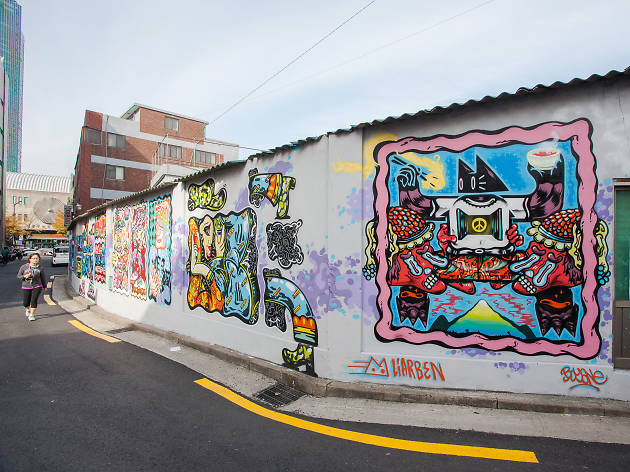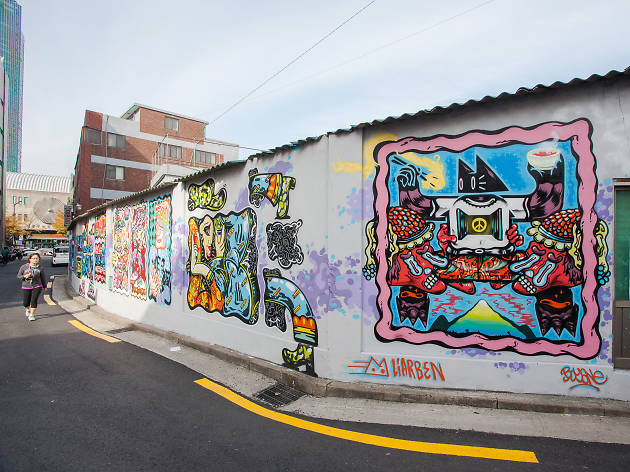 COURTESY OF KIM KOWN-JIN
Boyane Zel (France) & Liar Ben (Vietnam): Hanil Pibok. 5, Wangsimniro 4-gil, Seongdong-gu.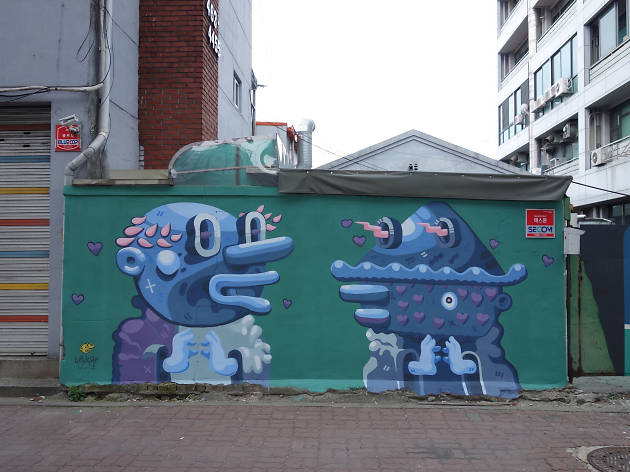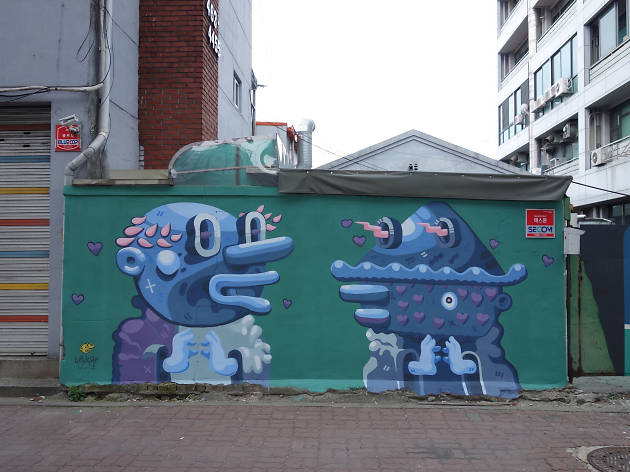 COURTESY OF KIM KOWN-JIN
Birdcap (USA): 144, Achasan-ro, Seongdong-gu. Building next to Shinni Contec Co.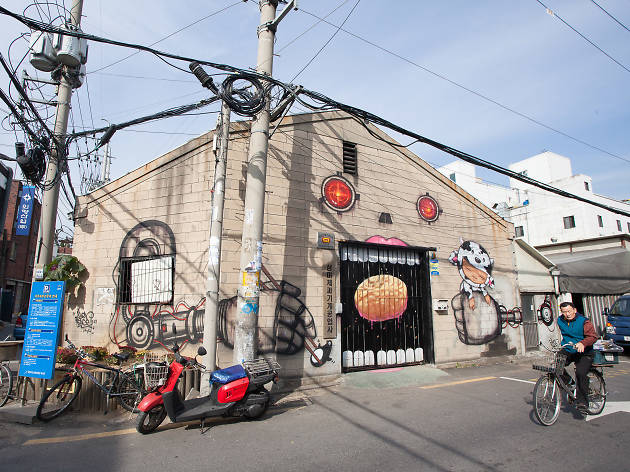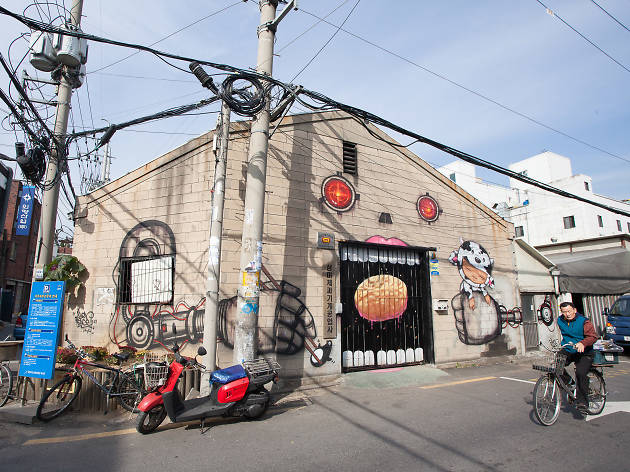 COURTESY OF JUNKHOUSE
Alexface (Thailand): Sam Mi Bakery Machinery. 37, Seongsuiro 18-gil, Seongdong-gu.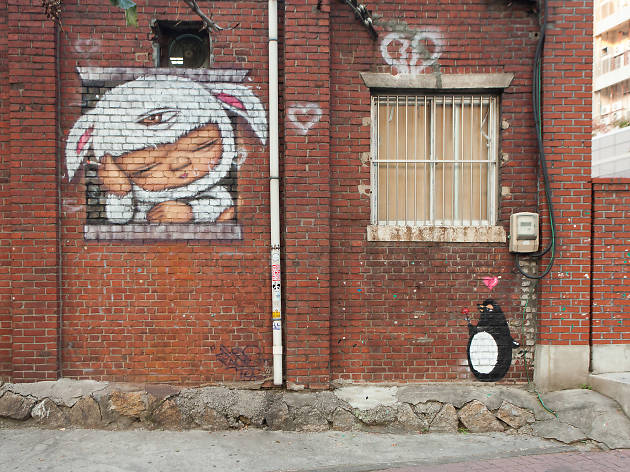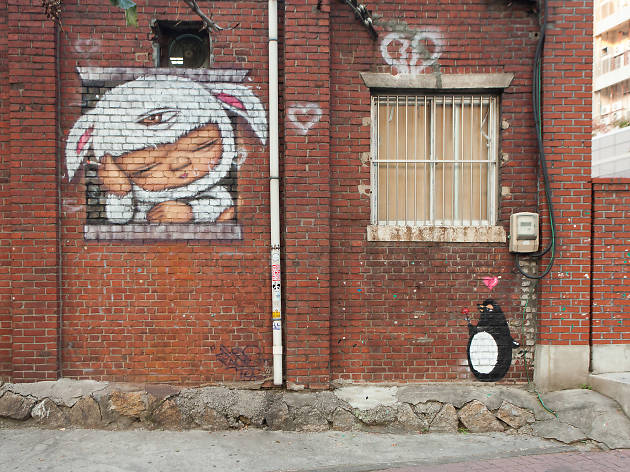 COURTESY OF KIM KOWN-JIN
Alexface (Thailand): Daeshin Corporation. 97, Seongsui-ro, Seongdong-gu.
GR1
You might have already seen those stickers with "GR1 was here" on them. GR1 is an artist who does both graffiti and street art. He usually uses black and white for his street art and all the pictures you can find on his website are in black and white as well.
grone.kr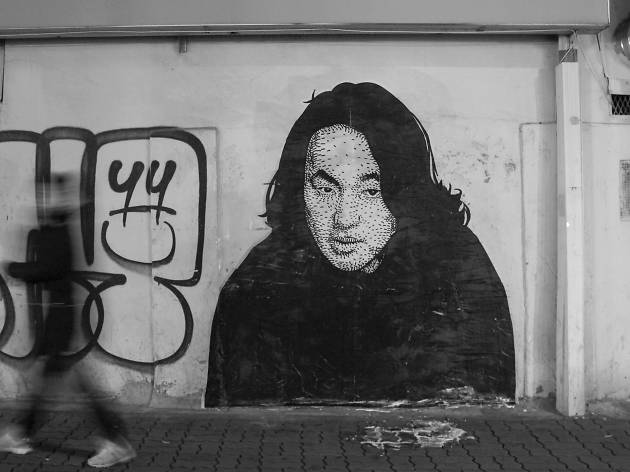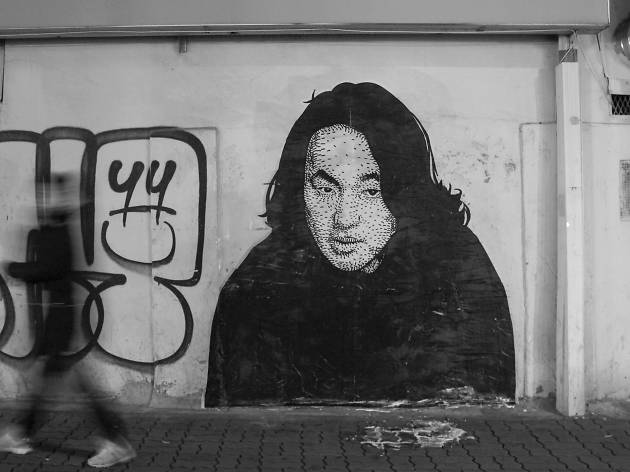 COURTESY OF GR1
GR1: Exterior wall (expressing condolences for the death of musician Shin Hae-chul in 2014). 78, Achasan-ro, Seongdong-gu.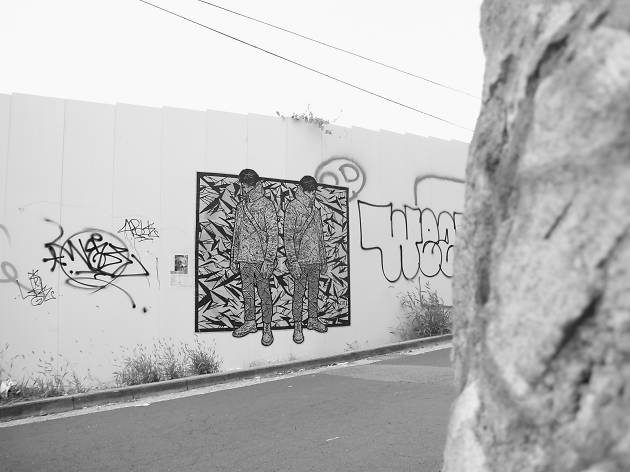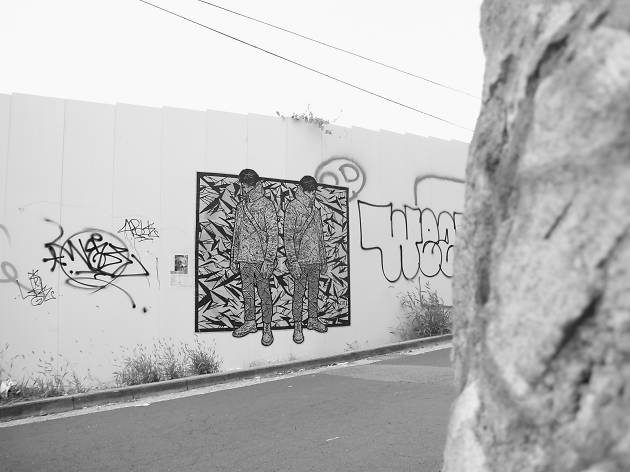 COURTESY OF GR1
GR1: On a fence. 48-26, Wausan-ro 29-gil, Mapo-gu.
SUPACRQS Crew
SUPACRQS Crew is a crew of graffiti and street artists, illustrators, graphic designers, animators and tattooists. They run the SUPACRQS Gallery near Gongdeok Station, and occasionally hold exhibitions called HABITS. Currently on display at the SUPACRQS Gallery, this is a work done by some members of the SUPACRQS Crew, street artists Makario and Guph Smells Good.
supacrqs.org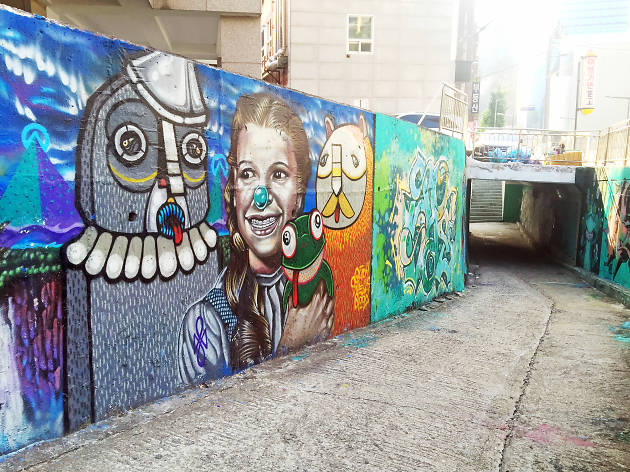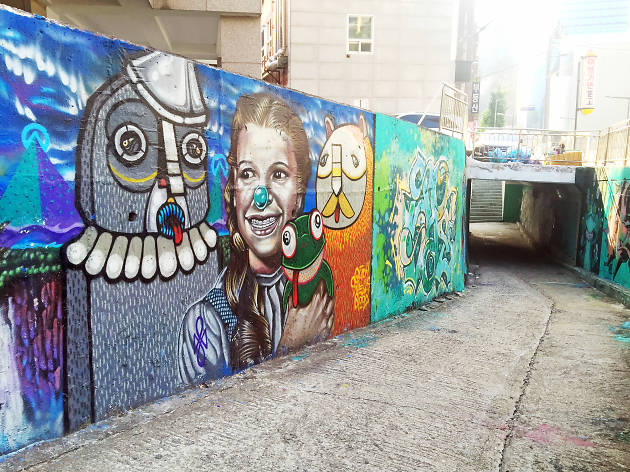 COURTESY OF SUPACRQS CREW
SUPACRQS Crew: 40, Saechang-ro, Mapo-gu. Gongdeok Station (AREX) exit 10.
WEZT
WEZT has been working as a graffiti artist since 2003. Whenever he finds a good wall to paint on and thinks it's a safe place, he starts graffiting it right away. He tags his name changing the colors and shapes of the letters.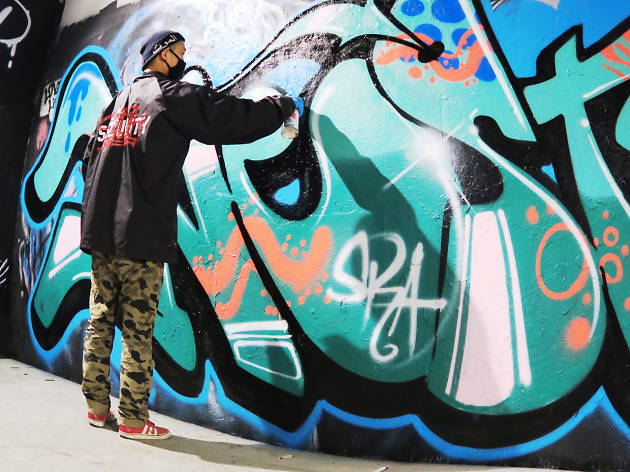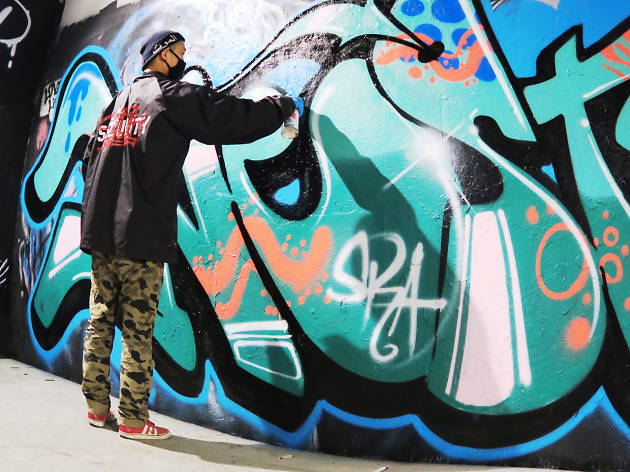 COURTESY OF WEZT
WEZT: Underway passage (Apgujeong tunnel) between Hangang Park and Seolleung-ro 190-gil, Gangnam-gu.
Soña Lee
Soña Lee works in various genres of art, including illustration, animation, painting, graffiti, mural and installation. Under the hypothesis that a different form of life exists somewhere right now, she draws different characters using vivid colors. Her works in Itaewon, which she collaborated on with Dutch illustrator Levi Jacobs, are part of the mural project sponsored by Montana Cans. Soña and Levi are friends who share their inspirations with one another. With the permission of a building owner in Itaewon, they painted four murals in the course of two weeks.
sonalee.net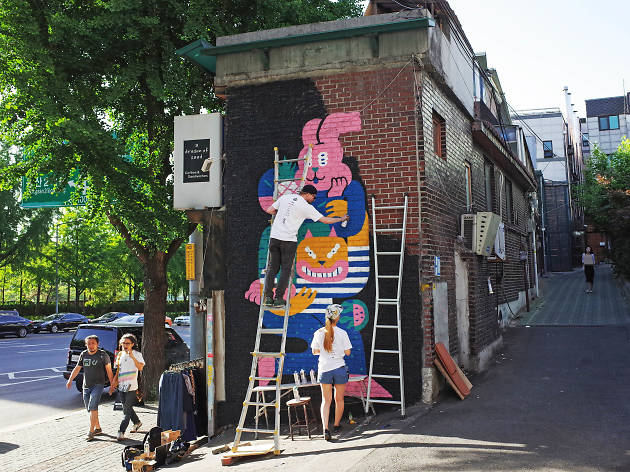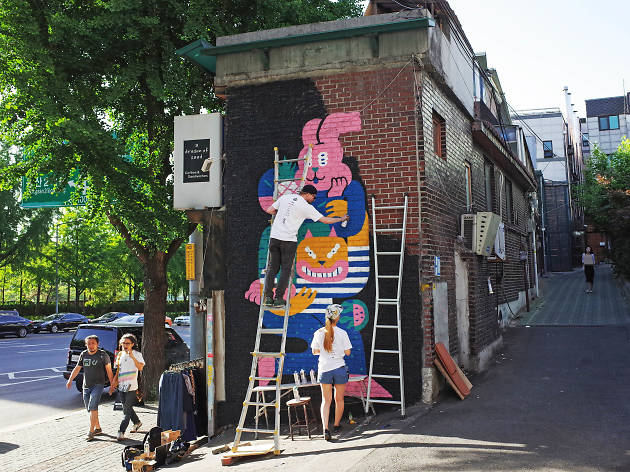 SONA LEE, MONTANA KOREA
Soña & Levi: Next to the Itaewon Post Office. 212, Noksapyeong-daero, Yongsan-gu.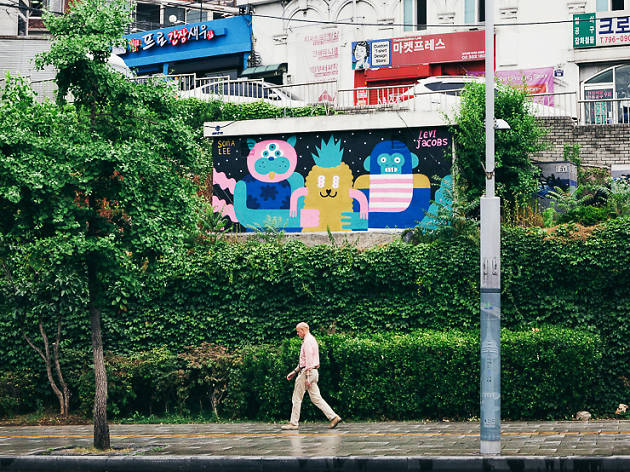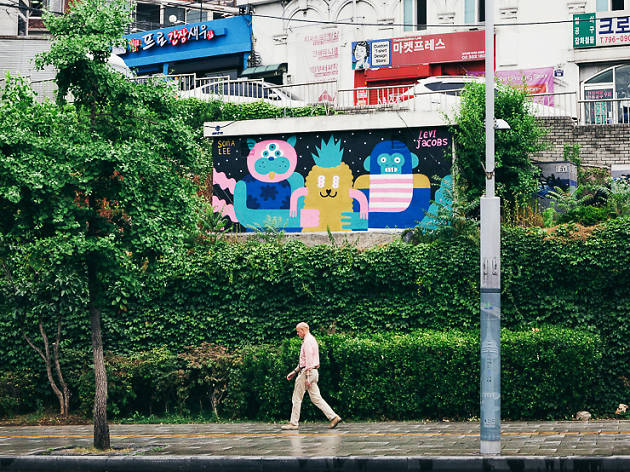 COURTESY OF SONA LEE, MONTANA KOREA
Soña & Levi: Noksapyeong Station's public restroom, building on the right. 195, Noksapyeong-daero, Yongsan-gu.