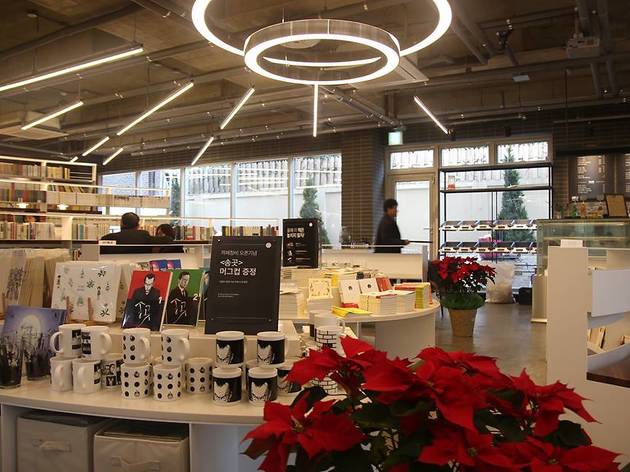 Café Changbi is located within first and basement floor of Changbi Publishing's building, and although the café is modern and full of life, the publishing house has a history of its own. Operations began in 1966 with the founding of The Quarterly Chanbgi (Creation and Criticism). Soon after however, the publishing company faced bans on certain books and even the closure of the journal from 1980 to 1988 for taking an oppositional stance to the military regimes during the 70s and 80s. Since the 90s, after finding some political stability, Changbi has been "in search for alternative ideas in the context of the world of capitalist system." Changbi in the 21st century is constantly striving to cultivate readers with outstanding books and contribute to human civilization.
The café is best described as a mix between a book gallery and a café. The venue is home to around 2,000 books open for view and purchase. If you sign up online for a membership, you will be offered a 20% on books along with a 10% discount on drinks. Whether you bring your own book, browse through the gallery, or just want to get some reading done, Café Changbi offers you 2 options. First is the well lit first floor with lamps, ceiling lights and natural sunlight coming from the large windows. The second is the dimmer basement. Both floors, nevertheless have a quiet ambience along with some classical or jazz background music. The first floor accompanies the café with seating and the circular book gallery with small desks placed along the circumference and a few desks hidden in the back. The basement is more occupied with desks and workspaces with a few books stacked here and there. The whole café is abundant with outlets making it a great place to bring your laptop. As it is a reading café, it would not be the place of choice for group work or collaborative activities. The café also offers craft beer for those who like to read and drink!
Venue name:
Humanities Café Changbi
Contact:
Address:
7, World Cup-ro 12-gil
Mapo-gu
Seoul


Opening hours:
8:00 - 23:00
Transport:
Mangwon Station (line 6) exit 1. 5 mins walk.