What to do in Naeja-dong, Seoul's coolest neighbourhood
Low-key Naeja-dong boasts some of the best secret bars and great-value restaurants in Seoul. Here's our insider's guide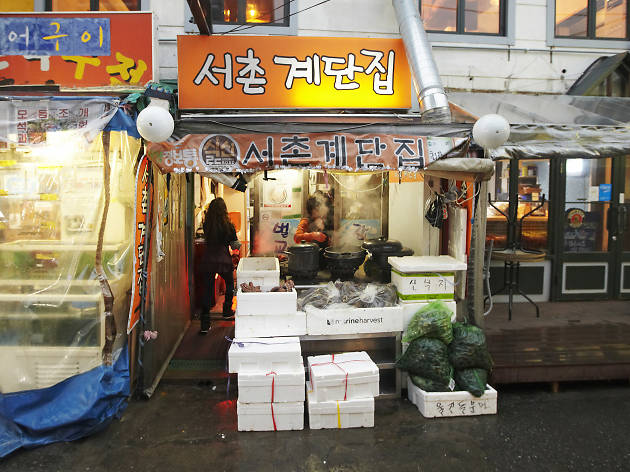 To really test your cab driver's knowledge of downtown Seoul, ask to be taken to its newest hotspot: Naeja-dong. Located only minutes away from the Ministry of Foreign Affairs Building, this unassuming neighbourhood of hanoks (traditional Korean houses) is filled with government workers improving diplomatic relations with foreign guests over some of the Korean capital's best food and cocktails.
Naeja-dong is split in two by the large Sajik-ro main street, and its northern border is a busy strip called the Sejong Food Village Street that's made for for big reunion dinners and eating until your jeans rip. The southern half – Naeja-dong's more becoming side – remains a secret reserved for coffee snobs, whisky connoisseurs and lovers of a hongeo (fermented skate).
For an intimate evening that spills over into the next morning, take a picturesque stroll through the neighborhood's small alleyways and feast on the seafood appetizers at Seochon Gyedan-jip, before bar-hopping your way from one breathtaking whisky spot to another.
Get cultured
Hwanghakjeong archery range, Naeja-dong. Photograph: Korearoadtour / CC BY
Although Naeja-dong is mostly about eating and drinking well, there are a handful of insightful cultural attractions in the area that often get overshadowed by the tourist giants in nearby neighbourhoods. Check out Sajikdan, a Joseon Dynasty altar built for good harvest prayers, then head over the road to Hwanghakjeong Archery Range. The institution was founded in 1392 and it has been at this particular location since 1922. Those interested in taking part in archery experiences can call Seoul's +1330 English hotline to see if experiences are available.
Naeja-dong also houses the Chinese Cultural Center, which often exhibits artwork centered around Korea-China relations and screens films for free.
Eat here
Refresh your afternoon with a cup of joe at Namusairo, a scenic hanok coffee shop with a fine selection of beans. The café's quietest hours are between four to seven, making it the perfect place to pass time before restaurants open.
Saunter over to the Food Village Street before the dinner rush to avoid hour-long lines outside Seochon Gyedan-Jip – a seafood lover's paradise that specializes in king cockles, fresh sashimi and seafood ramen.
If bubbling soups beckon you, also check out Halmae-Jip: a hole-in-the-wall joint that specializes in two types of pork. Neither the garlicky gamja-tang (pork back stew) or a glutinous plate of jok-bal (pig's feet) are for the faint of heart, but there's nowhere better for strong flavours and complex textures.
The truly adventurous can also opt to try fermented skate and live octopus at Sinan Chon, which specialises in cuisine from the Jeollanam-do province.
Drink here
Cobbler, Naeja-dong, Seoul
The southern half of Naeja-dong began to get foot traffic when two whisky bars, Cobbler and Tender, opened their doors next to one another in 2017. The respective bar owners took fixer-upper hanoks in the then-dark neighborhood and fashioned establishments worthy of a journey. Cobbler is brighter and slightly more accommodating to groups while Tender is quieter and a bit more intimate, but both offer refined ambience and world-class drinks.
Since then, a handful of other hanok bars have moved in, adding their take on the fermented grain. Hi-fi lounge and bar Slowhand focuses on whisky paired with jazz and pop records. Bar Abyss serves whisky and cocktails and occasionally houses street cats.
Not into whisky? Head to Korean craft beer bar Hand and Malt Taproom a few doors down from Cobbler for an extensive list of brews and ciders as well as some delicious truffle fries.
What else is nearby
Tourist centers Gyeongbukgung Palace and Sejong Plaza stand north-east and south-east of Naeja-dong respectively.
How to get to Naeja-dong
Hop off Gyeongbukgung station on Seoul Metro's Line 3. To explore the neighbourhood's whisky bars and cafes, walk out of exit 7 and make a left after you see a 7-11 shop. To take a peek at the Sejong Food Village Street, take exit 2.
Discover the best things to do in Seoul
There's more to this great nation than just K-pop and K-dramas (although they are a pretty big deal). South Korea's capital offers a beautiful urban sprawl and scenic sights, with awesome bars, luxurious hotels and delicious Korean food to boot.