Heads up! We're working hard to be accurate – but these are unusual times, so please always check before heading out.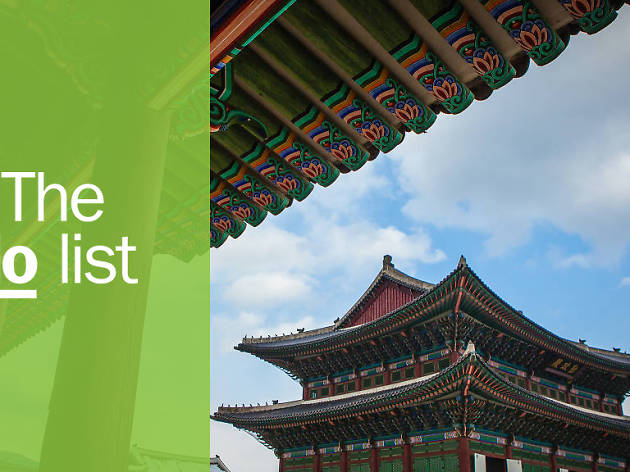 The 14 best things to do in Seoul
Look beyond K-pop and K-dramas (although they're a pretty big deal) when tackling the best things to do in Seoul
Unless you've been living under a rock, you'll be well aware of the fact that Korean pop culture has been taking the world by storm for the past few years, but the best things to do in Seoul go beyond the trend wave.
After all, there's more to this great nation than just K-pop and K-dramas (although they are a pretty big deal). South Korea's capital offers a beautiful urban sprawl and scenic sights, with awesome bars, luxurious hotels and delicious Korean food to boot.

Here, we highlight what to do in Seoul to properly explore the town.
Done something on this list and loved it? Share it with the hashtag #TimeOutDoList and tag @TimeOutEverywhere. Find out more about how Time Out selects the very best things to do all over the world.
Best things to do in Seoul
Photograph: Courtesy Kim Dae Jung
What is it? This stunning palace complex (and UNESCO World Heritage Site) was the primary royal residence for over 200 years, and is the best preserved out of the five remaining Joseon palaces in Seoul.
Why go? Besides the palace and government buildings, Changdeokgung has a truly breathtaking secret garden with landscaped lawns, ornate pavilions and a lotus pond. Continue your cultural tour of the area with the traditional Bukchon Hanok Village and charming Jogyesa Temple.
Photograph: Courtesy Viator
What is it? If you don't fancy scaling Bukhansan Mountain, then this is your next best bet for a cracking view of Seoul.
Why go? Standing at 480m above sea level, this towering observation deck – which looks a little like it's launching into the sky from its spot atop Namsan Mountain – provides an unbeatable panorama of the city. And don't worry about a hefty trek to the summit, becauset here's a cable car and a lift available.
Photograph: Courtesy Viator
What is it? One of the oldest and largest traditional markets in Seoul, most famous for its street food market where you can find all manner of Korean snacks.
Why go? It's the most convenient place to sample a wide variety of Korean food, from tteokboki (sweet and spicy rice cakes), bindaetteok (mung bean pancakes), and mayak gimbap (seaweed rolls). Don't forget to wash it all down with some makgeolli (rice wine).
4. Leeum Samsung Museum of Art
What is it? Leeum is home to a significant collection of traditional Korean art, as well as modern and contemporary works from local and international artists. The art is divided between three structures designed by architectural luminaries Mario Botta, Jean Nouvel, and Rem Koolhaas.
Why go? There's something for art lovers of all tastes, whether your interest lies with Korean national treasures or contemporary painters. Don't forget to visit the sculpture garden.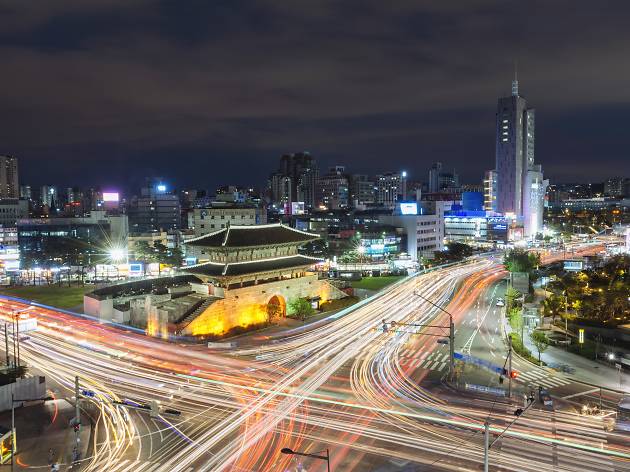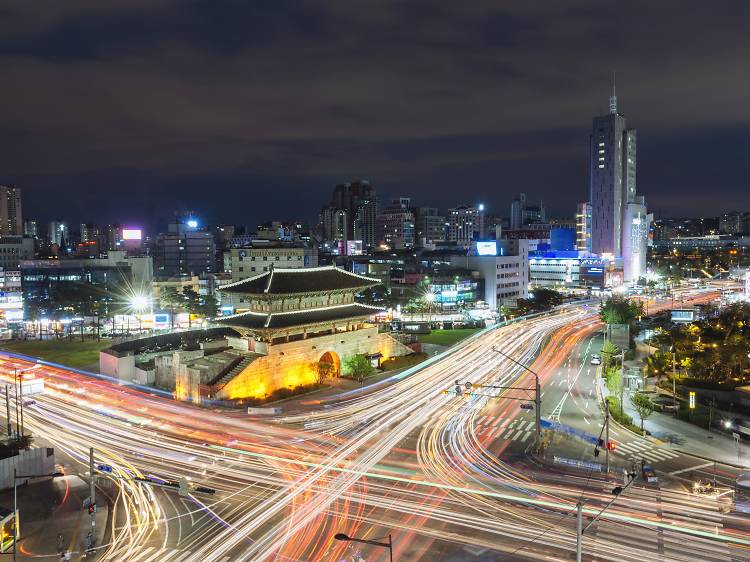 What is it? The beating heart of Seoul's no-holds-barred shopping culture. It's got a 24-hour shopping complex, wholesale outlets, an underground shopping centre, and a bulbous, space-age silver cultural hub designed by world-famous architect Zaha Hadid.
Why go? Many boutiques in Seoul and even neighbouring countries source their stock from Dongdaemun, making it a goldmine for thrifty, fashion-conscious shoppers. Everything you want can be found off the main shopping road, Eulji-ro – including pojangmacha (street stalls) serving snacks and soju.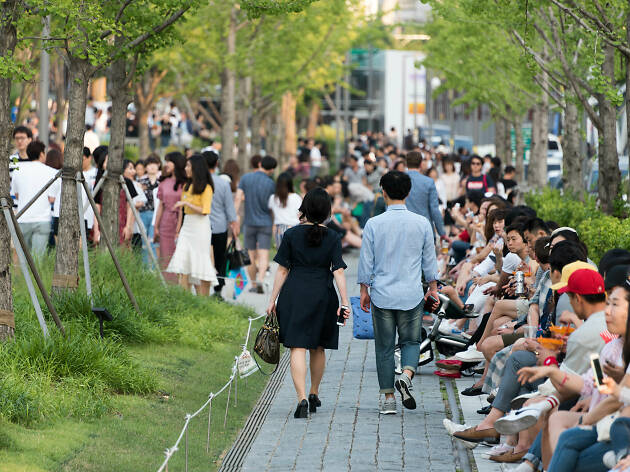 Photograph: Courtesy VisitSeoul
6. Gyeongui Line Forest Park
What is it? A 6.3km park that runs from above Gajwa Station to Hyochang Park Station, passing through the trendy Hongdae and Yeonnam-dong neighbourhoods.
Why go? Peaceful green spaces in urban areas are always welcome, but where Gyeongui Line Forest Park sets itself apart is its charming row of local bookstores on the aptly named Gyeongui Line Book Street.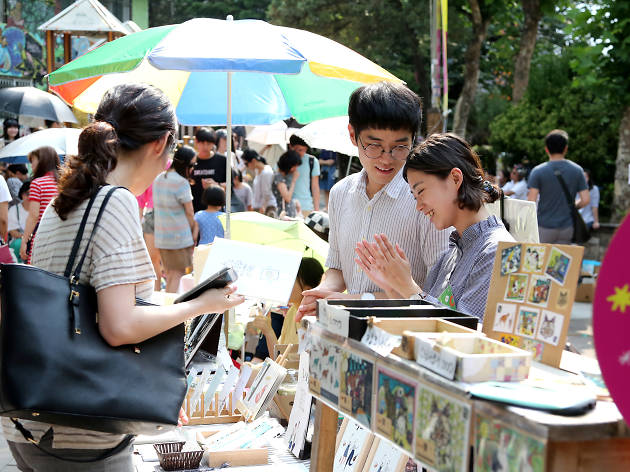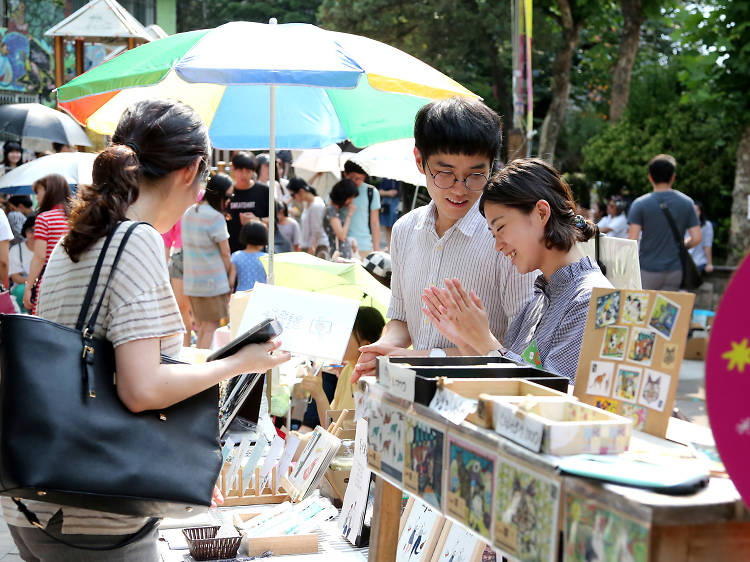 What is it? The buzzy area around Hongik University where all of Seoul's tastemakers congregate. Hongdae is known for being the city's youth culture hub, with a strong indie music and nightlife scene, and a regular arts and crafts market.
Why go? Besides the hipper-than-thou street style shops and artisanal cafés, Hongdae's main road – Hongik-ro – is home to countless bars and clubs where you can party the night away. Line your stomach at the nearby Oksang Dalbit with some delectable garlic pepper chicken.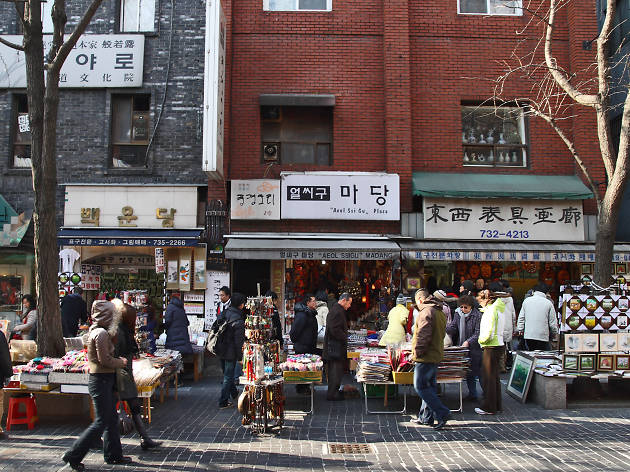 Photograph: Courtesy CC/Flickr/Yueh Hua-Lee
What is it? Located in the historic district of Jongno-gu, Insa-dong is an arty neighbourhood where traditional meets modern. Known for its plethora of galleries, this is the perfect place to take a quick break between sightseeing.
Why go? Insadong-gil, the neighbourhood's main street, is a great place to pick up some traditional Korean souvenirs – especially during the weekly Saturday market. Make sure to visit Ssamziegil, a multi-storey shopping complex which houses over 70 shops, galleries, and cafés.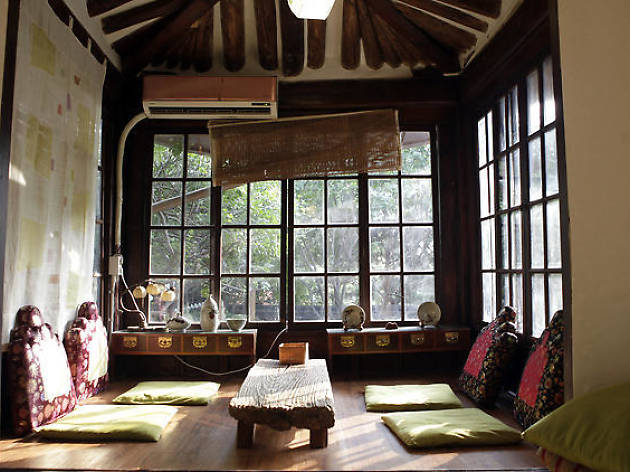 Photograph: Courtesy Suyeonsanbang Tea House
9. Suyeonsanbang Tea House
What is it? In English, Suyeonsanbang means "a small home in the forest where writers gather" – a fitting name for this serene, traditional teahouse which was once the home of late Korean author Lee Tae-jun.
Why go? Located near the idyllic Bukhansan National Park, Suyeonsanbang feels like a mountain lodge far away from the city. It's a wonderfully tranquil space with a rich literary history, extensive tea menu, and seasonal shaved ice.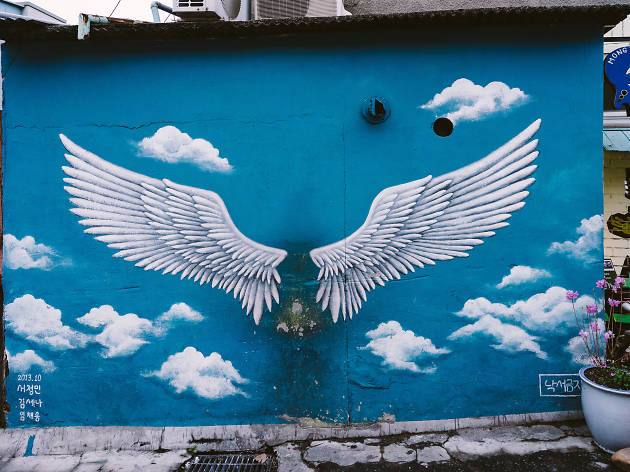 Photograph: Courtesy CC/Flickr/Wei-Te Wong
What is it? Once designated for demolition, this hillside village was given a makeover as part of a government revitalisation project and has since become a tourist attraction. Just remember that it's a village, not a theme park – residents have complained about noisy and disruptive visitors in the past.
Why go? Do it for the 'gram. But seriously, Ihwa is a lovely place to visit if you're a keen photographer or fan of street art. As it's at the top of Naksan Mountain, the views are beautiful (even if the walk is a little steep).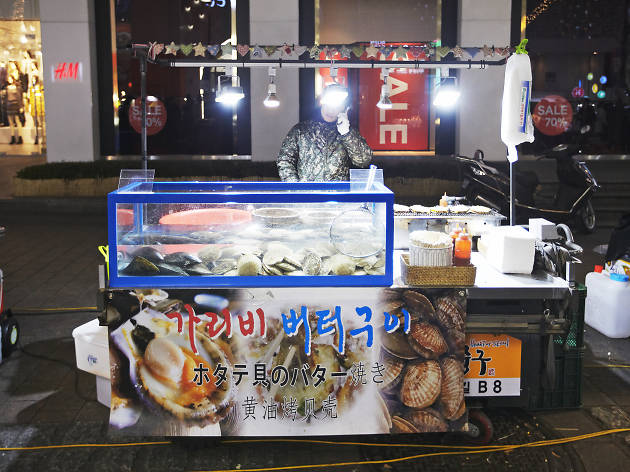 What is it? Known as a shopper's paradise, Myeongdong is one of the most popular tourist hotspots in Seoul. Myeongdong's more of a conventional shopping experience than Dongdaemun, with popular retail chains, department stores, and family restaurants lining the streets.
Why go? Myeongdong-gil, the main shopping street, is a dream come true for anyone interested in Korean fashion and beauty. If all that shopping makes you peckish, the knife-cut noodles at Myeongdong Kyoja are always a winner.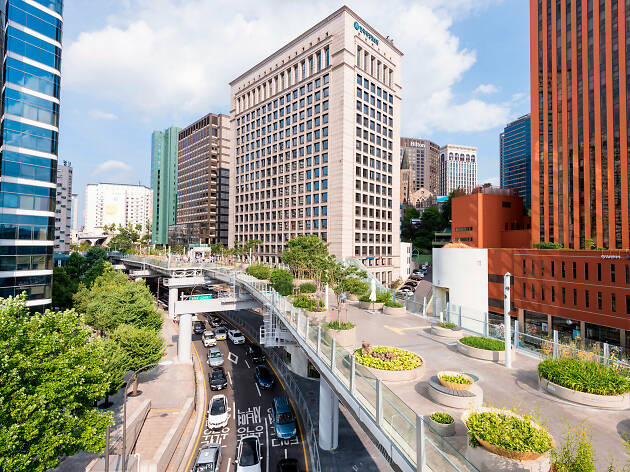 Photograph: Shutterstock
What is it? Seoul's answer to New York's High Line. This eco-friendly, multi-purpose pedestrian walkway built on a former highway above Seoul Station is home to a sky garden, cafés, and even a little pool for you to dip your toes in.
Why go? Seoullo 7017 has a lot to offer, from 'peeping pots' that play sounds and videos of Seoul, to the kids' trampolines, modern art at Seoullo Gallery, and Yunseul – a trippy, immersive public art project.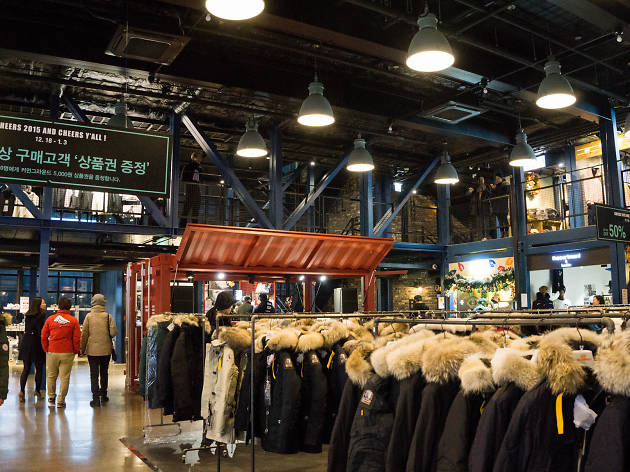 Photograph: Courtesy CC/Flickr/Seyong Back
What is it? Occupying a whopping 5,300 square metres, this bright blue structure is the largest shipping container mall in the world. The complex comprises a market hall and street market which border a central square used for weekend markets, performances, and exhibitions.
Why go? It's a convenient place to find and support independent businesses, whether you're keen on fashion, art, or beauty. You won't be short on choices for food either, with options ranging from traditional local food to international cuisines and even food trucks.

Photograph: Courtesy Korea Furniture Museum
14. Korea Furniture Museum
What is it? Situated on a picturesque hillside in the historic Seongbuk-dong district, this sprawling complex is brimming with historical relics from the Joseon dynasty (1392-1897). It's essential to pre-book your tour, as walk-ins are not allowed.
Why go? The grounds and architecture alone warrant a visit, but the main attraction is the museum's 500-piece display of Joseon furniture, exhibited in careful reconstructions of historic Korean homes. Visitors often call it this museum the best-kept secret in Seoul due to its unique insight into Korean history.