Heads up! We're working hard to be accurate – but these are unusual times, so please always check before heading out.
Sleep when you die
Is this expression too over-the-top? There's a plethora of things to do on summer nights, so sleeping is a crime. Follow the list or be found guilty.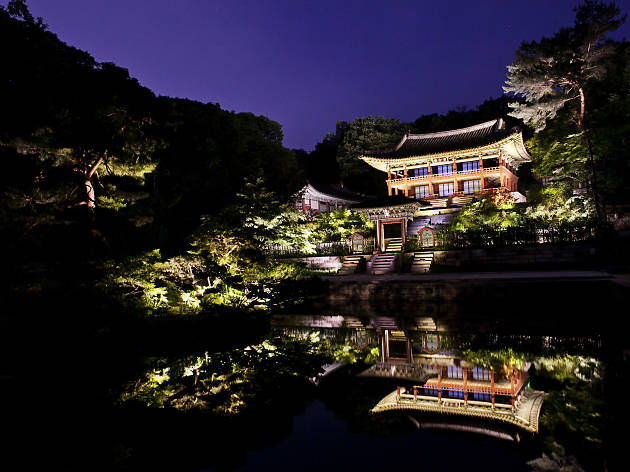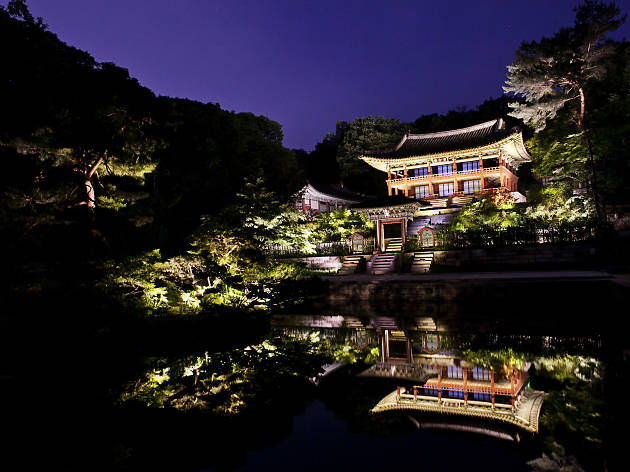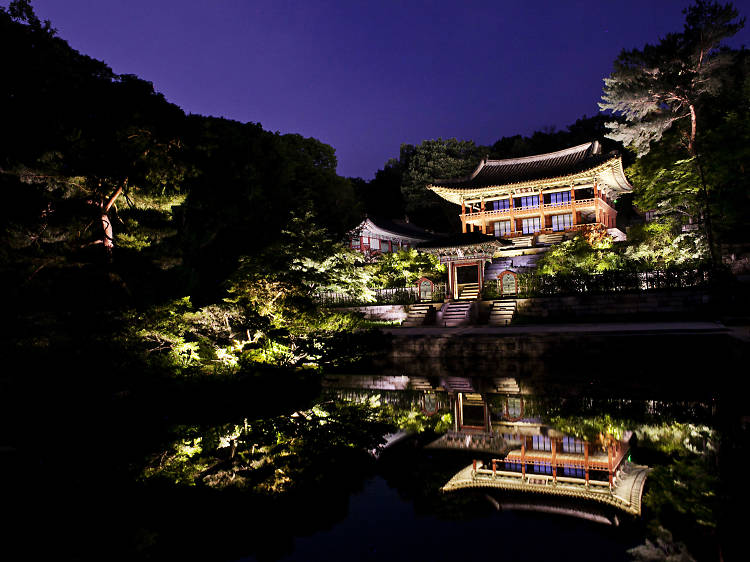 1. The palace by moonlight
To see Changdeok Palace by day is pretty; to see it under the moon is stunning. During the first half of the year, the Changdeok Palace Moonlight Tour sold out in just 5 minutes. The Moonlight Tour is a program with a performance and traditional tea, where a group of 20 walk around the palace at night with a guide. The Korean and non-Korean reservation and tour dates vary, and for non-Koreans there are guided tours in English, Japanese and Chinese. Now, the August–October period has about 15 Moonlight Tours, which will open up for reservations in the coming weeks. Reservations will start in the beginning of August. If you're not confident about the reservation race, explore the alternative—the ever peaceful Unhyeon Palace (464, Samildae-ro, Jongno-gu). In the months of July and August, Unhyeon Palace opens its doors till 9pm every Friday. The Iro-dang within the royal gates also hosts traditional performances, all of which are free of charge. The Deoksu Palace Annex in the National Museum of Modern and Contemporary Art (99, Sejongdae-ro, Jung-gu, 02-2022-0600) also operates till late (9pm) on Wednesdays and Saturdays. On those days, you can wander through the exhibitions and the palace.
(PHOTOGRAPHS: COURTESY OF THE KOREA CULTURAL HERITAGE FOUNDATION)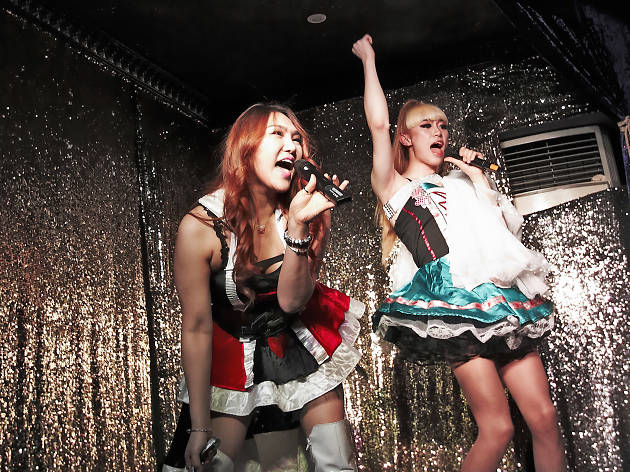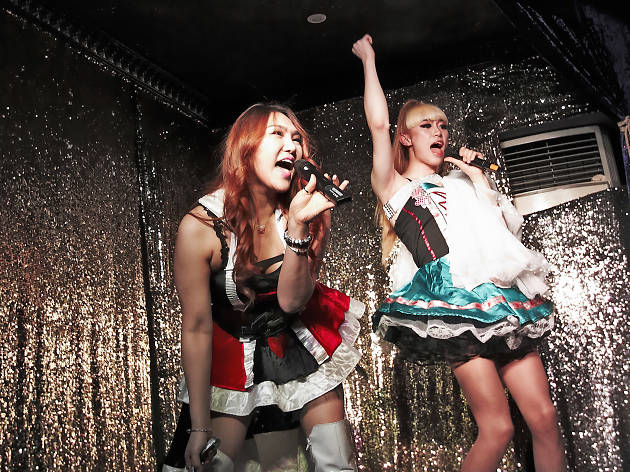 2. Not your everyday show
Their charm and talents are out-of-this-world. This famed Itaewon establishment usually operates as a gay bar suited for drinking and dancing, but when night falls, the flamboyant drag shows come to life. Located on Homo Hill is Trance (7, Woosadan-ro 12-gil, Yongsan-gu) a well-known establishment, popular for their lip-sync shows. On Friday and Saturday nights at 2am, you can catch Sing Sing, Ninano and Bul Mimi doing their thing on stage. The streets are abuzz with Le Queen (5, Itaewon-ro 27 ga-gil, Yongsan-gu) for their drag shows. Before the gay bar
transforms into a drag production, no females are allowed. The place is open Thursdays through Saturdays for three days, with drag shows on the weekends at 1am and 3am, respectively.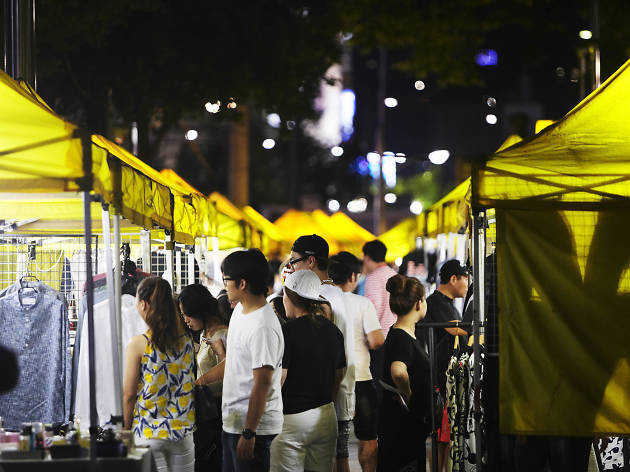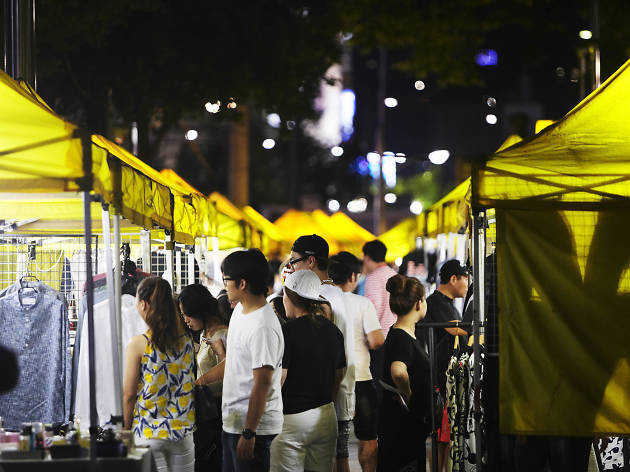 3. Bags under the eyes won't deter the late-night shopping
Dongdaemun Night Market (around Dongdaemun History and Culture Park) is still the stomping grounds for latenight shoppers. Come 10pm, from exits 3 to 10 of the Dongdaemun History and Culture Park station, all the way around the Dongdaemun Design Plaza, you will see the yellow tents setting up shop. Once known as the mecca of knock-offs, the number of tents has since dwindled, but it is still a sight for first-time visitors. T-shirts, pants and socks all go for less than 10,000 won, and cash rules at this hour. Neighboring shopping malls such as Doota (Doosan Tower), Migliore and Hello APM are for regular shoppers, while places like Nuzzon, U:Us and Designer Club are mostly for wholesalers. Though the latter options offer cheaper prices they do not sell items individually, while the economy has forced some of the shops to do both retail and wholesale. Shops open at 12am, and are most idle from 3–5am. There is another market that opens late. The flower market on the third floor of the Seoul Express Bus Terminal (194, Sinbanpo-ro, Seocho-gu) runs from Monday through Saturday. They officially open shop at 1am, and you will find hydrangeas, peonies and gypsophilia amongst other floral delights. If you're driving, there's a parking lot right across from the shops, and parking is free.
Show more
So whaddya do all night?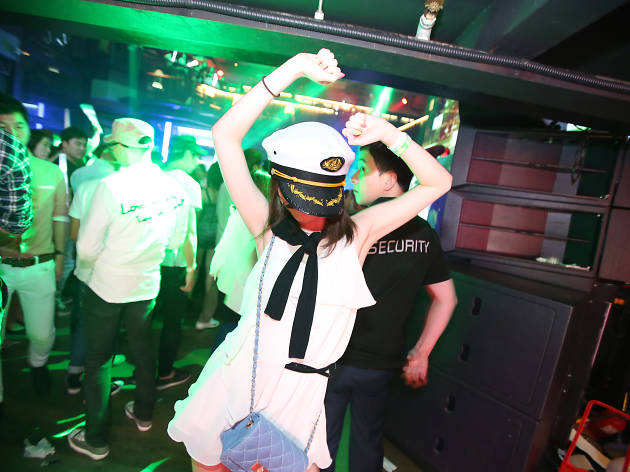 Here's what Khloe, age 22, does when she stays up all night. But shh, don't tell her mom
8:30PM This is prep time. To make sure I don't stick out like a sore thumb, I call up my friends to check the dress code. The curve of the eyeliner goes 3mm higher than during the daytime.
9:30PM In order to party, a girl's gotta eat. From the Cheil building, I walk
two minutes towards Hangangjin station, and grab some lamb on a stick and a bottle of Tsingtao at Shimyang.
11:00PM Catching up with friends is a preparty must. We start with a cocktail before getting totally krunked.
12:30AM One of my fav to-do's? Betting on drinks over darts and foosball at Thursday Party. I drink pretty indiscriminately. I get pretty juiced up before hitting up the dance floor at the club, but I drink quickly
and I'm outta there in half an hour.
1:30AM I don't go to the clubs where people are too cool to dance. You know, those places where people don't dance but stand packed like a can of sardines. When I dance in those places, all eyes are on me. My favorite clubs are Brand Nu, then LUX and then Brown. The selection of music at Brand Nu is fun, but it's not long before I head to LUX. LUX can be all over the board, depending on the mood of the DJ.
3:30AM If you head towards the main road from Brown, you'll see Donsubaek. I really like the pork soup there and it's where I go to sober up before sneaking back home.