This week's things to do
List up of the best things to do in Seoul this week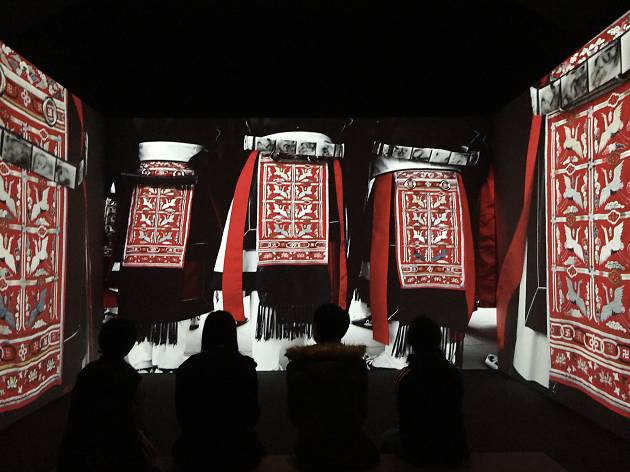 If you've been fortunate enough to get your hands on one of the tickets for the palatial night tours, you'll know what a fantastical, almost transcending experience it is. Although it may not be a palace, the Namsangol Hanok Village is opening its doors for a wonderful 1890's themed night market. Get to know how the commoners of the Chosun dynasty spent their nights before heading home to bed. The market will be filled with traditional games and performances, along with food trucks lined up serving delicious re-interpreted foods of the past. Entrance and performances will be free. The 1890 Namsangol Night Market is set to open on every Saturday until the end of July, while the market will open every Friday and Saturday from August to October (5pm to 10pm). Namsangol has been hosting a variety of successful events like a Halloween party and even a silent disco, and now the night market is not one to miss.
Read more
Water fight with live music performances from one of Korea's most sought out artists, Seoul's Water Bomb is back in full force. Look through the list of celebrities you want to side with and purchase your ticket accordingly. Although you must choose a team when purchasing a ticket, you may change sides when picking them up - just in case you sign up with a lover and end it before the day of. The Blue Team will be led by Hyuna, Skull & HaHa, DinDin, C Jamm and DJ Koo versus the Green Team with Jessi, BeWhy, Sleepy, Punchnello and Insidecore. Your ticket includes entrance and a team scarf to let those around you know if you are an enemy or ally. You will be able to purchase water guns on site (including the all powerful Nerf water gun) or decide to bring your own. Don't forget about the epic 'Water Bomb' that will shoot out towards the skies each hour from the main stage! Once you've been completely soaked in the water battles, you might want to head over to the pool or beach lounge to relax a bit before heading back to the battlefield. Get ready to be soaked with water and music in one epic water bomb festival.
Buy tickets
Read more
A lot of people use the cold winters as an excuse to take a break from working out. Well, now that spring is on the way, it'll be a good time to start your routine workouts, and running could be one of the best ways to get you energized (runner's high, anyone?). Starting on February 13th, anyone who wants a good run in the outdoors can join a group of motivated runners every Monday. The group will meet at around 7:45pm at a designated area (usually around Seoul Forest). The run will last around an hour a half. All you have to do is inform the group through their Facebook/Instagram page (the admins will contact you for the time and location). It won't cost a dime, and you'll get to meet new people while getting your body back into shape!
Read more
Having begun last year, the Bamdokkaebi Night Market is back in full force. From spring to fall, this night market supplies handmade accessories and decorative items, along with food trucks and performances all for the sake of letting Seoulites have some fun as the cool evening sets in. This year's market will begin on March 24th in 4 different locations around Seoul. Every Fridays and Saturdays, the ones at Yeouido Hangang Park Floating Stage and Banpo Bridge Hangang Park Moonlight Square will open at 6pm, while DDP will be hosting the vendors from 7pm. Cheonggyecheon's night markets are set to be held every Saturday and Sunday from 6.30pm to 9.30pm. Each destination will have their own theme. At Yeouido Floating Stage's 'World Night Market', you will be able to enjoy food and dance performances from different parts of the world. DDP will host the 'Youth Runway and Dance Night', a place for you to experience fashion shows and DJ performances while shopping from young artisans. Cheonggyecheon's 'Time Sleep Market' and Banpo Bridge Moonlight Square's 'Romantic Moonlight Market', which will showcase interesting art performances.  Note that the Cheonggyecheon night market is seasonal, meaning it will only open on the following dates: May 19-21, August 18-20, September 15-17 and lastly October 13-15. All other night markets will continue to open until October 29th. For more information, visit http://www.bamdokkaebi.org/language/intro_eng.php.
Read more
This exhibition will give a chance to see how Gunam PlaModels, art toys and Lego dioramas have been transformed into one-of-a-kind art pieces. The permanent exhibition will display works created by several artists curated by WESAME, an online art and culture platform focusing on kidult art, improving kidult culture and finally supporting the artists in the kidult industry. Jin Toy, Yan Yan E, Choi Yohan, Kim Minseok and Seo Sangin are some of the famed kidult artists in Korea who will partake in the exhibition. Jin Sukwon is also the art direct for Jin Toy, a studio known for hand making art toys and action figures directed towards serious adult collectors. He has also collaborated with famed illustrators Delos and GoolyGooly as well as street fashion brands 1300BO and Sakun. YanYan, an artist that prefers Lego as her medium, will be displaying her Lego dioramas (3D mise-en-scène made with Lego pieces). Be ready to be impressed by the sheer detail and dynamics of the large-scale diorama. The Kidult is The Art exhibition will be held on the 2nd floor hallway of the Seoul SBA Animation Center. It will closed only on Mondays.
Buy tickets
Read more
Need a way to rant away your stress? At The Alley Bunker located in Haebangchan, an open mic-type rant night event is happening every Thursday. Whether it's about the coworker who talks down to you in banmal, the neighbor who wakes you up every night with loud music or the obviously depressing political climate of the country, your rant will be appreciated and absolutely paid attention to here. Sounds rather embarrassing, you say? Once you experience the catharsis with all the support and cheers coming from the patrons here, you'll feel otherwise (grabbing a few of the bar's special cocktails, such as Bunker on Vacation or Hotel Juliette made with homemade hibiscus ginger ale would help).
Read more
What's this about? Celebrating its 2nd year, Rain Festival offers pretty cool festivities under the theme of, you guess it, rainwater preservation. And every program's offered free of charge! Starting with a rain-themed outdoor cinema (with a huge screen), there will be a rainwater playground that's returned once again with more fun features, an art market around the quaint Deoksugng Doldam-gil showcasing up-and-coming artists' works created with rain motifs, a concert featuring 10cm, Geeks, Gambler Crew (b-boy) and more, as well as art installations and interactive events for all. During this monsoon season, Rain Festival will offer 3 cool days of art, music, nature and an occasion for us to appreciate what's so easily taken for granted nowadays.
Read more
Seoul may not be Paris, but that's not to say that Seoul isn't filled with great artists. At Seoul's 2017 Street Art Zone, you will be able to experience art in a refreshing way. Until the end of November, streets all over Seoul will become a stage for some wonderful performances. The list of participating performance groups has been extended to 143 teams from 108 teams last year. These groups have had to audition to be selected to perform at many of Seoul's tourist hubs as well as parks, subway stations and other indiscrete spaces. All the dynamic performances will be accompanied by markets to spend a little cash and buy something nice. Traditional performances, along with 7080, indie bands, rap, hip hop, musical miming and magic performances among others are set to have you entertained. The best part is that all these performances are free of charge. Look out for mimes, magicians and circus acts at Seoul's 13 different district markets, a site you won't see very often. Check out the website for further performances and where they will be located.
Read more
There is something great coming to us from the state of Utah. Yes, Utah. And it recalls those days when you used to look at your kiddie slide and say "I wish that could be 1,000 times bigger." Well, darling, it's finally here. Slide the City is a 350 meter plastic padded slide for your whooshing pleasure that will be available to you at the Jamsu Bridge. So far, it has been to over 180 cities all over the United States and it's back in Korea! Children of all ages are invited so come out and play! 
Read more