Heads up! We're working hard to be accurate – but these are unusual times, so please always check before heading out.
Six traditional markets in Seoul
Eat your way through these six traditional markets
If you're looking for great local street food, you must try these markets.
Namdaemun Market
With over ten thousand stores within this store, there's a reason why people say: "If you can't find it in Namdaemun, you can't find it in Seoul." This is a retail market during the day but it turns into a wholesale market at night. Dish wholesalers, children's clothing stores, glass shops and mountain-climbing equipment stores grab people's attention. When it comes to food, braised cutlassfish and kalguksu noodles are the best. Braised cutlassfish alley was formed around 1988, while kalguksu noodle alley was created right after the Korean War. Restaurants here are so famous that it's hard to find a place that wasn't introduced to the masses through TV shows and news articles.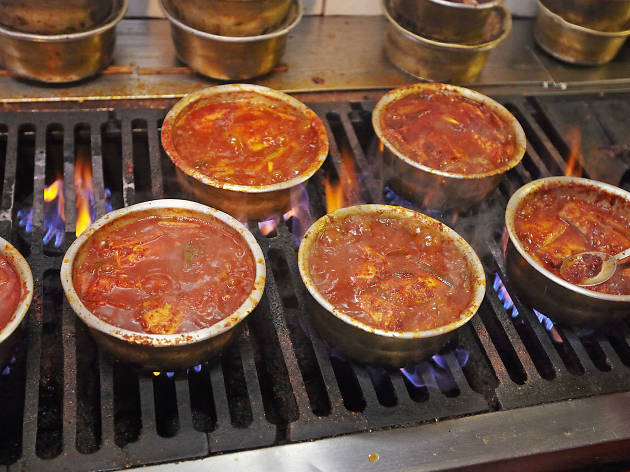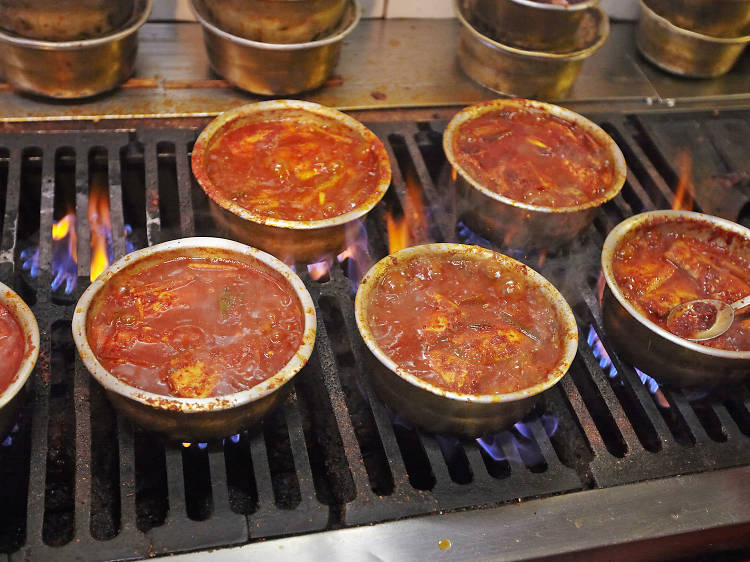 Braised cutlassfish served in a brass bowl is appetizing. And Hoerak is one of the first restaurants to witness the start of this old alley. Most of the restaurants here are 20 to 50 years old, so you can count on their food. But we decided to eat here because they didn't stand outside yelling, "Seats available inside!" We ordered our food and got huge chunks of radish with cutlassfish on top. We first had some rice with this tasty fish and then mixed the rice with spicy seasoning and well-cooked radish, which goes perfectly with dried seaweed. Yum!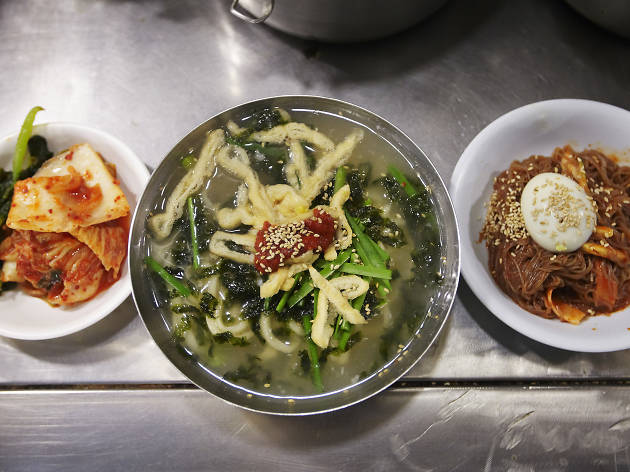 Namhae Sikdang (Namhae Restaurant)
Three sisters run this famous restaurant in kalguksu noodle alley, where about 20 restaurants stand on both sides this narrow side street. If you go to one of the restaurants here and order kalguksu noodles, you'll also get cold noodles on the side. If you order boribap (barley rice), you'll get both the kalguksu noodles and cold noodles for free. With kalguksu noodles being just 5,000 won, it's quite the steal! Customers all sit around at low, bar-type tables, savoring their meal. The menus and dishes at different restaurants in the alley are almost identical, making it easier for you to choose a place. Cash only.
Mangwon Market
Mangwon Market is famous among young people thanks to Rose Motel's band member Yuk Jung-wan who stars in the TV show, I Live Alone. But even before the show, this market was well known among locals from this densely populated neighborhood. Vegetables and fruits are especially cheap here—you can buy two apples for just 1,000 won. It's not far from Mangwon Subway Station and from here it only takes 15 minutes to get to Mangwon Hangang Park on foot. Inside the market, people wait in line in front of famous eateries and prices are cheap as well. You can get meals and snacks within a budget of 10,000 won. World Cup Market is across from Mangwon Market.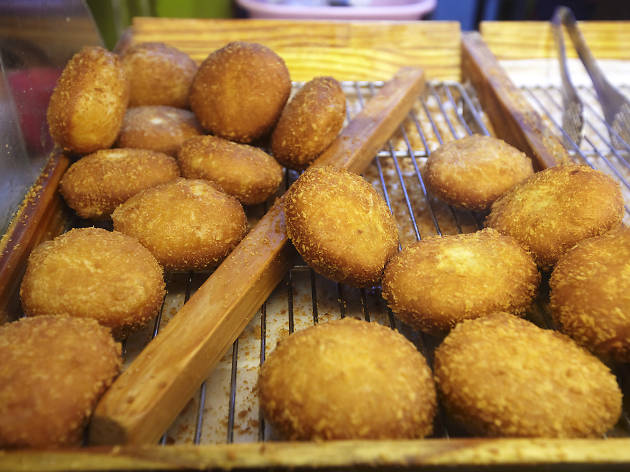 Hwang In-ho's wondang handmade korokke (croquette)
You can't miss out on the korokke (croquette) place standing at the entrance of Mangwon Market. Not only its savory smells, but also the long line in front of this place will pique your curiosity. Their korokkes are plump full with a stuffing made of potatoes, kimchi, japchae, cream cheese and more. korokkes range between 1,000−1,500 won.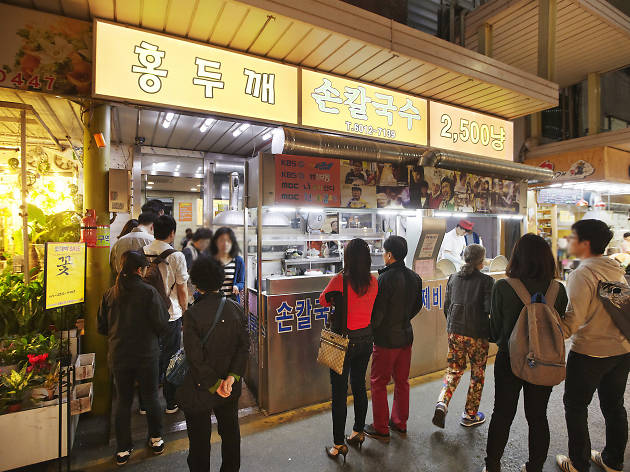 While you can find reasonably priced good noodles at any market, Hongdukkae's kalguksu noodles, which are served in a huge brass bowl, are available at the unbeatable price of 2,500 won. Hongdukkae Sonkalguksu restaurant is one of the most famous noodle places in this area. People wait in long lines to eat here during the lunch and dinner hours.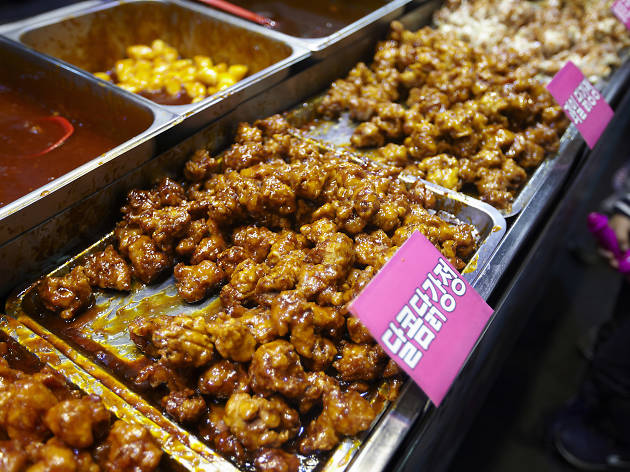 Kyuseu dakgangjeong (sweet and sour chicken)
There are two options for your dakgangjeong (sweet and sour chicken)—sweet or spicy—and there are seven different dipping sauces to go with it. After it was featured on a TV show, this place became even more famous. It is located in the middle of the market and if you buy a small cup of dakgangjeong for 3,000 won, you can munch on the food while you walk around the market.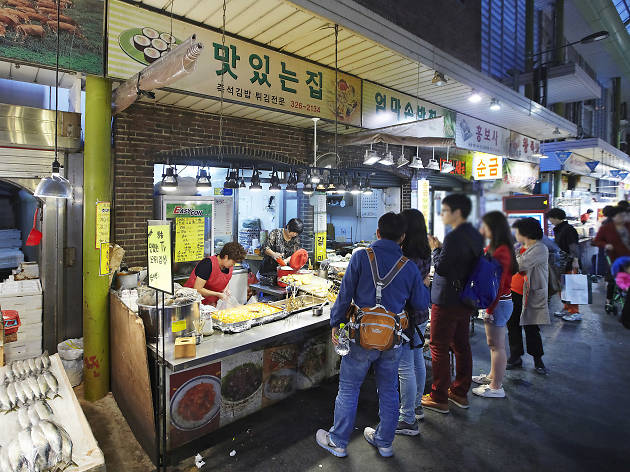 In Mangwon Market, otui gimbap (deep-fried calamari gimbap) is a hot item these days. As soon as you place an order, they'll roll a fresh gimbap with deep-fried calamari and stir-fried anchovies. Spicy and salty anchovies go well with calamari, although it's not very crisp. You can't find this 3,500 won item anywhere else in Korea but here, so give it a shot.
Dongdaemun Market
Dongdaemun Market is bustling night and day. It's crowded with tourists and merchants from all over the country. Behind the district for clothing and accessories is a side street that has been with this market for more than 40 years. About 30 restaurants have been here ever since the market was established. Although this alley started out with fried fish, there are now two main items sold here—fried fish and boiled chicken. Just as tourists, shoppers and merchants mix and mingle in the market, the misty smoke from the fried fish and spicy smell of garlic from the boiled chicken blend together here.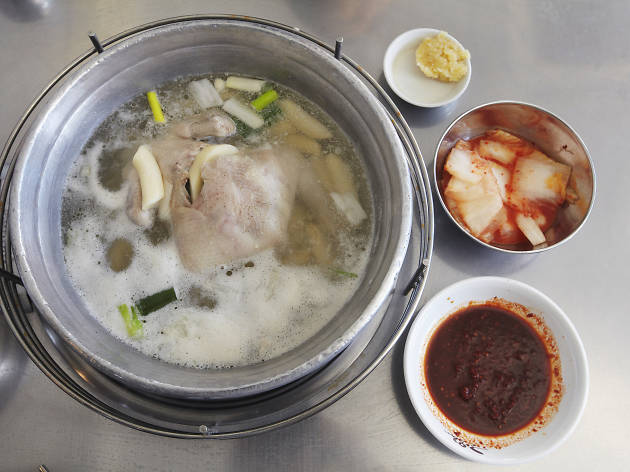 While many restaurants in this alley can claim originality, this restaurant is arguably one of the most creative when it comes to flavors. When first presented with a serving of chicken in a washbasin sized brass bowl with a side of water cabbage kimchi, you'll think, "That's it?" That is, until you taste it. The chicken is boiled with garlic and rice cakes, while the kimchi's made with a special combination of soybean sauce, vinegar and mustard. And to finish it all off? Add kalguksu to the mix.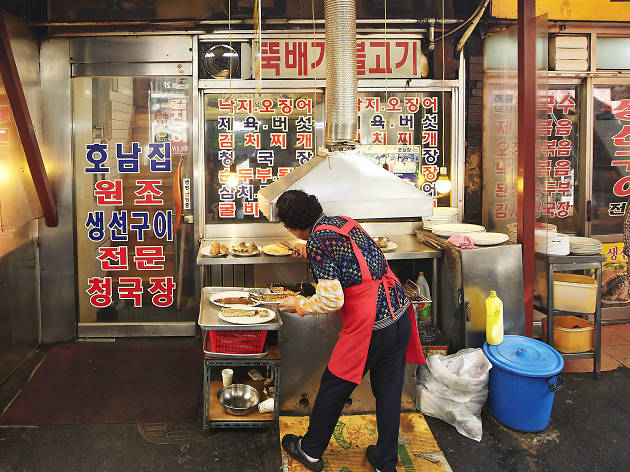 "How can a mackerel possibly taste so soft and tender?" I ask in shocked delight. Honam Jip, which opened in 1974, is the oldest restaurant in this alley. The fish is cooked to perfection as the owner cooks them on low heat, flipping each of them three to five times. You don't need to have anything else with it, but eating it with boiled rice makes it even better. There are six types of fish you can choose from but mackerel, cutlassfish, imyeonsu (atka mackerel), and samchi (Spanish mackerel) are the most popular.
etc.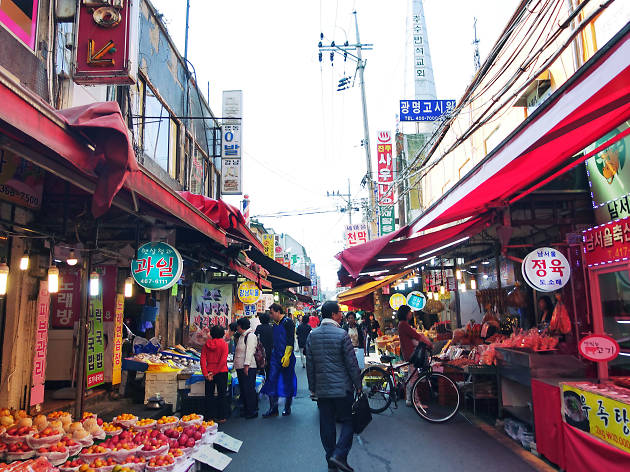 Built together with the Jugong Apartment Complex in Jamsil, Saemaeul Market used to be one of the best markets in the Gangnam area. Paopao is famous for their shrimp dumplings. Thin, semitransparent dumpling skins are wrapped around delicious shrimp stuffing. You can also find a lot of sweet and sour chicken places here. Kim Panjo Restaurant and Color Bunsik are two well-known restaurants. Having opened not too long ago, Kim Panjo's quite the talked about place at the moment, but you will have to wait in line for more than 30 minutes before you can place an order.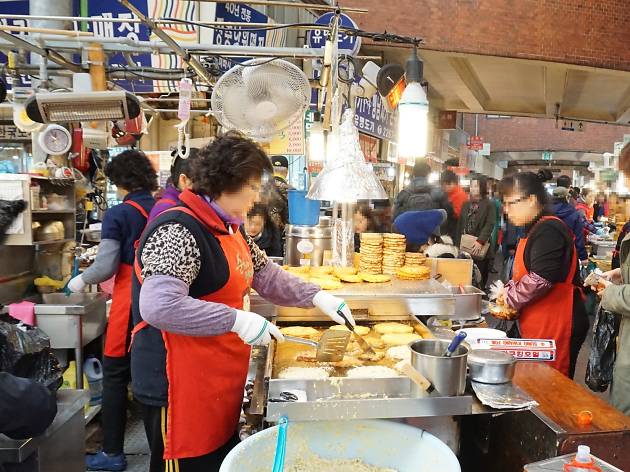 As the first permanent market in Korean history, Gwangjang Market is more than a century old. Thrift shops and the variety of food places here are the major attractions. Soon-Hee Bindaetteok restaurant uses kimchi, different vegetables and mung beans to make their signature pancake. In 2012, film director Tim Burton ate at this place. Mayak gimbap (drugs gimbapand its mustard sauce first started here as well. Jamaejip restaurant and Changsin Yukhoe restaurant are famous for their savory Korean raw beef.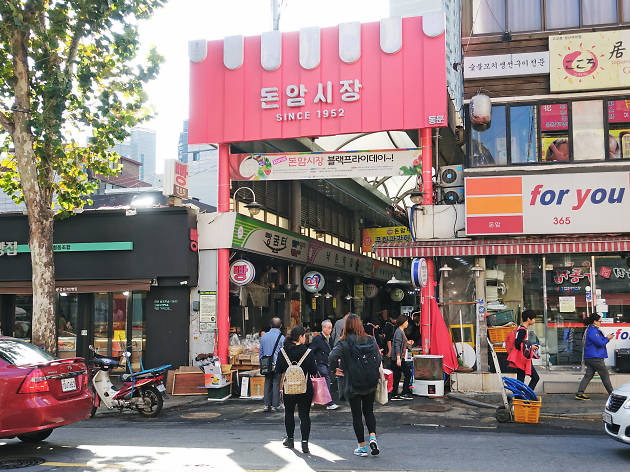 Donam Market, located in Seongbuk-gu was first established in the 1970s. Famous restaurants from Donam Market have been around for a very long time. Taejo Gamjaguk Restaurant is considered to have invented gamjatang (pork back bone stew). It's located right next to the northern gate of the market and is 58 years old. For three generations, customers have been in love with this place. The smallest serving is called jotta (tastes good) and costs 11,000 won. Don't forget to drop by Obaekjip restaurant. This jokbal (pork hocks) place has stood here for about 40 years.