Where the autumn leaves and silver grass are
To see Seoul at its best, discover the changing leaves in these autumnal spaces
What used to be a landfill for 15 years has been transformed into what is now one of the best parks in Seoul. The silver grass thrives even if the land is barren and covers the entire park by October. It begins to grow in September and comes to a full bloom in October. The Seoul Silver Grass Festival also takes place every year (this year, Oct 10–17). Haneul Park usually closes at night, but it will stay open during the festival season and you can enjoy the beautiful lighting as it shimmers upon the sea of white grass. Even after the festival is over, these beautiful plants will stick around until the end of autumn.
Ever kept any autumn leaves between the pages of your favorite book? If so, you will probably fall in love with this library. Next to the benches in front of the library are crisp, yellow ginkgo leaves waiting for you to take them. Picture yourself reading books sitting on the red and yellow leaves of autumn. Although the library is quite small in terms of its size, it's full of fall and romance. The beautiful side streets of Samcheongdong, where the library is located, are also known for their colorful foliage.
Jongmyo Shrine is dedicated to the late kings and queens of the Joseon Dynasty and is where their mortuary tablets are kept. Jongmyo Shrine is also famous for its beautiful autumn trees. It sometimes even feels more like a park than an ancient shrine. It's the perfect place for you to take a walk if you like having leaves and soil underfoot. If you want to have some alone time and sink deep into your thoughts, visit on Saturdays or on Culture Day, which is the last Wednesday of every month. On days other than that, a curator will accompany you for the protection of the property.
You can feel how time and air flow differently near these royal tombs. Taerung belongs to Queen Munjeong, who was the second wife of King Jungjong of the Joseon Dynasty. It is one of the best places to go for a walk when autumn arrives. The place is full of leaves in different shapes and colors falling to the ground—making it a great place to get your crunch on. Hwarang-ro, between Taerueng Station (Lines 6 & 7) and Sahmyook University, is also a place we recommend visiting as the street is lined with plane trees and is blanketed in brown leaves.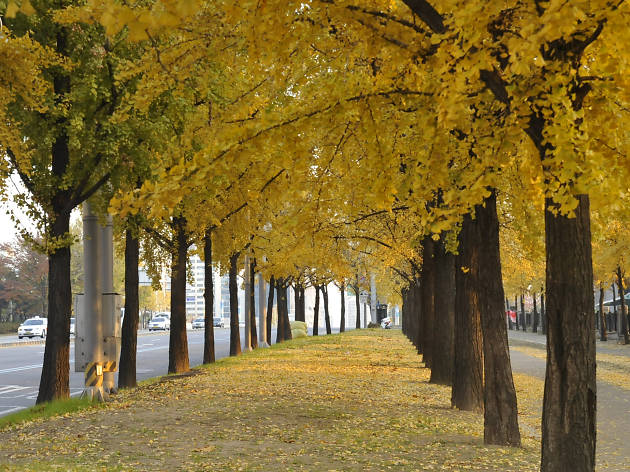 COURTESY OF SONGPA-GU OFFICE
Wiryeseong, where ginkgo trees shine
Wiryeseong-gil is a street lined with 1,320 ginkgo trees. In the '90s, people in suits used to pick up ginkgo nuts almost competitively on their way to work and it was quite the scene, indeed. Huge ginkgo trees stand in perfect rows stretching their branches to the sky, as if someone spilled some yellow paint on a blue canvas. Don't skip out on visiting Seokchon Lake, which is also close to Wiryeseonggil. Mongchontoseong Station (Line 8), Exit 1, next to the entrance to Olympic Park.