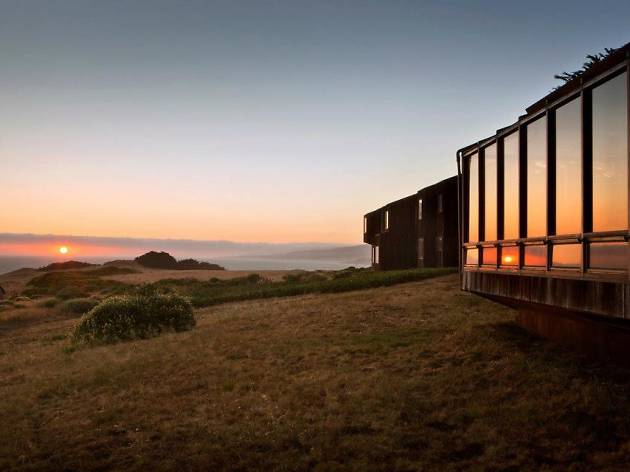 The best Sonoma hotels
Whether you're going for the wine or for the history, these Sonoma hotels will have you relaxed in no time
Sonoma County is a choose-your-own-adventure kind of place: with clusters of cities spread far apart—Healdsburg, downtown Sonoma, Guernville, Santa Rosa, Sebastopol, Petaluma—where you stay can influence the wineries, shops, restaurants and bars that you visit. Fortunately, there's something for everyone here, from quaint B&Bs to spa resorts. Make your reservations at one of these Sonoma hotels, drop off your bags, then start exploring all the fantastic things to do in Wine Country.
Best hotels in Sonoma
The whitewashed clapboard cottages, adirondack chairs and country chic touches at the Farmhouse Inn feel like Town & Country magazine come to life. The inn's 25 rooms are each adorned with wet/dry saunas, wood burning fireplaces and tubs with spa jets and a top-notch spa offers a variety of massages and facials all ending with a cup of hot or warm infused seasonal tea. As important as the hotel, itself, is the Farmhouse Inn's Michelin starred restaurant featuring ingredients produced by local artisans and farmers.
This luxurious hotel and spa nestled among seven acres of gardens is the well appointed, comfortable family estate you've always dreamed of. Inside well-appointed rooms, suites and stand-alone cottages you'll find plush terry robes to wrap-up in after your tasting adventure is complete. Outside you'll find a heated pool and whirlpool and the sumptuous Garden Spa offering massages and signature face and body treatments. The elegant Steakhouse, Saddles, offers a worthwhile splurge on Sonoma-style surf-and-turf.
Set on a working farm and vineyard, the rustic but elegant six-room ranch house at Beltane is dripping with antiques and local art work. For six-generations, grapes, orchards and vegetables have been growing in this lush Sonoma setting. Get an up-close view of bucolic farm life from the property's walking trails, play a game on the tennis court or have a picnic—Beltane will fill a basket for you. Beltane Ranch also produces their own estate grown wines and press their own olive oil from olives grown in their orchards.
This sweet, shabby chic boutique hotel will charm your socks off without making a huge dent in your wallet. One of Sonoma county's most beloved budget stays, the Sonoma Creek Inn offers 16 rooms, many of which have patios or porches, dressed up with hand-crafted touches like woven quilts and beautiful tiles. Complimentary WiFi, cable TV and coffee makers in each room make the Sonoma Creek Inn a cozy home-away-from-home.
The 70s chic, wooden shingled, ranch-style Sea Ranch Lodge sits isolated on 52 acres of untamed Sonoma coastline. Every one of 19 recently renovated rooms have Malm gas fireplaces, California king-size beds and a view of the roiling ocean below. Not one has a TV. The Lodge also has a small art gallery, in-house boutique and the Black Point Grill, where you can eat seasonal fare and sip from their extensive wine list in front of a wall of seafront windows.
El Dorado puts the boutique in boutique hotel with an aesthetic of quaint, historical simplicity and a commitment to ecological sustainability. The hotel is housed in the landmark Salvador Vallejo building, one of Sonoma's oldest structures, built in 1843 for the brother of the Valley's founder. Each of the property's 27 rooms have balconies looking out on the heart of Sonoma Square or the solar-heated swimming pool and lush courtyard. At the on site restaurant, El Dorado serves up delectable dishes like vegetable risotto, seafood paella and wild mushroom omelettes.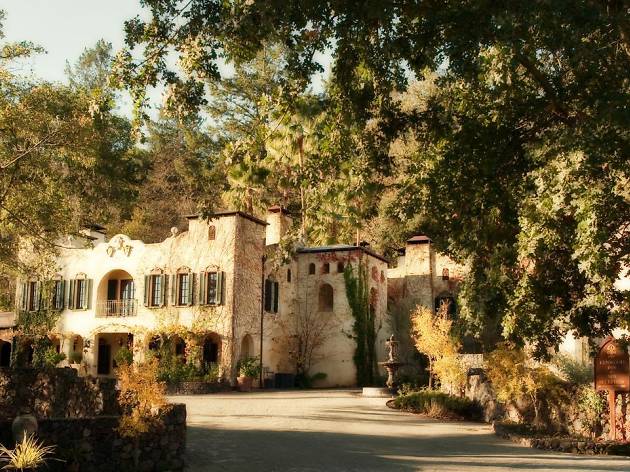 Photograph: Booking.com
This romantic, Mediterranean-style resort is one of Sonoma's most elegant hotels. Tucked away on 2.5 acres between Kenwood and Glen Ellen, the inn is set up so you don't even have to leave the property to taste local wines: they hold a wine and cheese event daily from 5-6pm. From the beautifully landscaped grounds to the heated pool and two hot tubs to the award winning spa, Kenwood is the ideal place for a secluded couples retreat.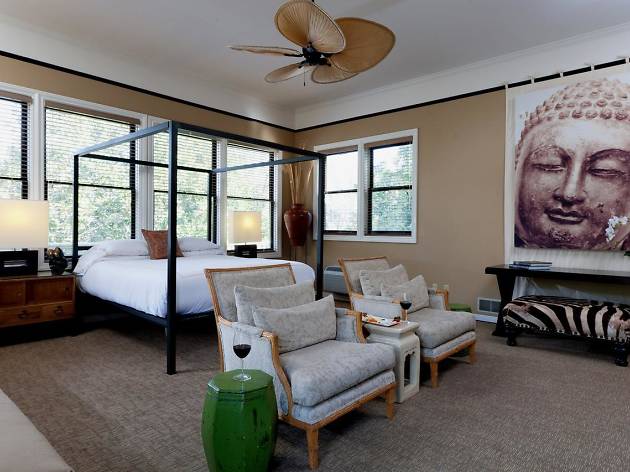 Photograph: Booking.com
This boutique hotel cultivates a zen-like Asian-inspired elegance modeled after traditional Japanese inns. Deluxe guest rooms in the main house have private entrances and suites are warmed by fireplaces; all of the rooms are decorated with delicate Asian screens, lanterns and artwork. Outside, gardens adorned with miniature pagodas engulf the heated pool and meditation deck. An afternoon wine and cheese tasting, after dinner drinks including sake and port, and a bountiful breakfast of dishes like banana pancakes or artichoke quiche are included.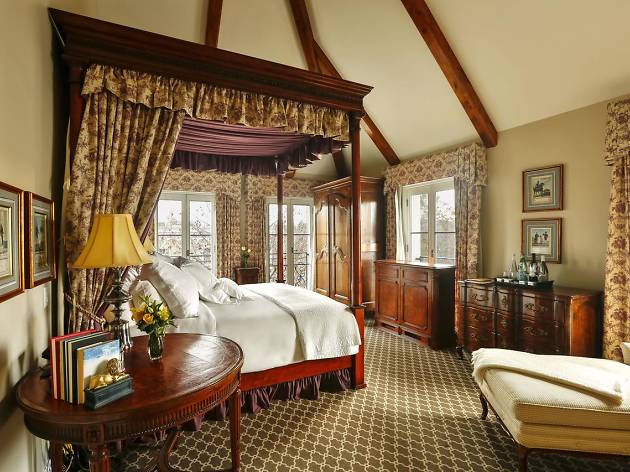 Photograph: Booking.com
The Parisian-style Hotel Les Mars, with its 17th and 18th century antiques and impeccable service, is dedicated to old world luxury. Each of the hotel's 16 rooms is a realm unto itself with gas fireplaces, Italian linens, marble sinks, bidets and spectacular pieces of furniture hundreds of years old. Guests are also treated to complimentary French breakfasts and a daily wine and cheese reception. The Chalkboard Restaurant located in Le Mars' lobby serves contemporary classics with fresh produce from the hotel's nearby three acre farm.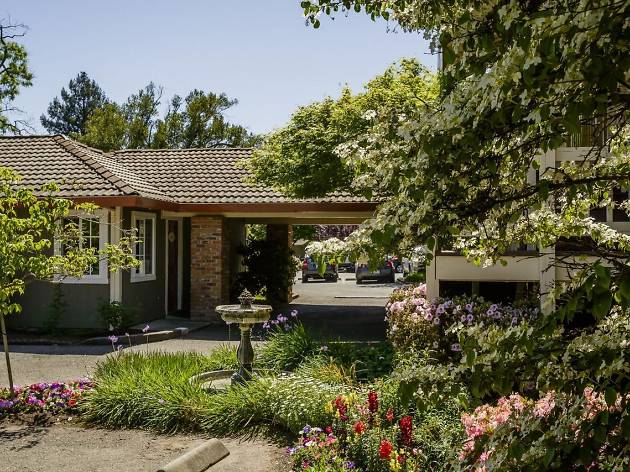 Photograph: Booking.com
Tranquil and rustic, this unpretentious mid-century-esque motor lodge with an on site saloon would make its namesake proud. Recalling the simpler days of tourism, the Jack London Lodge has a warm and inviting vibe with a large patio and pool out back. A historic brick walled watering hole complete with a pool table serves up comfort food until 9pm and cold drinks and local wines until 2am. The Italian restaurant Umbria Glen Ellen is located next door.
Explore more of Sonoma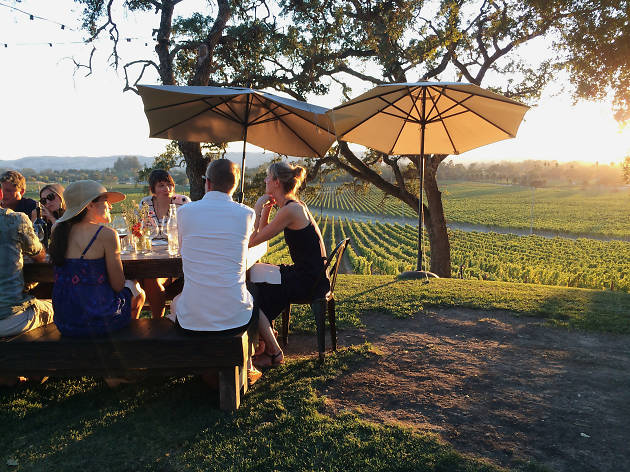 Photograph: Flickr/Douglas LeMoine
If Napa is Northern California's land of wine-fueled luxury, with its chic wineries and tasting rooms, Sonoma is its laid back cousin: equally as beautiful with vineyards producing vintages just as world-class, but less crowded and somewhat more humble.