Heads up! We're working hard to be accurate – but these are unusual times, so please always check before heading out.
10 of the best Airbnbs in California
From remote mountain retreats to the glitz and glam of LA, California has a style for everyone, and we've found the Airbnbs to match
The phrase 'something for everyone' is thrown around pretty freely in the world of travel but it turns out that in California, it's actually true. Seriously, the enchanting Golden State has more landscapes than you can shake a stick at. There are beaches, forests, deserts, cities, mountains, lakes, canyons and valleys galore. One day you could be chilling with cocktails and some celebrity A-listers, the next you're looking up in awe at the Milky Way in the Mojave Desert. The possibilities are endless.
No matter what kind of holiday you're in the market for, you'll need a place to crash that matches your vibe. Fortunately for you, our list of the ten best Airbnbs in California is as varied as the state itself – we've included everything from tipis to treehouses so take a look and pick your perfect place.
Note: please check the latest travel advice before booking.
This article includes affiliate links. These links have no influence on our editorial content. For more information, click here.
Airbnb
Had enough of plain hotel walls that are decorated with mundane paintings? Then this groovy vintage caravan is the hideaway for you. Urban glamping at its best, this caravan offers country experience in the middle of Oakland. With chickens patrolling the yard right outside your door, this isn't your typical Bay Area vacay spot – but for just over 50 quid a night we think it's a clucking great deal!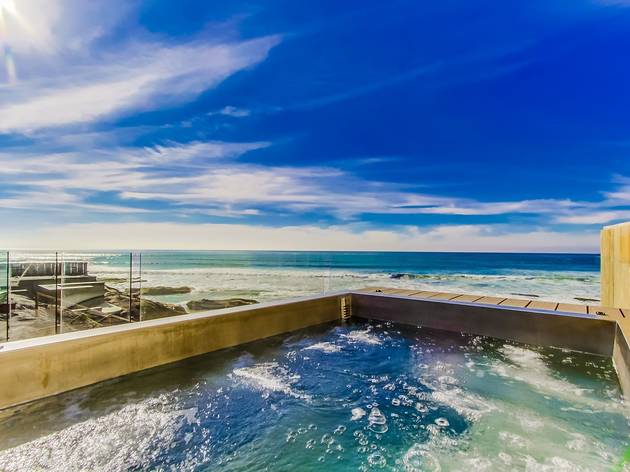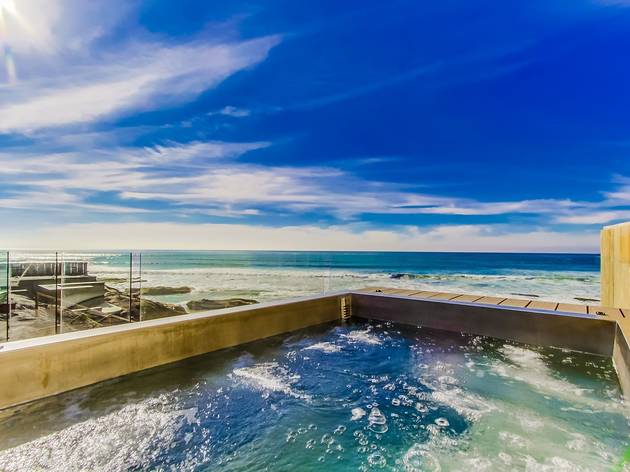 Airbnb
Luxury beachside villa, San Diego
There's luxury and then there's Californian luxury – seriously, if 'The Wolf of Wall Street' had been set on the West Coast, this place would have been Leonardo DiCaprio's house. Kitted out with an oceanfront hot tub and a sun-soaked front deck bigger than most people's house, this villa is the ultimate place to watch the sunset over the Pacific. Unfortunately, most of us would need a Wall Street-sized paycheck to afford a trip here, but if you've got the cash make sure you book this one.
Airbnb
Awesome artist's loft, Los Angeles
If you want to feel like a real Angeleno, this is the place for you. Smack-bang in the middle of Downtown LA, this funky loft is the ultimate place to kick it when you're not painting the town red. As well as the hip decor, this space comes with a bar, Nintendo 64 and even a gumball machine. That said, the real cherry on top is (quite literally) the rooftop pool and hot tub.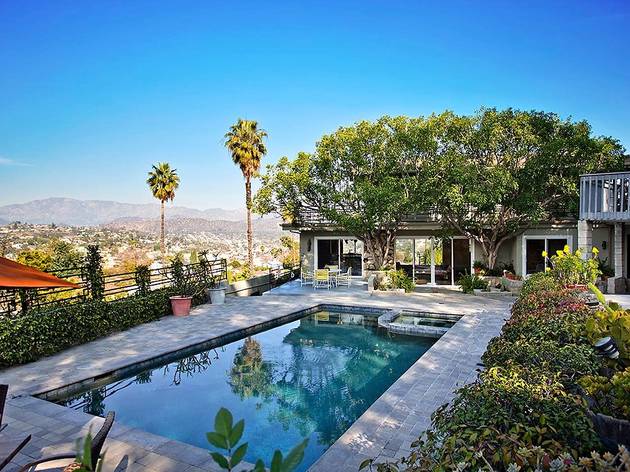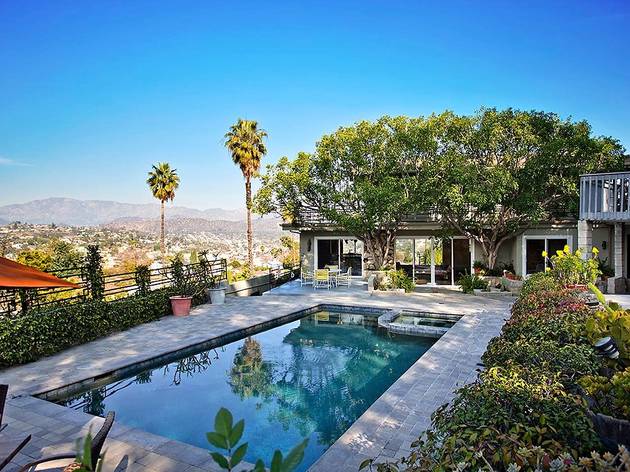 Airbnb
Pool house overlooking LA, Los Angeles
After a long day of rubbing shoulders with the rich and famous in downtown LA, this private pool house is the perfect place to relax and unwind. The term 'pool house' doesn't quite do it justice as this place has its own kitchen, bathroom and backyard – but the real winner is the jaw-dropping view over the sparkling city.
Airbnb
Tropical guest house, Topanga Canyon
This gorgeous jungle-themed guest house looks like something straight out of an 'Indiana Jones' flick. Relax, you can put down your hat and whip – instead of booby traps and bad guys, you'll find a hot tub and a tipi for some major relaxation. When the sun sets on Topanga Canyon, a dazzling light display transforms the property into a jungle wonderland. Time to kick your feet up by the firepit and get cosy.
Airbnb
Apartment by the beach, San Francisco
A charming apartment on San Francisco's stunning west coast that's only a stone's throw from the beach. This may not be the biggest spot on the list, but what it lacks in size is made up for in character. Packed with plants and shrubbery, this apartment has a casual beachfront vibe (open your windows and you can actually hear the waves) and it's only 25 minutes from Downtown San Francisco.
Airbnb
Treehouse in the mountains, Watsonville
Yeah, you read that right – it's a treehouse in the freaking mountains! This place brings your childhood dreams to life (probably your adult dreams too), with towering redwoods growing all around (and through) the hovering home. With the Monterey Bay beaches just 25-minutes away and a hot tub waiting to lovingly greet you when you get back, this looks like one of Cali's most epic escapes.
Airbnb
Fifty-foot yacht, San Diego
If you suffer from seasickness, you may want to keep on scrolling, but if you dream of waking up on the waves, we've found the Airbnb for you. Harboured in San Diego Bay, this luxury yacht offers direct access to the city and the open ocean beyond. If you can splash some cash, make sure to take a cruise around the bay before catching some rays (and some cocktails) above deck.
Airbnb
Mountainside yurt with sunset views, Garden Valley
We've done cabins, caravans and treehouses – now we are going one step further and relieving you of your solid walls. Don't worry, you'll be real comfy once you're tucked up inside this cosy little yurt – when you're actually inside it, that is. If we were there, we'd be chilling in the infinity pool, whitewater rafting or having a tipple in the local wineries. Glass of Napa Valley Chardonnay, anyone?
Airbnb
Heavenly homesteader cabin, Joshua Tree
Surrounded by the serene expanse of the Joshua Tree desert, this quaint cabin looks like something straight out of an old western movie. Don't worry! There are no bandits roaming these here parts – just acres of unspoiled nature and breathtaking views of the stars. What are you waiting for? Giddy up.