The 15 best restaurants in St Louis
Put on your bibs: the delicious food served at the best restaurants in St Louis will revive your taste buds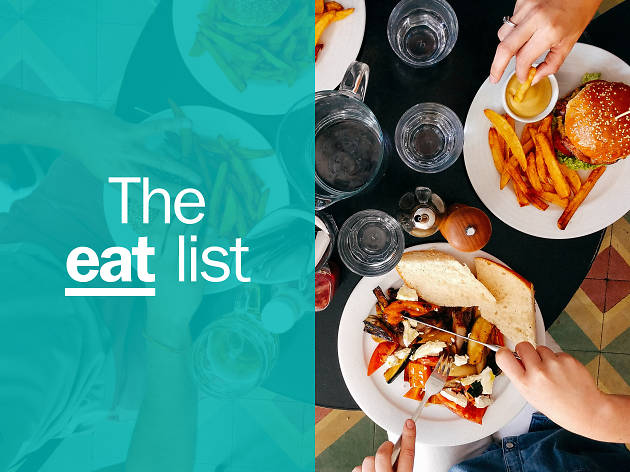 St Louis boasts one of the most exciting up-and-coming food scenes in the nation, so it follows that one of the very best things to do while in town is to eat. A lot. And we'd like to help you with that, so here is a list of the very best restaurants in St Louis. Find an eclectic mix of cuisines, from BBQ that you'll never forget to modern takes on Asian food and New American fare with a distinctly Midwestern twist. Whether you're a St Louis native or a tourist staying at one of the best hotels in town, one thing is certain: Dining out at these local eateries will make you fall in love with the city one bite at a time.
Best restaurants in St Louis
1
Photograph: Courtesy Yelp/Jessica A.
Long time St Louis restaurateur Matt McGuire's newest spot is already the stuff of legends. Everything from the impeccable service to the nearly flawless execution of the Italian menu will leave you with a huge smile (that might also be the wine). When dining here, expect a casual evening that will stick with you long after you leave and inevitably come back.
2
Photograph: Courtesy Yelp/Kara D.
Your nose will tell you you're approaching Público far before your eyes do. This modern Central/South American restaurant is built around the kitchen's wood-fired hearth, an eight-foot long beast that billows smoke out onto the Delmar Loop. Publico's chefs use old school cooking techniques—fire and smoke—to create fun, out-of-the-box dishes that will leave you wanting more. If you're looking for a lighter meal, grab a seat at the bar for some of the best tacos and mezcal-based cocktails you'll find north of the border.
3
Photograph: Courtesy Yelp/Ty H.
A burger lover's dreams come true inside a dive bar in St Louis' Dogtown neighborhood. Enter Tamm Avenue Grill and make your way to the walk-up window for smashed burgers made with locally sourced ingredients, including dry aged beef, of the highest quality. In addition to the pork and beef options, Mac's also serves one of the finest veggie burgers in town, plus a smattering of Cajun specialities (like boudin balls) and weekly specials.
4
Photograph: Courtesy Yelp/Travis S.
James Beard winner Gerard Craft arguably put the St Louis dining scene on the national map and his newest restaurant, Sardella, may be his best one yet. Casual yet upscale, the well-designed modern Italian restaurant serves small plates filled with inventive seasonal dishes made with high quality-ingredients—making this the perfect location choice for a date night or a celebratory meal.
5
Photograph: Courtesy Yelp/Henok T.
Don't let the line out front deter you: Every bite of the sandwich waiting for you inside is totally worth the wait. Owner Vinnie Valenza has done a fine job of making this simple eatery a St Louis staple. A true deli, you'll order and wait until your number is called. The menu is, as they say, a "tip of the hat" to blues music and culture, and the decor doesn't stray too far from the theme. The toughest aspect of your visit is deciding what to order: Boasting a solid menu featuring po-boys, muffulettas, New York deli style sandwiches, Italian favorites and even vegetarian options, you'll just have to keep coming back to sample it all.
6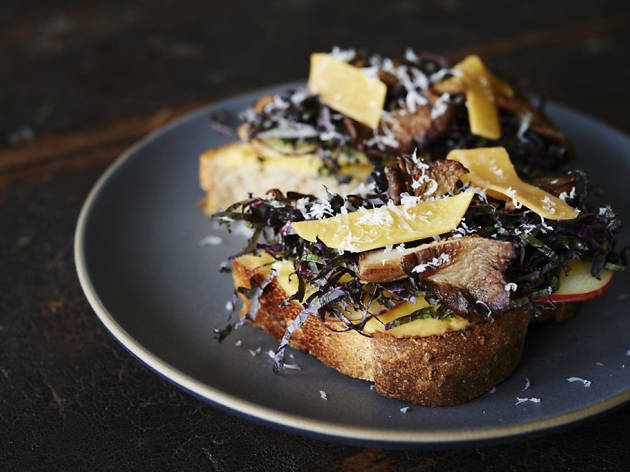 Photograph: Courtesy Yelp/Vicia
When St Louis native Michael Gallina returned from a decade of work at the world-class Blue Hill at Stone Barns outside of New York City, St Louis knew he was bringing something special along with him. Vicia's beautiful simplicity is reflected in both its design and its vegetable-forward cuisine. Pop in for a casual lunch or splurge for a dinner you won't soon forget. Pro tip: make sure to go with the chef's tasting menu—ordering a la carte will just leave you envious of your neighbor's meal.
7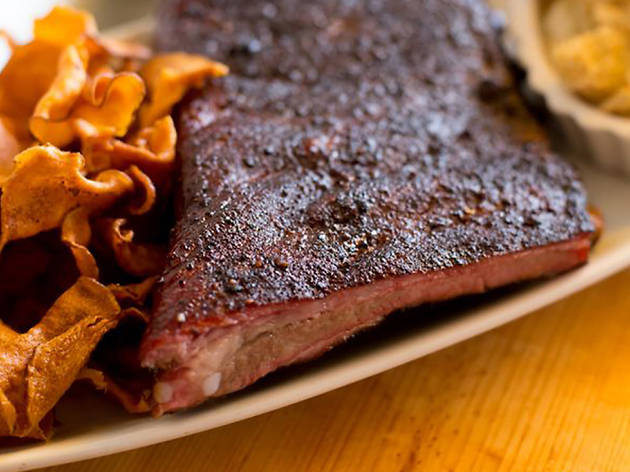 Photograph: Courtesy Yelp/Salt + Smoke
St Louis is a BBQ town so devouring the world-famous ribs, brisket and pulled pork served at restaurants around the city is a weekly necessity. To get your fix, head to Salt + Smoke in the Delmar Loop. It doesn't have all the press and people (read: long lines) as other local spots, but the offerings are just as good—if not better. Alongside some amazing meat options, you will find inventive (and healthy!) sides and appetizers you can make a meal out of. The eatery also serves a very thorough drink menu featuring over 100 bourbons, cocktails and an impressive beer list.
8
Photograph: Courtesy Yelp/BeiBei D.
Don't let the menu of utilitarian food throw you off—the bread, soup, salad and sandwiches at Union Loafers might be the best thing you eat in this city. How is that possible? Baker Ted Wilson and chef Brian Lagerstrom are just that good. Here's your order: start with the pizza rossa, follow it up with the little gem salad (add bacon!), then dig into the rare roast beef sandwich. Grab a loaf of light and mild on your way out. Oh, and did we mention that, at night, the bakery turns into one of the city's best pizzerias?
9
Photograph: Courtesy Yelp/
When chef/owner Matt Daughaday decided to open his own restaurant, he had one goal in mind: create a spot that's for everyone. The American menu's offerings (with a playful nod to the Midwest) range from burgers and fries to a Thai catfish curry. The vibe lends itself to a romantic date or a casual dinner with friends. The restaurant is also located in the Maplewood neighborhood, a quaint district filled with shops and bars perfect for a post-dinner stroll. Combine that with inventive cocktails and one of the best wine programs in town and you've got yourself a venue that checks all the boxes.
10
Photograph: Courtesy Yelp/
Chef Ryan McDonald is mixing Midwestern ingredients and cooking with traditional Chinese fare to create what could be described as modern American-Chinese cuisine that is sure to knock your socks (and taste buds) off. Whatever it is now and whatever it chooses to become, we promise to stay along for the ride.
11
Photograph: Courtesy Yelp/
A contemporary, casual Israeli restaurant and cocktail bar located inside an ultra-modern refurbished gas station: can it get more hip than this? Olio's food is perfect for a light lunch (especially on days the garage door is open) or happy hour and small plates. Make sure to try the egg salad with lemon and white anchovies—it's simplicity at its finest.
12
Photograph: Courtesy Yelp/
This unassuming restaurant tucked away on a Delmar Loop side street is almost certainly the best Asian restaurant in St Louis. The simple menu focuses on Northern Thai cuisine, bringing dishes like nam khao tod (spicy pork and crispy rice salad) and hung lay curry (pork belly curry) to the midwest. The real show stopper is the khao soi—this egg noodle curry soup is everything you could ask for in a bowl.
13
Photograph: Courtesy Yelp/
A neighborhood diner with a Southwestern influence, Southwest Diner serves one of the best breakfasts in town. Boasting vibrant turquoise and burnt red decor, you'll feel like you're on a Wes Anderson set but, we promise, the food is the real star here. A New Mexican breakfast burrito loaded with house sausage or chorizo is an obvious choice, but the buttermilk cornmeal pancakes and Jonathan's Famous Fiery Scramble are local favorites. Order them all?
14
Photograph: Courtesy Yelp/
Sidney Street Cafe is St Louis' most recent James Beard-winning restaurant. Need we say more? Chef/owner Kevin Nashan and his team have been cranking out beautiful, wildly creative—yet familiar—contemporary American dishes for over a decade. Going with their budget-friendly tasting menu is our recommendation, as you'll get to try at least five different dishes, plus all sorts of little amuse-bouches and intermezzos.
15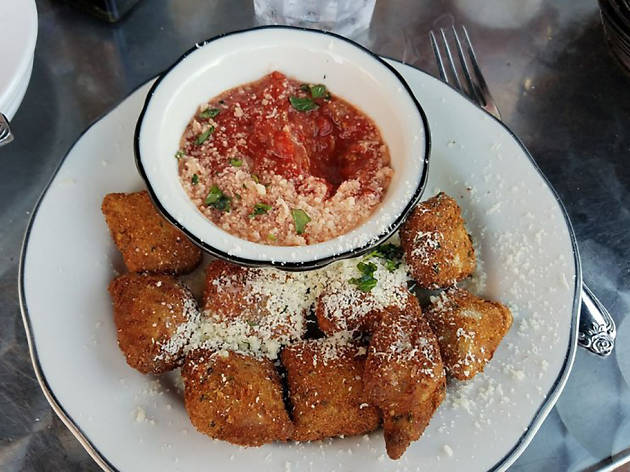 Photograph: Courtesy Yelp/
Guido's Pizzeria and Tapas
You can't come to St Louis and not try St Louis-style pizza or toasted raviolis—both city staples. It would also be a mistake to not visit The Hill, an Italian neighborhood full of mom and pop Italian restaurants and corner bars. Guido's serves some of the best STL style pizza and T-Ravs in The Hill... and in the city as a whole. Sit outside and enjoy the neighborhood while eating two of the city's staples.
Discover Time Out Market: the best of the city under one roof
More of the best in St Louis
You're going to want to look beyond blues, baseball and BBQ if you really want to live like a local in St Louis, the Gateway to the West.