The 100 best sex scenes of all time
Cinema's most innovative, groundbreaking sex scenes, from controversial classics to daring silent films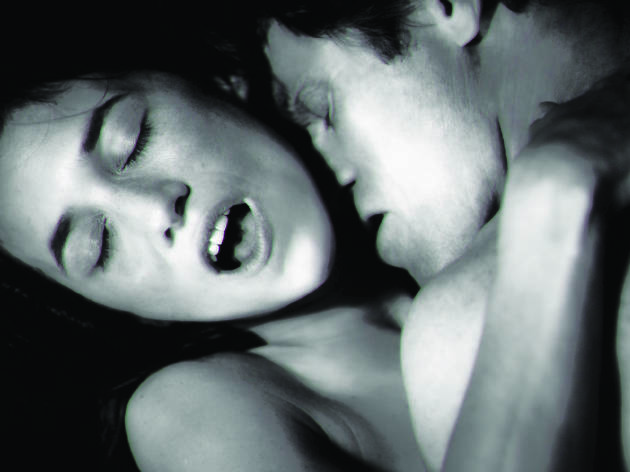 Sex. Watching it can sometimes come close to having it – and once in a while, it's superior. Putting on our serious hats for a second, sex is also a bedrock of cinema – the undercurrent of all romantic movies. By charting the history of onscreen eroticism, one can trace a culture's hang-ups, along with the worldwide audience's evolving appetites.
On the occasion of 'Fifty Shades of Grey', we researched the 100 most groundbreaking sex scenes of all time (not unpleasurable work). In the process, we discovered seismic moments in Hollywood's riskiness, as well as a global bounty of uninhibited exuberance from Japan, England and – of course – France.
Have we forgotten your own personal obsession? Let us know in the comments below.

Produced by Vivienne van Vliet. Written by Dave Calhoun, Cath Clarke, David Ehrlich, Tom Huddleston, Trevor Johnston, Joshua Rothkopf and Daniel Walber.
Director: Paul Verhoeven
Bedfellows: Rutger Hauer, Monique van de Ven
The film
Verhoeven's second feature documents the relationship between womanizing sculptor Eric (Hauer) and promiscuous girl-about-town Olga (Van de Ven), from giddy beginnings, through treachery and betrayal to its final, violent end.
The sex scene
It's free love on the freeway as Olga picks Eric up in her car and takes an immediate shine to him. However, it's not the sex scene that's important here, but the aftermath: Following a frank discussion about bodily fluids, Eric zips up a bit too quickly, with alarming and painful consequences.
Why is it so groundbreaking?
Along with 'Don't Look Now' the same year, Verhoeven's film was one of the first to depict sex neither as a furtive act committed behind closed doors nor the pinnacle of human interaction, but as an everyday act between two carefree, consenting adults. It's messy, joyous, honest and human, and the only real risk is of getting something caught in your fly. Tom Huddleston
Director: Gary Ross
Bedfellow: Joan Allen (solo)
The film
When twentieth-century kids Tobey Maguire and Reese Witherspoon are mysteriously beamed into the monochrome world of 1950s TV show 'Pleasantville', they bring with them a whole lot of new and dangerous ideas.
The sex scene
When their fictional suburban mom Joan Allen learns the shocking facts of life from daughter Witherspoon, she runs a quiet bath and decides to take matters into her own hands.
Why is it so groundbreaking?
The idea of masturbation as an act of female empowerment may not be new, but this must be the first time a mainstream Hollywood movie not just depicted the act but did so with gusto and a complete absence of (ahem) beating around the bush. When, at the point of orgasm, a tree outside the window bursts into vividly colored flames, it's as thrilling a metaphor for sexual liberation as cinema has to offer. Tom Huddleston
Director: Cheryl Dunye
Bedfellows: Dunye, Guinevere Turner
The film
The first American feature by an African-American lesbian, Dunye's 'The Watermelon Woman' stars its director as a video-store clerk and aspiring filmmaker working on a project about a long-forgotten black actress of the 1930s.
The sex scene
Cheryl's love interest is Diana, played by Guinevere Turner. As the two women sit watching one of the old movies, Diana bluntly puts it like this: 'Now that we know that we're attracted to each other, what do we do? Don't you think we should kiss?'
Why is it so groundbreaking?
Marked by a bold and direct approach, the film is about the intersection of gender, race and sexuality. This scene's importance comes from both that added layer of politics and the striking sensuality of its images: The glistening of saliva on skin has as much to say as words. Daniel Walber
97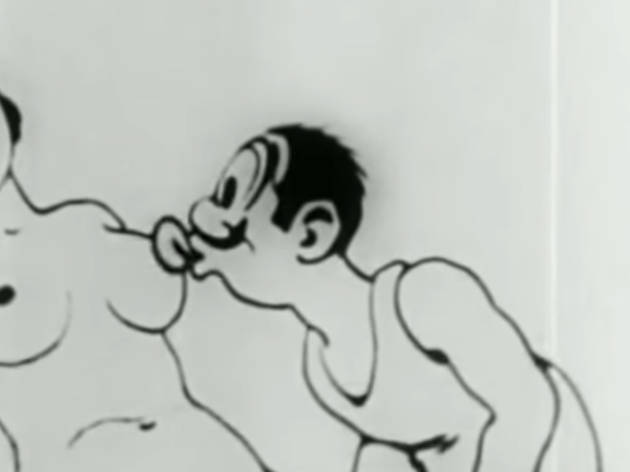 "Eveready Harton in Buried Treasure" (1928)
Director: Anonymous
Bedfellows: Harton, other human and animal inhabitants of a desert island
The film
According to veteran Disney animator Ward Kimball, this no-holds-barred silent-era porn cartoon was made by a trio of studios working separately, though evidently dirty minds think alike. The massively endowed protagonist (think 'Harton' but with a d) serially humps his way from willing curvaceous female to compliant donkey and flexibly tongued cow.
The sex scene
The first sight of our hero's morning tentpole signals the short's lusty shamelessness, though his path to sexual fulfillment isn't always an easy one. (Watch out for that cactus!)
Why is it so groundbreaking?
Disney this ain't. A yardstick for future animated naughtiness like 'Fritz the Cat'. Trevor Johnston
Director: Donna Deitch
Bedfellows: Patricia Charbonneau, Helen Shaver
The film
Based on Jane Rule's novel, Donna Deitch's debut feature is a 1959-set love story that unites an East Coast intellectual divorcée and a Nevada ranch girl.
The sex scene
Well aware of what might be going on between her free-spirited adopted daughter Cay (Charbonneau) and the uptight Vivian (Shaver), Frances (Audra Lindley) kicks the older woman out of her ranch and into a hotel. Not one to give up, Cay follows Vivian to her room and eases her into a new kind of lovemaking.
Why is it so groundbreaking?
'Desert Hearts' was the first mainstream American film to portray a lesbian relationship and allow it a happy ending. A joyous warmth beams from the sex scene, passionate but also remarkably relaxed. Daniel Walber
Director: Lucía Puenzo
Bedfellows: Inés Efron, Martín Piroyansky
The film
Alex (Efron) is an intersex Argentine teenager trying to decide how to handle the psychological, physical and social reality of being born with both male and female genitalia.
The sex scene
Alex's mother has invited a surgeon and his family to their beach house in Uruguay, to try out the idea of surgically 'correcting' her child's ambiguous sex. The surgeon's son hits it off with Alex, and the two end up having an unexpected sexual encounter.
Why is it so groundbreaking?
Director Puenzo uses this scene to foreground how both Alex and the surgeon's son are comfortable with Alex's gender identity as it stands, uncorrected by parents or doctors. It's hardly a moment of resolution in the film (or even relief), but it effectively articulates the possibility of life outside a gender binary. Daniel Walber
Director: Bryan Buckley
Bedfellows: Melissa Rauch, Sebastian Stan
The film
Eight years after winning the world's heart at the Olympics, chirpy Ohio gymnast Hope Ann Greggory (Rauch) has soured into a toxic, desperate mess. Buckley's comedy makes a mockery of the second-chance sports drama.
The sex scene
Hope has grown tired of watching her protégé rise up the ranks. She hooks up with a fellow gymnast and frenemy (Stan) who took her virginity years earlier. Their athletic sex is a staggering display of sweaty leaps, lunges and impossible positions.
Why is it so groundbreaking?
Not even released yet, this so-so Sundance film busts its way on to our list via the clownish exuberance of its one brilliant scene (partly performed by a member of the Cirque du Soleil). Hope's night of pleasure rocked festival audiences and dominated sex-centric discussions over the entire festival. Joshua Rothkopf
93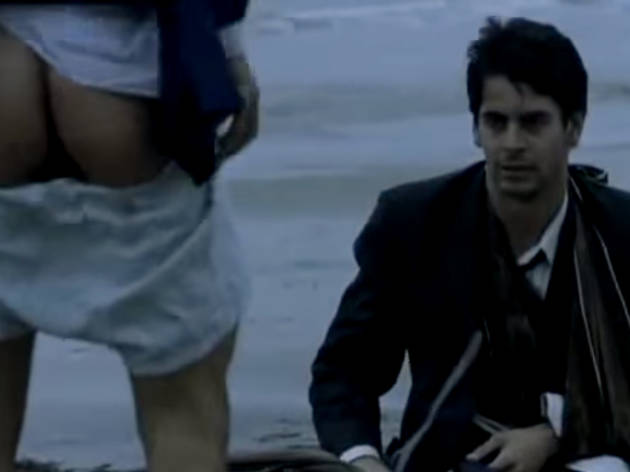 Director: Marcelo Piñeyro
Goodfellas: Leonardo Sbaraglia, Eduardo Noriega
The film
Based on a real Buenos Aires bank robbery in 1965, 'Burnt Money' is the story of two criminal lovers who met in a public bathroom and died together under police gunfire.
The sex scene
Shirtless, sweaty and still armed, El Nene (Sbaraglia) and Ángel (Noriega) find themselves immensely turned on at an incredibly inconvenient moment. Shot from above, sprawled out on the ground with their heads together, the two men become a strikingly fired-up image of throbbing sexuality in a closeted time.
Why is it so groundbreaking?
The burden of representation has long been a problematic topic in queer cinema: Do we want gay criminals and murderers onscreen? 'Burnt Money' is a resounding 'yes' – groundbreaking in its pursuit of honesty, however ethically compromised. Daniel Walber
Director: Lars von Trier
Bedfellows: Stacy Martin, Charlotte Gainsbourg, Shia LaBeouf, many others
The film
Danish provocateur Von Trier explores the increasingly troubled sex life of self-confessed sex addict Joe, played by two different actors at different ages. Von Trier's epic was so long, he split it into two volumes.
The sex scene
Take your pick. The S&M scenes with Jamie Bell? The teasing, slyly comic double-penetration episode with Gainsbourg and two men? Perhaps most memorable is a parade of penises that Von Trier flashes onscreen one after another.
Why is it so groundbreaking?
None of the explicit scenes feel especially new. But taken together and combined with Von Trier's seriocomic style, they feel relentless, playful and tragic. Most groundbreaking is Von Trier's use of digital technology, making the division between his 'real' actors and his porn performers seamless. Dave Calhoun
Director: Jean Genet
Bedfellows: Java, Lucien Sénémaud
The film
Novelist and playwright Genet's only film was banned for years due to its homosexual content.
The sex scene
The movie is about two unnamed men in adjacent prison cells, sharing a wall and a deep sexual energy. A prison guard, both angry and jealous, attempts to beat the attraction out of them. It doesn't work. Though the men remain separate, Genet's use of erotic close-ups, fantasy and metaphorical suggestion (a straw through the wall) effectively stands in for sex.
Why is it so groundbreaking?
More explicit than even Kenneth Anger's 'Fireworks', this is an enormously significant landmark in queer cinema. Its censorship serves as a warning, and its images continue to influence the way filmmakers approach and present gay sexuality. Daniel Walber
Director: Bruce La Bruce, Rick Castro
Bedfellows: Tony Ward, Bruce La Bruce
The film
La Bruce and Castro's black-comedy porno remake of Billy Wilder's 'Sunset Blvd.', starring Madonna's ex-boytoy Tony Ward, isn't so much a classic masterpiece of New Queer Cinema as it is its throbbing id.
The sex scene
There are many to choose from but perhaps the most controversial is a central hookup involving a hustler with a prosthetic leg and a john with an amputee fetish.
Why is it so groundbreaking?
'Hustler White' isn't the only sexually adventurous film in La Bruce's filmography; indeed, next to later works like 'LA Zombie' and 'The Raspberry Reich', it doesn't even seem particularly confrontational. But that's the point: The effect of this early success is not simply to entertain and titillate, but to take fetishes and naturalise them, tossing them up against the fading Americana of Santa Monica Boulevard as good, filthy fun. Daniel Walber
Director: Zhang Yuan
Bedfellows: Tony Ward, Bruce La Bruce
The film
One evening in a park near Beijing's Forbidden City (the Chinese capital's prime cruising destination), a cop arrests A Lan, one of the furtive men seeking companionship. The ensuing interrogation lasts all night.
The sex scene
The cop's questioning of A Lan's sexual history leads to flashbacks, in this case of a handsome teacher that he once took to bed. The sequence is the first truly explicit moment in the film – and the first time that the ostensibly heterosexual representative of the state is forced to react to images of gay sexuality.
Why is it so groundbreaking?
East Palace, West Palace' was the first mainland Chinese film with an upfront gay narrative. Beyond that, however, this scene is important because of how director Zhang Yuan structures desire: His camera is obsessed with the lead actor's face reacting to pleasure and pain, inviting the audience to identify with desire. Daniel Walber
88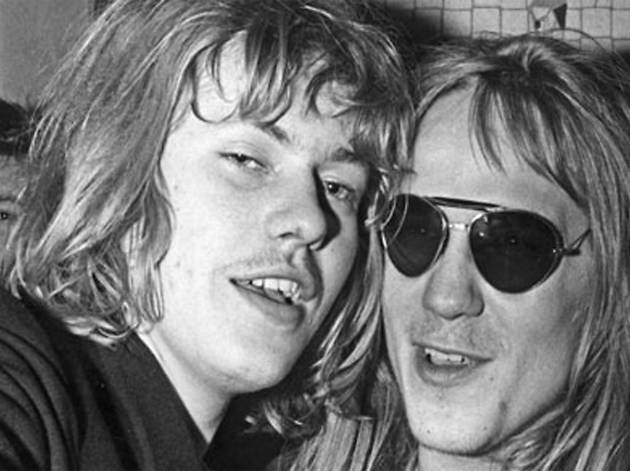 They Call Us Misfits (1968)
Director: Stefan Jarl, Jan Lindkvist
Bedfellows: Stoffe Svensson, unnamed girl
The film
Although Sweden has produced more than its fair share of internationally exportable smut, this intimate documentary portrait of two long-haired, free-spirited teens, Stoffe and Kenta, mostly intercuts revealing interview material with footage of their frequently dull existence. But it's a celluloid milestone of sorts for eavesdropping on their sexual exploits.
The sex scene
Sweet talk gives way to rawer pleasures as Stoffe and a female playmate get down to it with the film crew in remarkably close attendance.
Why is it so groundbreaking?
The visual detail isn't anatomical, but there's no doubt these kids are keeping it real. Trevor Johnston
Director: Alfred Hitchcock
Bedfellows: Ingrid Bergman, Cary Grant
The film
In Hitchcock's lurid post-WWII drama, Bergman plays a German immigrant tasked with seducing a Nazi spy for the US government – an act, essentially, of state-sanctioned prostitution. Grant plays her sleazy handler, with whom she begins a torrid affair.
The sex scene
He may have gotten more gratuitous in later life (see 1973's 'Frenzy') but 'Notorious' was Alfred Hitchcock's sexiest film, even if its steaminess was tempered, as ever, by manipulation and a thin veneer of disgust. The first kiss between Grant and Bergman is a textbook example of high-pitch eroticism without a scrap of clothing being shed.
Why is it so groundbreaking?
Under the auspices of the Hays Code, screen kisses were limited to a strict three seconds. Hitchcock subverts this by having Grant and Bergman kiss, then break away for a few seconds, then dive in again. The effect is somehow more delirious and emotive than any liplock before or since. Tom Huddleston
Director: Andreas Dresen
Bedfellows: Ursula Werner, Horst Westphal
The film
This German drama tells of Inge (Werner), a woman in her late 60s. Her marriage has lost its spark, so she starts an affair with Karl (Westphal), a man a decade older.
The sex scene
There are several sex scenes between Inge and Karl, and they're presented simply: no music, no coyness, no nonsense.
Why is it so groundbreaking?
'Cloud 9' tackles head-on an unlikely screen taboo: sex between the elderly. And director Dresen does so with a minimum of fuss and fanfare, unapologetically showing aging bodies and weary flesh. It's only by seeing it depicted so straightforwardly that we realise we so rarely do. Dave Calhoun
Director: Sébastien Lifshitz
Bedfellows: Stéphanie Michelini, Edouard Nikitine
The film
Sébastien Lifshitz's award-winning film is a portrait of Stéphanie (Michelini), a transgender Frenchwoman somewhat suspended in love between her two roommates: Djamel (Yasmine Belmadi), an Algerian hustler, and Mikhail (Nikitine), a Russian soldier gone AWOL.
The sex scene
Stéphanie picks up a client at a club who wants to watch her have sex with someone else. On their drive she happens to see Mikhail, and chooses him to be her partner in what begins as a completely impersonal experience.
Why is it so groundbreaking?
There are not enough films that portray transgender protagonists with respect and fullness of character. Yet 'Wild Side' breaks ground beyond simple representation. Gender and sexuality are different things, after all. The sex in this film is almost entirely separate from love, despite the fact that the rest of its plot is essentially a plural love story. This specific scene both complicates that tension and drives it home, forcing us to rethink the boundaries of all relationships. Daniel Walber
Director: Marc Forster
Bedfellows: Halle Berry, Billy Bob Thornton
The film
As thick a slice of misery porn as has ever been cut, Forster's Southern-fried tragedy tells the story of a racist executioner who falls in love with the widow of a man he recently sent to the electric chair. Needless to say, the film was produced by Lee Daniels.
The sex scene
Hank (Thornton) has just quit his job after watching his son (Heath Ledger) shoot himself in the chest. Leticia (Berry) has been recently widowed, and even more recently has witnessed her young son's death after being struck by a car. He's a bigot, she's broke, and they both need to feel good. Hank is going to make Leticia feel good. Intercutting the sex with shots of birds flapping around in a cage – a metaphor that's even louder than Leticia's moans – Forster launched this sequence directly into legend.
Why is it so groundbreaking?
For one thing, it remains the most graphic and prolonged sex scene to ever feature an actor named Billy Bob. For another, 'Monster's Ball' convinced Berry to go fully topless (and then some) in an indie film only a few months after she was paid $500,000 to briefly show her breasts in 'Swordfish'. For her fearless work in in this scene and others, Berry became the first African-American to ever win the Oscar for Best Actress. David Ehrlich
Director: Joaquim Pinto
Bedfellows: Pinto, Nuno Leonel
The film
Pinto's meandering mélange of art, science, biography, theory and beauty was arguably the best documentary of 2014.
The sex scene
Pinto, who has been living with HIV for two decades, spends much of the film musing on human sexuality. Still, it comes as something of a surprise when he cuts to a long take of himself and his partner in bed, engaged in real sex.
Why is it so groundbreaking?
Its matter-of-factness, particularly in a doc, is unexpectedly thrilling and new. 'What Now? Remind Me' is a seamless blend of widely scoped natural philosophy and intimate personal storytelling that gives sexuality equal standing. Daniel Walber
Director: Jacques Audiard
Bedfellows: Marion Cotillard, Matthias Schoenaerts
The film
After a catastrophic accident takes her legs, former killer-whale trainer Stéphanie (Cotillard) gathers the strength to rebuild thanks to Alain (Schoenaerts), a hunky, sensitive bouncer and kick boxer.
The sex scene
It may be hard to take your eyes off the computer-assisted trickery that erases Cotillard's limbs, but there's no denying that these well-toned lovers work their way into a lather, proving that amputee sex need not be a turn-off.
Why is it so groundbreaking?
The sex is hot, but 'Rust and Bone' brews an overall attraction that speaks well to the commitment of both lead actors. It's a textbook example of using physical intimacy to convey a blooming sense of confidence. Joshua Rothkopf
Director: Nick Broomfield
Dungeonfellows: Maria Beatty, plus two leather-clad technicians
The film
Broomfield's HBO documentary is a profile of Pandora's Box, one of New York City's premier S&M establishments.
The sex scene
There are many to choose from, running the gamut from what seem like standard fetish sessions to troubling, politically charged fantasies. The most interesting, however, is a sequence in which professional submissive Maria Beatty arrives for a personal session with two of Pandora's Box's dominatrices.
Why is it so groundbreaking?
'Fetishes' is important because of the way it demystifies the world of sadomasochism, but it remains relevant because of its interest in the personalities of the women who work at Pandora's Box. This scene is significant because it shows sex workers not simply as the fantasies of clients, but as people on their own professional journeys. Daniel Walber
Director: Patrice Chéreau
Bedfellows: Kerry Fox, Mark Rylance
The film
Married Claire (Fox) and divorced Jay (Rylance) embark on a sex-heavy, chat-free anonymous relationship on a weekly basis in Jay's seedy London flat. The film is based on a series of stories by novelist Hanif Kureishi.
The sex scene
Claire gives Jay a blow job – nothing is faked.
Why is it so groundbreaking?
'Intimacy' caused a storm for featuring unsimulated oral sex – the first nonpornographic British film ever to do so. The film brought a no-nonsense European art-house approach to UK screens. Dave Calhoun
Director: Melvin Van Peebles
Bedfellows: Mario Van Peebles, an unnamed woman
The film
The first revolutionary work of black-American cinema, dedicated to 'all the brothers and sisters who have had enough of the Man,' Van Peebles's problematic debut follows a mustachioed sex worker who goes on the run after beating up two cops.
The sex scene
Given that it features one of the most disturbing, controversial openings in cinema, it's perhaps surprising that the film is still widely available. Growing up in a whorehouse, our young title hero earns his nickname at age ten when one of the hookers seduces him into her bed, praising his 'sweet, sweet back.'
Why is it so groundbreaking?
It's a pubescent boy (Van Peebles's own son Mario, 13, later an actor and director in his own right) having sex with a middle-aged woman. Arguably pornographic and indisputably grotesque, the scene is only acceptable (if at all) because of Van Peebles Sr's dedication to making the most rebellious, confrontational film he could get away with. Tom Huddleston
Director: Rose Troche
Bedfellows: Guinevere Turner, VS Brodie
The film
Troche's debut feature, a lighthearted and low-budget lesbian love story, won the Teddy for Best Feature at the Berlin Film Festival.
The sex scene
When Max (Turner) and Ely (Brodie) finally reach the sexual climax of their long flirtation, Troche almost skips past it. It isn't until the two women debrief their respective roommates that the actual sex emerges, in alternately comic and smouldering flashbacks.
Why is it so groundbreaking?
More than a simple romance, 'Go Fish' is a playful symposium on lesbian sexuality and identity. A Greek chorus of intimate discussions among friends about sex, relationships and the politics of it all punctuates the film. The sex is not only a manifestation of the desire shared by two women, but a celebration of lesbian community as well. Daniel Walber
Director: Gregg Araki
Bedfellows: Mike Dytri, Craig Gilmore
The film
Gregg Araki's first hit is a major watermark in New Queer Cinema, a gay riff on 'Thelma & Louise' with an Aids-era fire in its belly.
The sex scene
Between the movie's early comic blisses and troubling desert finale lies one memorable love scene in a cheap motel shower. Luke and Jon, both HIV-positive and on the run from the law, share an awkward but very memorable sudsy embrace.
Why is it so groundbreaking?
Luke and Jon don't use a condom. This honest, unprotected sex midway through the film, between two HIV-positive men, is the high point of Araki's furious commitment to reckless liberation. The movie ends without happy resolution, or even clarity, but the brief outburst of near-separatist joy is revolutionary in itself. Daniel Walber
Director: Lars von Trier
Bedfellows: Willem Dafoe, Charlotte Gainsbourg
The film
Von Trier's tribute to Tarkovsky is a classic tale of parental tragedy: A young couple retreats to a wood cabin to cope with the loss of their child, they make friends with a self-cannibalising fox, and then the woman destroys everyone's genitalia with a rock and a pair of scissors.
The sex scene
'Antichrist' opens with a balletic slow-motion sequence in which Mom and Dad (Gainsbourg and Dafoe) are too busy making love in the shower to notice their young son wander out of his crib and plummet out the window to his death. But, like, the sex looks really good.
Why is it so groundbreaking?
'Antichrist' wasn't the first time that penetration had been graphically depicted in a theatrically released film (hell, it wasn't even the first time that Von Trier had done it), but there's something strikingly confrontational about the black-and-white classicism with which 'Antichrist' depicted it. While it may first appear as though the scene demonises the lustful mania of sex – not just any sex, married people sex – Von Trier's stylisation is eventually revealed to be the first arrow in the director's quiver aimed at the nature of physical intimacy and its itinerant psychoses. David Ehrlich
Director: Alfred Hitchcock
Bedfellows: Janet Leigh, John Gavin
The film
Alfred Hitchcock's genre-defining thrill-kill flick is most famous for its unforgettable shower scene, but there's more here than meets the eye.
The sex scene
In a film crammed with Hollywood firsts – the early death of the heroine, the suggestion of necrophiliac incest, the practical use of a toilet – it's the opening scene of unmarrieds Leigh and Gavin sharing a bed that really got moral watchdogs barking.
Why is it so groundbreaking?
In the Hays Code era and beyond, even married couples were supposed to sleep in separate beds – and if they did happen to tumble accidentally onto the same mattress, the woman had to keep one foot on the floor at all times (we're not kidding, those were the actual rules). Exactly how 'Psycho' managed to get away with it remains a mystery, but Hitchcock always did have a way with mystery. Tom Huddleston
64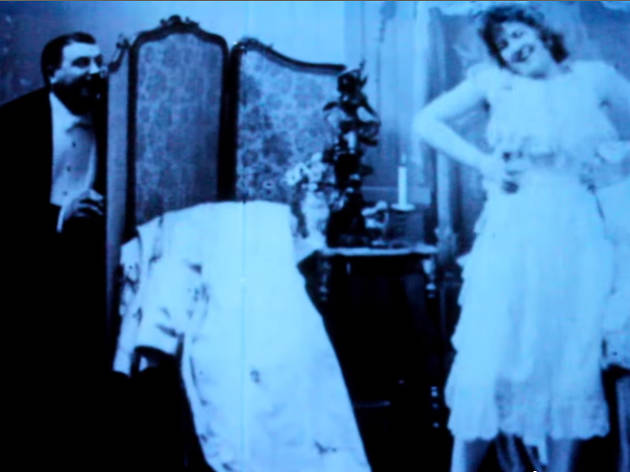 'Le Coucher de la Mariée' (Bedtime for the Bride) (1896)
Director: Albert Kirchner
Bedfellows: Louise Willy, plus an unknown actor
The film
Three years after the Lumière brothers filmed factory workers in Lyon, the pioneering director Albert Kirchner figured out another use for the new medium, persuading actor and cabaret performer Willy to slowly take off her clothes in front of the camera. She plays the part of a bride preparing herself for a night of passion.
The sex scene
Layer after layer of frilly corsetry is removed, before…that's it, actually. Less than two minutes of the purportedly seven-minute original have survived.
Why is it so groundbreaking?
Essentially, porn started here. It's historically significant, but not what you'd call hard-core (these days). Trevor Johnston
Director: Lisa Cholodenko
Bedfellows: Radha Mitchell, Ally Sheedy
The film
Mitchell plays Syd, a straight art-world ingenue who becomes tangled up in the tense emotional web of Lucy (Sheedy), a famous and reclusive photographer in Cholodenko's debut feature.
The sex scene
A trip out of the city for inspiration leads to a late night of wine and physical connection, in which Lucy coaxes Syd through sex. The 'first gay experience' setup makes it lovably awkward and the performances give it beauty.
Why is it so groundbreaking?
What could feel clumsy is instead a triumph of apprehension and an almost eerie sense of foreboding (supplied by original music from Shudder to Think). It's a confident scene, a sign of strong vision early in Cholodenko's filmography and perhaps a career-best moment from Sheedy. Daniel Walber
Director: Paul Verhoeven
Poolfellows: Elizabeth Berkley, Kyle MacLachlan
The film
Impulsively violent drifter Nomi (Berkley) heads to Las Vegas, where she's enraptured by the nude dance shows and money – but there's always a cost.
The sex scene
Casino big shot Zack (MacLachlan) has his eye on the hustling blond, an opportunity she seizes as they head to a private swimming pool. The splashy floundering that ensues is a high-point of ridiculously unreasonable expectations.
Why is it so groundbreaking?
This scene, like many in 'Showgirls', unifies the audience in a heightened state of hilarity. It's not meant to be funny, but primo cheese like this is rare. Verhoeven's mainstream riskiness – no matter how tawdry – now seems like a thing of the past. He somehow managed to get his NC-17 ass-terpiece into malls, which is saying something. Joshua Rothkopf
Director: Lena Dunham
Bedfellows: Dunham, David Call
The film
Dunham's breakthrough DIY hit is like a dry run for 'Girls', the writer-director starring as Aura, a recent college graduate who's flailing at her future.
The sex scene
Keith, the selfish sous chef Aura knows better than to like as much as she does, brings her to a large outdoor construction pipe somewhere in Brooklyn. She asks him if he has Aids. He asks her if she has herpes. Then he humps her from behind for roughly 20 seconds before it's all over.
Why is it so groundbreaking?
Welcome to modern romance. Dunham would go on to elaborate on this subject at greater length, but this is the scene that helped usher in the merciless politics of antisocial sex in the era of social media. David Ehrlich
Director: Alfonso Cuarón
Bedfellows: Diego Luna, Gael García Bernal, Maribel Verdú
The film
More than a decade before he made 'Gravity' (which could have used a sex scene), Alfonso Cuarón broke out with this hit – one that also marked the arrival of actors Diego Luna and Gael García Bernal as two friends on a delirious, sensual road trip.
The sex scene
The film's climactic moment is, of course, its famous threesome between Luna, García Bernal and Verdú. In the scene's climactic moment, Verdú falls below the frame and the two friends share a kiss.
Why is it so groundbreaking?
This scene speaks to the fortunate ability of art to bypass the inane sorts of censorship imposed by stodgy institutions like the MPAA (which gave this one an NC-17, enraging such critics as Roger Ebert). The film presents a sexuality that flows between characters freely, rejecting an immutable alignment of gender and attraction. It hasn't lost an ounce of its heat, either. Daniel Walber
Director: Paul Weitz
Bedfellows: Jason Biggs, Shannon Elizabeth
The film
This chirpy high-school virgin-com follows four pals desperate to get their respective rocks off before graduation.
The sex scene
We could have gone for the scene that gave 'American Pie' its title, because – let's face it – the sight of a teenager screwing baked goods remains pretty groundbreaking. But instead we prefer the moment where Jim (Biggs) is seduced by his flexible East European houseguest (Elizabeth), but sadly steps off the love train a stop or two early.
Why is it so groundbreaking?
The entire affair is broadcast live on the Internet to all of Jim's friends – the first time to our knowledge that sex and the Web collided in such a mainstream movie. 'American Pie' was released six years before YouTube was even invented. Talk about coming too fast. Tom Huddleston
Director: David Cronenberg
Bedfellows: James Spader, Holly Hunter
The film
David Cronenberg's darkly comic adaptation of JG Ballard's 1973 novel explores the subversive sexual potential in car wrecks.
The sex scene
There are a number of appropriate moments in this edge-of-madness, edge-of-genius antidrama. But the scene in which Spader rubs himself up against the stitched wound of fellow accident victim Hunter's leg in a car park has to be the most worryingly memorable.
Why is it so groundbreaking?
No one combines the beautiful and the grotesque more powerfully (or more often) than Cronenberg, and while this scene isn't exactly sexy, the collision of traumatised flesh with glittering metal creates a unique sense of transgression and strangeness. Tom Huddleston
47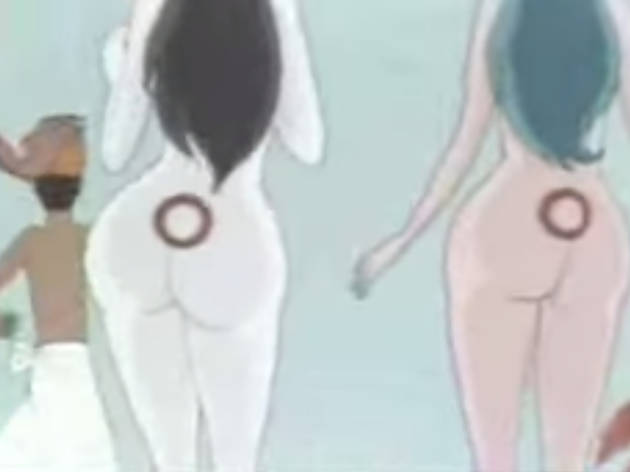 One Thousand and One Nights (1969)
Director: Eiichi Yamamoto
Bedfellows: Aladdin, Miriam
The film
Osamu Tezuka, creator of 'Astro Boy' and a true legend of Japanese animation, cowrote this epic 'Arabian Nights' fantasy tracing the misadventures (mostly sexual) of happy-go-lucky Aladdin, who tangles with a bodaceous slave girl, a clothes-shedding redheaded female warrior, and a whole island of naked nymphs. The psychedelic visuals suggest that hallucinogens had made their way to Tokyo by 1969.
The sex scene
Having rescued curvy Miriam from being sold to the highest bidder, Aladdin gets her alone and the animation turns extremely trippy: Think purple skin tones and lots of floral motifs.
Why is it so groundbreaking?
A mind-blowing precursor to today's hentai subgenre. Trevor Johnston
Director: Jean-Luc Godard
Bedfellows: Richard Chevallier, Zoé Bruneau
The film
Godard's DIY 3D experiment abstractly dissects the relationships between two separate couples in its effort to dismantle the conventions of stereoscopic filmmaking.
The sex scene
There isn't any actual sex in 'Goodbye to Language', but one nudity-filled sequence invites so much audience interaction that people might remember things differently. As actors Chevallier and Bruneau have a conversation in the nude, Godard splits the image apart, assigning each of his 3D cameras to its own eye. The resulting effect allows viewers to choose their own adventure, closing one eye to see Bruneau's pubic hair, and another to see Chevallier's flaccid penis.
Why is it so groundbreaking?
Like pretty much every technological innovation invented for cinema, 3D was eventually used to shoot sex (and much earlier than this). But Godard's twist on it invites a unique sense of engagement, resulting in the first movie that allows you your choice of partners. At screenings, you can practically hear the crowd around you closing one eye and opening another (it's as weird as it sounds). David Ehrlich
Director: John McNaughton
Poolfellows: Denise Richards, Matt Dillon, Neve Campbell
The film
A high-school guidance counselor (Dillon), a wealthy brat student (Richards) and a loner from the trashy side of town (Campbell) get involved in a double-crossing scheme, but the Florida swamp water soon overtakes them.
The sex scene
Adolescent boys of all ages still find themselves transfixed by the sight of Dillon, Richards and Campbell stripping down for a swimming-pool three-way, the most attractive advertisement for crime since Faye Dunaway and Warren Beatty glammed their way through 'Bonnie and Clyde'.
Why is it so groundbreaking?
Hollywood still doesn't offer that much group sex (at least onscreen) and such teacher-student relations scream with inappropriateness. But the 'Wild Things' pool scene is the fulcrum for all the bad behavior yet to come; it's a scorcher because it has to be, dramatically speaking. Joshua Rothkopf
44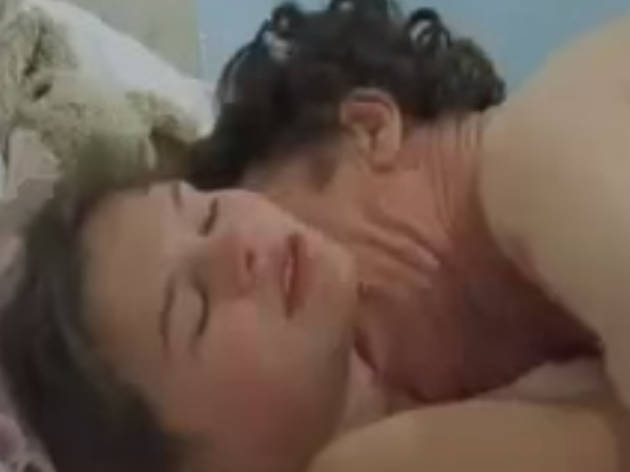 It Is Fine! Everything Is Fine. (2007)
Director: Crispin Glover and David Brothers
Bedfellows: Steven C Stewart, Carrie Szlasa
The film
Written by and starring lifelong cerebral-palsy sufferer Stewart, Glover's second film as director (here working with David Brothers) is a lurid sex-and-violence fantasy told from the point of view of a handicapped man dying on a hospital floor.
The sex scene
Paul (Stewart) may be disabled but he's still able to get it up, as proven in the explicit scene in which he lures sex kitten Karma (Szlasa) into his bed, before wrapping his hands around her throat.
Why is it so groundbreaking?
If the sight of an erection is still fairly rare in cinema, to see a severely disabled man brandishing his broadsword with evident pride is surely unique. Glover's film is divisive, crude and arguably misogynistic, but it's also deeply affecting and sympathetic to its subject: Stewart died from his illness barely a month after principal photography wrapped, and never got to see the finished product. Tom Huddleston
Director: John Carpenter
Bedfellows: PJ Soles, John Michael Graham
The film
Carpenter's low-budget thriller about a faceless serial killer with a taste for teens may not have been the first slasher flick, but its huge success popularised the genre.
The sex scene
When chatty high-schooler Linda (Soles) and her boneheaded boyfriend Bob (Graham) get down to business in her parents' bed, they have no idea that a killer is lurking downstairs. To paraphrase 'Basic Instinct', at least they get off before they get offed.
Why is it so groundbreaking?
Whether Carpenter intended it or not, 'Halloween' marked a key moment in the rollback of the '60s dream. No longer were sybaritic, sexually promiscuous teens something to be celebrated. In an increasingly conservative era, their indecency would instead lead to an abrupt and bloody death, with only the virginal heroine spared. Tom Huddleston
Director: Just Jaeckin
Bedfellows: Sylvia Kristel and various others
The film
This hugely popular slice of 1970s French erotica tells of Emmanuelle (Kristel), an expat living in Thailand who liberally sleeps with men and women – mostly for our pleasure, of course.
The sex scene
It's more the buildup of sex scenes that made 'Emmanuelle' such a hot property. Moments of masturbation, several lesbian scenes and a shot of a woman smoking a cigarette with her vagina fell foul of the censors.
Why is it so groundbreaking?
It's the life the film had, and the imitators it spawned, that wins it a place on this list. Swimming in the wake of the more respectable 'Last Tango in Paris', it brought soft-core porn into the mainstream and lent respectability to big-screen erotica, even if most critics thought it was poorly made and questionable in its intentions. Dave Calhoun
Director: Vilgot Sjöman
Bedfellows: Lena Nyman, Börje Ahlstedt
The film
A promiscuous 20-year-old plunges body and soul into sex, politics and the vagaries of adult life. Meanwhile, the film's crew grapples with the subject matter in behind-the-scenes footage.
The sex scene
Lena (Nyman) dips her head and offers tender kisses to her boyfriend's sleeping member.
Why is it so groundbreaking?
Sweden's provocative export got hung up in the US court system, where it prevailed against charges of obscenity. Still, it was banned in Massachusetts and one Houston theatre burned to the ground as a result of arson. Full-frontal male nudity remains rare in movies – unless you're Jason Segel. Joshua Rothkopf
Director: Stephen Frears
Bedfellows: Daniel Day-Lewis, Gordon Warnecke
The film
This mid-1980s London-set British comedy tackles issues of race, sexuality and politics with a pleasingly light touch as it tells the story of Omar (Warnecke), a young British-Pakistani man seduced by the capitalist dream – David Ehrlichspite his father being a left-wing radical. That's not all he's seduced by: He falls for Johnny (Day-Lewis), a local roughneck whose aggression and racism mask tenderness.
The sex scene
When Omar's uncle opens a gleaming new laundry, Omar and Johnny fall into each other's arms in the back room as the opening party kicks off next door.
Why is it so groundbreaking?
Frears presents an interracial, same-sex relationship as nothing special: not an issue, not a dilemma – just fun, youthful and impulsive. Dave Calhoun
Director: Trey Parker
Bedfellows: Two puppets
The film
'South Park' creators Trey Parker and Matt Stone tackle the War on Terror through the medium of herky-jerky all-strings-attached puppetry.
The sex scene
Having been recruited by the titular forces of truth, justice and heavy weaponry, greatest-actor-of-his-generation Gary finds himself attracted to his quip-happy comrade, Lisa. It's not long before the two of them are getting together for a night of steamy and surprisingly flexible passion.
Why is it so groundbreaking?
In a scene seemingly designed to set 'Thunderbirds' creator Gerry Anderson spinning in his grave, these two perverted Pinocchios run the gamut of eye-opening acrobatic indulgence. Insert your own 'getting wood' joke here. Tom Huddleston
Director: Alfred Hitchcock
Bedfellows: Cary Grant, Eva Marie Saint
The film
Alfred Hitchcock's oh-so-debonair chase movie sees besuited adman Grant hooking up with saucy sidekick Saint while on the run from mysterious forces.
The sex scene
It's the most notorious visual double entendre in cinematic history: Having saved her from certain death atop Mount Rushmore, Grant finally gets Saint alone in a train's sleeper car. They joke a little, he pulls her back on the bunk – and we cut to a shot of the train plunging into a tunnel.
Why is it so groundbreaking?
Because you weren't supposed to be able to get away with gags like that back in 1959. It might have gone over some audience members' heads – that's the joy of it, really – but it also had a profound effect on film: Here is the birth of all those deliciously crude 'Airplane'-style sight gags. Tom Huddleston
Director: Hal Ashby
Bedfellows: Ruth Gordon, Bud Cort
The film
This hippyish, let-it-all-hang-out romance tells the love story of Harold (Cort), a depressed 20-year-old whose hobbies include faking his own death and gate-crashing funerals, and fun-loving 79-year-old eccentric Maude (Gordon).
The sex scene
In a state of postcoital bliss, Harold sits up in bed blowing bubbles while Maude sleeps, her hair spread across the pillow. Ashby had written a longer sex scene between Harold and Maude, but the studio forced him to cut it.
Why is it so groundbreaking?
'Harold and Maude' bombed at the box office but you can see its influence in pretty much every quirky oddball-couple indie movie ever since. And even though the deed itself was censored, it's hard to think of another film that has portrayed an over-60s woman as a sexual being with perfectly ordinary desires. Cath Clarke
Director: Luis Buñuel
Bedfellows: Catherine Deneuve
The film
Buñuel's mischievously deadpan erotic comedy stars Deneuve as Severine, a bored housewife who takes a job – afternoons from two to five – in a high-class brothel to play out her fantasies.
The sex scene
The opening sequence: In a horse-drawn cart on a country estate, a young couple whisper sweet nothings to each other. 'I love you more each day,' he coos. Suddenly, they quarrel and the man orders his driver to drag the woman out of the cart, tie her to a tree and whip her. 'Be rough with the little tramp,' he adds. And then Severine wakes up. This is her masochistic fantasy.
Why is it so groundbreaking?
It's one of the most famous erotic films of all time. You can trace the influence of 'Belle de Jour' in the work of David Lynch, while feminist commentators claim Severine as a trailblazer, getting away with her double life. Cath Clarke
Director: Gerard Damiano (as Jerry Gerard)
Bedfellows: Linda Lovelace, Harry Reems
The film
Possibly the most famous X-rated film of all time, comedic sex-romp 'Deep Throat' stars 23-year-old Lovelace as a woman who discovers her clitoris is in her throat.
The sex scene
Linda is unable to orgasm, so she pays a visit to a psychiatrist, Dr Young (Reems) – a real kook but horny as hell. He discovers her unusual condition. His solution? A technique called 'deep throat.' He suggests Linda practice on him.
Why is it so groundbreaking?
'Deep Throat' brought hard-core sex to the mainstream. Celebs like Martin Scorsese, Jack Nicholson and Truman Capote went to see it, as did millions more. The clampdown – 'Deep Throat' was banned in certain parts of the US – only fueled the phenomenon. Shot for $25,500 (of mob money), it made an estimated $500 million at the box office. Years later, the film was still making headlines when Lovelace claimed that her then-husband Chuck Traynor forced her into taking part. Cath Clarke
Director: Larry Clark
Bedfellows: Leo Fitzpatrick, Sarah Henderson
The film
Clark's disturbingly frank study of middle-class teens running wild in NYC is still shocking two decades later.
The sex scene
In the film's very first scene, self-proclaimed 'virgin surgeon' Telly (Fitzpatrick) talks his way into deflowering his latest victim, an unnamed 12-year-old girl. His gruesome voiceover ('fucking is what I love') makes the moment even more unsettling.
Why is it so groundbreaking?
Because it still feels completely, unnervingly real. Future director Harmony Korine was just 19 when he penned the script and the result proved hugely controversial, with Clark accused of flirting with child pornography. Whatever your take on it, 'Kids' walks a striking balance between beauty and horror. Tom Huddleston
Director: Kimberly Peirce
Fieldfellows: Hilary Swank, Chloë Sevigny
The film
Swank won an Oscar for her portrayal of Brandon Teena, a transgender man murdered in Nebraska in 1993.
The sex scene
At night in a field so dark and striking it feels like a faraway dream, Brandon (Swank) and Lana (Sevigny) have sex for the first time. Lana tells it in flashback to her friends, her emotional arc doubled by the way the scene bounces between present and past.
Why is it so groundbreaking?
'Boys Don't Cry' is a tragedy. Yet it is still the most culturally prominent portrayal of a transgender man in American cinema. Its brutal conclusion claws at the memory 15 years after its premiere, but its hopeful moments remain just as important. Daniel Walber
Director: Lawrence Kasdan
Bedfellows: Kathleen Turner, William Hurt
The film
A decade before 'Basic Instinct' launched the era of the mainstream erotic thriller, Lawrence Kasdan reinvented film noir for a sophisticated modern audience with this sweaty tale of scheming femmes fatales.
The sex scene
After chasing her around for days like a puppy in heat, Hurt's smug lawyer Ned Racine finally tracks temptress Matty Walker (Turner) to her lair. Enticed by her come-hither eyes ('You're not too smart, are you? I like that in a man'), he smashes a window and dives into her waiting arms.
Why is it so groundbreaking?
Most movies use sex either as cheap titillation or as a form of punctuation. In 'Body Heat', it's all about character. These characters are both playing roles here: he, the mad-with-lust macho man; she, the shrinking coquette. The thing is, only one of them knows it's all an act. Tom Huddleston
11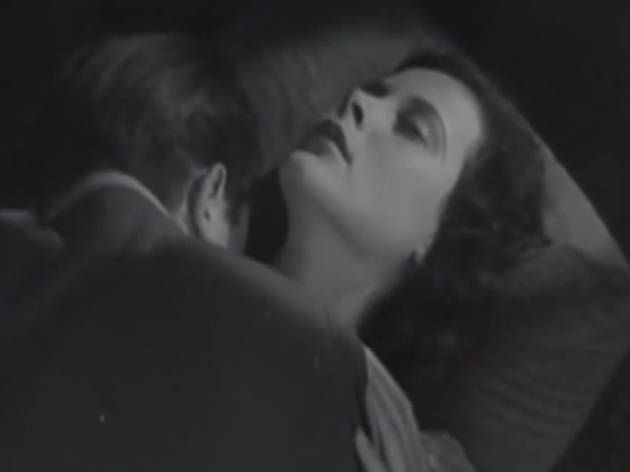 Director: Gustav Machaty
Bedfellows: Hedy Lamarr, Aribert Mog
The film
Czech director Machaty's overheated melodrama about an impotent husband, a frisky young wife and the beau who spots her skinny-dipping made an international icon of 19-year-old Hedy Kiesler. US customs burned an uncensored print, but it didn't stop MGM's Louis B Mayer from signing up the starlet, renaming her Hedy Lamarr and launching a new Hollywood goddess.
The sex scene
Hedy's much-cut nude swimming brought her notoriety, though even more groundbreaking is a semiclothed love scene, where the camera rests on her face as passion mounts. Note also the highly symbolic string of pearls falling to the floor.
Why is it so groundbreaking?
It's nothing less than the first onscreen female orgasm. Trevor Johnston
Director: Frank Capra
Not-quite-bedfellows: Claudette Colbert, Clark Gable
The film
Heiress-on-the-lam Colbert meets moustachioed cad Gable on the night bus to nowhere. Will their initial loathing last?
The sex scene
There's no actual sex here (it was 1934, after all) but merely the thought of unmarried strangers Gable and Colbert sharing a motel room was scandalous when Capra's riotous road movie was first released. The fact that Clark hangs a sheet down the center of the room for modesty's sake didn't quiet the moral majority one bit.
Why is it so groundbreaking?
Only a few years after the infamous Hays Code was brought in to restrain Hollywood's seedier tendencies, films like 'It Happened One Night' were already kicking against censorship. The film won heaps of Oscars including Best Picture, so take that, you fusty prudes. Tom Huddleston
Director: Martin Scorsese
Bedfellows: Willem Dafoe, Barbara Hershey
The film
Bluntly adapting Nikos Kazantzakis's novel of the same name, Scorsese's most controversial film portrays the Son of God as a fallible man, liable to the vices and temptations with which all human beings must contend.
The sex scene
While nailed to the cross, an angel appears to Jesus and leads him on a guided hallucination of the life he might have lead. That life includes Jesus fathering a child with Mary Magdalene, and it turns out that sex is the best way to do that. Sure, it's all a dream, and thus rather theologically protected, but that didn't stop people from losing their minds over it.
Why is it so groundbreaking?
It's Jesus Christ having sex. That's not exactly what he's known for. David Ehrlich
Director: Paul Verhoeven
Bedfellows: Sharon Stone, a short skirt, a bunch of drooling detectives
The film
Sharon Stone stars as writer Catherine Tramell, a noirish femme fatale suspected of murdering a music mogul with an ice pick during a bondage sex session.
The sex scene
Even if you haven't seen the film, you know the scene: Stone is being questioned by five cops and she's eating them alive. Dressed to kill in a slinky white suit, she basically performs a striptease, slipping off her jacket as she bats their questions aside. Finally she uncrosses and recrosses her legs, showing them – and us – that her lips are sealed (sorry).
Why is it so groundbreaking?
The scene is one of the most controversial and iconic of the 1990s. 'Basic Instinct' was championed by feminist critic Camille Paglia, who argued that it features 'one of the great performances by a woman in screen history.' Others called it misogynist. Cath Clarke
Director: Nagisa Oshima
Bedfellows: Tatsuya Fuji, Eiko Matsuda
The film
Oshima's 1976 masterpiece – the crown jewel of a career hell-bent on upsetting the establishment – recounts the true story of the all-consuming sexual obsession that blossomed between a hotel owner and his new employee in 1936 Tokyo.
The sex scene
How do we pick just one? A marvel of escalation, 'In the Realm of the Senses' is an almost constant stream of increasingly perverse sex acts. To isolate any moment from the maelstrom of deviant (and unsimulated) behavior would be arbitrary by default. Nevertheless, we'd argue the sequence that most pushes the boundaries occurs when Kichizo (Fuji) inserts a hard-boiled egg into the vagina of his new bride, Sada (Matsuda), in full view of the people serving them dinner. He then instructs Sada to squat like a hen and lay the egg on the floor before he eats it. In most films, the pain that Sada experiences would immediately classify the act as sexual assault, but 'In the Realm of the Senses' renders our judgments irrelevant.
Why is it so groundbreaking?
Even for generations raised on free Internet porn, the acts on display in Oshima's movie are still taboo. 'In the Realm of the Senses' was the first nonpornographic film to include blow jobs, and there's a very graphic one prior to the scene of food insertion. But it's only when you watch that egg disappear that you begin to comprehend the full extent of the film's transgression. David Ehrlich
6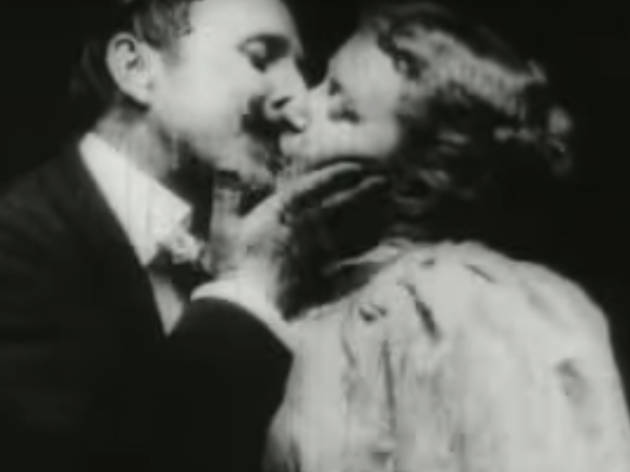 Director: William Heise
Bedfellows: May Irwin, John Rice
The film
In 1896, at just 47 seconds long, this was the very first kiss to be caught on film, in Thomas Edison's Black Maria studio in New York.
The sex scene
Actors May Irwin and John Rice re-create the closing scene from a musical they starred in, 'The Widow Jones'.
Why is it so groundbreaking?
It looks so innocent now. But as well as giving us cinema's first smooch, 'The Kiss' provoked one of its earliest scandals, with outraged editorials in newspapers and calls for police to intervene. Cath Clarke
Director: Abdellatif Kechiche
Bedfellows: Adèle Exarchopoulos, Léa Seydoux
The film
This undeniably erotic but also deeply sensitive French film won the Palme d'Or at Cannes for its free and frank portrayal of two young women, Adèle (Exarchopoulos), a schoolgirl, and Emma (Seydoux), an art student. They fall in love and face the challenge of sharing something in the long term other than sex.
The sex scene
When Adèle and Emma first hit the bedsheets, Kechiche shows their lovemaking in intimate detail: a long, no-holds-barred sex scene.
Why is it so groundbreaking?
On paper, six minutes doesn't sound long. But when you're sitting through kissing, sucking, licking and slapping, six minutes feels very long indeed. Audiences who thought they'd seen it all suddenly realised they hadn't. Dave Calhoun
Director: Ang Lee
Tentfellows: Heath Ledger, Jake Gyllenhaal
The film
A heartbreaking modern love story for some, an effort to 'advance the gay agenda' for idiotic others, 'Brokeback Mountain' at last introduced homosexuality to the Hollywood mainstream.
The sex scene
It gets lonely up on that mountain and nature takes its course. When young cowpokes Ledger and Gyllenhaal are hired to watch over a flock of sheep over a long, remote summer, their relationship takes a turn that neither of them saw coming.
Why is it so groundbreaking?
This was the first gay sex scene in a major movie, and while it was hardly the full-frontal gruntfest some audience members may have been hoping for, it was more confrontational than many viewers expected. It helps that the surrounding film is nothing less than a modern classic. Tom Huddleston
Director: Ingmar Bergman
Bedfellows: Bibi Andersson, Liv Ullmann
The film
After the catatonic breakdown of stage star Elisabet (Ullmann), she and nurse Alma (Andersson) enter into a fluid, mesmerising power struggle, also a meeting of the minds.
The sex scene
In a semidarkened room, Alma relates a tale of sex on the beach with her girlfriend and a pair of underage boys, an incident with dire consequences.
Why is it so groundbreaking?
A classic sex scene with no actual sex in it? That's expert-level, folks. It helps to be Ingmar Bergman, the master director who could wring a heartbreaking monologue out of a shoe. Andersson's matter-of-fact relation of graphic acts makes the scene unbearably hot. The moment was often cut from prints by concerned censors. Famously, Roger Ebert wrote, 'The imagery of this monologue is so powerful that I have heard people describe the scene as if they actually saw it in the film.' Joshua Rothkopf
Director: Nicolas Roeg
Bedfellows: Julie Christie, Donald Sutherland
The film
Working with a Daphne du Maurier short story, Roeg gives us Laura (Christie) and John (Sutherland), a married couple who travel from Britain to Venice for his job after losing their young daughter in a drowning accident.
The sex scene
It's a simple predinner sex scene in a hotel room, but the way Roeg shoots and edits it, and the manner in which the actors perform it, makes it extremely powerful.
Why is it so groundbreaking?
It just feels so real. It's also a rare sex scene that chimes in perfect harmony with the film around it. Their sex feels like both an expression of grief and a welcome respite from it. Most of all, the actors just look like they know what they're doing. No wonder they've been denying the sex was real ever since. Dave Calhoun
Director: Bernardo Bertolucci
Floorfellows: Marlon Brando, Maria Schneider
The film
Bertolucci's steamy tale of two strangers meeting in a Paris flat for impersonal sex remains a byword for confrontational coupling onscreen.
The sex scene
Brando pins Schneider facedown on a hardwood floor and indulges his fondness for dairy products in an unforgettable fashion. You'll never look at cinema sex – or read the word 'unsalted' – the way same again.
Why is it so groundbreaking?
When 'Last Tango in Paris' was first released, it was a cause célèbre: Never before had sex onscreen been so raw and emotionless. In the age of Tinder, the film has lost some of its impact, and there's a streak of misogyny that feels undeniably ugly. But with its two powerhouse performances, 'Last Tango' still, um, stands up. Tom Huddleston