17 great things to do in Lausanne
Make the most of the Olympic city with Time Out's round-up of the best things to do in Lausanne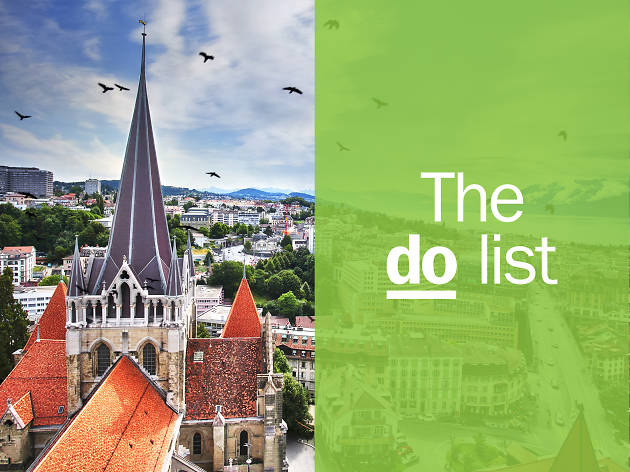 Packed with history and culture, Lausanne has a perfectly pretty centre, buzzing with restaurants, cafés, markets and a number of neighbourhoods with a character all of their own, from the converted warehouses of Flon to the independent boutiques around Rue de Bourg and the stylish shops and cafés of Grancy. Best of all is Lausanne's range of outdoor attractions, thanks to its position next to Lake Geneva. When the city centre shuts down on Sundays, decamp to Ouchy to swim, run, paddleboard or soak up the sun, or head up to bike around the leafy trails of Sauvebelin.
RECOMMENDED: Fill up at Lausanne's best restaurants.
Done something on this list and loved it? Share it with the hashtag #TimeOutDoList and tag @TimeOutEverywhere.
You can also find out more about how Time Out selects the very best things to do all over the world, or take a look at our list of the 50 best things to do in the world right now.
17 great things to do in Lausanne
1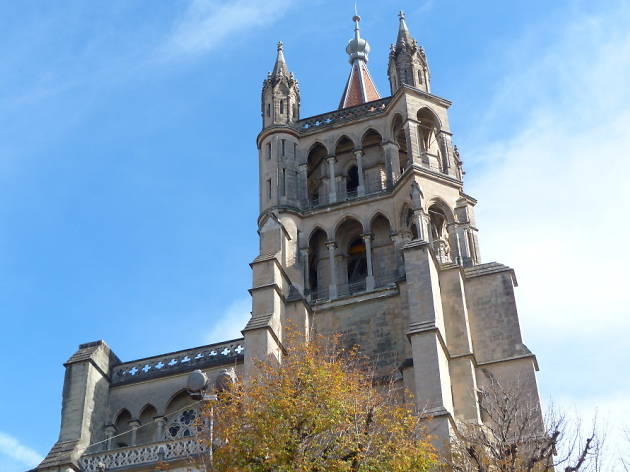 You can give yourself a good workout walking round Lausanne's city centre, which spreads down a hill from the medieval Cité at the top through the pedestrian Old Town to the trendy warehouse district of Flon and then down to the main train station. To help inhabitants deal with the hills, it's all linked by bridges, escalators, steps and lifts – not to mention the handy Metro M2 line. To be honest, it's easy to get a little lost, but that's half the fun. Make sure you explore the pretty Escaliers du Marché, which takes you down to the Place de la Palud, the Old Town's main square and home to the town hall, where you can stop for a coffee at Café de L'Hôtel de Ville. On Saturdays and Wednesdays the square and surrounding streets fill up with market stalls which are well worth a browse. Elsewhere in town, window-shop the designer brands in Flon, or head away from the main drag to Rue Marterey for independent boutiques and street food outlets.
2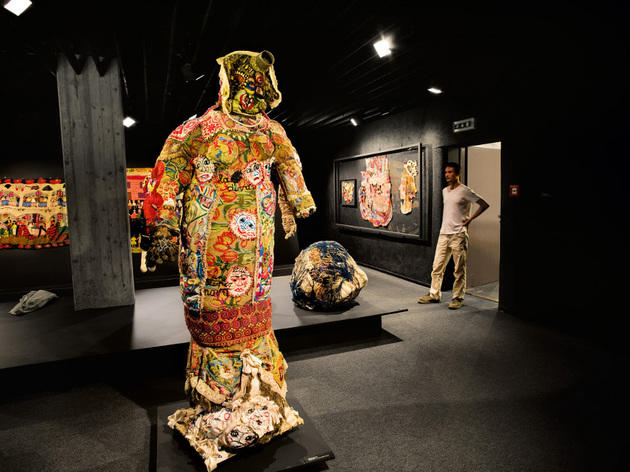 Swiss Tourism
Explore an offbeat museum at Collection de l'Art Brut
For a little place, Lausanne has more than its share of cultural attractions. The quirky Collection de l'Art Brut is an intriguing showcase of alternative art created by untrained artists on the fringes of society, whose psychological issues have fuelled pieces that are thought-provoking and hugely inventive.
3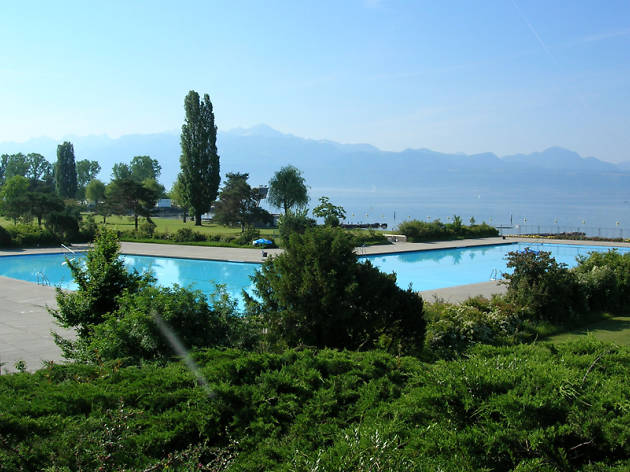 Swim alfresco at the Bellerive Plage
Known as the place to hang out in summer, this 1930s outdoor leisure centre is eternally popular when the sun is shining. There's an (unheated and admittedly rather chilly) Olympic-sized swimming pool for lane swimming, a large leisure pool with various water spouts and massage taps and a diving pool. If you're after different sporting pursuits, take advantage of the ping pong tables and volleyball courts, or just lounge around on the grass and kick the hell back.
4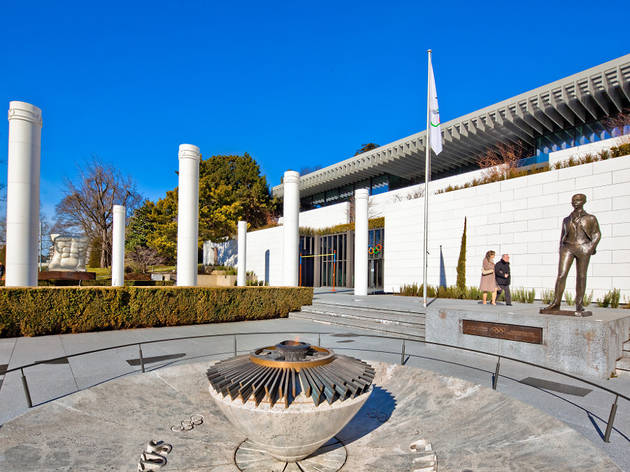 Get sporty at the Olympic Museum
This impressively slick museum worships at the altar of the Olympic movement, whose headquarters are in Lausanne. It was renovated in 2013 to the tune of £36 million and, as you'd hope for that amount of money, it's definitely worth a visit. Divided into three themes, the permanent exhibition leans on interactive, multimedia displays, including games to test your own physical and psychological skills in Olympic disciplines. The café-restaurant also offers fantastic views of the lake.
5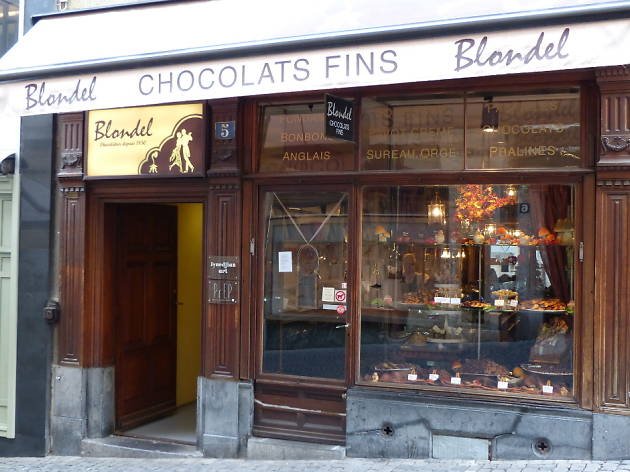 Indulge in show-stopping chocolate at Blondel
It's hardly Switzerland's best kept secret that the chocolate here is among the best in the world, and Lausanne has its share of places to indulge. For proper artisan chocolate, browse the heavily laden shelves at Blondel. You might even be offered chocolate ice cream before you enter the shop – and we all know what your answer's going to be.
6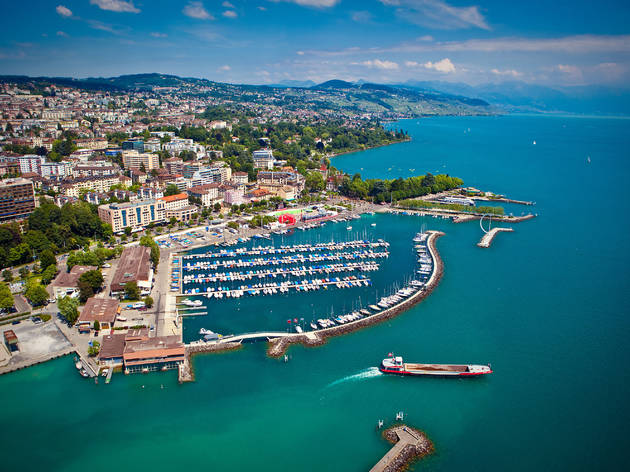 © Régis Colombo
Lausanne's lakefront district is the city's playground. It's where people come to while away a Sunday afternoon by strolling along the shore of Lake Geneva with an ice-cream, swimming in the lake or at the Bellerive Plage open-air pool or hiring an SUP (stand-up paddleboard). Scattered with posh hotels dating from the 19th century, there's an extravagant air about the place and you can enjoy some quality people-watching in one of Ouchy's numerous bars and cafés. It's also worth joining the tourists for lunch at the Crêperie d'Ouchy before heading to MGM Café for a drink on the lovely upstairs terrace.
7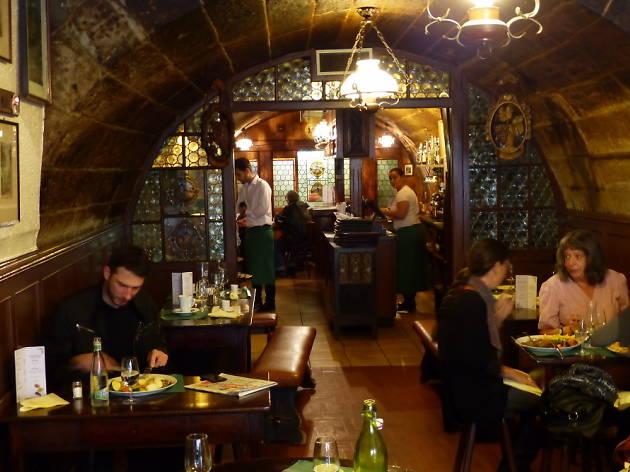 Eat fondue at La Pinte Besson
There are numerous places in Lausanne to sample the cheese dish to end all cheese dishes, but historic pub La Pinte Besson is one of the best, and possibly the most atmospheric place to get stuck in to a fondue on a winter's evening.
8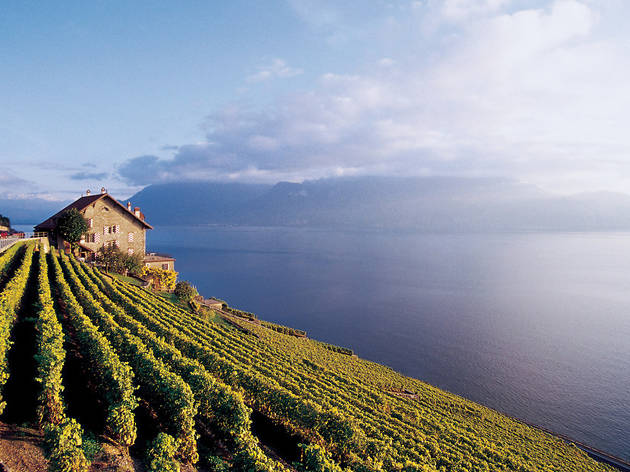 ©LausanneTourisme/Régis Colombo
Gaze at the view from Musée et Jardins Botaniques Cantonaux
Lausanne's location overlooking beautiful Lake Geneva deserves to be marvelled at. Luckily, there are numerous places from which to do so, the best one being Musée et Jardins Botaniques Cantonaux on the Montriond Ridge, where you can combine a stunning view with a stroll in the park. Wind your way up through the terraces to the top for a gorgeous view over the lake and mountains. Alternatively, head up to the protected forest of Sauvabelin for an even more far-reaching view from the summit of its wooden tower. Lastly, you'll appreciate just how pretty the Swiss countryside is on a stroll through the Lavaux vineyards which sit on the sloped lakeside between Lausanne and Montreux.
9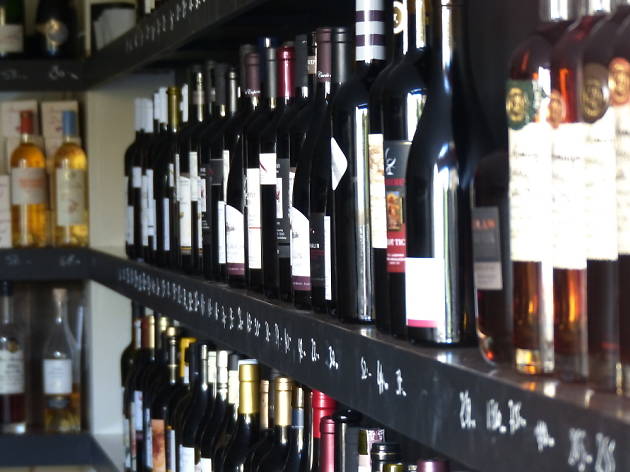 10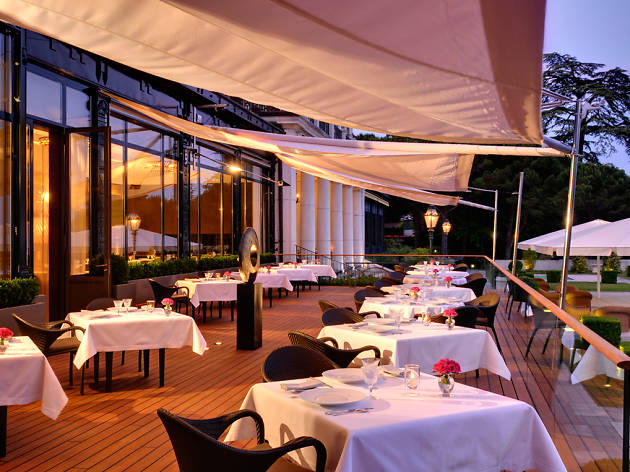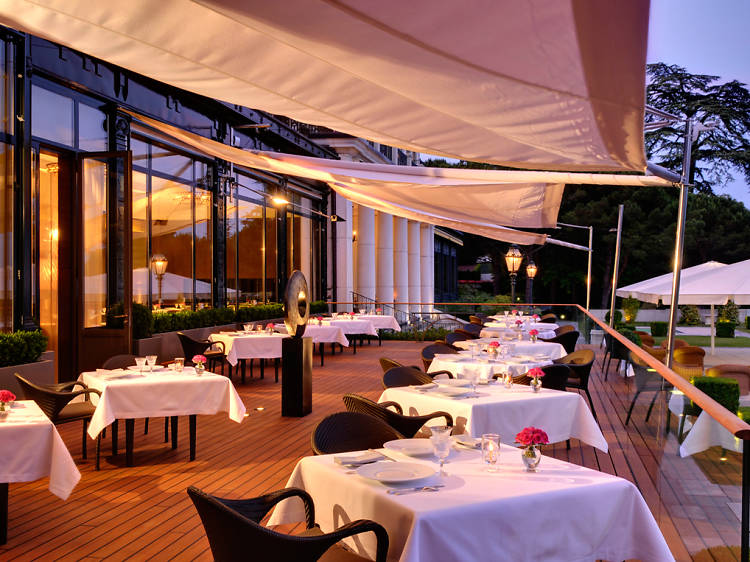 Try fine-dining at Anne-Sophie Pic
Offeing gourmet food in plush surroundings at the Beau Rivage Palace, Anne-Sophie Pic is led by France's first female chef to be awarded three Michelin stars. Drawing on the flavours and seasonal ingredients of her childhood home as well as local Swiss produce, Pic creates imaginative, beautifully presented dishes that have earned the restaurant two Michelin stars and 18 Gault Millau points. The food is in good company, as the Beau Rivage Palace has one of the largest wine collections in Europe.
11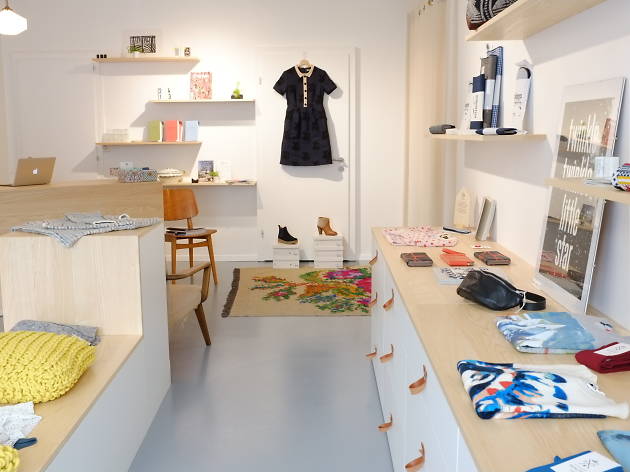 Shop stylishly at The Liberty Shop
This art-inspired boutique brings international fashion to central Lausanne. Founded by globetrotting serial shoppers Gina and Flavio, The Liberty Shop offers prêt-a-porter womenswear from London, Paris, Milan and New York, and the duo's passion for art, fashion and design shines bright in this cute little boutique. It may be small but The Liberty Shop packs a mighty fashion punch.
12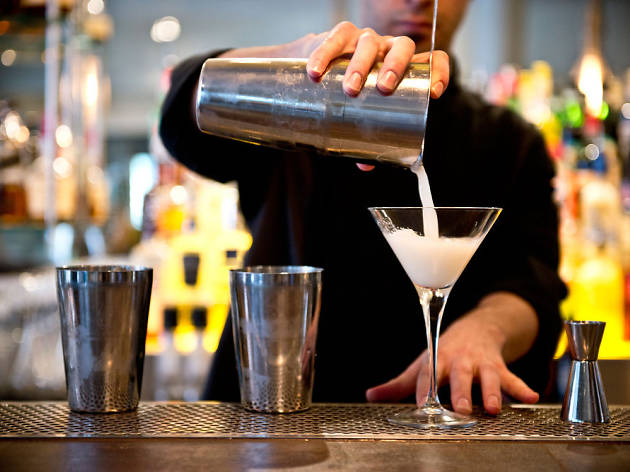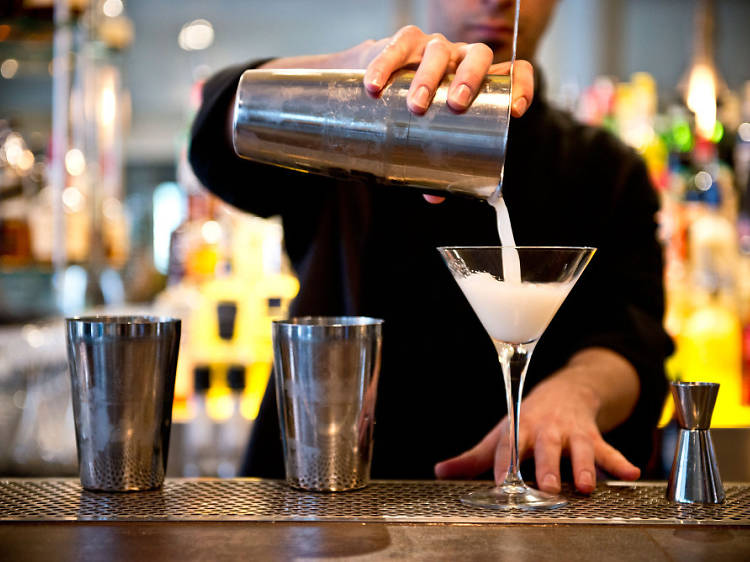 Anne-Laure Lechat
Match tapas and cocktails at Eat Me
This cocktail bar and tapas restaurant takes inspiration from all over the world to produce an intriguing menu with diverse flavours. Your culinary road-trip could include Japanese tuna sashimi, Jamaican jerk chicken, Vietnamese spring rolls or Tunisian-style salad. Plates are small, so you'll need a few, but the quality is high. Cocktails are a little pricey, but incredibly classy, with more worldly flavours showcased. Try the Black Pearl, a sweet-sharp mix of rum, ginger, lime and cardamom.
13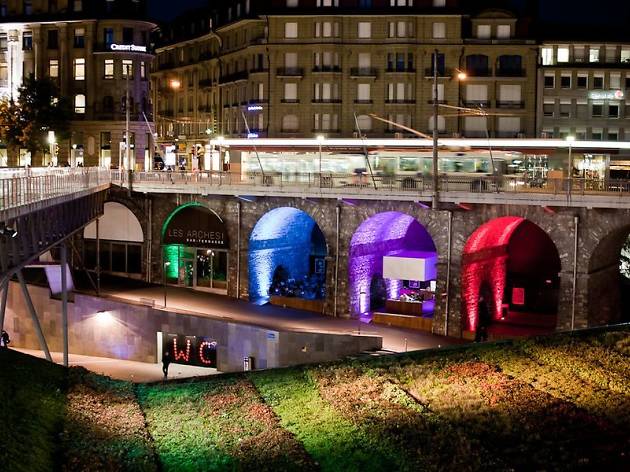 Les Arches
People-watch at Les Arches
Sometimes you need a good spot to people-watch, and what better place than under the arches of the Grand Pont, the 19th century bridge that cuts through the centre of town, in a prime position on the edge of Place de l'Europe. From a morning coffee in the sunshine to a pre-clubbing apéro, or just a hard-earned pick-me-up after a strenuous shopping spree, Les Arches is the perfect place to sit and watch Lausanne go by.
14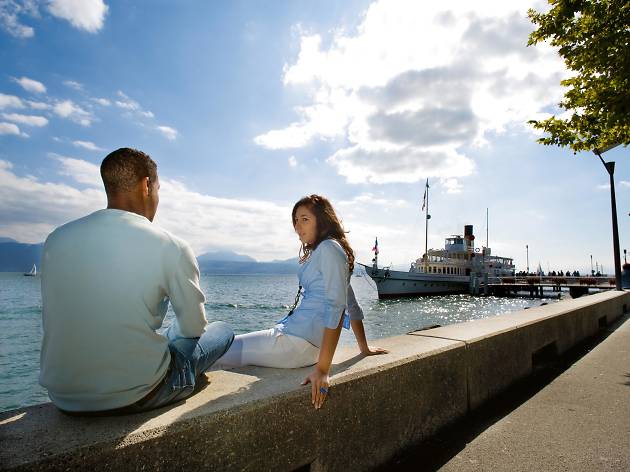 © Christof Schuerpf
Sail away on the CGN Lausanne-Ouchy
Making the most of its position on one of Europe's largest lakes, Lausanne's ferry port at Ouchy offers cruises to destinations around the lake in both Switzerland and France. Go on the short hop to French spa town Évian-les-Bains (directly opposite Lausanne), enjoy the ride down to Montreux or float further afield to Geneva and the medieval French village of Yvoire.
15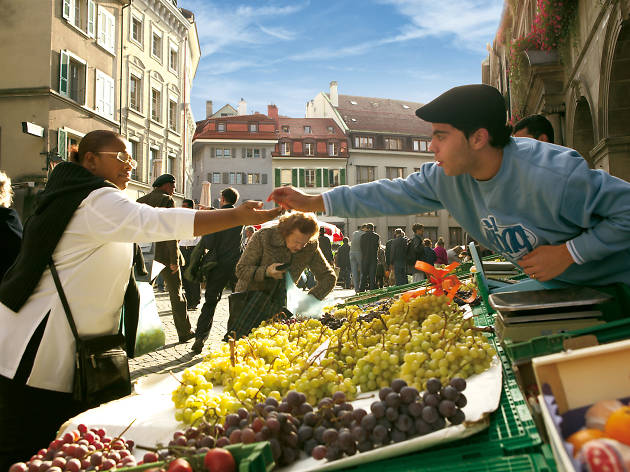 On Wednesdays and Saturdays, Lausanne's pedestrian streets buzz with the arrival of the market. Fruit and veg stalls set up shop on Rue de Bourg and the central Place de la Palud, and Place de la Riponne showcases cheeses, charcuterie, bread and an ever-expanding flea market selling paperbacks, CDs, bric-a-brac and secondhand furniture. For a quick snack, look out for the empanada stall on Rue du Pont or join the queue at the popular bread and cake stall in Riponne – their coconut macaroons are divine.
16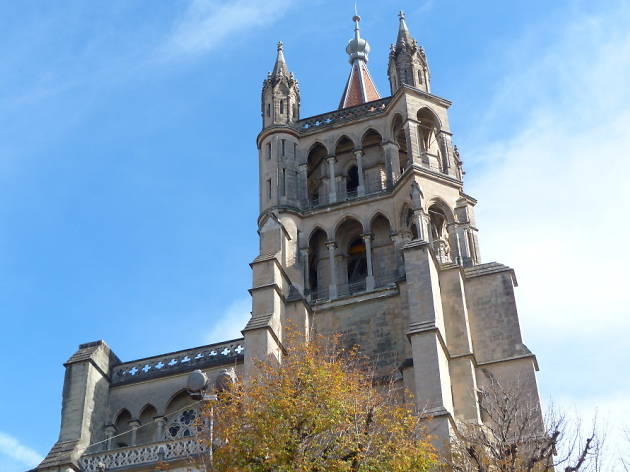 Enjoy panoramic views from the Cathédrale de Lausanne
Perched atop a hill in the Cité, Lausanne's 13th century gothic cathedral is the largest in Switzerland. The architecture is impressive, particularly the ornately carved portal and the beautiful rose window based on the signs of the zodiac. There's a panoramic view of the city's red roofs, the expanse of Lake Geneva and mountains beyond from the plateau outside. Pro tip: improve your photo by climbing the 225 steps of the belfry.
17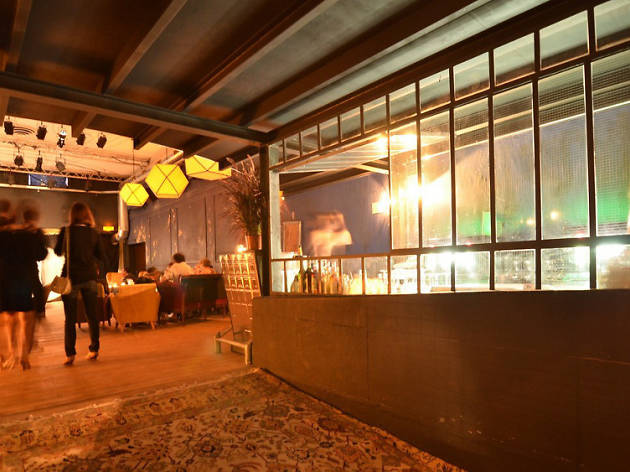 Sample eclectic entertainment at Le Lido
This characterful venue in central Lausanne hosts a wide range of entertainment, from comedy and cabaret to karaoke and improv, plus regular club nights on weekends. Its shabby chic style – all mismatched furniture, vintage lampshades and old armchairs – creates an intimate, boudoir feel, which perfectly suits a quirky venue that doesn't take itself too seriously. It's also home to the Lausanne arm of International Comedy Club, which presents big-name English-speaking comedians.