Heads up! We're working hard to be accurate – but these are unusual times, so please always check before heading out.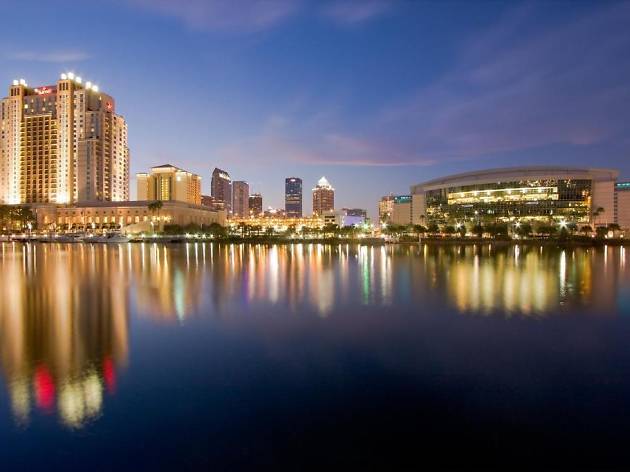 The 11 best hotels in Tampa
Whether you're a nature lover, business professional, or aspiring pirate, one of the best hotels in Tampa will suit you
Year-round sunshine means the outdoors are rarely off limits. An annual pirate parade brings Tampa's buccaneer past back to life every January. And with developers funneling billions of dollar into redevelopment projects, business here is booming. If you haven't stopped by Tampa to eat a classic Cuban sandwich, jog down Bayshore Boulevard, or watch manatees laze around, well, you're missing out—restaurants, attractions and things to do in Tampa are some of the best around.
To meet the need of its varied visitors, Tampa has a wide range of accommodations, from historic to luxurious and alternative, taking in rooms in old judges' chambers, food-focused hotels, Dutch-inspired hostels and a glass-covered palace. Here's our list of the 11 best.
Best Hotels in Tampa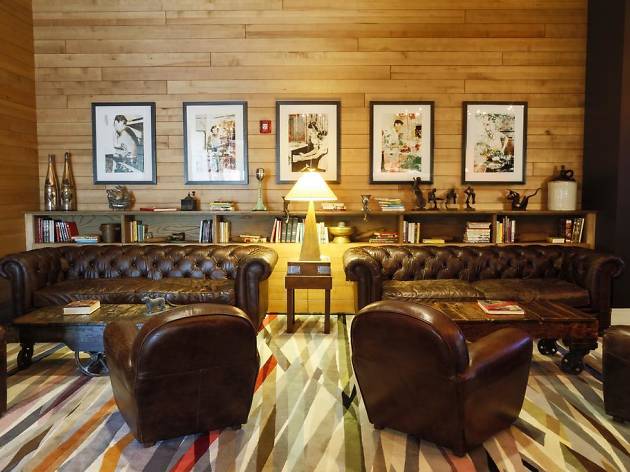 Booking.com
Staying at the 4-star Epicurean Hotel is all about indulging your senses, beginning with your tastebuds. The self-proclaimed 'foodie's paradise' takes after its namesake, the ancient Greek philosopher, Epicurus, putting sensual pleasure forward as the greatest good. Rooms are decorated with food-related artwork and cooking classes are offered free of charge. But it isn't just about the food. The Epicurean features an outdoor pool, rooftop lounge, and lies in a convenient location for visiting Tampa's many attractions.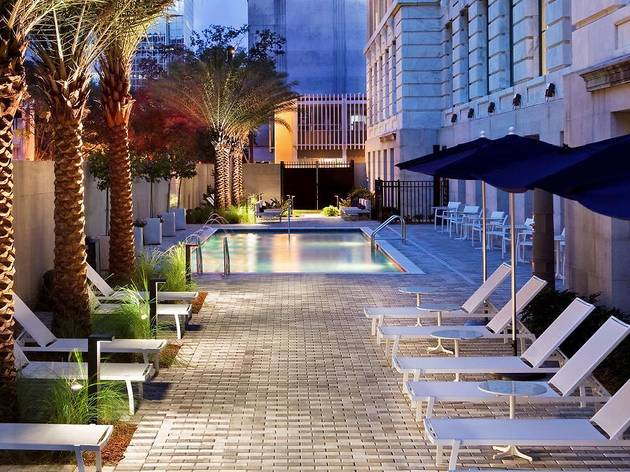 Booking.com
Located in an historic courthouse that dates back to the turn of the 20th century, Le Méridien Tampa offers an extraordinary stay for the history buff and luxury traveler alike. The building is on the National Register of Historic Places and still has many of the same features from its past, including original windows and wood paneling. Rooms are old judges' chambers, giving each a unique and personal appeal. The surprisingly casual restaurant, Bizou Brasserie, serves up a French-Creole-inspired menu in an elegant setting.
Booking.com
3. Tampa Marriott Waterside Hotel
Just a minute's walk from Tampa Convention Center, the 4-star Tampa Marriott Waterside Hotel offers a convenient downtown location for those who want waterfront and downtown access. Rooms are simple and functional, with optional balconies and separate living areas. The waterfront location is ideal for Tampa's many events around the bay and Hillsborough River. Guests can get a meal at the laidback grille restaurant on site, and take a dip in the outdoor pool, which has a view of the bay.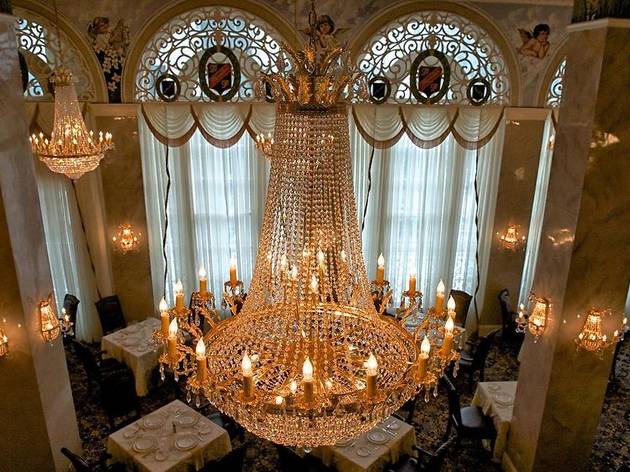 Booking.com
The Floridan Palace is an iconic downtown high-rise, dating back to 1926 and listed on the National Register of Historic Places. It's seen its share of ups and downs over the years, but the 3.5-star hotel currently provides an opulent experience for its guests, with bold decor and elegant interior details in every room. Glistening chandeliers hang from the ceilings of the Crystal Dining Room, which serves a menu focused on Mediterranean cuisine.
Booking.com
Located on Tampa's Rocky Point Island, the 4-star Westin Tampa Bay offers colorful accommodation inspired by the islands. Among the attractions of this waterfront hotel are its private beach, seafood-themed restaurant, and relative seclusion in relation to Tampa. You'll be just over the bridge and within reach of all of the Tampa Bay Area, but feel like you're a thousand miles away.
Booking.com
This casual, 2-star hotel is located just a block away from bustling South Howard Avenue, dubbed SoHo by the locals, where you'll find some great boutique shops and lively bars. Rooms are small but sufficient, each with their own well-equipped kitchen, and decor is standard international hotel style, though some feature funky mood lighting. Stroll a half-mile south and you'll reach Bayshore Boulevard, with its beautiful views and 4.5-mile-long sidewalk…ideal for a spot of exercise.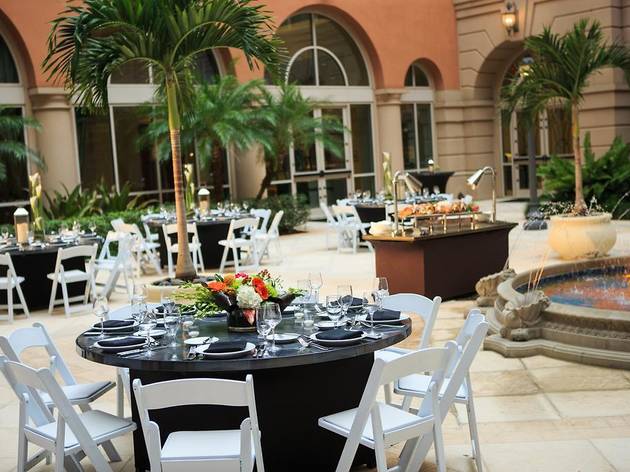 Booking.com
7. Renaissance Tampa International Plaza
Offering both quality and convenience, the 4-star Renaissance Tampa International Plaza Hotel is located right next to the airport (don't worry, guests praise its soundproof construction). Rooms are clean, comfortable, and unpretentiously furnished, while the entire hotel boasts modern, classy decor. Pelagia Trattoria serves classic Italian from an open-air kitchen. There's nothing extravagant here to write home about – but that's what makes the Renaissance such a pleasure to stay at.
This colorful hotel is one for visitors looking for a low-key, alternative place to stay, offering cozy, hostel-style rooms inspired by the late founder's trip to the Netherlands. A small Jacuzzi and quaint patio give guests a chance to enjoy Tampa's regular sunshine in a homier atmosphere than you'd find at your typical hotel. Bikes and access to a kitchen are included.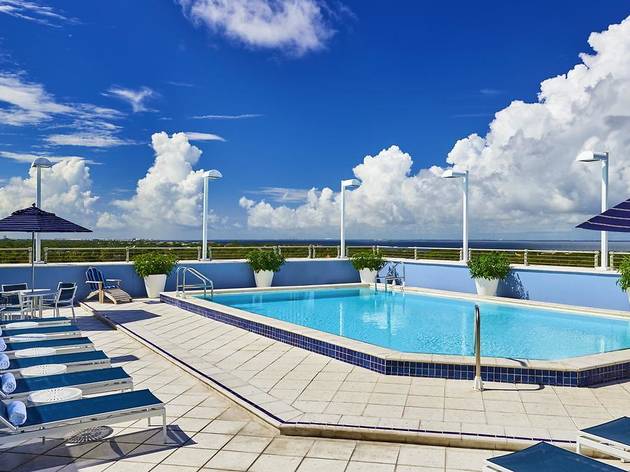 Booking.com
This 4-star, glass-covered palace brings a touch of luxury to the corner of a busy intersection in Tampa's West Shore. With meeting rooms and an impressive atrium, it's great for a business vacation – and the pool and large gym offer the chance to shake out those limbs once your working day is done. Rooms are neutral in decor but shot through with bright splashes of colour, while the blue running throughout the building, from the lobby to the courtyard and the pool, give the whole space a calming atmosphere. For dinner, grab a bit at a Shula's Steak House.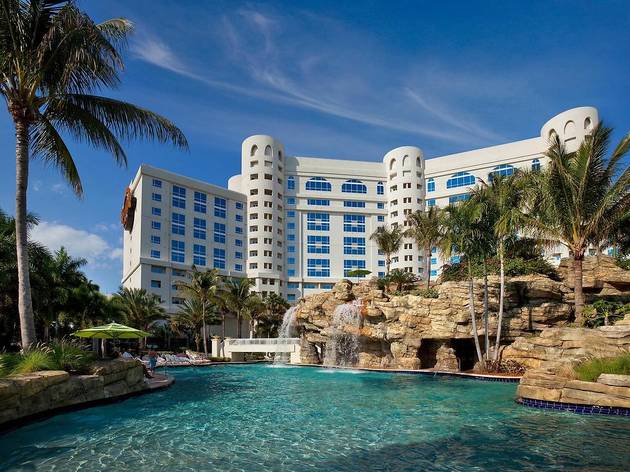 Booking.com
10. The Seminole Hard Rock Hotel
The 4-star Seminole Hard Rock Hotel and Casino Tampa offers upscale accommodation that conveniently keeps guests close to the gaming tables and entertainment. Relaxing modern rooms with pieces from the Hard Rock's music artwork collection are equipped with large windows and amenities, and upgrades include living rooms and Bose speakers. At over 190,000 square feet, the casino is one of the largest in the US. Note that at time of writing the pool area was being renovated, so we'd suggest you check progress on that work before booking. Parking is complimentary for hotel guests.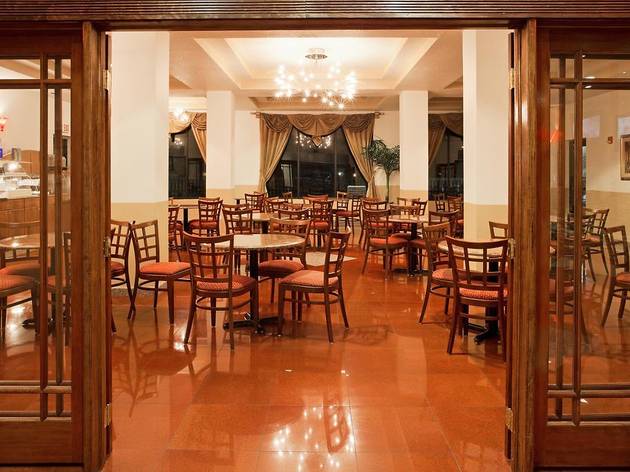 Booking.com
There's really one reason to stay at Tampa Stadium Hotel; to be close to the game – there's hardly a closer place to stay to Raymond James Stadium and Steinbrenner Field. Situated just down the street from the sports arenas, and five miles from the airport, this 2-star Tampa Stadium Hotel offers little pizazz, but the 147 rooms feature fridges and microwaves, are comfortable, clean, cheap and near the action, and there's a good-sized pool and fitness center. Airport shuttle, breakfast, and parking are included, though there's also a complimentary shuttle, which operates within a three-mile radius.