Heads up! We're working hard to be accurate – but these are unusual times, so please always check before heading out.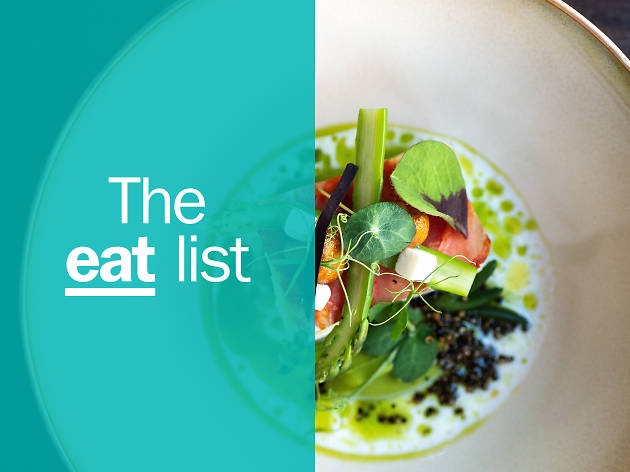 The 15 best restaurants in Tampa
Foodies, unite! The best restaurants in Tampa are here to deliver food so delicious, it will knock you off your feet
To appreciate Tampa's current culinary scene, you first have to look to the past. What began as a balmy outpost in the early 1800s grew into a bustling immigrant town by the 20th century and soon earned the nickname "Cigar Capital of the World." Legend has is that, around this same time, some inspired genius stuffed ham, roast pork and Swiss cheese between a loaf of white bread to serve the city's cigar factory workers. The modern Cuban sandwich was born.

Tampa could have been content with its chapter in the culinary history books as creator of the best thing ever pressed between sliced bread but, instead, the city's food (and beer!) scene continued to grow. Today, the gastronomical options are plentiful yet unpretentious—that is, you can grab a great meal just about anywhere without breaking the bank, whether looking for a late-night snack or a quick to-go bite while checking out the best things to do all around town. So, strap on your bibs and leave your hotel room: it's time to eat at the best restaurants in Tampa.
Best restaurants in Tampa
Photograph: Courtesy Yelp/Nichole K.
1. Edison: Food + Drink Lab
Edison is one of Tampa's most decorated restaurants—and for good reason. Every dish on the ever-changing menu is amazing. From the foie gras caramel apple to sesame honey-glazed cobia, each bite performs like a mini circus in your mouth. And, despite the accolades, Edison isn't a "pinky up" kind of place. It's beauty manifests as an effortless blend of fine dining in an informal setting.
Photograph: Courtesy Yelp/Lindsay C.
2. Ella's Americana Folk Art Cafe
Ella's is a friendship we don't deserve. It's the kind of place grandma would've opened if she'd befriended the devil on his way down to Georgia, convinced him to continue on to Tampa and help her in the kitchen. Scrap metal statues populate the patio and local bands sometimes take the stage inside. Soul Food Sundays serves the city's best brunch. Order the fried catfish or chicken and waffles with a side of collard greens and cornbread.
Photograph: Courtesy Yelp/Sam Q.
3. West Tampa Sandwich Shop
In the debate over Tampa's best Cuban, the West Tampa Sandwich shop is a constant contender, earning the top spot on many local lists. With walls plastered in old photos, tables and chairs scattered about, the daytime-only cafe's unpretentious decor speaks to its focus on food. When President Obama visited in 2012, he ordered the tripleta (a pork, steak and ham sandwich) and the restaurant's speciality, a honey-glazed Cuban. Can't go wrong there.
Photograph: Courtesy Yelp/Tashfia N.
Bern's Steak House is a Tampa institution, where families, friends and yo-pros go to dine in style. Serving thick steaks and a selection of over 6,800 wines, the windowless building stands like a monolith just blocks from the bay. Make reservations for a celebratory evening. For a less expensive experience, show up shortly after 5pm and sit at the bar—order the sliced steak sandwich, French onion soup and your favorite red.
Photograph: Courtesy Yelp/Rasoi Indian Cuisine
While many Indian restaurants have castrated their curries of all complexity to suit western palates, Rasoi has stayed refreshingly authentic, both in terms of food and decor. Order off the menu for a wide range of curries, naans and tandooris, or bring your appetite to the daily lunch buffet for an endless plate of korma, tikka masala, bhaji and dahl.
Photograph: Courtesy Yelp/
Owned and operated by a community-minded husband-and-wife team, Pane Rustica is the kind of restaurant every neighborhood needs. Breakfast to dinner, the intimate space serves its loyal clientele from an unassuming spot in the middle of a strip mall. The food is straightforward and delicious. Try the day's frittata for breakfast, tuna salad sandwich for lunch and chicken salad-stuffed acorn squash for dinner. Wash it down with wine, of course.
Photograph: Courtesy Yelp/
As Tampa's favorite farm-to-fork restaurant, The Refinery has had a lot to live up to since its 2012 James Beard nomination. Throughout the years, it has remained a must for fans of the slow food movement. In 2018, The Refinery moved down the street into a warehouse-style venue with tall ceilings and an open floor plan, which can sometimes feel agoraphobic, but the rotating, home-cooked menu is sure to keep you comfortable.
Photograph: Courtesy Yelp/
8. Wright's Gourmet House
After fifty-five years, Wright's remains in the family and offers Tampa's most cosmopolitan-sounding sandwiches and salads. Though the hermetically white, lunch room vibe may speak ordinary, the food is anything but. Order a signature sandwich, like the Golden Gate (with roast pork, dill pickles and homemade peach chutney on pumpernickel) or the grilled Paris (with turkey, brie and sliced apples on buttercrust white). Arrive on either side of lunchtime to avoid the line.
Photograph: Courtesy Yelp/
Serving authentic and affordable Vietnamese cuisine, this nondescript deli is a case in point for why you shouldn't judge a restaurant by its blemishes. Yes, your elbows might stick to the table. No, the floor isn't squeaky clean. But the moment you bite into the grilled pork banh mi, you'll forgive any hygienic transgressions. Order pork pho if you're a purist. Try the notoriously spicy soup, bun bo hue, if you're feeling bold.
Photograph: Courtesy Yelp/
Bianchi's does things the European way: Hand-selected wines, delicate portions, attentive service in an intimate and unpretentious setting. They serve simple dishes done right. The omelette is ungodly, arguably the best in town, and the shockingly simple Bibb salad with shaved fennel and roasted vegetables might make you give up meat forever.
Photograph: Courtesy Yelp/
It's a cardinal sin to visit Tampa without a night out in Ybor City, if not for the debauchery than for Due Amici's. This busy pizza joint serves the city's best slices. Full stop. And the staff is amazingly friendly despite the oft-intoxicated clientele. Pizza options range from traditional to heretical, pepperoni and mushroom to BBQ chicken. With dollops of fresh ricotta and herbs, the white pizza will convert even the most stubborn cynics.
Photograph: Courtesy Yelp/
Big Ray's Fish Camp serves creative takes on seafood favorites from a small shack that looks like it might get swept away in the next hurricane. Luckily, although the place gets busy, there's plenty of seating outside. The specialty here is the grouper Reuben on rye, packed with coleslaw, thousand island dressing and Swiss cheese. Feeling self-indulgent? Order the blackened shrimp on a bed of yucca and a lobster corn dog.
Photograph: Courtesy Yelp/
Billed as an "upscale grab and go," Petit Piquant is a French-style bakery serving breakfast, lunch and some of Tampa's best pastries. The open format means you get to watch the magic in action, tune in to the music piped through the speakers and imagine yourself strolling down the Champs-Elysées. Arrive early to get fresh cookies and croissants or after 2pm to pig out on the buy-one-get-one-free pastry special.
Photograph: Courtesy Yelp/
No city is complete without a good sushi restaurant. With rolls as vibrant to the tongue as they are to the eye, Soho Sushi has established itself as the spot for local raw fish lovers and out-of-towners in the know. The menu offers classics and new creations, like the Green Menace (scallops and tempura chips wrapped in avocado) and the Candy Cane (spicy crunchy tuna topped with red and white tuna).
Photograph: Courtesy Yelp/
Byblos has long been a local favorite for Lebanese cuisine but recent renovations have seen its furnishings mature, prices rise and menu take on a more generally Mediterranean influence. Classics like falafel, hummus and kebab still take centerstage but dishes like compressed watermelon salad and striped bass certainly hold their own. If you're in a group, order a few dishes from the mezeh menu, which come with a healthy plate of pita, and dig in together.
Discover Time Out Market: the best of the city under one roof
More of the best in Tampa
Here is what tourists and locals love to do while in Tampa. Are you ready to rock?