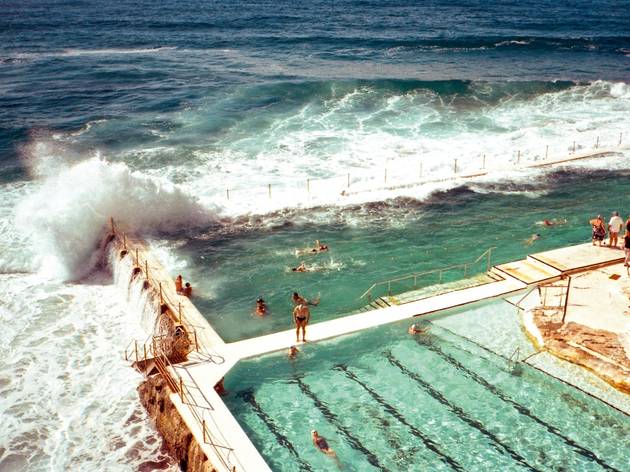 7 of the world's most spectacular outdoor swimming pools
Dive into our rundown of the best outdoor swimming spots worldwide, from architectural marvels to heritage beauties
Few sensations beat plunging into a massive outdoor pool, the sky looming big and bright and blue above. Even if you're bang in the middle of the city, even if you're surrounded by dozens of other swimmers, you can't help but feel like you've found a place of peace: a calming and energising escape from the frenetic outside world.
And as a big ol' splashy bonus, it helps that public pools and lidos can also be really damn beautiful. This means that not only do you get the thrill of that first plunge – you also get the constant excitement of looking up and being totally bowled over by your surroundings.
Looking to branch out and do your laps somewhere new? You could do much worse than hit up one of the many beautiful pools that feature in 'Lido: A Dip into Outdoor Swimming Pools'. This new book by author Christopher Beanland is both a history of pool architecture and a travel guide for super-keen swimmers, filled with top destinations from Slovakia to Hong Kong via Sydney.
So, where should be top of your bucket(-of-water) list? To help you out, we asked Beanland to pick out seven pools and lidos that are genuinely worth crossing international borders for – from manmade lidos done out properly palatially to icy natural pools overlooked by snow-capped mountains. Go ahead and dive in.
The world's most spectacular outdoor swimming pools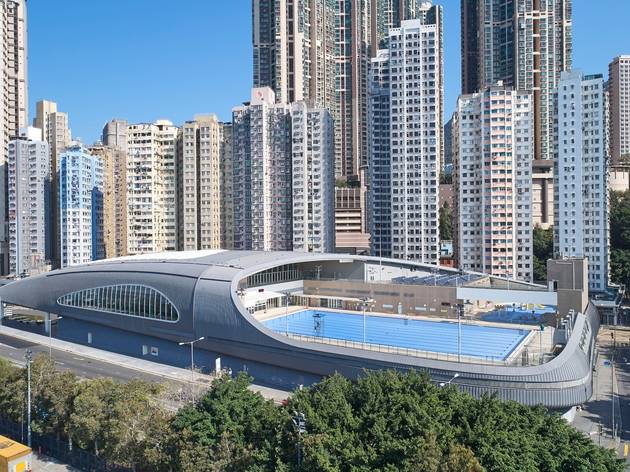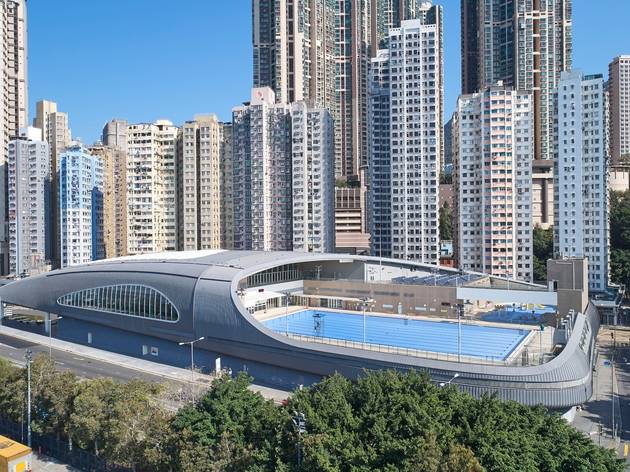 Photograph: Marcel Lam / Farrells
Kennedy Town Swimming Pool, Hong Kong
'Swimming among the skyscrapers is an elevating (literally) experience at Hong Kong's most spectacular public pool. Having ascended the long escalators of this Terry Farrell-designed structure, swimmers will find a full-size rooftop pool loomed over by dozens of high-rises, with panoramic views up the hills and over the harbour.'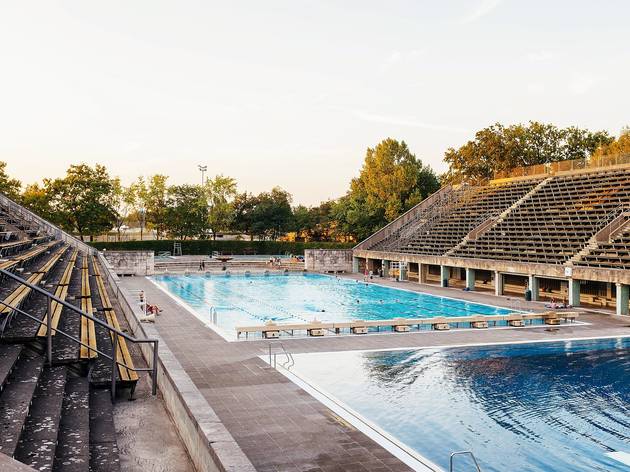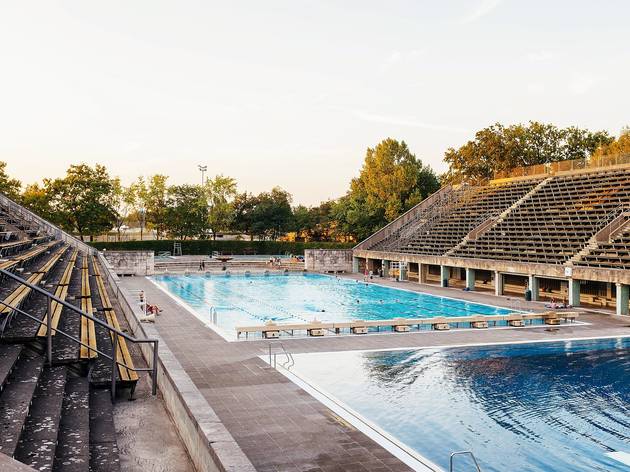 Photograph: Alexander Rentsch
Olympiapark Schwimmstadion, Berlin
'Berlin's Schwimmstadion, the work of Werner March, is as overblown and frankly terrifying as the Olympiastadion it abuts. Coated in limestone, it forms the northern axis of the sprawing Olympic site and boasts breathtaking ceramic reliefs by Max Laeuger.'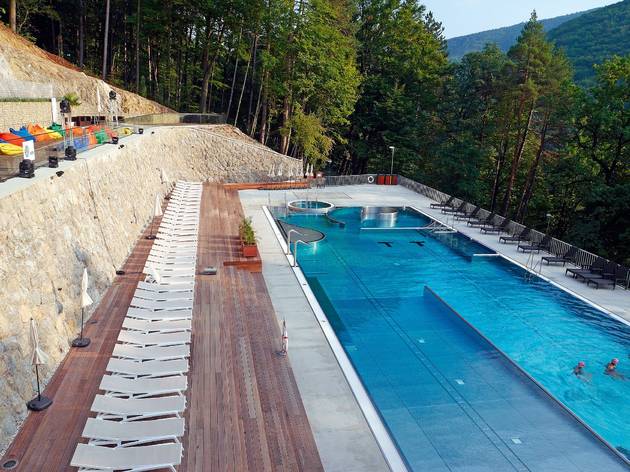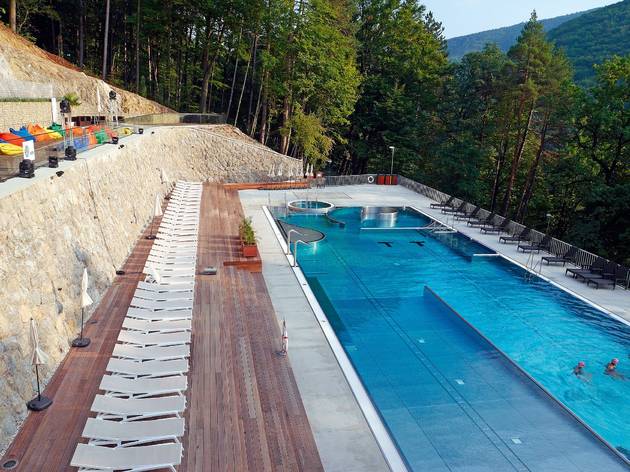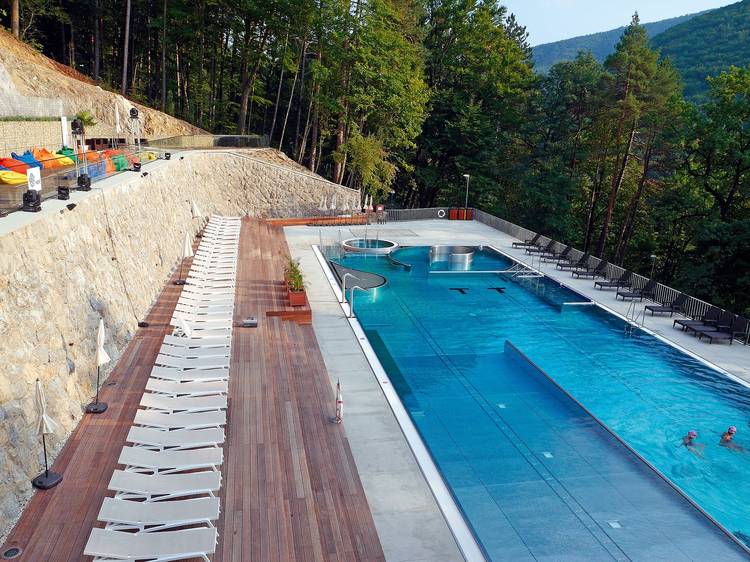 Photograph: Pixabay
'Czech architect Bohuslav Fuchs was a little known but important force in the functionalist movement that brought a freshness and robustness to modernism in the 1930s. He worked on a number of swimming pools, including the Zábrdovice baths in his adopted home city of Brno and the famed Zelená Žaba complex in the hills to the east of Tren in what is – since the Velvet Divorce – Slovakia.'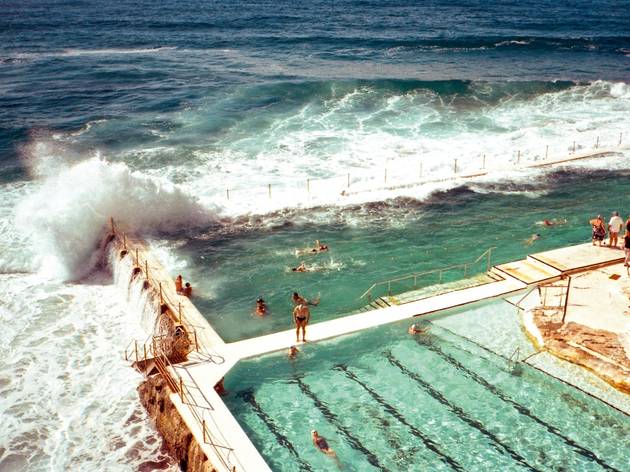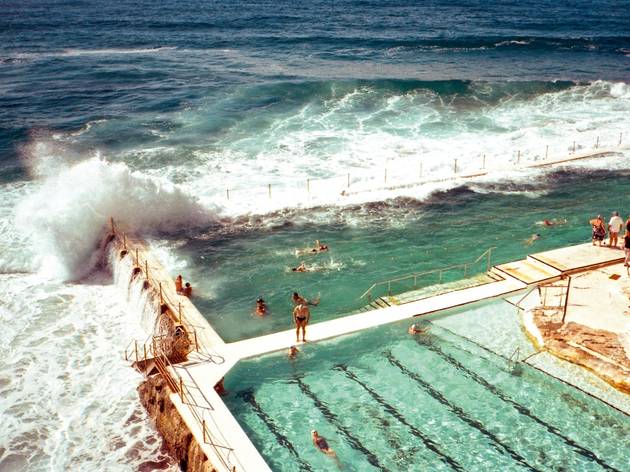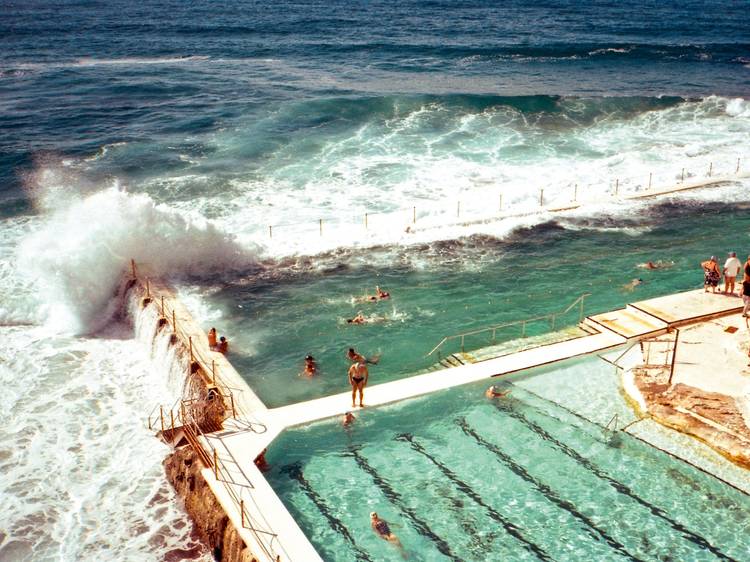 Photograph: Marcel Lam / Farrells
'Star of a million Instagram photos, Bondi Icebergs pokes tantalisingly out into the Tasman Sea. When the frothy surf smashes over the pool walls, the visual effect is particularly striking. It's no wonder so many backpackers find themselves in Bondi, a suburb of Sydney, during their first few days Down Under.'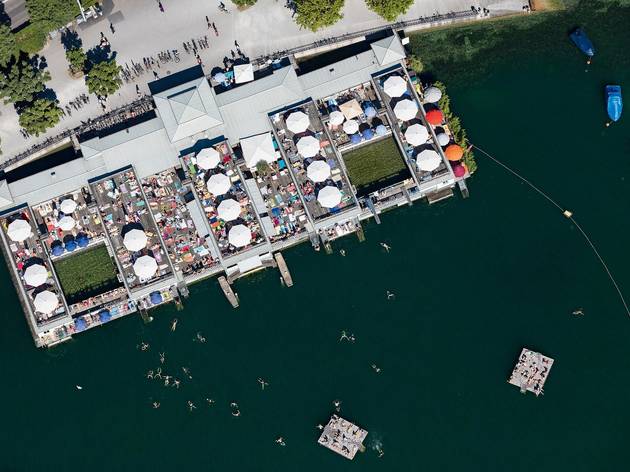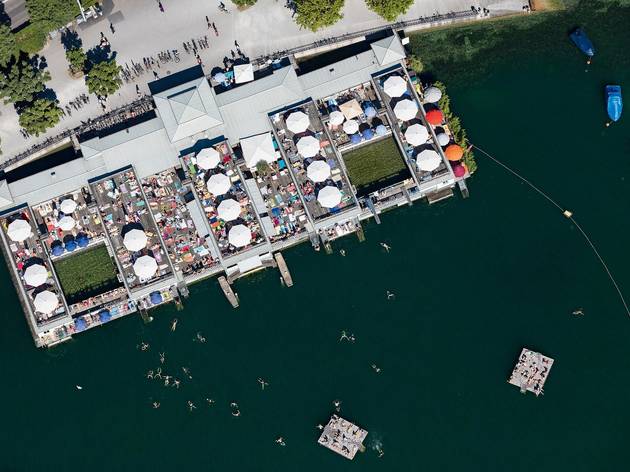 Photograph: Alessandro Della Bella
'Zurich's lake baths fulfil the typically Swiss need for something that feels as close to a beach and as close to the sea as you'll get in a landlocked country. Utoquai is a charming affair – historic bathing buildings clustered hard against the water's edge and plenty of swimmers taking a dip just five minutes from the centre of Switzerland's largest city.'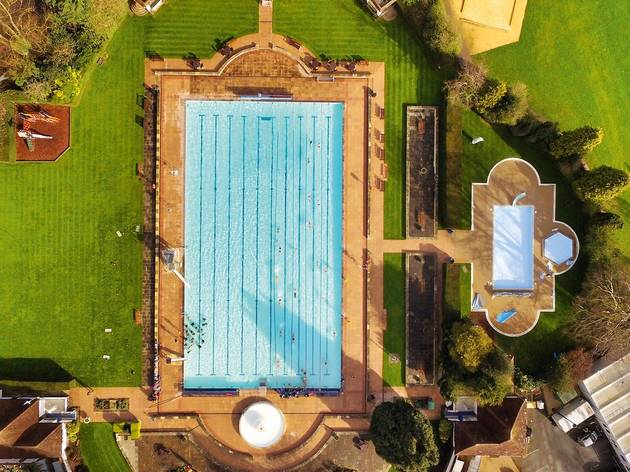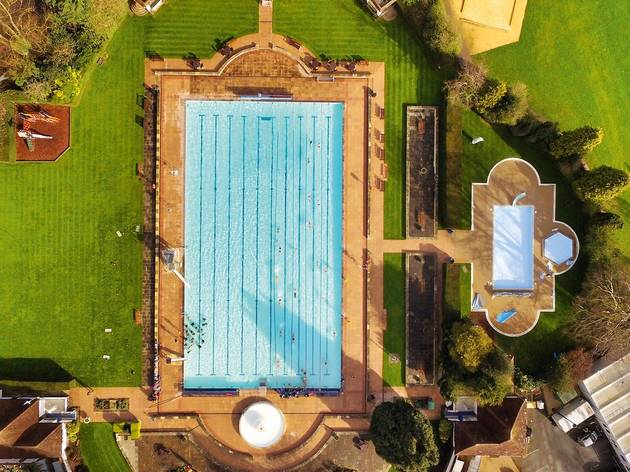 Photograph: Sandford Parks Lido / Callum Drummond
'The pride of the spa town of Cheltenham, Sandford Parks Lido fills up every day through spring and summer (it's only open seasonally). It's spacious, with long lawns, benches and picnicking places aplenty. The 50-metre main pool is joined by a kids' pool and art deco buildings that date back to the 1930s.'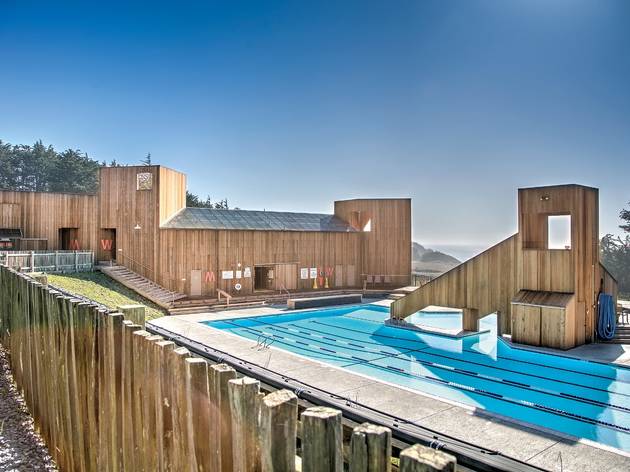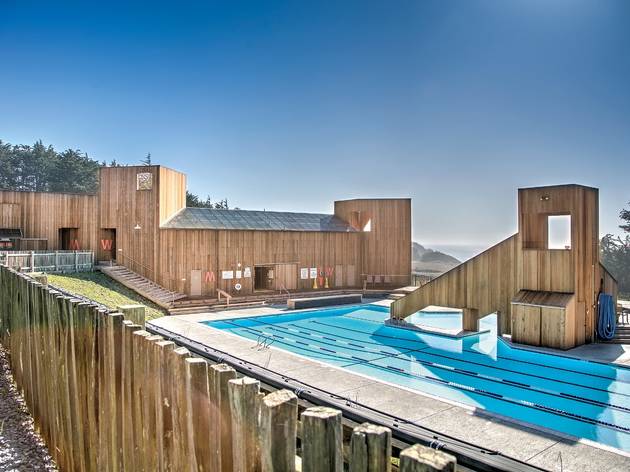 Photograph: Bill Oxford
Ohlson Recreation Center, California
'The Ohlson Recreation Center's wooden buildings and bold shapes feel distinctly modern but also somehow in keeping with the surrounding landscapes. The pool by Moore Lyndon Turnbull Whitaker has an almost brutalist aesthetic and the whole ensemble was cleverly designed to maximise shelter from the Pacific winds.'
'Lido: A Dip into Outdoor Swimming Pools' is published by Batsford.
More ace outdoor swimming tips
Dotted along coastlines from Australia to Mexico, these open-air tidal pools bring serious style to sea swimming.
Best selling Time Out Offers