Interview: Kikunosuke Onoe
The unexpected similarities between epic Indian poems and Japanese kabuki theater as told by Kikunosuke Onoe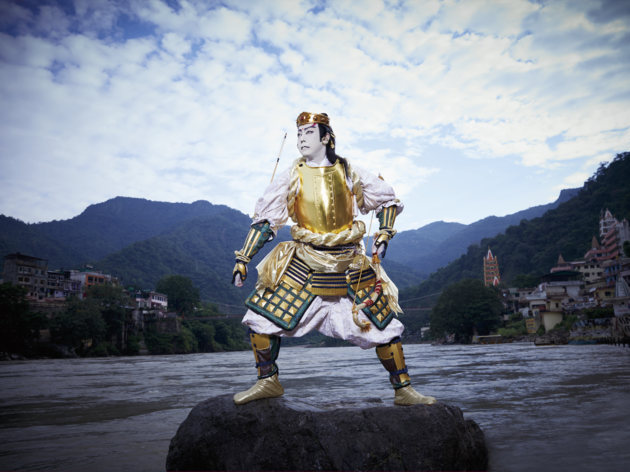 By Ayako Takahashi
This year marks 60 years since a cultural agreement between India and Japan took force, and to celebrate, the Mahabharata – the ancient epic Indian poem – is being reimagined as… a kabuki play.
Titled A Complete Indian Tale – The War Chronicles of the Mahabharata, it's being performed from October 1 to 25 at the Kabukiza in Tokyo (daytime performances only).
The script was written by playwright Go Aoki, while the entire fanfare was directed by renowned theatre director Satoshi Miyagi. Yet the real man behind it all is Kikunosuke Onoe, who was responsible for turning this epic into kabuki in the first place. We sat down with Onoe to talk about his vision for this play and what he sees for the future.
First off, why did you decide to turn the Mahabharata into a kabuki play?
In 2014, Satoshi Miyagi's theatre group SPAC (Shizuoka Performing Arts Center) performed Mahabharata – King Nala's Adventure at the annual Festival d'Avignon in France. I got to witness it at Kanagawa Arts Theater, and thoroughly enjoyed this story of gods and men and how King Nala got lost in the forest, eventually meeting Queen Damayanti once more and committing to her for all eternity. Plus, him ending up wandering the forest was because he lost a bet – I quite liked that reason [laughs].
The tradition of keeping things interesting through a mixture of seriousness and absurdity, combined with the tale of a noble exiled (the hero matures as he lives as a vagrant) can be translated well into a kabuki medium. So I spoke to Miyagi and wondered if we couldn't turn this story into a kabuki play.
SPAC's set is like a sea of white cut-outs. What does your stage look like?
I came up with the set thinking about how Japanese people during the Nara period would perceive Mahabharata. Because I could adapt each Mahabharata character to kabuki characters quite well, the set we've created just naturally slipped into a kabuki-like world as well. While there are scenes with gidayu*, there are also scenes depicting common people's struggles, dance scenes, and somewhat funny scenes to elicit a chuckle.
We've made this play using skills accumulated through our experience in kabuki and intend to leave it in the kabuki repertoire. In the costume department, we have a kimono made with materials that I think Japanese audiences will consider very Indian, and some characters even have costumes with Sanskrit on them.
The art pieces featured in this play are byobu-e (painted folding screens) rather than traditional kakiwari sets – that's another place where we managed to add a taste of India and blended it with a kabuki stage setting.
* A musical style in kabuki which features a prominent character talking, accompanied by music from the shamisen performed on stage. This style was originally founded by Gidayu Takemoto in Japanese puppet theatre (bunraku) and was established as 'gidayu drama', which then made its way into kabuki and became known as 'Gidayu' or 'Takemoto'.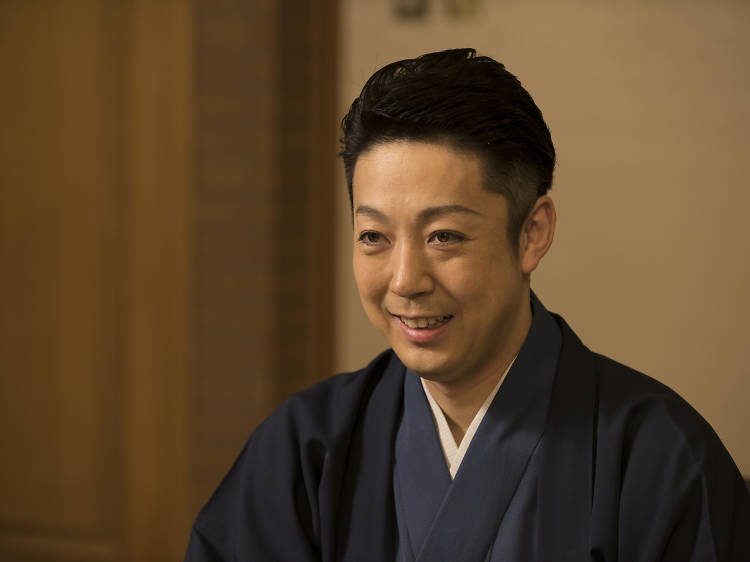 Are the folding screens supposed to represent the Mahabharata world, which is almost like a very long picture scroll?
Exactly. The beginning of the story takes place in a building reminiscent of a temple hall, and it's meant to give the impression that a lecture on the meaning of the picture presented is about to start. It's not only an enormous folding screen at 18 shaku in size (almost 5.5 metres) and beautifully painted, but the folding screen can also be turned around and made into a hexagonal shape.
The Mahabharata contains many different episodes, but I've heard that you're going to concentrate on the story of the character Karna?
Mahabharata contains a lot of war stories, but the play that SPAC performed was the story of King Nala, which isn't such a tale. For this play, we're going to use kabuki techniques for depicting war and enact the story between the houses of Pandava and Kaurava.
The story is going to start from when the gods decide to end the world of man, as all they do is go to war with each other. Karna, who had been set afloat down the River Ganges by his mother Princess Kunti when he was a baby, is told by his father, Surya the Sun God, that he was born to stop the war between the Pandava and Kaurava, and pushes on to fulfill this purpose.
Karna's way of life, which is accompanied by self-sacrifice, and overlaps with the sacrificial actions of Naozane Kumagai from the act 'Kumagai Jinya', a traditional Edo play in which the hero never reveals anything to the opposing sides.
I heard that you went to New Delhi, Old Delhi, Haridwar and Rishikesh in India in August to research the play.
Especially since Mahabharata features gods, I was dubious about whether I would be able to make that compelling on stage. But after I actually went to India and saw everyone praying with such zeal in temples and in the Ganges, I really felt that people are actually quite connected to God through nature.
'The Greeks' [a co-production with Yukio Ninagawa in 2000] really pushed the gods theme too. Before the play, I went to Greece with Ninagawa, and vividly remember how I stood in the ancient theatre and said the words of my character Orestes to the blue sky. When you go to the place where the play was set and feel the atmosphere with your own body, your intuition changes, so I try to go to the real life locations as much as possible.
The War Chronicles of the Mahabharata is the first new kabuki play that you've taken the initiative and made since 2005's 'Ninagawa Twelfth Night', which you also made with Ninagawa, isn't it?
Twelve years ago, Ninagawa and my father were very influential and showed great leadership. I just had to concentrate on my own role, but I had to grow from who I was back then.
Miyagi sometimes asks me 'What would kabuki do in this situation?' or 'Isn't this strange for kabuki?' I think that I've gotten better at answering those questions since then, so I like to exchange opinions equally with contemporary drama actors and kabuki actors and want to make the most out of the best of both worlds.
It looks like Miyagi really wanted to focus on the gidayu this time. Don't you think a lot of the kabuki audience will have a hard time really understanding the gidayu talk...?
The side story of the Mahabharata, the Bhagavad Gita, is very philosophical, and I think the parts that are hard to explain are easier to convey to the audience in gidayu form rather than normal scripted lines. I suppose it can be hard to catch the words in gidayu in one go, but once people get used to hearing them, it's part of the attraction that the words start to form naturally.
Plus, the playwright, Go Aoki, simplified the phrasing a bit, so it should be easier to understand than your average gidayu. I'd really love for people who don't even usually go to see kabuki to come along and enjoy our show.