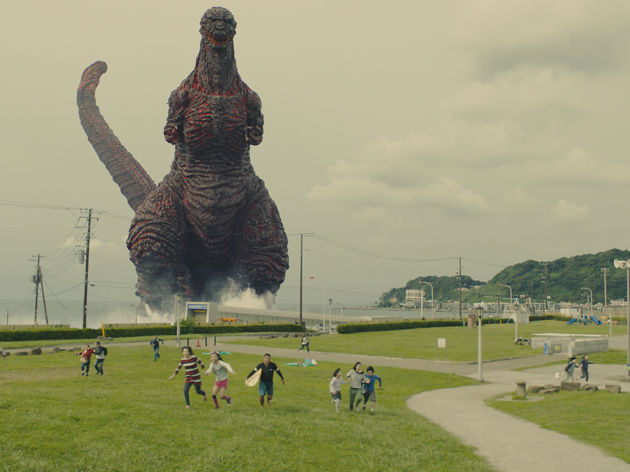 Visit Godzilla's stomping grounds
Retrace the Big G's giant steps through Tokyo with Matt Schley
Godzilla's back. Toho – the studio behind 28 Godzilla flicks to date – are reviving the Big G, with this summer's Godzilla Resurgence, helmed by Hideaki Anno (Neon Genesis Evangelion) and Shinji Higuchi (Attack on Titan). To celebrate the return of our favourite movie monster, we've put together a list of Tokyo spots where Godzilla has left his mark over the years.
Stomped in: Godzilla: Tokyo S.O.S. (2003), Godzilla: Final Wars (2004). Weirdly enough, it took Godzilla until 2003 to do any serious damage to this iconic Eiffel Tower-aping mast, although it's endured plenty of abuse over the years from fellow kaiju Mothra and Gamera. Completed in 1958, Tokyo Tower may have been dwarfed in size by the new Tokyo Skytree, but its prime location and reasonable entrance fee mean it is still worth a visit – so long as there are no giant monsters in town.
NATIONAL DIET BUILDING
Stomped in: Godzilla (1954), King Kong vs. Godzilla (1962), Godzilla vs. Mothra (1992), Godzilla: Tokyo S.O.S. (2003). Godzilla has not been kind to the home of Japan's bicameral legislature, destroying it multiple times over the course of his cinematic career, including in his very first appearance. In real life the building, completed in 1936, has proved much more resilient, surviving the firebombings of World War II and a freak lightning strike in 2003. Several parts of the building are open to the public, including the emperor's richly adorned resting room.
Stomped in: Godzilla vs. Mothra (1992). This Ferris wheel, at one time the world's largest, was part of the epic conclusion of 1992's Godzilla vs. Mothra. Cosmo Clock 21 is the centrepiece of Yokohama's amusement park Cosmoworld, located in Minato Mirai. The Ferris wheel, from which you can see Tokyo Bay and, on a good day, even Mt Fuji, takes 15 minutes to complete one loop. That's 30 seconds per Godzilla film.
Stomped in: Godzilla (1954). One of Godzilla's earliest targets, the Wako building is a longstanding symbol of Tokyo's upscale shopping area Ginza. Erected in 1932 and topped by an iconic clock tower, it was toppled by the overgrown newt on his debut (no respect for history, that guy...). Wako is now peak Ginza, selling high-end watches, jewellery, home décor, and all that fancy stuff that screams 'Ginza'. Let's hope they took out atomic lizard insurance.
GODZILLA STATUES
You don't serve as Japan's most famous monster for over 60 years without getting a few statues built in your honour. The largest (and most recent) of these tributes is also the easiest to find – just enter Kabukicho, Shinjuku's nighttime playground, and look up. A giant statue of Godzilla's head looms over the 'hood from the top of the new Toho Cinemas/Hotel Gracery complex, which even has one room decked out in Godzilla merch.
Another Toho Cinema on the other side of town in Ginza hosts a much more modest statue of the lizard himself. About four feet tall, this Small G stands protecting the square in front of the cinema. Finally, hardcore fans willing to go a bit off the beaten tourist track should check out the giant Godzilla mural and two-metre bronze statue at Toho Studios in Setagaya. Just be aware it's about a ten-minute walk from the nearest station (or, in Godzilla terms, about three steps).
'Godzilla Resurgence' opens July 29.
'Godzilla Resurgence' ©2016 TOHO CO., LTD.
See more Tokyo movie locales
Follow Cal Widdall on a route around the city that visits top locales on film