Best things to eat and do at Trunk Hotel in Shibuya
Shibuya's Trunk Hotel has much to offer for the discerning traveller, from luxurious rooms and lively bars and restaurants to a gallery-like interior replete with modern art
Time Out in association with Trunk Hotel
With its central location in Shibuya, Trunk Hotel is more than just a place to sleep. Aside from the stylish rooms, the hotel also hosts a lively lobby lounge, two restaurants with interesting local-inspired dining concepts, as well as an outdoor terrace to relax and take in its cool surroundings. Despite its central location, it's tucked away from the hustle and bustle of the city, just off Shibuya's shopping mecca that is Cat Street – it's the perfect hideaway to relax and recharge but still close enough to the action. Even if you're not staying here, put this on your itinerary: come here, eat, drink and be merry.
Hang out at Trunk Hotel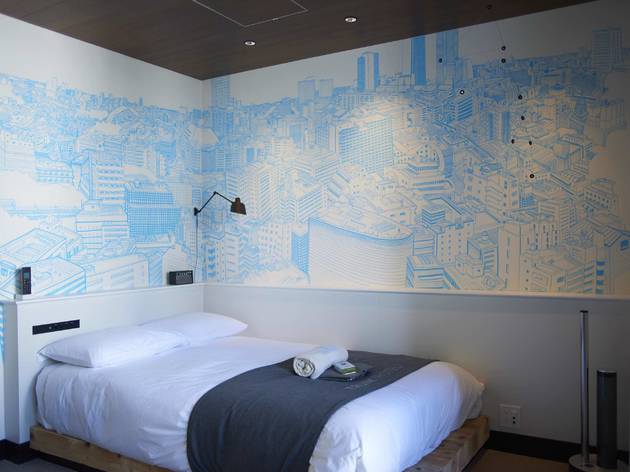 Explore Trunk Hotel's art collection
Trunk Hotel has an impressive collection of art that ranges from modern works to historical designs. In fact, the entire hotel feels like a well-curated gallery, with art pieces by international as well as local up-and-coming artists featured in the guestrooms as well as public spaces such as the lobby lounge and the restrooms. You'll even find artwork by handicapped artists brought in by Japanese galleries Shobu Gakuen and Yamanami Kobo. There are also wall paintings by Michinori Maru in the stylish guest rooms, and you can even browse a variety of art photo books specially curated by Atsushi Hamanaka, the president of Twelve Books in Tokyo. At Trunk Hotel, art even comes in the form of botanical installations specially created by Yukari Iki from Shibuya's flower atelier, The Little Shop of Flowers.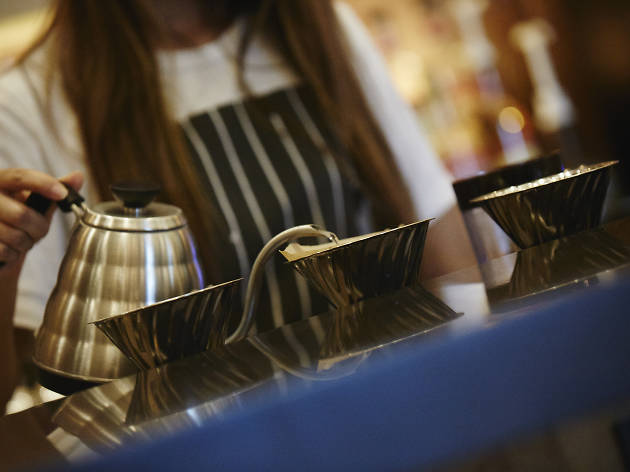 Enjoy made-in-Tokyo food and drink
It's easy to be a locavore at Trunk Hotel as the food and drink offerings here feature ingredients sourced locally from Shibuya and surrounds, whether it's the coffee, beer or fresh-off-the-oven baked goods. The coffee at Trunk Lounge is sourced from Shibuya's Rosto Japan where they roast a special blend just for Trunk Hotel. Need a snack to go? The pastries offered at Trunk Store are made at Marufuku, a bakery in Shibuya which supports the employment of those with mental and physical disabilities. Come evening, you should try out Trunk Hotel's original beer created by Tokyo's very own Ishikawa Brewery, which has been in business since 1863. If you're a foodie, you'll enjoy the local flavours here at Trunk Hotel.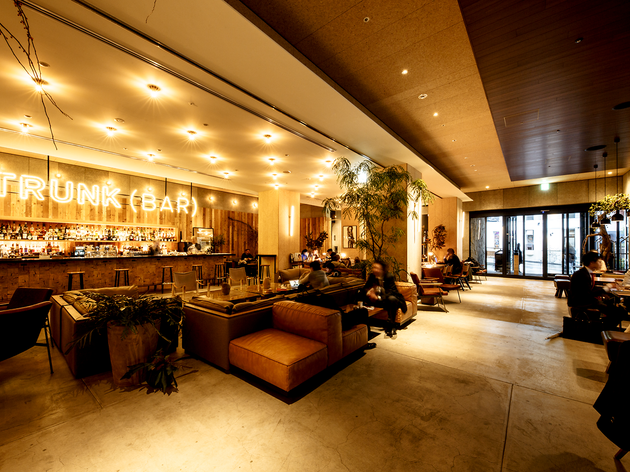 Hang out at the cool lobby lounge
Whenever you're in Shibuya, stop by Trunk Hotel for a drink at the lively Trunk Lounge, which sits at the heart of the hotel. Whether you're looking for a spacious place to relax or a new spot for post-work drinks, Trunk Lounge has everything you need for a great evening. Be sure to order one of the bar's original cocktails, which are inspired by its locale, ie the surrounding Shibuya neighbourhood. The lobby lounge also hosts frequent events that are perfect for mingling, and they are open to hotel guests and the public. Check Trunk Hotel's website for the latest updates and events information.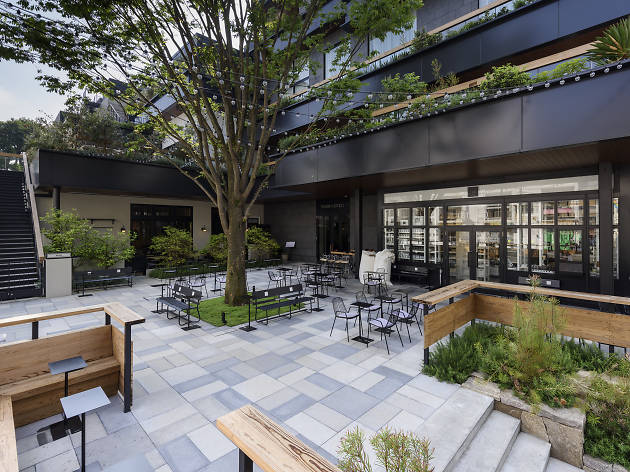 Masahide Iida
Relax on the outdoor terrace
As Tokyo slowly transitions into spring, there's no better place to take in the fresh air than at the alfresco terrace of Trunk Hotel. Centred around a large zelkova tree, the terrace boasts comfortable seating where you can enjoy food and drink bought at the hotel's convenience store nearby. The space is even prettier after dark when it's all lit up with twinkling lights. The terrace also leads right into Trunk Kitchen, so you can enjoy the peaceful view even when you're dining indoor at the restaurant.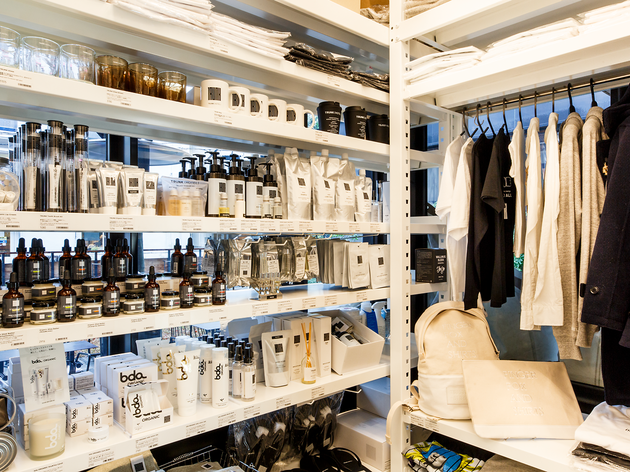 Shop for gifts at the hotel's convenience store
Not your average convenience store, Trunk Store (located just outside the main lobby) stocks a unique range of food and beverage options as well as special Tokyo-inspired gifts and souvenirs you won't find anywhere else. If you want to recreate the experience of a Trunk Hotel room back home, you can purchase some of the guestroom amenities here: hair and skincare products by Caring Japan, eco-friendly Trunk glass cups made from reused and recycled fluorescent lamps, and more. As for gifts, we recommend the 'Sensu' Japanese fan made from recycled paper cranes from Hiroshima's Peace Memorial Park, and also the traditional Japanese tenugui hand towel made in collaboration with the lifestyle store Kamawanu in Daikanyama.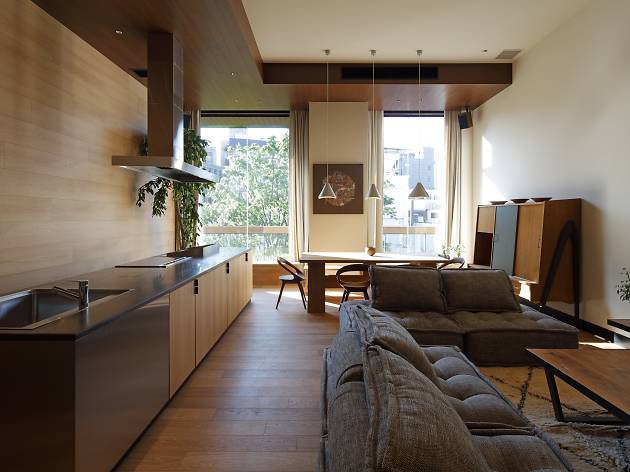 Stay in one of their spacious rooms
Looking for a party space or a cool weekend getaway? Trunk Hotel has got you covered. Your home away from home, Trunk Hotel offers a range of rooms to suit your needs; there are comfortable spaces for single travellers as well as luxurious suites fitted with a fully-equipped kitchen and lush outdoor terrace. Some of the guestrooms such as the 'balcony junior suite' can even sleep up to six guests – great for large families who prefer to stay together. Really, you can't beat the stylish accommodations and the central Shibuya location of Trunk Hotel.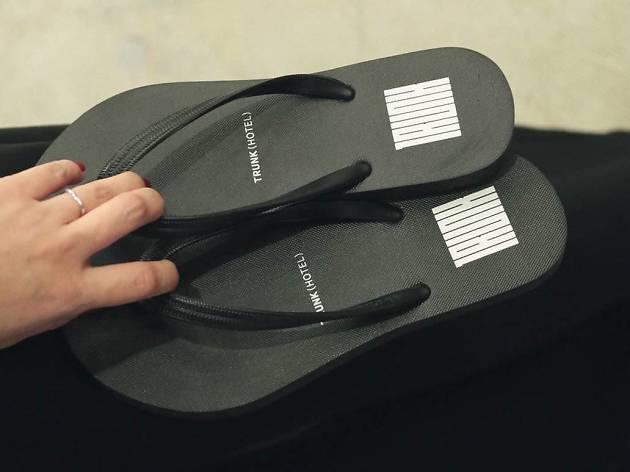 Lead a sustainable lifestyle at Trunk Hotel
Trunk is a eco-conscious hotel, which champions the concept of sustainability in everything they do. The stools at the lobby lounge are made from upcycled wine corks collected from various eateries around the city. The beach sandals in your room are eco-friendly options made from recycled waste materials; they are long-lasting substitute for the ubiquitous disposable slippers and you can reuse them long after you've checked out of the hotel. Everywhere you look there are small environmentally-friendly touches throughout the hotel, such as the recycled leather from an apparel factory in Shibuya that has been reworked into items such as the in-room tissue box covers and jewellery trays. Come here for inspirations on how you can make your lifestyle more sustainable without sacrificing on style and comfort.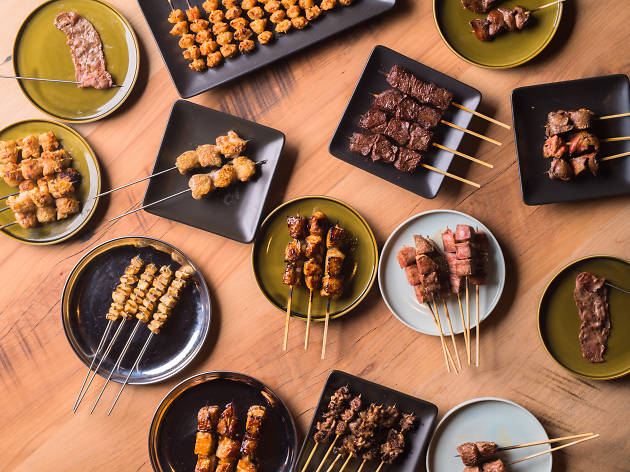 Dine at the hotel's two restaurants
Looking for a good meal? Trunk Hotel has two restaurants, each with its own speciality.Trunk Kitchen is known for their health-conscious dishes, where Japanese and Western preparations fully highlight the best of local ingredients. You can start your day here with a nutritionally balanced breakfast or opt for a sumptuous set dinner to end your day. For a true foodie experience, reserve the special chef's table inside the restaurant, where you can watch the chefs prepare your bespoke meal with seasonal ingredients.
For Japanese flavours, the newly renovated Kushi restaurant now comes with more spacious seating for diners looking to sample local soul food. The menu consists of kushi classics like tsukune meatballs, pork belly, tender cuts of beef, shishito peppers, quail eggs and the likes. There's also a selection of snacks and rice dishes on the menu, accompanied by classic Japanese drinks like highballs, draft beer and sours. Can't decide? Then opt for one of the three set menus where you get to try out an assortment of kushi favourites.