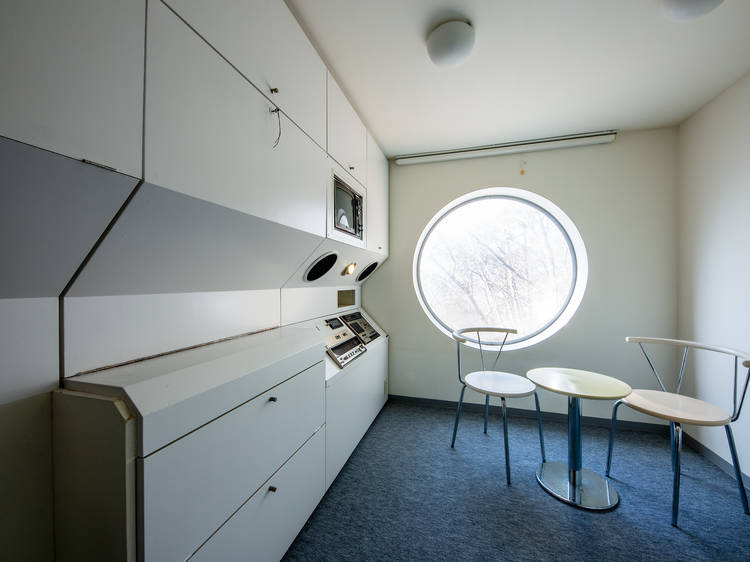 Photo: Keisuke Tanigawa
Echoes of the Nakagin Capsule Tower
There are plenty of similarities between the Nakagin Capsule Tower and Capsule House-K. The basic structure – capsules attached to a vertical reinforced-concrete shaft – is the same, though Capsule House-K's single shaft and four capsules pale in comparison to the double shafts and 140 capsules at Nakagin.
The size of the capsules and how they are attached to the shaft is also identical in both buildings. One of the bedroom capsules in Capsule House-K features the same side cabinet with communications equipment, a foldable desk, and integrated drawers as the Capsule Tower's cubes.
There are differences, too: the exterior of Capsule House-K's components is made of weathering steel, removing the need for fireproof coating with asbestos. The round windows here are spherical rather than flat – a solution Kurokawa had originally hoped to employ on the larger building as well.
Opening the round windows in the bedrooms isn't possible, but there are slit-like vents that allow air to pass through. The kitchen's rectangular window, on the other hand, can be opened.
The main difference between the two buildings is the purpose of the capsules. In the Nakagin Capsule Tower, each cube was designed to be self-contained, equipped with everything the resident would need. In Capsule House-K, the capsules all have distinct functions, and only combined do they constitute a single home.
Capsule House-K's surroundings also influenced its final appearance. The building stands on a relatively steep mountainside ill-suited for regular construction, but as only its shaft needed to be embedded in the ground, there was very little need for foundation work. Just as the Nakagin Capsule Tower was pioneering for urban mini-condos, Capsule House-K pointed the way for a new type of eco-friendly architecture.