Japanese idol
Although Simon Fuller hasn't found his way into the music market over here, the term 'pop idol' has. Meet the latest local sensation, 17-year-old Ayami Muto, who's making her solo debut this spring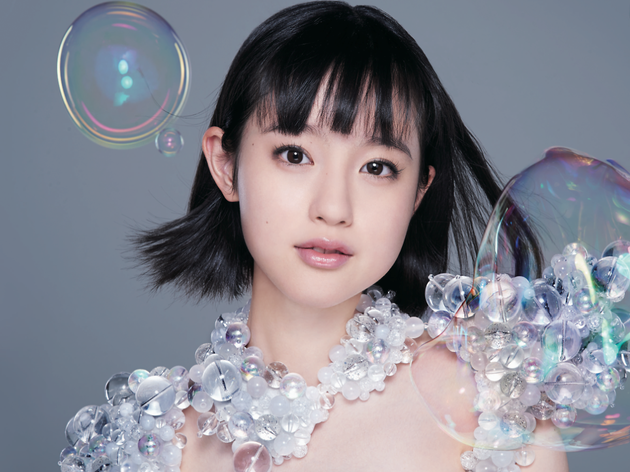 By Jun Igarashi
The Japanese 'idol' scene today mainly conjures up images of pop groups performing choreographed song-and-dance routines. But rewind a few decades – to when idol culture first surfaced in the early '70s and then really peaked in the '80s with performers like Seiko Matsuda becoming national phenomena – and anyone living in Japan at the time will remember that, back then, almost all the stars were solo acts. Now, as Ayami Muto steps up to take her leading spot in the idol category, things have come full circle.
Even though she hasn't hit 18 yet, Muto has been performing for almost a decade now. Growing up in the countryside, surrounded by horses tended to by her father, a former jockey and now a horse trainer, young Muto had no interest in becoming an artist at first. 'I was a simple kid. I didn't even like to have my picture taken, but I decided to do some modelling for a kids' clothing catalogue, just because it was fun. I never dreamed of becoming a singer!'
But after that first modelling stint, she began appearing in TV commercials and shows, and then entered her first idol group, KarenGirl's, at the age of 11. A year later she joined Sakura Gakuin, a combo of teen girls aspiring to become actresses, singers or models. 'It was all about absorbing as many things as we could while we were growing up. We worked hard every day and it was during this time that I learnt to love singing.'
After graduating from junior high school at 15, it was also time for Muto to 'graduate' (the term is often used when an idol leaves a group) from Sakura Gakuin. She has spent the last two years as a solo idol, with the stage all to herself for the first time. Although she admits this has its challenges, like having to quickly improve her singing and dancing skills, she says there are benefits to performing solo: 'Everyone's looking at me! In the past, I was on stage with the team, so the audience's attention was divided. Now I'm the only one they focus on, which makes me happy.'
Muto is lucky enough to have top talent from the music, art direction and fashion industries working ceaselessly to help her realise her full potential. How does she feel about the fact that most of the people she's working with are old enough to be her parents? 'I feel like I need to keep up! For example, I'm impressed with the musicians who show me how they record their music, and I understand how committed they are to their craft. My voice is my instrument, so I have realised that I need to feel as strongly about it as my colleagues do about their instruments. I guess that shows how much I hate losing!'
With her cute features, slight frame and 150cm stature, Muto looks like the stereotypical idol. But what kind of image does she want to project? 'I want to cheer people up. I recognise that people do idolise me, to an extent that goes beyond my singing or dancing , so I can only hope that as both an artist and an idol, I am able to inspire them in some way.' And when she's not on stage? 'I enjoy strolling around by myself, so if given the time, I'd like to travel alone. I often take the train and go to Kamakura, just by myself!' A fitting reply from a solo idol, we think.
Ayami Muto's debut album, 'Eternal and Moment', will be on sale from April 23 2014.