Ready to Rock?
We preview the 20th anniversary edition of Fuji Rock, Japan's boldest and most beautiful summer music fest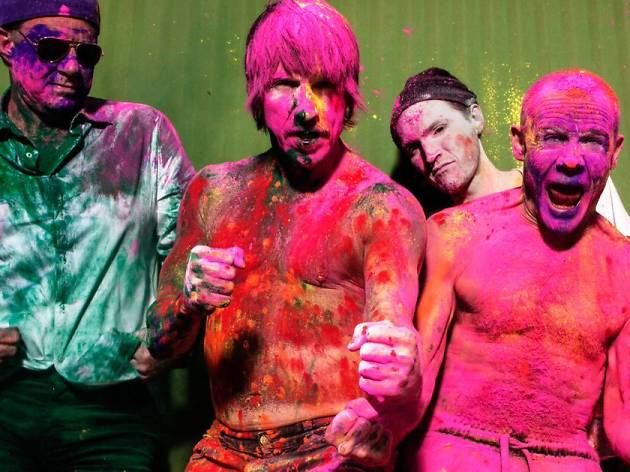 Marking 20 years of action in 2016, Fuji Rock will return to Niigata's Naeba for a birthday party to remember from July 22 to 24. This year's festival welcomes a beefy lineup that includes everything from big-name stadium-fillers to local indie upstarts, making it quite a challenge to decide what's worth catching. Here's how to do the fest right...
Main stages
GREEN STAGE
The sound system at Fuji Rock's centrepiece stage is pretty spectacular. The clear-cut tones will make you believe you're at an actual arena rather than a field, surrounded by mountains and semi-naked festival goers. Headlining this year are Sigur Rós, Beck and the Red Hot Chili Peppers. The Chili Peppers have visited Fuji in the past, hitting the first and tenth editions of the festival, and now return on Saturday night to keep their once-a-decade streak alive. Don't leave the stage right after their gig though, because the excellent Denki Groove will be closing up proceedings with some Japanese synthpop. Wilco, James Blake and Boredoms are other must-sees over the three days.
WHITE STAGE
One of the prettiest stages at any festival in the world, White boasts a spectacular natural backdrop. The on-stage antics should be pretty jaw-dropping too. Disclosure, Squarepusher and Battles headline, but don't miss The Internet, Tortoise and the Japanese triple header of Babymetal, Ego-Wrappin' and Soil & "Pimp" Sessions.
RED MARQUEE
It's the story of two great comebacks in Fuji's big maroon tent – The Album Leaf finally take the stage after they had to cancel their Fuji Rock show back in 2007 and, 16 years on from their era-defining album Since I Left You, The Avalanches return to active duty. Courtney Barnett, Låpsley and Jack Garratt also promise to take the roof off.
Field of Heaven (Photo ©Masanori Naruse)
FIELD OF HEAVEN
Popular among experienced Fuji Rockers is the Field of Heaven stage, featuring funk and jam bands airing the aural equivalent of valium. Legendary artists Lee 'Scratch' Perry and Ernest Ranglin & Friends as well as The New Mastersounds, Kamasi Washington, Leon Bridges and Japanese bands like Rovo and dCprG will all be highpoints, but nothing over the three days should disappoint.
Other stages and attractions
There are a total of 13 stages set up at Fuji Rock and it is the smaller stages – each with its own theme – that make the festival so special. Here are our favourites...
THE ORANGE CAFE
An open mic spot where anyone can get up and perform. Anything from a speech, comedy to musical performance is welcome and you can finally experience what it feels like to be on stage at one of the world's biggest festivals.
DAY DREAMING AND SILENT BREEZE
It's true when people say 'the early bird catches the worm'. Catch the Naeba ropeway early in the morning and visit this stage sitting on top of the mountains, which is only open from morning until early afternoon. The heavenly location overlooks beautiful greenery and features mainly thumping dance tunes.
PYRAMID GARDEN
A more chilled out space where you can join a yoga session in the morning and various workshops throughout the day. The evening is set up with candles for those who want a calm and relaxed night of acoustic tunes.
Café de Paris (Photo ©Tsuyoshi Ikegami)
CAFÉ DE PARIS
At the far end of the park is Café de Paris, a tent stage with a 'Moulin Rouge' vibe. Here you can sip on fancy cocktails and wine while watching burlesque performances. If you're here Friday night, don't miss the 'All Night Fuji' event where DJ Nobu and Orbital's Phil Hartnoll will be spinning records until sunrise.
THE PALACE OF WONDER
The Palace of Wonder, located just outside the main festival area, allows revellers to party 'til dawn while witnessing breathtaking circus performances and illusions.
Read our report from last year
Changes on the music scene present a challenge for Japan's top festival
More to explore