To make your train ride in and around Tokyo smoother, JR East has announced that its smartphone app JR東日本アプリ (JR East Japan App) will be upgraded with real-time information on congestion levels for train lines and stations. While the service may already exist for the Yamanote line and some stations, it will be expanded in mid-July to include major train lines within Tokyo and the capital's outskirts.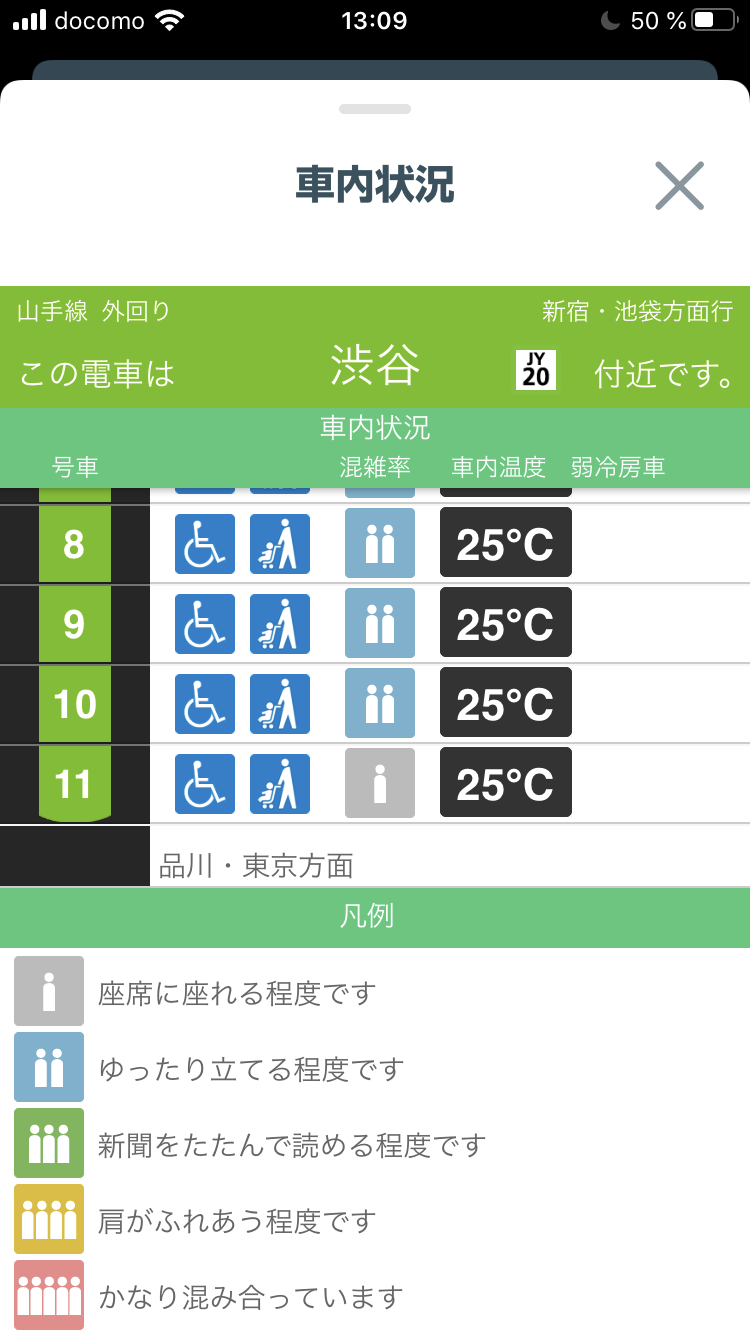 Taken from the JR East Japan App, this screenshot shows the current crowd level of a Yamanote line train, including real-time information for each car. The congestion status is divided into five levels, indicated by colour and the number of figures shown in the icon.
The icon with a single figure means seats are available while the one with two figures suggests that you may have to stand. Be prepared to stand shoulder-to-shoulder if you see the four-figure icon, and given the current coronavirus situation, you might want to avoid trains showing the five-figure icon, i.e. very crowded. This information will be updated every five minutes.
Below, you'll find a list of Tokyo JR lines covered by the service. Even though JR East runs an English-language app called JR-East Train Info, so far the new function has only been announced for the company's Japanese app. As soon as new information is available, we will update this article.
Train lines which will be supported by this new feature:
Tokaido line between Tokyo and Yugawara stations
Yokosuka/Sobukaisoku line between Kurihama and Chiba stations
Shonan-Shinjuku line between Utsunomiya, Shinjuku and Zushi stations, as well as Jimbohara, Shinjuku and Odawara stations
Keihin-Tohoku/Negishi line between Omiya and Ofuna stations
Yokohama/Negishi line between Hachioji, Higashi-Kanagawa and Ofuna stations
Nambu line between Kawasaki and Tachikawa stations
Chuo Main line between Tachikawa and Otsuki stations
Chuo line (rapid) between Tokyo and Takao stations
Chuo-Sobu line between Mitaka and Chiba stations
Ome line between Tachikawa and Ome stations
Itsukaichi line between Haijima and Musashi-Itsukaichi stations
Utsunomiya line between Ueno and Kuroiso stations
Takasaki line between Ueno and Jimbohara stations
Saikyo/Kawagoe/Sotetsu line between Komagawa, Omiya, Osaki and Musashi-Kosugi stations
Joban line (local and rapid) between Shinagawa and Hatori stations
Joban line (local) between Ayase and Toride stations
Keiyo line between Tokyo and Soga stations
Musashino line between Fuchu-Honmachi, Nishi-Funabashi, and Tokyo or Kaihin Makuhari stations
Ueno-Tokyo line between Yugawara, Tokyo and Kuroiso or Jimbohara stations, and between Hatori and Shinagawa stations


For tips on how to go out safely in Tokyo, or anywhere for that matter, read our guide.
More news
Japan may allow 250 foreigners daily to enter from these countries
A Harry Potter theme park is coming to Tokyo in 2023
How to wash and care for your reusable cloth face masks
Tokyo is the third most expensive city in the world to live in
Uniqlo's reusable, triple-layered Airism face masks to go on sale June 19