Tokyo's public transport system is top class, and there's rarely a time when you'll be inconvenienced by the city's super-punctual trains. However, you might want to make note of this upcoming train interruption amid the never-ending construction surrounding Shibuya Station.
One of Tokyo's main train lines, the JR Yamanote Line has scheduled all-day service suspensions between certain stations on Saturday November 18 and Sunday November 19. The reason for this suspension is for improvement work at Shibuya Station, where the tracks and platforms will be elevated for easier and more streamlined use.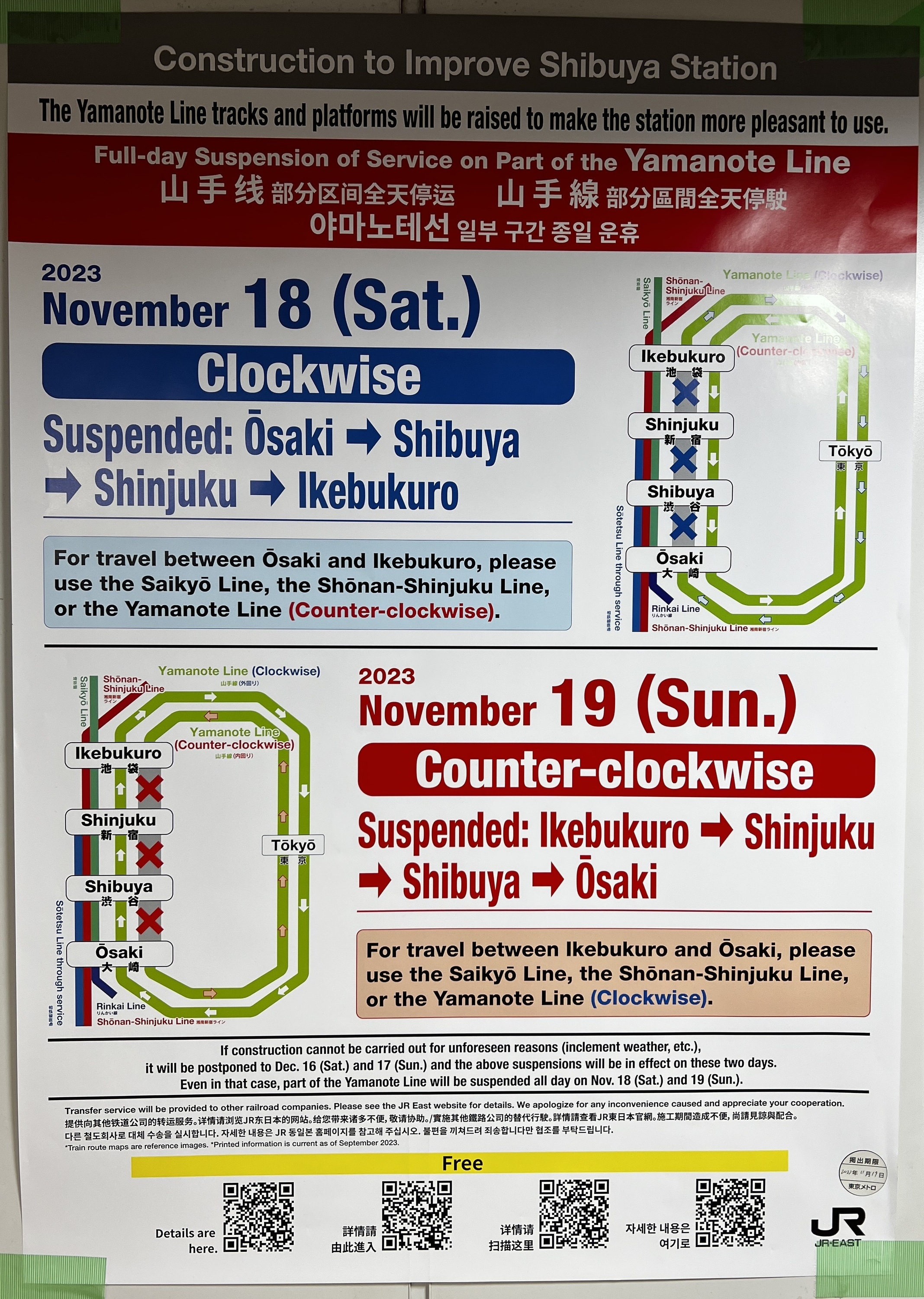 On Saturday November 18, operations will be suspended between Osaki and Ikebukuro stations (going clockwise). Since JR Yamanote is a loop line, you can still travel between these stations in the opposite direction (anti-clockwise), but that will be a much longer journey.
On Sunday November 19, operations will be halted going the other way between Ikebukuro and Osaki stations (counter-clockwise). As mentioned above, you can still reach these stations by going in the opposite direction (clockwise), but note that the journey takes longer.
If you're planning on travelling around the city, you'll want to find alternative routes as this will affect the following stations between Osaki and Ikebukuro Stations: Gotanda, Meguro, Ebisu, Shibuya, Harajuku, Yoyogi, Shinjuku, Shin-Okubo, Takadanobaba and Mejiro stations.
While trains will still run between the remaining stations on the Yamanote line, JR has noted that there will be significantly fewer trains. Additionally, the rapid service on the Keihin-Tohoku line will be cancelled (local trains will operate as usual). To help with the congestion, more trains will be servicing the Saikyo and Rinkai line between Shin-Kiba, Osaki and Akabane stations instead.
For the latest train status updates, visit the website.
More from Time Out Tokyo
Here's the official 2023 forecast for autumn leaves in Japan – updated
Ghibli Park finally opens its 'Princess Mononoke' attraction
The Serpenti snake at Bulgari Ginza is an interactive teamLab art you can control
Three out of ten trending cities to visit in 2024 are in Japan
The amazing illuminations at Ashikaga Flower Park are here until February 2024
Want to be the first to know what's cool in Tokyo? Sign up to our newsletter for the latest updates from Tokyo and Japan.