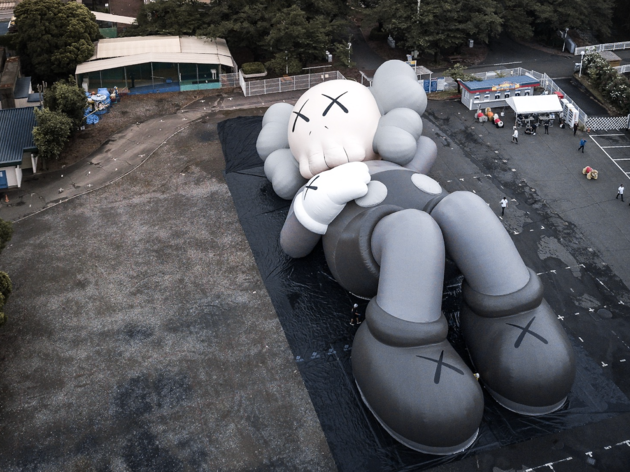 Kaws:Holiday is showing at Mt Fuji near Tokyo this July
Posted: Tuesday June 25 2019, 1:00pm
The highly acclaimed Kaws:Holiday exhibition series is finally making its way to Japan, and what better 'gallery' than the natural surrounds of Mount Fuji? American artist Kaws, also known as Brian Donnelly, is teaming up with longtime collaborator AllRightsReserved for a new 40m-long site-specific installation depicting the artists' signature character Companion relaxing outside Mt Fuji. After successful outdoor exhibitions in Seoul, Taipei and Hong Kong, this upcoming show will be the fourth stop for Kaws:Holiday, which seems to be touring around major East Asian cities as of late.
Kaws:Holiday at Mt Fuji will be on for just a week from July 18 to 24 at Fumotoppara Camping Ground in Shizuoka, roughly a two-hour drive from Tokyo. If you want to be the first to catch this new Kaws Companion, you'll have to enter a lottery (starting June 28 at 10am) to win a spot to attend the ceremonial camp day on July 18, which kicks off the exhibition. Not one of the lucky winners? Don't worry; you can still visit the exhibition until July 24, but you'll have to pay the ¥2,000 admission into the camping grounds. Do note that since this is a camp site, the ¥2,000 fee gets you a tent space, one parking spot and admission for up to three people. If you don't have any summer travel plans yet, this art outing makes for a perfect day trip or weekend getaway.
Avid Kaws collectors, you'll be glad to know that there is a limited-edition series of Kaws:Holiday merchandise including the exclusive and brand new Mt Fuji plushies, T-shirts, tote bags, vinyl figurines, Kaws kokeshi dolls, mugs and more. Merchandise sales start at 10am JST on July 18 through the Ding Dong Takuhaibin website.
For more information on the Kaws:Holiday exhibition, visit here.
Share the story