Best day trips from Tokyo
Escape the city chaos – the prefectures around Tokyo boast great beaches, onsen resorts, organic farming, hiking and vineyard tours. By Megan Waters and Taryn Siegel
Tokyo is bursting with energy, excitement and an endless list of things to do. But as the nation's capital and home to one tenth of its national population, it's also a city of stifling crowds and general chaos. Especially when the summer heat sets in, sometimes there's nothing better than escaping this great city for a day and hoping a train to the oases of nature that surround it. Here are our picks of the best experiences that can be done in a day trip, including swimming, hiking, wine-tasting, farm tours and more.
RECOMMENDED: Take advantage of transport discounts for tourists in Tokyo and Japan
The mountain of Hakone lies about 90 minutes by train from Tokyo, which makes it a popular day-trip or weekend getaway from the capital. It has had a long and illustrious tradition as a hot spring town – its name even appears in Edo-era (1603-1868) rankings of Japan's best onsen.
But Hakone is about much more than just bathing. It's got everything from superb art museums to an active volcano – as well as a jaw-dropping view of Mt Fuji on clear days. Check our guide for the top things to do and see around the area, from central Hakone-Yumoto and beautiful Lake Ashi to the posh but relaxed Gora neighbourhood.
Getting there: The Hakone Freepass includes unlimited rides on the Hakone Tozan Railway, the ropeway, the Lake Ashi pirate ship and all other major forms of transportation in the area. A two-day pass, which includes a return train ride from Shinjuku, costs ¥5,700 (¥1,500 for children).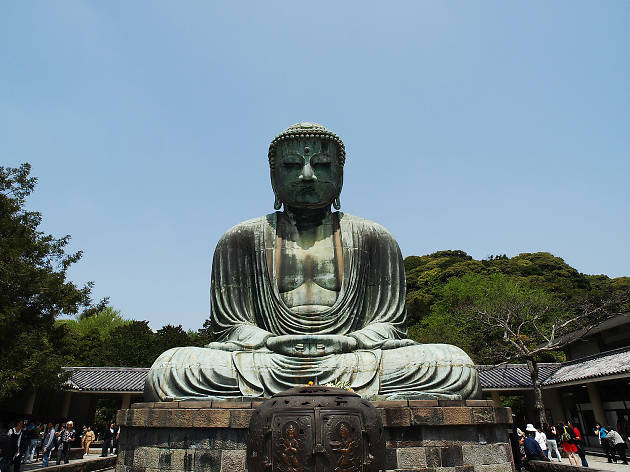 Sprawling temple grounds and a giant Buddha in Kamakura
This small coastal town is often referred to as the Kyoto of Eastern Japan for its multitude of temples, shrines and historical monuments. It was the country's political capital during the Kamakura shogunate (1185–1333) and there's plenty to do and see here.
Top of the list should be a visit to the Great Buddha of Kamakura (Kamakura Daibutsu). This towering bronze statue of the celestial buddha is the second tallest in Japan and stands at 13.35m. Originally cast in 1252, the buddha has been peacefully watching over its visitors since 1495.

If you have a little more time, pay a visit to Tsurugaoka Hachimangu, Kamakura's largest Shinto shrine. You can reach it via a long, wide approach that leads from Kamakura's waterfront through the city centre, with multiple torii gates along the way. The grounds include the main hall, a museum and many secondary shrines as well as beautiful ponds and gardens. Look out for a horseback archery display during the Reitai-sai Festival in mid-September (September 14-16), performed along the main approach.
Getting there: Kamakura is less than an hour from Tokyo via the JR Yokosuka or Shonan-Shinjuku Line from Shinjuku Station. The cheapest but slowest route (90 minutes) is via the Enoshima Kamakura Free Pass (¥1,520), which provides a round trip from Shinjuku Station to Kamakura, as well as unlimited use of the Enoden Line for the day.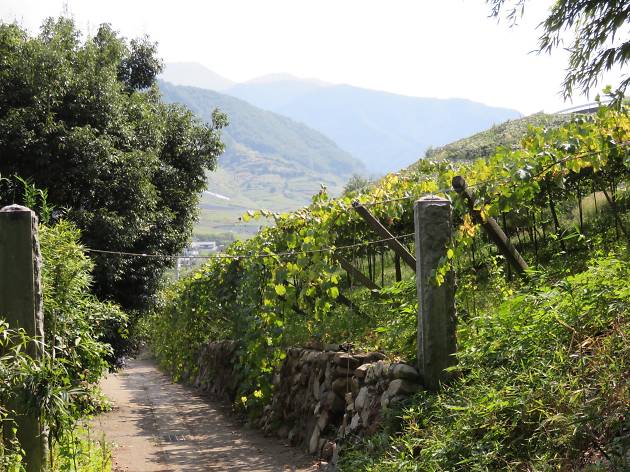 Wine-tasting in the vineyards of Katsunuma
Although better known for its sake than vino, Japan has actually been producing amazing wines using locally-grown grapes since the 1800s. Katsunuma, in Yamanashi prefecture, is home to 31 wineries which between them account for about 30 percent of all Japanese wine. Many offer tasting sessions and lessons in winemaking as well as tours.
Experience it yourself at Budo no Oka (Grape Hill). Here, you can soak in magnificent views of the surrounding vineyards and the Japanese Southern Alps to the west – Yamanashi is home to Mount Fuji – while tasting more than 200 varieties of wine. At just ¥1,520 for the tasting experience, there's a temptation to overdo it, but there's plenty else to enjoy on site, including a terrific barbecue restaurant and open-air hot spring.
Getting there: Katsunuma is around 1 hour 30 minutes on the JR Chuo Line Limited Express Azusa or Kaiji from Tokyo's Shinjuku Station to Katsunuma-Budokyo Station.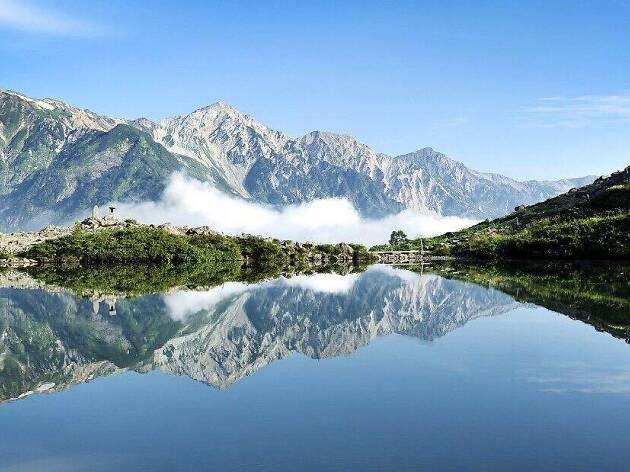 Ski gondolas and crystal-clear ponds in Hakuba
Though best known for its world-class skiing and snowboarding, Hakuba in Nagano Prefecture offers a great escape into nature year-round.
During the warm months, Happo Mountain can be traversed via an eight-passenger 2000-meter-long gondola with panoramic views of the surrounding mountains. When you arrive at the top, take a leisurely one-hour stroll along the summit to the glass-like Happo Pond (pictured).
Hakuba Happo Hot Springs are a collection of hot springs located at the mountain base. Be sure to stop in at one after winding your way back down the mountain. The hot spring water of Hakuba is renowned for its unique akaline mineral composition that is said to have healing and beautifying properties.
Getting there: Hakuba is about 2.5 hours to the west of Tokyo. Take a 90-minute bullet train from Tokyo Station to Nagano Station, followed by a one-hour bus from Nagano to Hakuba.
Photo: fb.com/Browns-Field-302905129723254
Farm tours and markets in the rural village of Isumi
On the east coast of Chiba Prefecture, overlooking the Pacific Ocean, is the farming village of Isumi. This region is renowned for its picturesque scenery and delicious organic produce.
Set up by a US-born photojournalist and his wife, a chef and author of several macrobiotic cookbooks, Brown's Field Farm (pictured) specialises in sustainable, organic farming blended with Japanese traditions. You can taste the farm's incredible produce at their Rice Terrace Café or even spend the night in their guest cottage for ¥7,000 per person.
Fromages Komagata is a dairy farm known for its 100 percent additive-free and preservative-free cheese. The proprietor has over 20 years experience in the dairy industry and makes his own artisan products as well.
To sample a host of farms all at once, head to Isumi on a Sunday and check out the Sunday morning market at Ohara Fishing Port where a range of local produce and seafood can be found.
Getting there: Isumi is about a 90-minute train ride from Tokyo. From Tokyo Station, take the Sobu rapid train to Chiba Station, then change to the Sotobo line to Ohara Station.
Scenic hiking in the mountainous region of Chichibu
Located within Chichibu-Tama National Park in the mountainous western region of Saitama prefecture, Chichibu is a magnet for outdoor enthusiasts.
The park's mountains are non-volcanic and have an average height of 1,000m, meaning river valleys beautifully showcase each season with their vibrant colours. With over 1,262 kilometres to explore, it can be difficult to know where to start. Mount Mitsumine is the most famous peak thanks to the ancient Shinto shrine at its top.

Hitsujiyama Flower Park is another must-see. Set against an impressive backdrop of Mount Buko and known for its sea of pink and white Shibazakura (moss phloxes), it overlooks the entire city area of Chichibu. The park features around 1,000 cherry trees, including yoshino cherry, weeping cherry and double-petal cherry trees.

Getting there: Reach Chichibu's Seibu-Chichibu Station on the Seibu Line in about 80 minutes from Tokyo's Ikebukuro Station.
A day of shopping at the resort town Karuizawa
Nestled at the foot of Mount Asama, the most active volcano in Honshu, lies the upmarket resort town of Karuizawa. Many wealthier Tokyoites own second homes here. Start your day at Karuizawa Ginza in the old part of the town, with its traditional shops, cafés, restaurants and stalls selling locally-produced jams and honey.

Serious shoppers searching for serious discounts should head to the Karuizawa Prince Shopping Plaza near the train station. This discount shopping outlet is home to over 200 stores set in a sprawling and beautifully landscaped area – great for kids to run wild while you splash the cash.
When your credit cards scream for mercy, escape to the open-air Tombo-no-yu bath house for a peaceful soak. Finish off your day at Harunire Terrace and order yourself a pint of the delicious locally-brewed Yona Yona ale.

Getting there: Karuizawa is just over an hour from Tokyo on the Hokuriku Shinkansen. Get the JR Tokyo Wide Pass (¥10,180) for unlimited travel on all JR trains in the Kanto area over three consecutive days.
Picture-perfect beaches at the seaside town Hayama
Located in Kanagawa prefecture on the northern end of the Miura Peninsula, which divides Tokyo Bay from Sagami Bay, this picturesque seaside town is one of the most popular summertime destinations for Tokyoites.
If you love your water sports, head over to Isshiki Beach in the town's northwest corner for swimming, kayaking, sailing, windsurfing and paddleboarding. Considered one of the best beaches in Japan due to the clean, ash-coloured sand, postcard-cute beach houses and surprising lack of crowds, it has been a favourite of the Imperial family since the '80s.
With impressive views over the bay, the nearby Hayama Marina is a great spot for a light lunch or an afternoon coffee while gazing out over the water.
Getting there: Hayama is an hour from Tokyo. Take the JR Shonan-Shinjuku or Yokosuka Line from central Tokyo to Zushi Station. From here, transfer to bus no. 12 to Hayama.