With a big chunk of Japan's workforce still dialling into the office from their homes, there's more talk than ever about so-called workcations – working from vacation spots like hotels and parks. Some resorts have started installing workstations and wifi to woo busy office workers. Not to be outdone, Tokyo amusement park Yomiuri Land has unveiled its own special workcation deal.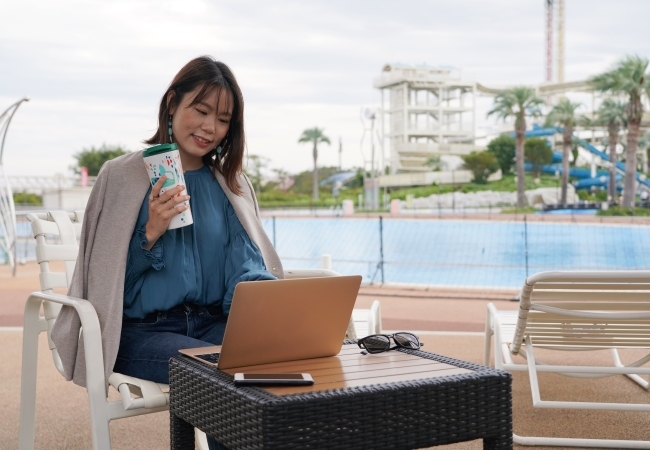 Yomiuriland is now offering Amusement Workation day passes for ¥1,900 (¥2,000 on weekends; ¥3,600 for a pair). The tickets allow you to get some work done while enjoying park rides and amenities. This includes entry to the park and access to the poolside booth which is set up with a table, two chairs and two sun lounges. There are plenty of electrical points available and decent wifi service, so we imagine you'd be spending most of your time here.
But if you want to get a new angle on your work, the pass also gets you a dizzying one-hour ride on the ferris wheel (that's four full rotations), including a pocket wifi for the ride, meaning you can have a Zoom call while you're high in the sky. However, there aren't any desks in the cabins and one hour can be a long time to spend going in circles in a confined space, so plan your ride beforehand.
To de-stress after all that, visit the Okanoyu onsen located just outside the park. It's equipped with over 15 different baths and offers free towel rental for pass-holders, so you can go there empty-handed. For an additional ¥500, pass-holders can also visit the on-site golf club and get 20 free swings along with free golf club rental.
Amusement Workation passes are available via Yomiuriland's official website, but numbers are limited.
Check our guide on going out safely in Tokyo – or anywhere, for that matter.
More news
This new JR East pass for foreign residents offers unlimited three-day travel
World's first Godzilla theme park is now open in Hyogo
Tokyo is giving residents ¥5,000 staycations discount
Toyosu Market resumes tuna auction viewing for visitors from November 2
Get unlimited metro rides and discounts to 90 Tokyo attractions with this pass